Private Lives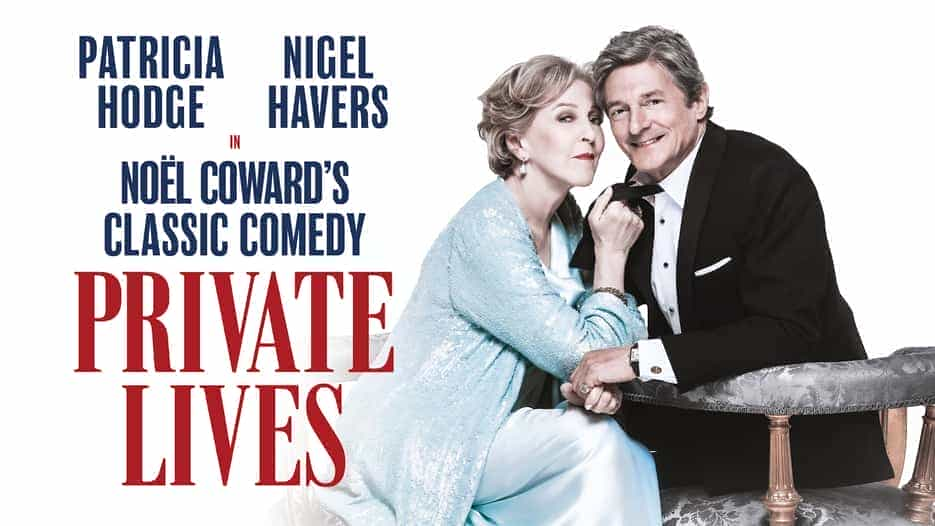 EXCLUSIVE OFFER - £20 TICKETS FOR TUE - THU PERFORMANCES

Noël Coward's gloriously entertaining Private Lives is the inaugural show from The Nigel Havers Theatre Company which will be touring the country with a wonderful line-up of theatrical gems.
Elyot and Amanda, who were once married, find themselves on honeymoon with their new partners, in the same hotel on the French Riviera, admiring the view from adjoining balconies. Their initial horror quickly evaporates and soon they are sharing cocktails. Who knows what the future holds for them now…
The Olivier Award winning Patricia Hodge, one of the country's most loved actresses, plays Amanda. Nigel Havers, ever suave and thoroughly charming, plays Elyot, the role taken by Noël Coward himself in the original production in 1930.
Private Lives Tickets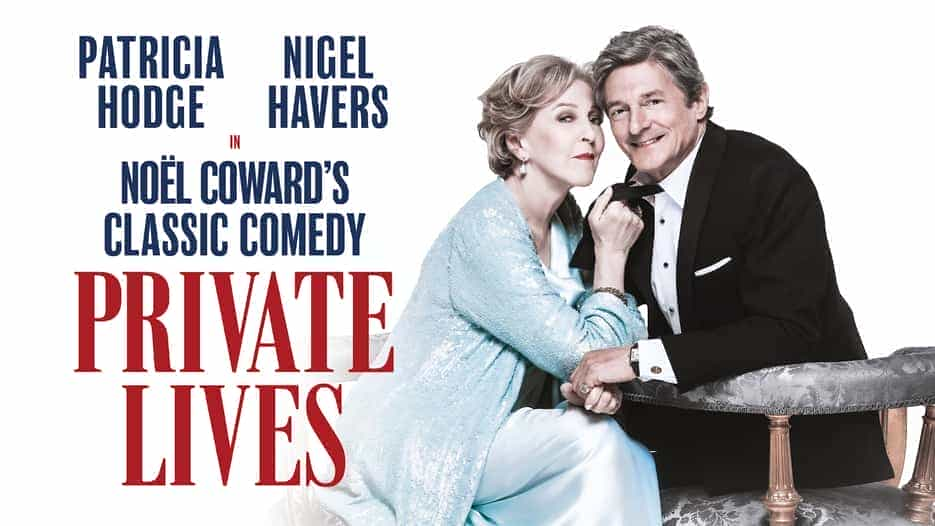 Sorry, there are no tickets for Private Lives in Manchester available at the moment. This maybe due to one of the following reasons:
- Private Lives in Manchester tickets are currently not on sale.
- The event has sold out.
- Details have not yet been announced for Private Lives in Manchester.
- The event may have been cancelled.
- The event has been and gone.
Join our free mailing list for
updates about this event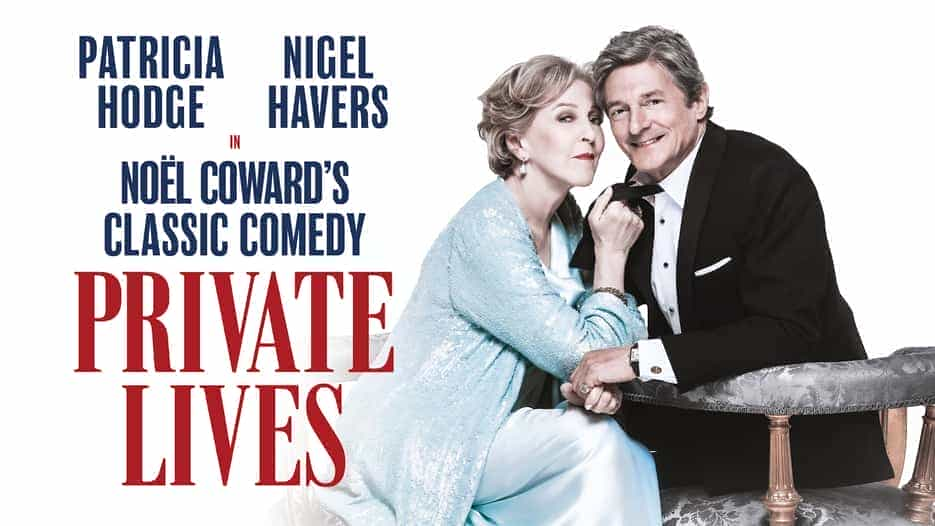 Our review on Private Lives
Private Lives - The Lowry, Salford - Wednesday 16th February 2022 by Karen Ryder
Our Rating
Patricia Hodge, Nigel Havers, Noel Coward and The Lowry – what could possibly go wrong with this combination? The answer is absolutely nothing! What a joyous, relaxed, utterly fabulous evening.
I had been looking forward to seeing Private Lives for quite a while, and it was definitely worth the wait. We walked into a theatre displaying a visible set – the serene exterior of a hotel complete with lush balconies. The first act takes place entirely on this set, but the attention to complimenting details given from all theatrical elements made sure that the confines of a whole act taking place on two balconies did not limit the play in anyway. I'd say quite the opposite. The actors exploded onto the stage with their feisty, lightening lexicon, delivered with such precise effect I was desperately trying to remember every line. Cowards brilliantly witty and devilish script was able to breathe in all it's glory. Every element came together just so, to honour Noel Coward's work in all its shining glory. Even the staging drew me in. The combination of the balcony set, the seductive lighting of a summers day, to sunset, to moonlight, the gentle sounds of waves lapping the shore of the imagined beach just beyond our view, the soft squark of the seagulls, the romantic music to coincide with the moonlight – I found myself sighing thinking "God I need a holiday!" Its very rare that I want to wish myself inside the staging, but I was there! Cocktail in one hand, book in the other, pausing to listen to the hilarious and riotous banter of Mandy and Elyot as they turned arguing into a perfectly choreographed art form.

Private Lives has a cast of five. British acting royalty Patricia Hodge and Nigel Havers play the divorced feuding forces of nature Mandy and Elyot, Dugald Bruce-Lockhart plays the conventional, old fashioned Englishman Victor – Mandys new husband (though I wish it was the other way round because Dugald Bruce-Lockhart is such a fabulous name). Natalie Walter plays Elyot's needy and insecure wife Sibyl, whose favourite past time is to verbally pummel Elyot's ex wife Mandy and make sure she herself soars where Mandy did not. Come on, we've all been there, digging for info on the ex to see how much better we are in comparison! Aicha Kossoko plays the French maid, with brilliant timing and the resigned edge of someone who has seen it all before.
The basic plot of the play is quickly established. Elyot is on honeymoon in France with his new wife Sibyl, who he is clearly bored of already for she has no umpf and is no match for his insults or putdowns (the audience reaction to Elyot's acid tongue is hilarious by the way!) He is looking for an opponent to give him the WWF version of language, someone he can rough and tumble with one minute, then chit chat with and romance the next, and Sibyl is not it. As they both storm off the balcony, Mandy and Victor storm out onto the one next door and duplicate the scenario we have just seen. Mandy loves to tease, is confident, self-assured, flippant and sassy – everything Sibyl is not, and everything that Victor is attracted to yet equally thinks a woman shouldn't be. It quickly becomes clear who everyone is and that we are going to see Mandy and Elyot reunite, leaving Sibyl and Victor free to pair up as a much more suitable couple. In a nutshell, that is the plot – a romance about unromantic and utterly unsuitable couples who reform to create perfectly imperfect couples, but it doesn't need any more than that because it is the fantastically, fascinating, flippant and feisty use of language that makes a Noel Coward play, and this is delivered to perfection.

"I don't have the heart of a silly girl, I'm jagged with sophistication." (Mandy)
"I can't love you more than I do now,"
"Damn! I was hoping for a honeymoon with progression!"
(Victor and Mandy)
"I want to chop your head off with a meat cleaver!" (Elyot's response to his wife on honeymoon when she asks him if he loves her)
I'm paraphrasing, not quoting as the one liners are so plentiful my head is fizzing with snippets of them, and they are all so brilliant. I was also completely in love with Coward's juxtaposition of witty yet venomous words of abuse married alongside the terribly old fashioned British societal 'toffness'. On the one hand vicious insults are flying left, right and centre from Elyot, whilst on the other Victors idea of an insult is calling someone a cad or referring to fighting as fisticuffs. It's another brilliant use of language. Coward was truly a master.

The second act sees a change of scene as Mandy and Elyot have run off together and locked themselves away from the world in her Parisian apartment. This is when we truly see the couple at their best and how their whispered sweet nothings quickly turn into wrecking balls, so much so that they have to invent a code word which will stop the argument dead for a five minute time out until they have calmed down (although Elyot brings this down to two minutes with an option to renegotiate!) They are the couple who love to hate, who live to fight, who battle for fun and it is hilarious because the source of their arguments are always so ridiculously pointless. They know each other inside out, know which buttons to press and like heat seeking missiles, they strike with explosive results. We see a brilliant dance piece between Hodge and Havers, are treated to some lulling and beautiful singing from Hodge and some gorgeous piano playing from Havers (at least it's supposed to be him – I may have been hoodwinked, but who cares if I have). We are made to wait in pure silence as the code word "Sollocks!" is shouted and Mandy and Elyot have their two-minute time out. The silence is filled with such energy and anticipation you could be forgiven to realise that you are actually holding your breath! Of course it is not long before the war of words is so huge that it cannot be contained by words alone, and so not only does it burst out of their mouths, it bursts out of their bodies into the physical, a literal slapstick fight that sees slaps, punches, records smashed over heads, and pillows whacked across the back of a head which of course is when Victor and Sibyl make their entrance as a newly formed couple determined to divorce their respective partners so they can be together, but instead find themselves taking sides in their aforementioned fight and defending their spouse. This leads to a hilarious fight between Victor and Sibyl, where Mandy and Elyot are still the stars of the scene, for their silent reactions to this fight are simple genius. As their heads go back and forth with fantastic expressions on their faces, you are left with the impression of how arguing can be a game of tennis. But like tennis, you have amateurs and world class players. The style of arguments from both couples make it clear which category they both fall into and why things have worked out the way they have.

Private Lives played to a packed out theatre – no surprise with such huge names attached to it – and it was a privilege to watch the acting masterclass of Hodge and Havers. Perfect comic timing, pauses, silences, facial expressions, reactions, and most importantly a clear love and respect for the devilishly delightful masterpiece that is Noel Coward's Private Lives. I'm sure you won't come across a bad review of this production, but if you do I would simply advice you shout "Sollocks!" and let those critics go and take a time out to give their head a wobble!

WE SCORE PRIVATE LIVES - 10/10


Most Popular Shows and Events in Manchester