The Pantomime Adventures of Peter Pan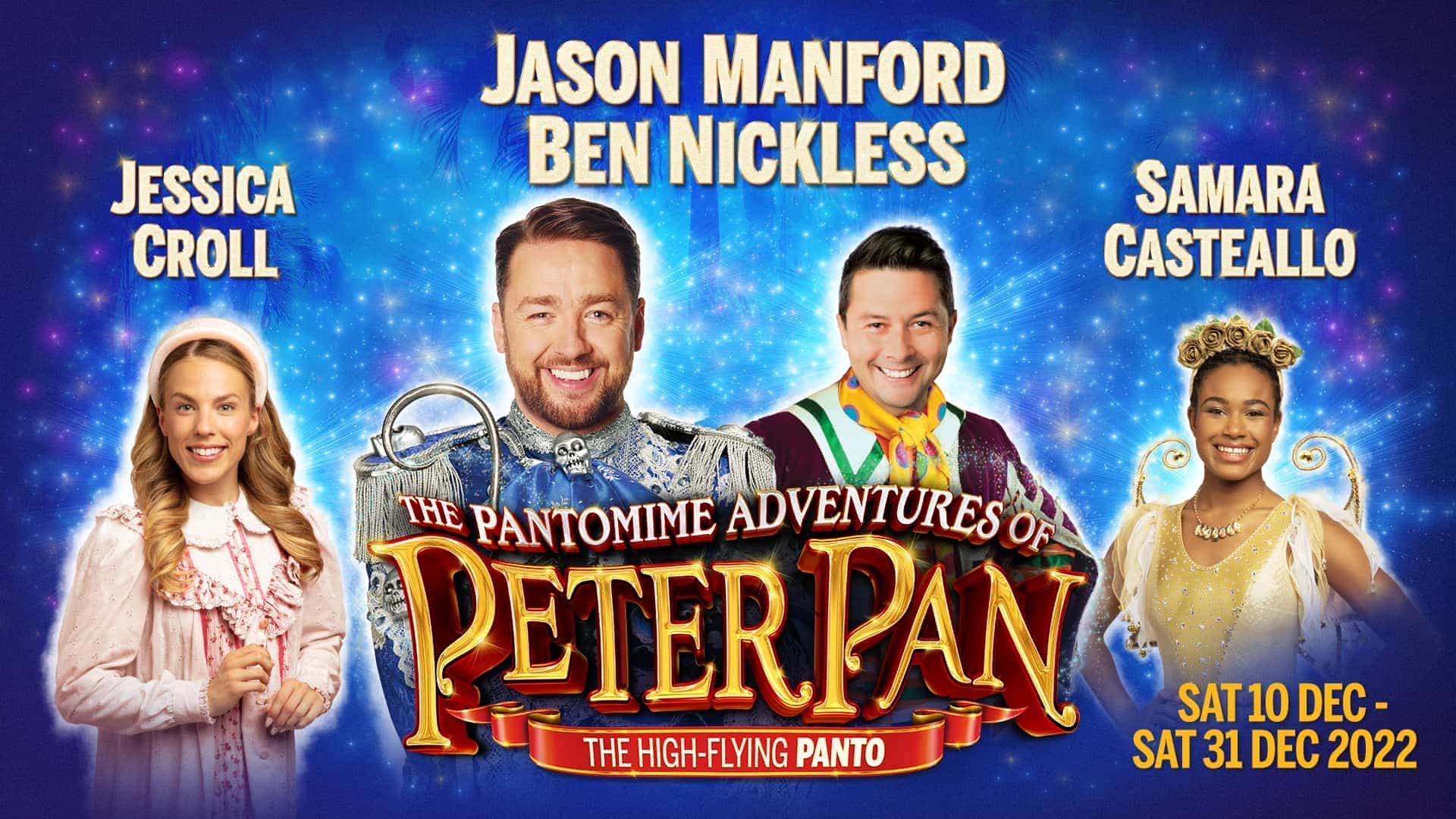 Comedy superstar Jason Manford will lead the cast in The Pantomime Adventures of Peter Pan in the role of Captain Hook, joined by returning Manchester panto favourite Ben Nickless as Smee.

The Pantomime Adventures of Peter Pan is brought to you by the world's biggest pantomime producer, Crossroads Pantomimes.
Featuring special effects, plenty of audience participation and a chance for audiences to come together and share the magic of live theatre.
Be part of the panto magic - hook your tickets today!

We interviewed Jason Manford and Ben Nickless about the show. Watch below...
The Pantomime Adventures of Peter Pan Tickets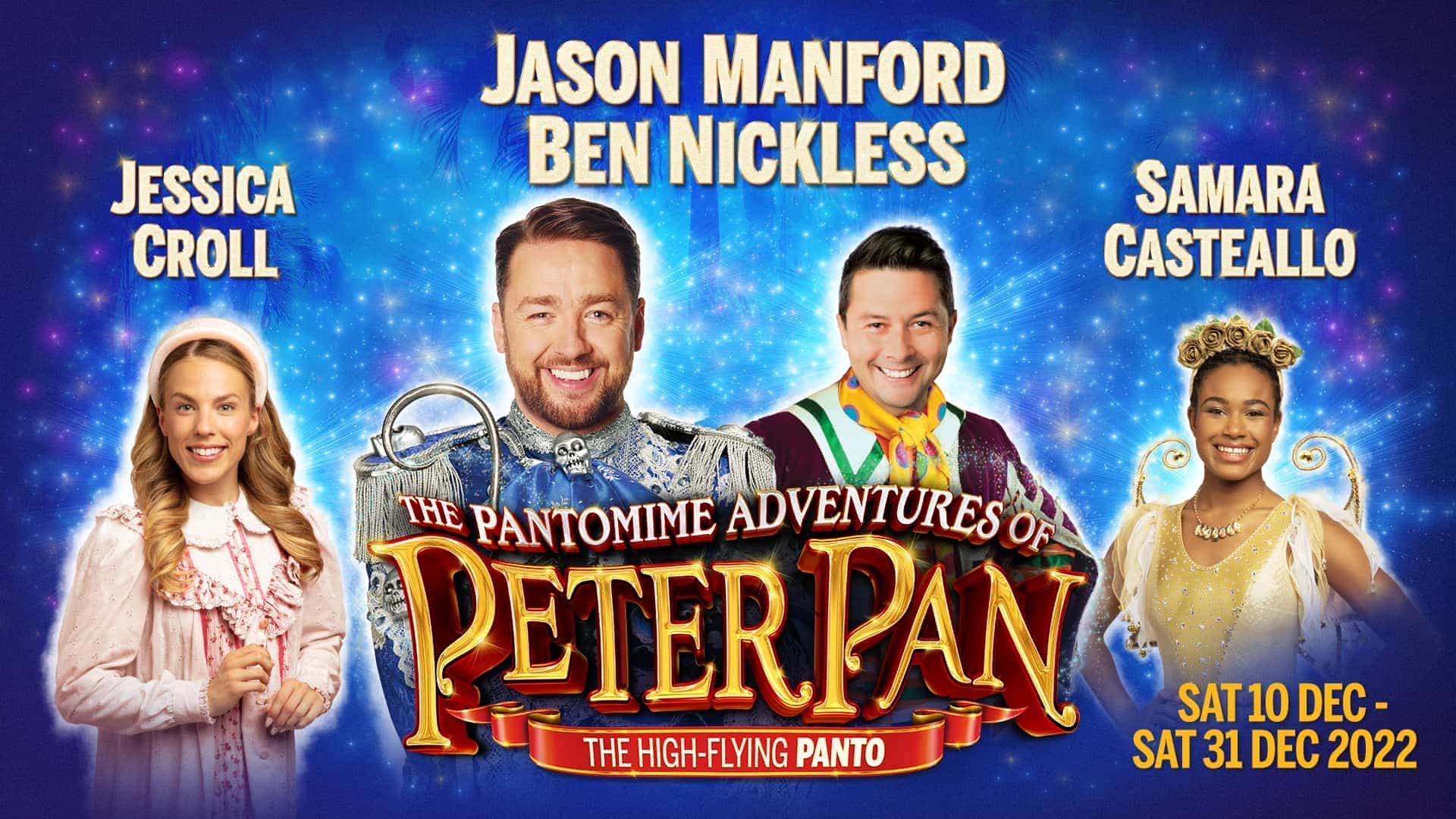 Sorry, there are no tickets for The Pantomime Adventures of Peter Pan in Manchester available at the moment. This maybe due to one of the following reasons:
- The Pantomime Adventures of Peter Pan in Manchester tickets are currently not on sale.
- The event has sold out.
- Details have not yet been announced for The Pantomime Adventures of Peter Pan in Manchester.
- The event may have been cancelled.
- The event has been and gone.
Join our free mailing list for
updates about this event
Our review on The Pantomime Adventures of Peter Pan
The Pantomime Adventures of Peter Pan - Opera House, Manchester - Tuesday 13th December 2022 by Karen Ryder
Our Rating
THE PANTOMIME ADVENTURES OF PETER PAN IS THE PERFECT TONIC TO WHISK YOU INTO AN UNTOUCHABLE BUBBLE OF HAPPINESS, JOY AND ESCAPISM!
It's finally here! The pantomime to knock all other pantomimes out of the park! I may not have secured the elusive Peter Kay tickets, but I am beside myself that I did get panto tickets starring two other Northern legends of comedy – Jason Manford and Ben Nickless! Throw in a West End standard cast, epic tunes, insane production values, the best of our British panto traditions, and a magical Christmas vibe that has left me grinning like the train strikes got cancelled and sighing the contented sigh of mini me receiving not only Rainbow Bright and Twink Sprite but a pair of rainbow roller skates for Christmas too, and the result is one heck of a night that you will be talking about for a very long time! I am lucky enough to be returning to this show later in its run and bringing 110 members of my drama academy, and I cannot wait! I feel like I'm sharing the elixir of life because The Pantomime Adventures Of Peter Pan is the perfect tonic to whisk you into an untouchable bubble of happiness, joy, and escapism. So, take 'the second star on the right and straight on till morning' until you reach the place that you are absolutely meant to be this Christmas.





The Pantomime Adventures Of Peter Pan continues a few years after the story we think we know finishes. Peter has sent Tink to ask for Wendy's help as Neverland seems to be running out of magic. He can no longer fly, pixie dust is disappearing, and Mermaid Lagoons waterfall is drying up quicker than the turkey leftovers on Boxing Day. As Wendy returns to Neverland, we discover that things aren't as we left them, and may never even have been as we thought we knew them at all!





Smee (Ben Nickless) is no longer on team Hook (Jason Manford) but is now Peter's best friend instead. Hook, who we thought was eaten by the crocodile, actually escaped and in an Eastenders type 'dun dun dun dun' plot twist moment, we learn that once upon a pirate, he actually used to be a lost boy himself! As we hear Hooks version of events, which involves accusations of Peter gaslighting him (it was Peter after all who did the bad deeds of feeding Hook to a crocodile and chopping his hand off, yet Hook was painted as the bad guy) Hook wants revenge and recalls members of his old crew to help him. With Smee working as a double agent, will Peter, Wendy and Tink stop Hook from dominating Neverland? Will they figure out why the magic is disappearing? And will the audience ever get the hang of booing the baddie when all you want to do is cheer because it's Jason Manford?!






Jason Manford of course needs no introductions but I'm going to give them anyway because it's my review and I want to! Whether you know him as a multi-award-winning stand-up comedian, a musical theatre star, from television shows such as Starstruck and Scarborough, as a writer, a presenter on TV and radio, or even as a Hedgehog, know him you will, for he has to be one of the hardest working and nicest people in showbiz! The man never stops, and he thoroughly deserves the love bouncing around the theatre for him this evening. The Pantomime Adventures Of Peter Pan is his panto debut and what an absolutely, blinking brilliant debut it is! On paper, it's an obvious pairing for such an all-round, seasoned performer, and the reality not only met the incredibly high expectations, but had the audience eating out of the palm of his hand…..sorry – his Hook!






No matter which version of Jason Manford you champion, you will get it in this show. He effortlessly switches between Hook and Jason so that we can reap the benefits of both his musical theatre training, whilst simultaneously feeling like you've bagged a free ticket to one of his stand-up tours. His natural rapport with an audience sparkles more than his glittery costume and his observational, family friendly humour is inclusive for the whole audience, with any innuendo being pitched so perfectly that the adults can enjoy the show on a different level, whilst the kids are blissfully unaware and are innocently wrapped up in the sheer joy that laughter brings. For such a huge star, he never once makes it feel like 'The Jason Show' and is a respectful and respected cast member like any other throughout the entire performance.





And for anyone who follows Mr. Manford, you'll be thrilled to know that his current charitable project 'Assembly Bangers' makes an appearance and will have you humming all the way home. His rendition of 'Cry Me A River' was stunning and gave me sprout bumps (like goosebumps, but more Christmassy) and his partner work with Ben Nickless is genius! They compliment each other so much, it's an utter joy to watch them and you feel like you're watching two of your own mates just having a giggle and you are welcome to join in. All I'm going to say is that Ball & Boe teamed up to do a tour, so I don't see why we can't have the comedy version with Manford & Nickless! I guarantee it would be a sell out and if I haven't convinced you already, wait till you see them both dressed as mermaids wearing talking coconut bras!




Ben Nickless needs no introductions round these parts either. A Manchester Opera House Panto regular and BGT finalist, I know many people who book their panto tickets every year solely on the strength that he is in it, and with good reason because he is hilarious. A natural rapport with kids of every age, a brilliant comedian, an incredible impersonator, a wonderful singer, and a natural leader, Ben guides us through panto land with funny bones and a warmth that makes him instantly likeable. He has even added magic tricks to talents and there isn't a second he is on stage that you won't be left in awe at just how talented he is. He makes everything seem so natural and his 'topical rap' is so up to date and current that he makes it ok to laugh at the rubbish stuff as well as the fun stuff.





We are treated to one of his brilliant singing impersonation acts, which he also performed on BGT, and audience members of every age find themselves wiping tears away at not only his ability to morph into so many different people at the switch of a picture, but also the humour that he brings to each character. Where else could you find Boris Johnson singing alongside Scooby Doo, Homer Simpson and Gary Barlow? Well actually, the way things are going – never say never I guess! His energy is infectious and the entire theatre was his for the taking, and take it he did. This audience were thrilled to be taken on a Ben Nickless journey and I hope there is never a Manchester panto that doesn't star his phenomenal talent.




The other characters are played by Jessica Croll (Grease, Hairspray) as Wendy, Samara Casteallo (Tina Turner The Musical, Matilda, Dreamgirls) as Tink and Ross Carpenter (Book Of Mormon, Kinky Boots In Concert, Saturday Night Fever) as Peter Pan. Each sing and dance with such youthful energy and exude such pure joy that they make their mark and stand out in their own right amidst two powerful stars. Samara Casteallo has an angelically beautiful voice and such a warm smile that she is perfectly cast to bring a little bit of magic and belief to the children, and her flying is so elegant I actually heard a young girl sat near me say with pride "I want to be like her!" I think that is the best compliment I can give. Jessica Croll duets with Samara throughout, creating lovely moments of friendship. It is great to see her leading the troops in their plight against Hook, and even though this is pantomime, Jessica somehow manages to keep the strength of a female leader without turning it into a 'bit of fun'. Ross Carpenter bounds across the stage like a duracell bunny, and his dance turns and spins are incredible! Again, he never stopped smiling and his dance breaks were brilliant. His fight scene with Hook was really fun to watch and the timing was spot on.





A huge shout out also goes to The Acromaniacs (Sam Brimicombe, Richard Cadle, Thomas Judge-Kynock, Chris Rait), a comedic tumbling, flipping and jaw dropping team of acrobatics who astounded us with their genius routines. Their agility, timing, skill and stage presence is outstanding and was such a treat for the audience. I think it's the first time I've ever seen a troupe such as this included in a pantomime and now I have, I ask myself why haven't I seen it before, because it brought a whole new dynamic to the show and thoroughly entertained us. A trampette, box and crash mat are used to create routines that rely on split second timing and will leaving you rubbing your eyes in disbelief at what they achieve. They even get Ben Nickless in on the action and really use their unique skills to not only mesmerise, but to continue the laughter and the joy. You have to see these guys in action to believe it!





The Pantomime Adventures Of Peter Pan is so much more than a pantomime. I'll be honest, it was like a mini variety show for it had everything. From the Disney style opening original number, complete with neon costumes and masks, to a Ben Nickless stand -up comedy routine, we are led into an Elvis number by Jason Manford. This transcends directly into a Jason Manford stand-up piece, before we are sprinkled with magic tricks, acrobats, exuberant choreographed numbers, sword fighting, impressions, and audience interaction. This show could even come with a warning of 'those in the first few rows may get wet!' The first half finishes with an absolute showstopper moment, where dancers fill the aisles and we meet the crocodile up close and personal! I won't give anything away here but it is a very special moment and left the audience buzzing. The second half continues to dazzle with every style of entertainment imaginable, and some you would never have been able to dream up in a million years, before we are treated to the epic panto version of 'The Twelve Days Of Christmas'. What a corker! This is why Britain loves pantomime! Where else can you fling toilet rolls around and call it entertainment?! But entertainment it is, of that there is never any doubt.





With costumes that dazzle, sets that transport to numerous magical locations including a lagoon, and a pirate ship, technical aspects that not only allow characters to fly but provide a showstopping crocodile, lighting that literally illuminates the entire theatre with starlight, an incredible cast, a sensational creative team led by director Guy Unsworth, all brought together by the world's biggest pantomime producers Crossroads Pantomimes, the only thing you are left wanting is to watch it all over again! Luckily for me I get to do that on 29th December! Heck, they even make it snow without you having to freeze your Christmas baubles off!





In a week where I got whacked by an elderly lady's walking stick in M&S because 'Margaret was getting on her nerves', got shouted at by a stranger in Poundland for standing too close to him (no it wasn't Sting), was forced to cancel some drama classes because my Crohns Disease wanted to say 'Merry Christmas ya filthly animal', and had an incident with a hairdryer that gave me a mild concussion, The Pantomime Adventures Of Peter Pan has not only picked me back up and restored my fizz for life, but it has reinvigorated me and reminded me of everything that I love and everything that I am. How can you ask for more than that? It really is a tonic. This show is full of the most joyous kind of love and laughter there is.





Through all the festive fun, it also has a genuine message regarding the power of laughter for emotional health and reminds us that if we all think good thoughts then maybe just maybe, we can change things for the better. So, I cannot stress this enough – don't think you know what this panto is like because you went to panto as a kid. This is not in the same league. It's not even in the same universe! It's like when you're fobbed off with oven chips instead of chippy chips - they may be called the same thing, but they're nothing like each other and we all know it. There is absolutely nothing to dislike about this show in my humble opinion. You will laugh till a little bit of wee comes out, join in with an enthusiasm you thought had been lost during the covid years, and leave full of spirit, not just Christmas spirit, but the spirit of being alive, being with family and friends, and of the possibility that if we wish hard enough, a little bit of magic might just happen.
WE SCORE THE PANTOMIME ADVENTURES OF PETER PAN...


Other events you may like...
Most Popular Shows and Events in Manchester