Manchester Theatre News & Reviews
REVIEW - SIX divorces rules, beheads boundaries and survives as a truly wonderful experience!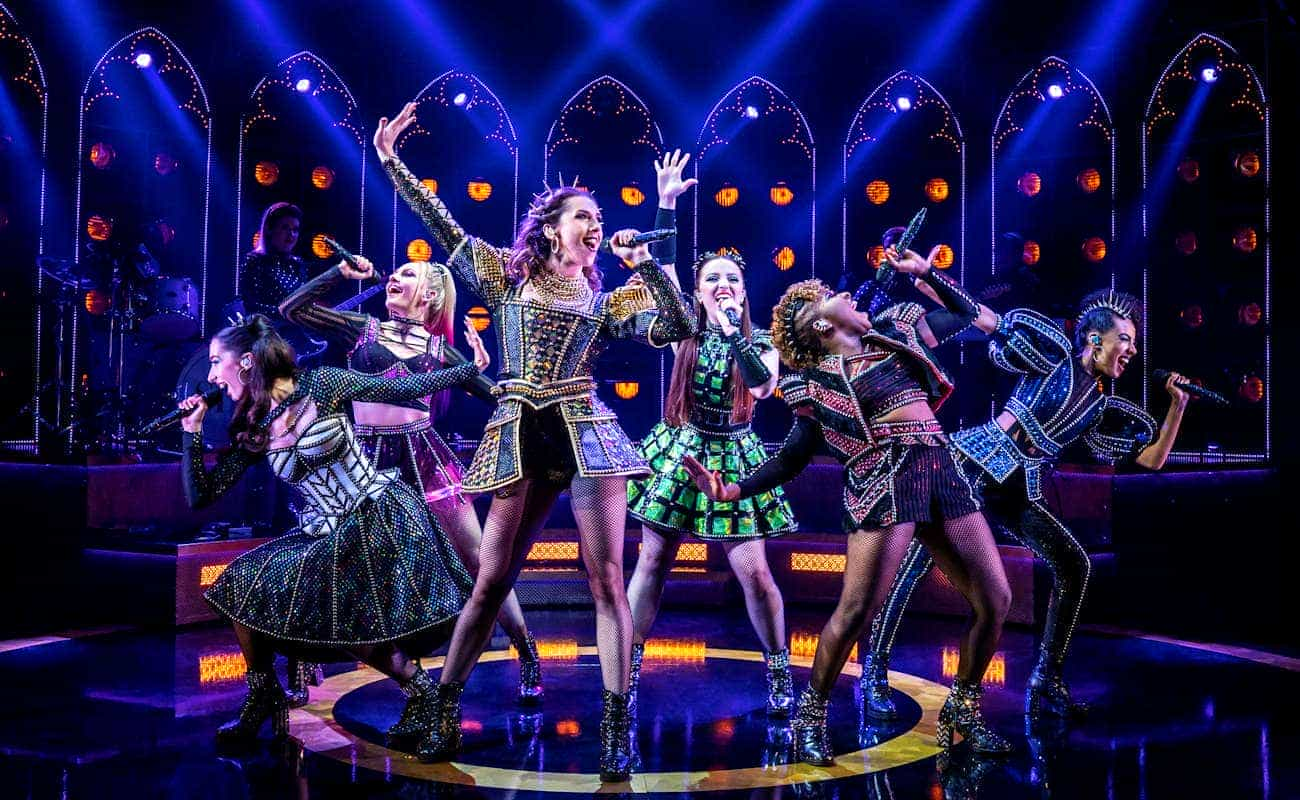 BOOK YOUR TICKETS FOR SIX
We were invited to The Lowry on Tuesday evening to watch SIX The Musical. Read what our reviewer Karen Ryder had to say about one of the best productions she has ever seen...



This has got to be the hottest ticket in town! I've waited years to see SIX – though not through choice or lack of trying! It has always sold out faster than 'five, four, three, two, one more minute', but it's finally my turn and it's pointless saying 'Don't lose your head' because the excitement levels are several years in the making! With a jam-packed theatre, a mix of newbies and hard core fans, the Lyric theatre was alive and I'm "Sorry, not sorry" for being one of the lucky ones invited along to this evening's performance.
Six is the sensational, multiple award winning, ground-breaking creation of Toby Marlow and Lucy Moss and with well over 100 million streams of its music alone, it is safe to say that the popularity of this homegrown musical is going nowhere fast. Children who have little experience of musical theatre can sing every lyric of every SIX song for you and adults who normally cringe at musical theatre will happily throw you under the bus to secure their own ticket. Why? Because its brilliance captures the imagination of every generation through mixing history with modern culture in an outstanding and transitional way. It takes something we all learnt at school and ignites it, shoving a rocket up its you know what, to create exciting, empowering, and ebullient explosions of energy. Yes, Henry VIII is important to our history, and yes, he established the Church Of England and The Royal Navy, but if recent events have taught us anything (Come on you Lionesses!) it's that we should never whitewash the part women have played in a seemingly male story.
Catherine of Aragon, Anne Boleyn, Jane Seymour, Anne of Cleves, Catherine Howard, and Katherine Parr. SIX wives with SIX stories of their own to tell. Each Queen had a rough ride being married to Henry, but who had it worse? They take it in turns to present their version of events through rip roaring, top tunes with the goal of winning the role of lead singer in their band, resulting in a music concert come festival that blows away a few thousand years' worth of cobwebs. It expertly balances references to historical Tudor facts and culture, with modern-day twists, embodying a blend of female power houses for each of the Queens. Catherine Of Aragon represents an era of modern divas such as Beyonce and Jennifer Lopez, Anne Boleyn features elements of Avril Lavigne and Lily Allen, Jane Seymour symbolises the big ballad beauties such as Adele and Sia, Anne Of Cleves clocks up the cool rankings via her inner Nicki Minaj, whilst Katherine Howard personifies the pop princesses such as Ariana Grande and Brittney Spears, and Catherine Parr is influenced by the stunning Alicia Keys and Emeli Sandé. The blending of so many influential musical styles, equally interwoven with Tudor motifs such as Greensleeves, is testament to the popularity and brilliance of SIX. Each Queen performs a solo, pleading their case as to why they suffered most by being married to Henry. These are woven together with interactions between the characters, creating moments of comedy, tension, sarcasm and sympathy. As we soar towards the shows finale, the Queens continue to fight over who has the worst Henry story, until sole survivor Catherine Parr imparts us with the brilliant ka-bam moment and message of empowerment for all females, everywhere, ensuring they are defined as individuals and not through their relationships. She sings of her own independent accomplishments, resulting in a mic drop moment of sisterly solidarity from the other Queens. I just love it!



Chlöe Hart (Hairspray, Kinky Boots, Girlfriends) is incredible as Catherine of Aragon. She is fun, feisty and fierce and smashes the neck ruffles off those high notes. After her solo, I turned to my plus one and shouted over the roar of the audience – "I love her!" convinced I had just found my favourite Queen. Then Jennifer Caldwell (American Idiot, Shrek, Mamma Mia) steps up as Anne Boleyn and the inner teenage turmoil of having to pick a favourite in a band begins, because she is sassy, scrappy and sensational, with a bad ass attitude to die for. How am I supposed to pick my favourite when they are equally brilliant?! It didn't get any easier. Casey Al-Shaqsy (Prince Of Egypt, Joseph, Newsies) is epic as Jane Seymour, delivering the first ballad of the evening, with the ultimate diva star power bright enough to control a pumped up audience and have us all in the palm of her heartbroken hand. Jessica Niles (Madagascar The Musical, Our House, Cinderella) knocks it out of the park as Anna Of Cleves and brings a cool, current edginess to the stage and leads a brilliant and funky dance routine that younger members all around the theatre were trying to emulate. Leesa Tully is captivating as Katherine Howard and has a gut-wrenching solo that took me completely unawares. Her acting ability shone through, and I felt genuine emotion as we watched her determination of a better life ebb away through a brutal betrayal. This was a bittersweet, beautifully directed number by Lucy Moss & Jamie Armitage. Last but by no means least was another favourite (because I refuse to pick any one over another – teenage me will just have to deal with that). Alana M Robinson (professional debut – again, if this is the start of her journey - wow) is sizzling as Catherine Parr. She is moving, motivational and marvellous, leading our sensational SIX to their rightful conclusion with her fantastic speech and solo.
The triumphantly talented band (Ladies In Waiting – best name ever!) are onstage throughout and consist of Musical Director/Keys: Jenny Deacon, Guitar: Laura Browne, Bass: Ashley Young, Drums: Migdalia Van Der Hoven and Phij Adams provides music technology. They truly create a concert vibe, and with the accompaniment of lighting by Tim Deiling, you will be wowed till you can be wowed no more. Lazers, flashing colours, bulbs lighting up sections of a backdrop to create scenery, such as the hilarious swipe left and right dating app phone element for Anna Of Cleves, not to mention the shows opening which literally set the agenda for the whole evening. A shimmer of light breaks through the stage, SIX Queens enter silhouetted by the back light, the audience erupts with anticipation, which is heightened by a blackout before our divas are spotlighted one by one. I mean, come on! It's superstar status! Brilliant!
Gabriella Slade has created the coolest costumes ever. Not only are they stunning to look at (and provided us with lots of conversation about which one we liked best, and which one had the most bling), but impressively capture both the Tudor style and the modern-day diva their character is influence by – right down to the long high ponytail of Ariana Grande. Anne Boleyn and Katherine Howard even had chokers, presumably representing the loss of their noggin'.


Famously imagined and written during their final year of university for The Edinburgh Fringe, Toby Marlow and Lucy Moss have gone on to deservedly win pretty much every award worth winning, culminating in their recent and colossal Tony Award for Best Original Score Written for the Theatre. Toby Marlow even made history at the 75th annual awards by becoming the first non-binary Tony-winner. SIX has an extensive showcase around the world; UK tours, West End residency, North American tours, residencies in New Zealand, Sydney and Broadway, and is literally making its way around the world onboard NCL cruises! Even with all of these showings, the tickets can still be like gold dust because this production has a life force of its own that is consistently pulling in audiences of all ages, genders, races, cultures and everything in between. It is serotonin in a show and its crowning glory is that, not only is SIX brilliantly entertaining, but its lyrics are so witty and clever, they pull you in and beguile you into listening to every single word with a heady anticipation.


Is the historical content of this 80 minute show 100% accurate? Well of course not, unless you choose to believe that Henry's wives were all in a girl group together, wearing rock inspired, glitter and rhinestone studded costumes and had harmonies tighter than Henrys codpiece! I do actually choose to believe this as it's so much better! And even though the aim of the show was never to convey history with 100% accuracy, it does an excellent job of delving more deeply into the individual stories of the six wives, making them real historical figures in their own rights and not just a reduction to a name in that infamous rhyme. So do whatever you have to do to get a ticket. No one will judge, they'll only applaud your efforts, and as they're giving you a congratulatory hug – will steal your ticket with the stealth of a SIX fan who refuses to miss out on this award winning, historemix helluvah show. It's safe to say that SIX has gone viral, so mark my words – this is one virus you'll be happy to come down with! Queens unite!! We're SIX!
WE SCORE SIX – 10/10


You can see SIX at The Lowry until Sunday 14 August 2022.


(Please note that the images used in this review are of the production's previous cast)