Manchester Theatre News & Reviews
REVIEW - A Christmas Carol is heartwarming and joyous, leaving you feeling on a festive high!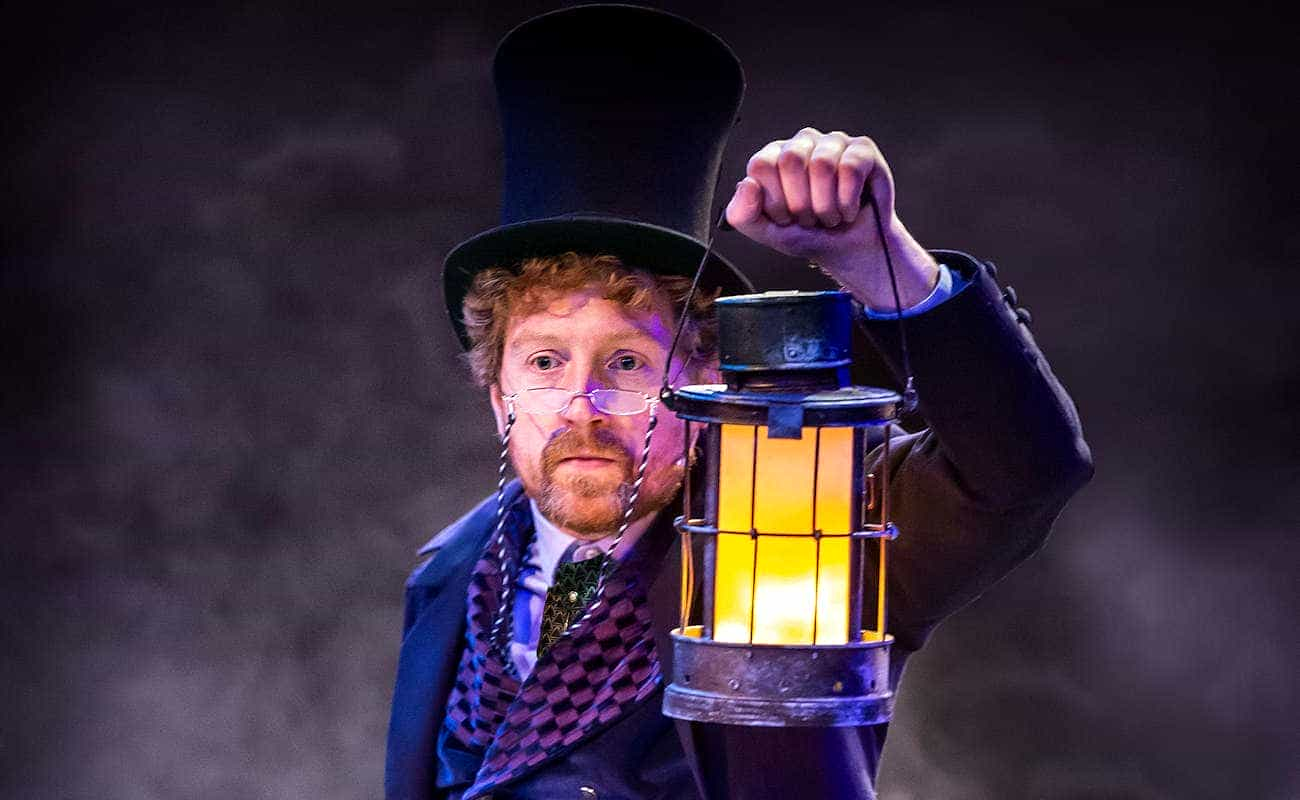 BOOK YOUR TICKETS HERE!
On Wednesday, we went to the Octagon Theatre in Bolton to see A Christmas Carol. Read what our reviewer, Lizzie Johnston had to say about this wonderful festive production...


You hear the title 'A Christmas Carol' and it's hard not to feel some sort of warmth and comfort from flashback memories of watching your favourite rendition as a kid, so naturally I was quite excited about this one. I didn't know what to expect of this production, whether it was going to be dark and haunting or a huge dose of festive spirit, but I did expect it to be a unique take on the story, like other shows I've previously seen at the Octagon Theatre.




The show is a family-friendly retelling of Charles Dickens' classic story about the tight-fisted Ebenezer Scrooge who lacks love and compassion. On the night of Christmas Eve, he is visited by the ghost of his old business partner Jacob Marley and is taken on a mystical journey through yuletides past, present and future - will he be able to see the error of his ways before it's too late?





The much-loved Dickensian classic has been told many times and in many ways (over 100!), yet it's still hard to get bored of the feel good Christmas message, and this new musical adaption by Kate Ferguson (Treasure Island, Fair Trade, Sherlock Holmes: The Early Years) and Susannah Pearse (Treasure Island, Jabberwocky, Hall of Mirrors) is another triumph to add to the list. It seems simplified, which is a good thing - have you ever seen how chunky the novel is? The show focused on the main parts of the story and the message of love, family and kindness at Christmas, making it uplifting and heartwarming; but we still saw the dark reality for Scrooge as he hit rock bottom and was threatened with his horrifying, lonely future. These moments created a brilliant contrast to the joyful, Christmas spirit which slapped a huge smile on every audience member's face.




The show is minimalist with no huge set required to transport the audience to Victorian England, but this isn't missed as the costumes and lighting dim to take us back in time. It's performed in the round with lanterns and string lights hanging from the ceiling, the lighting is cleverly used to fly us around with Scrooge and the ghosts, through the darkness of night time to the epic brightness of Christmas Day.




The costumes for the civilians were typical Victorian dress with muted colours, which helped the ghosts stand out with their bright, extravagant looks. From glittery chains on the ghost of Jacob Marley to a glowing halo and a Christmas tree dress, these costumes were far from the stereotypical looks of the era.




The small company of six talented actors switched between roles to take us on the journeys with Scrooge's ghosts. The characterisation was fantastic and the switches between roles were obvious, whether it was through costumes or the actor themselves, making it easy to follow and understand so there's no need to worry about any of the audience losing track of the story.

The company was lead by Laurie Jamieson (One Man, Two Guvnors, 71 Coltman Street, Romeo and Juliet) who played Ebenezer Scrooge, he was very engaged with the audience throughout the performance almost acting as a narrator allowing him to interact with the audience and really bring them into the story. We saw Scrooge go through an emotional rollercoaster as he was confronted by his Christmas past, present and haunting future; it was a real transformation from his harsh, unpleasant manor to an over-the-top Christmas convert.




Jamieson is joined in the cast by Jonathan Charles (The Wicker Husband, Watermill Theatre, Beauty and the Beast) as Jacob Marley and Bob Cratchit; Grace Firth (It's My Move, Face Front Theatre Company) as Mrs Fezziwig and Mrs Cratchit; Lianne Harvey (Relatively Speaking, Jermyn Street Theatre/Mill at Sonning, UK and USA tour of An Inspector Calls) as Belle and Christmas Present; Lauren Patel (Everbody's Talking About Jamie feature film) in her professional stage debut as Christmas Past and Fan Scrooge; and Robert Wade (Elephant Rock, Badapple Theatre Company, Alfie, Lawrence Batley Theatre) as Fred Tapper.

They are joined by a young company of 3 wonderful young actors sharing the role of Tiny Tim, including: Emma Kennedy-Rose (Miracle on 34th Street, Liverpool Everyman and Playhouse); Florence Moluluo (UK and Ireland tour of School of Rock); and Dominic Smith in his stage debut.




The actors are also all musically talented and each played an instrument which brought the songs to life, there was no band or orchestra, they created it all. This was very cleverly crafted by the Musical Director Matthew Malone (The Book Thief, Peter Pan, Treasure Island), as the instruments merged so well with the scenes that it was an obvious stop/start whenever the actors began playing.
A Christmas Carol adds fun pantomime-like elements, in particular the audience participation and comedic portrayal of characters, making it a joyous evening out for the whole family. The running time isn't long and the show itself feels quite fast-paced so there aren't any worries when it comes to keeping the little ones entertained. This is a great piece of festive theatre for all ages, and is a good alternative from a pantomime if you want to switch up your theatre visits. One of the standout moments was the visit to the Fezziwig family where some epic audience participation took place, taking the show from a toe-tapper to learning some new dance moves; it was just pure fun.




Overall, A Christmas Carol at the Octagon Theatre is a simple, heartwarming and joyous production suitable for any age that will leave you feeling on a festive high. If you fancy trying out some local theatre productions this Christmas, this is a great one to have at the top of the list.
WE SCORE A CHRISTMAS CAROL...





A Christmas Carol is on at The Octagon, Bolton until Saturday 14th January 2023.



BOOK A CHRISTMAS CAROL TICKETS HERE!