Manchester Theatre News & Reviews
REVIEW - Betty! A sort of Musical is clever, heart-warming and a proper good laugh!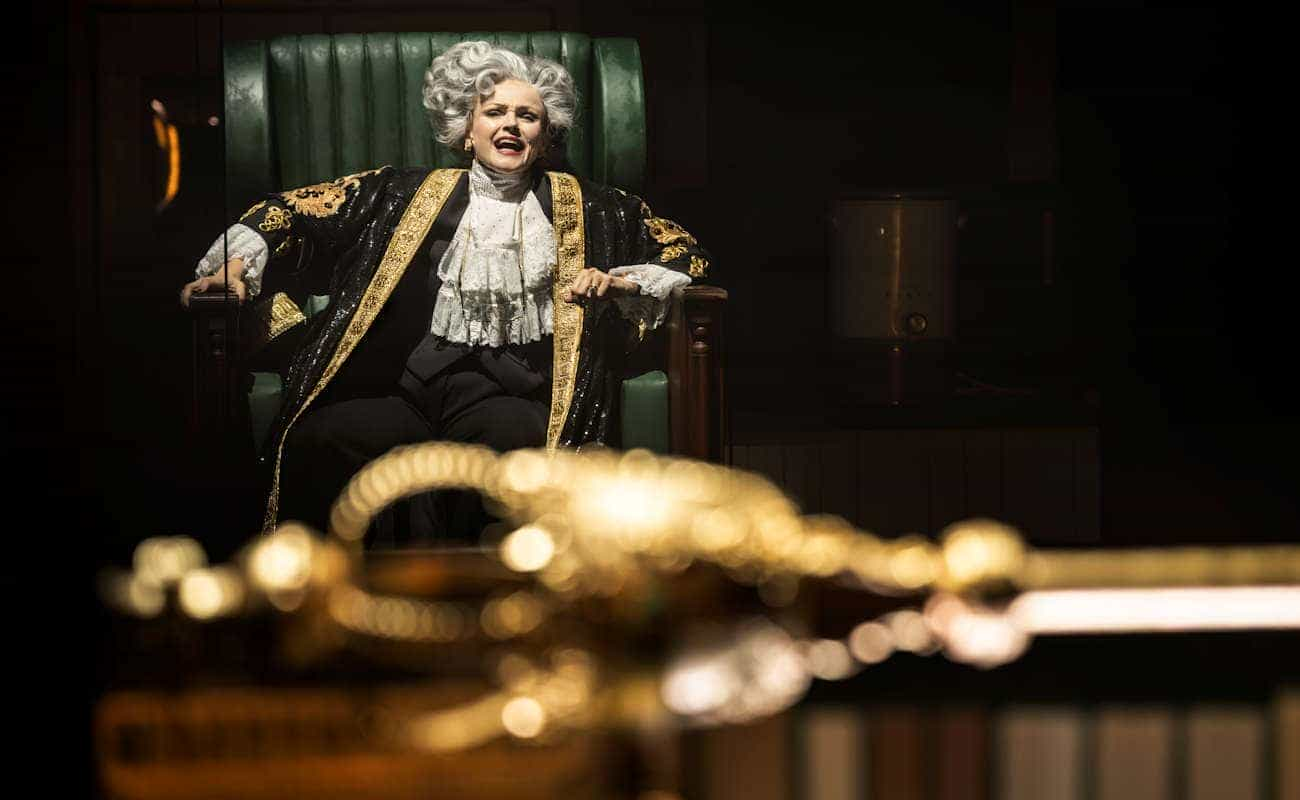 BOOK YOUR TICKETS HERE
On Thursday, we were invited to the Royal Exchange Theatre in Manchester to see Betty - A sort of Musical. Read what our reviewer, Lizzie Johnston had to say about this brilliant show...


Before going to see this production, I knew very little about Betty Boothroyd. Despite that, I know the Royal Exchange is often host to excellent, diverse shows and with Maxine Peake as the lead, I held high expectations. Once finding out more about Betty's historical stance as the first female speaker, I was curious to see how the show would take shape - because how do you create a musical based at the House of Commons?
BETTY! A Sort of Musical is sort of brilliant! The storyline follows an amateur theatre group in Dewsbury who are devising a new musical about a local celebrity. As the first female speaker of the House of Commons, Betty Boothroyd is a Dewsbury girl to celebrate, and the five ladies, plus Calvin, of The Dewsbury Players are doing just that. Their high-kicks may be wobbly, their acting 'enthusiastic' and the props left over from a production of MISS SAIGON; but, tonight, the Village Hall is their theatre of dreams!


We see Betty at different times throughout her life, from growing up in the Great Depression to her time in the Tiller Girls dance troupe at the London Palladium, and how these moments led to her becoming Madame Speaker. Through comedy, music and a bit of drag, you'll learn a lot about Betty Boothroyd.
The title is a perfect description as it is a 'sort of' musical in the sense that it has plenty of singing and dancing, but not as you'd expect from a stereotypical musical. It's more like a play about a musical which is keeping The Dewsbury Players and their creativity right at the forefront. This made it more enjoyable as it shines the limelight on local, amateur theatre and how it brings people from all walks of life together every week to do something they all love. An ongoing drive within the plot was how much they wanted their break into the industry and with a trip from the BBC looming, the need to impress was strong. How they managed to get a visit from the BBC is a moment of true comedic brilliance, with the group's leader Meredith twisting a few truths to make them stand out.
Maxine Peake (Happy Days, A Streetcar Named Desire, The Skriker) and Seiriol Davies (How To Win Against History, Milky Peaks, The Messenger) have written a joyful, fantastic show that is guaranteed to give you a great time. It's got that Northern umph about it, full of wit and not afraid to touch upon controversial topics by turning them into the butt of many jokes. It's clever how it has turned such a niche topic into one that anybody can enjoy.





Both star alongside Eva Scott (I Wanna Be Yours, Penny, I Don't Know Why I'm Crying); Lena Kaur (Living Archive, The Last Testament of Lillian Biolcca, Earthworks); Carla Henry (A Midsummer Night's Dream, Light Falls, Our Town); and Joan Kempson (Rutherford and Son, Everybody Loves a Winner, Misery).



Each Player had their time in the spotlight as Betty, always with a song and full routine to go with it, but don't expect the vibrato and power of a West End vocal. Under the direction of Sarah Frankcom (The Nico Project, Light Falls, West Side Story) we are kept within the realms of Dewsbury alongside their am-dram group, this is reflected heavily through the characters. The actors were all fantastic at this, keeping up their wonky kicks and good, but not amazing, vocals. It gives the show that heart-warming feeling, making it relatable and every second enjoyable.
This show isn't professional theatre looking down on am-dram, it celebrates these groups and reminds us how important they are for bringing a wide range of people together to talk about their differing opinions. Not only that, but how much fun they are to be a part of and that theatre is inclusive and at the heart of the community.
Like many productions at the Royal Exchange, the theatre itself and being seated in the round is a huge contributor to the overall show and audience experience. The set was mostly minimal apart from when it was transformed into the House of Commons and Peake was lowered from the ceiling in the iconic speaker's chair. Other than that, there were no grand set designs, just some plastic chairs, a wicker basket full of props and dodgy tea urn - everything you'd see at your local amateur theatre groups weekly set up. The lighting helped to transform the stage from the Village Hall rehearsal space to a full dramatic theatre in the West End with blinding spotlights.
When it comes to a comedy show there's nothing more enjoyable than laughing together, at the same thing, and just having a great time. This show delivers on that, it's got all levels of comedy and will give you plenty of belly-laughing opportunities.
If you fancy a theatre trip this Christmas without all the jingle bells and 'he's behind you', this is an excellent option. The Royal Exchange is known for its outstanding Christmas shows (which aren't particularly festive) and this is no exception. It's a treat, a proper good laugh and fantastic fun!
WE SCORE BETTY! A SORT OF MUSICAL...





Betty! A sort of Musical can be seen at the Royal Exchange Theatre, Manchester until Saturday 14th January 2023