Manchester Theatre News & Reviews
REVIEW - Lizard Boy is fast-paced, upbeat and engaging throughout - a must see!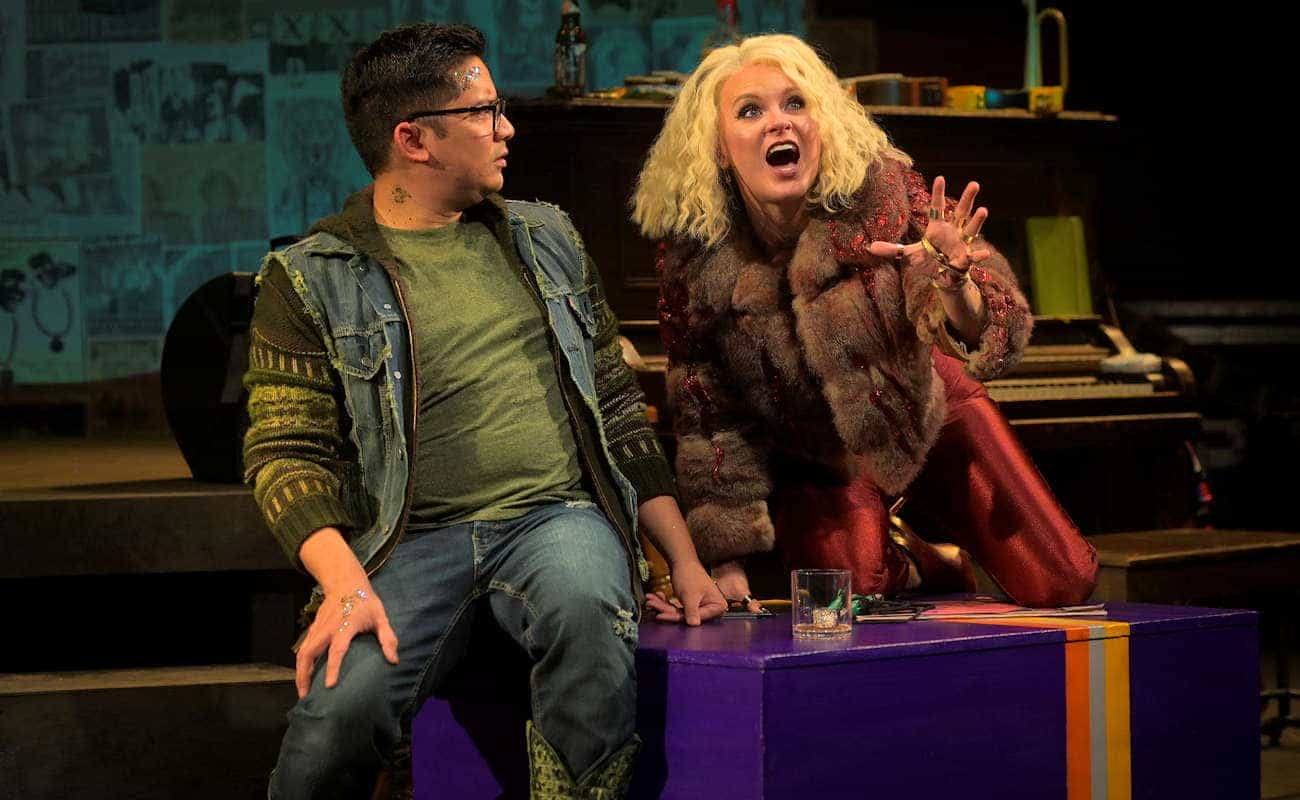 BOOK LIZARD BOY TICKETS
On Tuesday, we were invited to Hope Mill Theatre to see a new musical, Lizard Boy. Read what our reviewer, Lizzie Johnston had to say about this fabulous production...


Musicals have always been my favourite form of theatre so, regardless of not knowing anything about Lizard Boy, I jumped at the chance to see the new indie rock musical. Hope Mill Theatre has the most welcoming vibe, it's a true theatre community and (even during a heatwave!) people were buzzing and excited to watch the show.


The story follows Trevor twenty years after a bizarre childhood accident where he was drenched in dragon's blood. Over the years he's grown green and scaly skin and withdrew from the world. Tonight, we see Trevor go on an adventure of mythic proportions, finding answers from the incident and learning about who he truly is - all whilst on a first date with a cute boy. In a nutshell, think classic comic book meets coming-of-age love story.
Directed by Brandon Ivie (The Noteworthy Life of Howard Barnes, Jasper in Deadland, String, and The Hinterlands), there were no dips in the show where the energy was low or I lost interest, this is testament to the fast-paced and upbeat nature of the production. The 60-minute show had depth, feeling and insane harmonies, not forgetting the musicality of the three performers - each one played several instruments, from guitar to cello. The songs themselves were catchy and ones that wouldn't go a miss on the 'Broadway Hits' Spotify playlist. It's vibrant, innovative and everything you'd expect if a Marvel Comic became a musical.
The set was minimal, with myriad instruments dotted around and a small platform at the back. Lighting was used to bring their superhero qualities to life, in particular a glowing green for Trevor's lizard features. The use of the instruments themselves was a standout, the three actors are talented musicians in their own right, each playing a range and their musicality was out of this world. It really was a highlight to see the three performers come together and dazzle us with every song.
There are two casts who alternate throughout the run at Hope Mill Theatre and when it transfers to the Edinburgh Festival Fringe. We saw the award-winning, original American cast, led by author/actor Justin Huertas (The Last World Octopus Wrestling Champion, Howl's Moving Castle, The Lamplighter, and We've Battled Monsters Before) who plays Trevor. Huertas transported us into his world as he started to accept his true self. The audience was filled with empathy and understanding as Trevor's self acceptance resonated with so many of us. The power house Siren, played by Kisten "KiKi" deLohr Helland (Afterwords (World Premiere), The Sound of Music (Maria), Grease (Rizzo), and Oklahoma!) enchanted us with her insane vocals and the character worked as an epic opposition to Cary, played by William A. WIlliams (Beauty and the Beast, Showboat, The Gypsy King (Village Theatre) and Romeo and Juliet) as he brought a gentle and caring nature to the stage, helping Trevor to realise his worth.
The alternate UK cast is made up of Alan Cammish (My Night With Reg, Snowboy, West SIde Story), Sophie Reid (The Snow Queen, Once, Into The Woods), and Anthony Rickman (Aladdin, The Jungle Book, Wonderland: A New Musical).
The audience were completely engaged throughout the show, you could hear a pin drop until the eruption of applause as the cast took their bows. The story is ultimately about being true to yourself and not hiding away, everyone has something unique about them and we shouldn't judge each other on how they appear on the outside. As it's a short and upbeat show, it's perfect for an evening out, any night of the week. We'll be hearing so much more of Lizard Boy in years to come, so don't miss the chance to see it now.

We score Lizard Boy - 8/10


You can see Lizard Boy at Hope Mill Theatre until Wednesday 27th July 2022.

Take advantage of our £10 ticket offer for all performances...

BOOK YOUR TICKETS HERE!