Manchester Theatre News & Reviews
REVIEW - South Pacific is heart-breaking, humorous and hostile in equal measures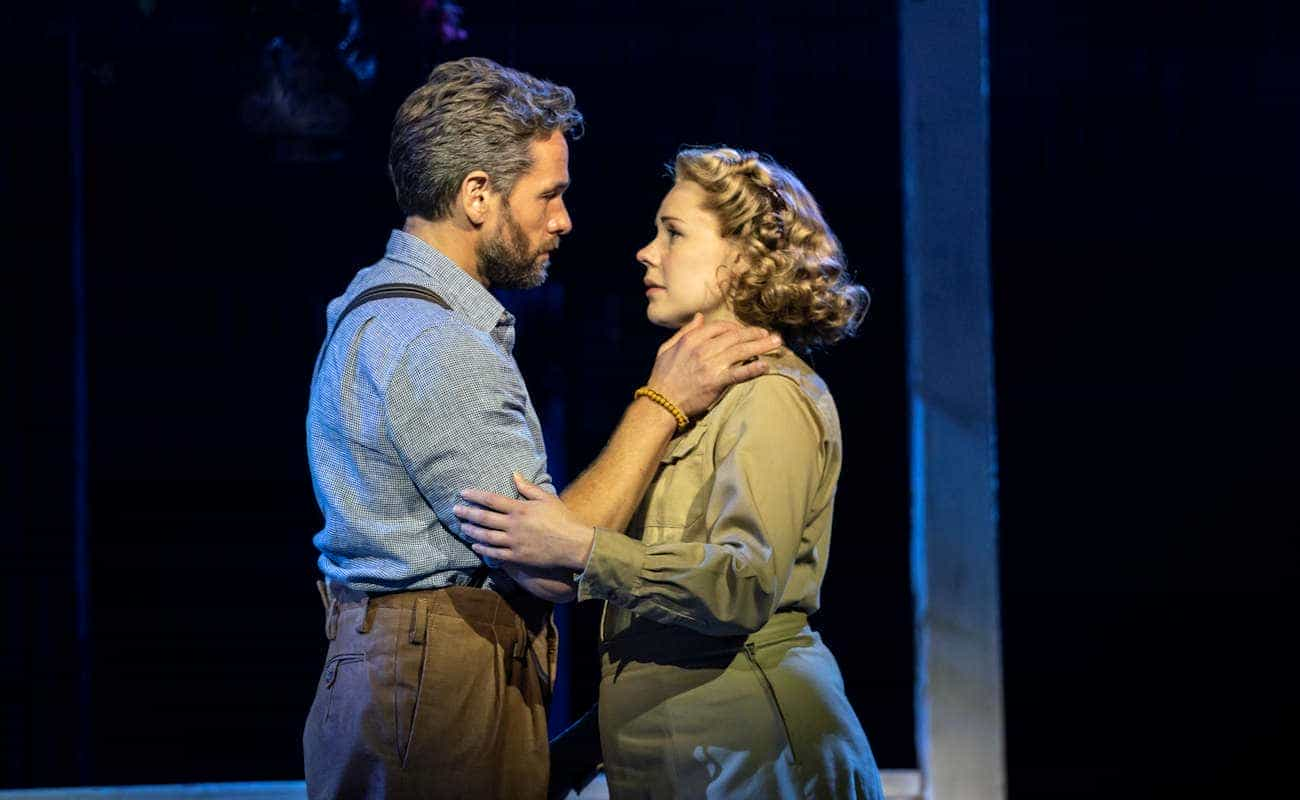 BOOK TICKETS TO SEE SOUTH PACIFIC
We were invited to the Manchester Opera House on Tuesday evening to watch South Pacific. Read what our reviewer, Karen Ryder, had to say about this fantastic production...


South Pacific is possibly a musical better known for its songs than its story. Whether this is because the Rodgers & Hammerstein score is jam packed full of instantly recognisable hits, or because the storyline themes sit uncomfortable with many, either way it a grand piece of theatre that has stood the test of time. Set against the stunning backdrop of the pacific islands during WW2, we meet characters from completely different backgrounds and watch as they try to find a way to live, love and understand each other. There is deep rooted racism, military missions, clashing cultures, control and philosophy – and believe it or not, South Pacific is actually classed as a musical comedy! As the love torn, homesick, and larger than life characters find themselves closer and closer to a war they don't seem to fully understand, they keep their spirits up the only way they know how – by putting on a musical of course!

On the hottest day of the year, it was easy to believe we had been transported to the South Pacific for real as temperatures soared outside, but The Opera House handled this beautifully, with water jugs set up on every bar, and a gloriously air-conditioned theatre that would have filled the few empty seats had people known. In fact, it's the most comfortable temperature I've felt in the last few days, so don't be put off by thinking it will be hot and stuffy as it was anything but! With the show providing lulling sound effects of lapping waves on a shore, and lighting creating a sunset glow, I was most definitely feeling the island vibes.
The show opens with a beautiful and peaceful lyrical solo dance to the overture from the Tonkinese character Liat. The peace is abruptly disrupted however by a swarm of American Officers who show little regard for their disturbance in a land that does not belong to them. It is a powerful metaphor to open the show and immediately sets an uneasy tone for the underlying ignorance that war brings, and the neglect for the people and places it inhabits. This production does not shy away from the fact that its central characters Nellie and Cable hold racial beliefs and equally, it does not allow these beliefs to sit comfortably as has been seen in previous years. Times change, knowledge grows, acceptance and a shift in tolerance of what is and is not ok emerges, and with it, so has a slightly new outlook of the strong themes in South Pacific. This can be seen in the more desperate and darker version of Happy Talk, executing the lyrics to a new generation with a tense irony. It completely changed the meaning of the song and subtly got its message across. This felt like a powerful moment. What was deemed acceptable in 1949 when the show was first staged, may have been a product of its time, but such themes and views are now to be challenged. The production doesn't try to rewrite history by changing its book, but instead holds up a mirror to our history by showing us how ugly some views were, how offensive throw away comments can be, and how out of place deep rooted prejudice feels. It also has the unenviable task of presenting the marginalised and caricatured Polynesian community in a different light to the original book, and much of this is presented through Bloody Mary.
The songs from South Pacific are synonymous with musical theatre, and so popular that numbers such as 'Nothing Like A Dame' have been parodied to the highest standard by the likes of Morecombe & Wise in their Christmas specials. There are the famous fishy dad jokes of 'Salmon – chanted Evening', and of course this number was famously recorded by Frank Sinatra, and any musical theatre lover has probably sung 'I'm gonna wash that man right outta my hair' after a breakup! The score has most definitely stood the test of time. The crowd pleasing ensemble numbers such as 'Nothing Like A Dame' and 'Wash That Man Right Outta My Hair' proved to be particularly popular with the audience tonight. Additional sets were brought on against a corrugated iron backdrop to create the washhouse and the shower room respectively, and used to fruition, with cast members climbing up them, swinging off them, and of course taking a quick shower in the middle of it all too! Act one is long at an hour and a half, and just as I was starting to feel a little squirmy, my attention was honed by a striking finale to the act, which gave me goosebumps.
Julian Ovenden (Bridgerton, Sound Of Music Live, Downton Abbey) was responsible for said goosebumps as Emile de Beque. His luxuriously rich voice echoed around the theatre like melted hot chocolate. I knew he could sing but hearing him live is an altogether more wonderful experience. He is perfect casting for this part as both his acting and singing were given ample opportunity to shine. I found myself lost in his performance for he draws you in by taking his time, and making the audience come to him. It is no wonder he is an actor in demand, and his delivery of the famous line, "I know what you're against, but what are you for?" left a poignant silent echo of realisation. Gina Beck (Matilda, Phantom, Wicked) was a great Nellie and I'm glad to see she brought a sense of strength to the character instead of simply making her a whimsical maiden who falls in love, and out of love, and in love…..and out again. She belted out her numbers with an impressive power, and made the character multi-faceted with humour, love, and hate. Joanna Ampil (Miss Saigon, Les Mis, Jesus Christ Superstar) has been blasted in my home for many years via the Miss Saigon symphonic recording, so it was a true pleasure to hear her sing live for the first time tonight, and I wasn't disappointed. Her portrayal of Bloody Mary felt more modern, likeable, relatable, and provided more insight into the impact of war on those whose homes are taken over. In truth, there even felt like Miss Saigon moments in there, for she made Bloody Mary less of a marginalised 'native trying to fleece the soldiers' and more of a desperate and loving mum who is willing to do anything to give her daughter the best life possible. Rob Houchen (City Of Angels, Les Mis, The 12 Tenors) sings his heart out as Lt Cable and has amazing chemistry with Sera Maehara as Liat (who is a stunning dancer). Houchen does a great job of delivering the number 'You've Got To Be Carefully Taught', which requires strong acting to ensure it's hard hitting lyrics are understood and the message of where deep rooted racism can come from is heard.
This is a strong cast and, even though there were moments where things felt a little slow, their united professionalism ensured that it was never anything more than a tropical drop of rain that had already been swept away onto the horizon of the South Pacific. Just when you think all of its hit songs must have been sung, another one is waiting in the wings, cementing just how many classic tunes this often controversial musical has actually produced. South Pacific is a classic. It was a classic then and it's still a classic now, and though it may be the rebellious older sibling of the musical theatre world, that people don't always know how to take, it is also always reliable and there with a familiar song and dance to help you find you own Bali Hai.
WE SCORE SOUTH PACIFIC - 9/10


South Pacific is on stage at the Manchester Opera House until Saturday 23rd July 2022.


CLICK HERE TO BOOK YOUR TICKETS