Manchester Theatre News & Reviews
REVIEW - The Glass Menagerie - A fresh perspective on a classic play!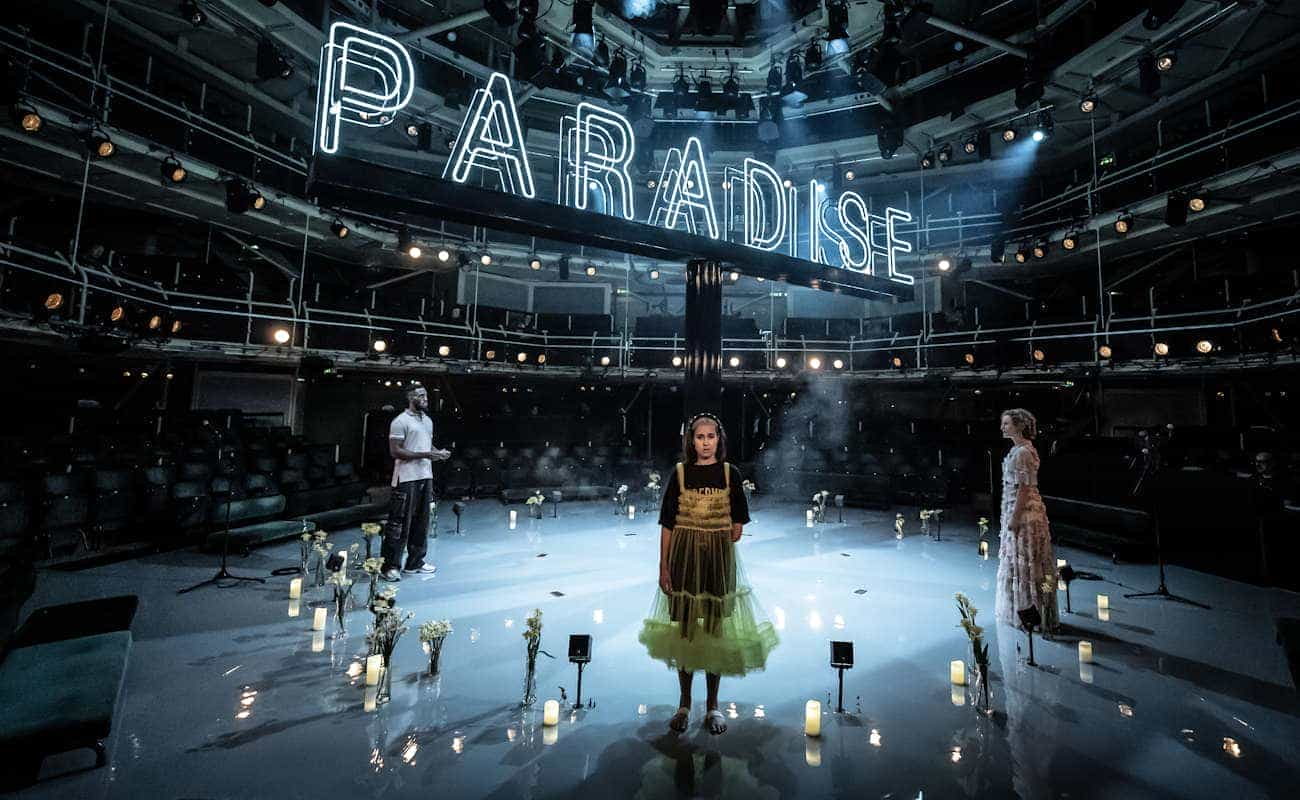 BOOK TICKETS FOR THE GLASS MENAGERIE
We were invited to the Royal Exchange on Saturday afternoon to watch The Glass Menagerie. Read what our reviewer Karen Ryder had to say about the Royal Exchange's latest production...


Stepping into The Royal Exchange Theatre Manchester is an experience to behold before you have even had the privilege of watching one of their productions. An impressive theatre in the round, with stunning architecture and beautiful glass domes, it is the perfect home for The Glass Menagerie and the perfect way to spend a Saturday afternoon. This production has waited in the wings long enough though. Another theatrical covid casualty, it has finally been given its well deserved moment in the spotlight, and delivers with a fresh interpretation which is witty, wonderful, and capable of making your bottom lip wobble too.
The play starts with the character Tom, a lighter, a huge neon sign ironically stating 'Paradise', and a sense that we are about to be taken on a unique journey. He talks to the audience directly, informing us we are about to watch a play, a play that is based on Tom's memories of his suffocating upbringing. As he takes us back in time, the neon sign obeys and spins in an anti-clockwork direction, with other characters slowly manoeuvring themselves around the performance space in a backwards direction too. This technique is used throughout the production allowing time hops, and false memory recall to be played back with accuracy instead of the way individual characters may wish to remember events.
Siblings Tom and Laura are stifled by their mother Amanda, who tries to control every aspect of their past, present, and future. Constantly comparing her own memories to her children's present, she always seems to find them lacking, and whilst she believes her desires for them are in their best interests, she is blindly oblivious of the unhappiness and unease this causes. Tom finds escape through poetry, cigarettes and all nighters at the movies, facts his mother refuses to accept as the truth. Laura's haven is found through her music and collection of glass animals, and as Laura's absence from her business school is discovered by her overbearing mother, we begin to understand why such escape is necessary. Laura suffers with illness and an overwhelming shyness, a trait her mother seems to have no concept of, resulting in stomach churning social situations for Laura that make her physically sick with anxiety. These are escalated when Amanda insists that Tom bring home a friend from work to ensure Laura starts to receive gentlemen callers (just as she did when she was young even when she was ill with malaria fever – the implication being, "If I can do it darling daughter, then so can you.")
Amanda's reasons may have the best intentions, but she fails to listen to what her children tell her, and Laura is left in the most cringe worthy of situations when the friend Tom brings home is her old crush. As they get along beautifully, with Jim showing her an understanding and new level of kind acceptance that is lacking in her life, she believes they have a future. But this story does not have a happy ending for anyone involved, and as Tom fights just to dream of his ambitions, Amanda is equally as forceful about keeping them from him, deeming him selfish for daring to dream. There is a lot going on with this story, with deeper, more untold truths than I can lay out in a simple synopsis.
The cast is four strong with Geraldine Somerville as Amanda, Rhiannon Clements as Laura, Joshua James as Tom, and Eloka Ivo as Jim. This Tennessee Williams play introduces four strongly contrasting characters, and each actor portrays these distinctions with stunning ease and clarity. Somerville gives us an Amanda that we love to hate. She is unbearable, manipulative, yet utterly captivating and you can't get enough of her sweet tone and sing song memories, as they bleed into utter venomous outbursts at her perception of Tom's selfish tendencies. Her emotional range and class are available at the flick of a switch and are quite remarkable to watch. Clements is endearing, and delightful as Laura. Completely believable as someone who is crippled with shyness, there were genuine moments in the play where I wanted to rush on stage and give her a much-needed comforting hug because her vulnerability was so real. There was a section when she was facing me head on, utterly distraught by Jim's announcement, and she did not break character for a second, her face and body physically hurting with emotion. Extraordinary.
James was commanding as Tom and had a wickedly dry sense of humour and style of delivery that hit the mark every time. Again, he was able to portray his anguish through heart wrenching emotional outbursts, then reign everything back in to deliver a killer one liner. Remarkable. Ivo was utterly charming as Jim. He truly came to life in the second act and had the audience eating out of the palm of his hand with his energy, his swagger and completely natural approach to his role. The audience seemed to physically lean into his performance and his gentle approach to kindness left your heart smiling. This cast flows. Their characters were so defined and strong that you could go away and imagine how any conversation between any combination might play out.
Director Atri Banjerjee is no stranger to The Royal Exchange, holding the position of Associate Director since 2017. The Glass Menagerie is his directorial debut, and it is exciting to witness such a fresh perspective on a classic play. The use of time, memory, and a soundtrack worthy of any diva, frame this 1944 play in a new light that will no doubt attract both loyal theatre goers and new ones alike.
Set design and lighting are provided by Rosanna Vize and Lee Curran. Aesthetically streamlined, clean and simple, with the upmost thought to detail, they combine to provide intrinsically clever features such as the floor lit to give the impression it is made of glass, the paradise sign not only capable of spinning at different speeds and in different directions to align with the frenzied grasp of memories, but its structure being used by the cast in numerous ways. Candles and bright flowers grace the stage to give a calm serene atmosphere for the scenes of acceptance between Laura and Jim.
This production is not afraid to take its time, enlisting the first half to a feeling of drifting on by with nowhere in particular to go. This sense of drifting is echoed in the physical space between characters during pivotal moments, which match the growing fractures of their relationships. It is metaphor heaven, but sadly, overhearing a few conversations during the interval, some it was lost in translation, instead simply leaving a feeling the story could have been told much quicker.
The Glass Menagerie is a classic, and as such, audiences who know the play will always come to it with strong opinions and views of what its themes are and how it should be presented. But it is quite simple; glass reflects, and the clear reflection I saw this afternoon was a virtually full Royal Exchange, an engaged audience, and a standing ovation. What more can you ask for?



WE SCORE THE GLASS MENAGERIE - 8/10


The Glass Menagerie can be seen at the Royal Exchange Theatre until Saturday 8th October 2022.

Photo credits: Mark Brenner