Manchester Theatre News & Reviews
REVIEW - Tie your mother down because We Will Rock You will make your rockin' world go round!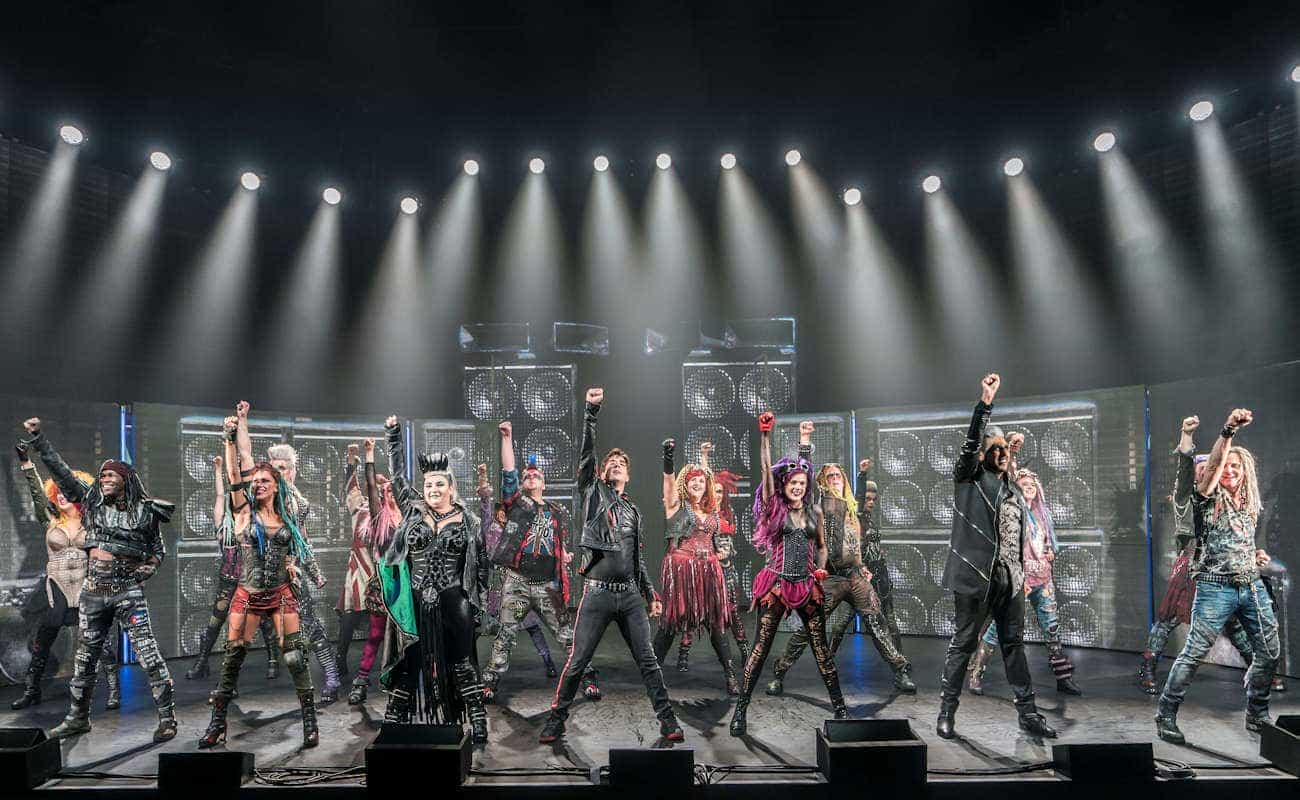 BUY WE WILL ROCK YOU TICKETS
We were invited to the Palace Theatre on Monday evening to watch We Will Rock You. Read what our reviewer Karen Ryder had to say about this epic musical...



Let's start by saying "Happy Birthday" on what would have been Freddie's 76th birthday, and what a way to celebrate! We Will Rock You pulsates through every fibre of your being, leaving the hairs on your arms standing to attention and adrenaline flooding flirtatiously through your veins. Queen's music is epic to listen to in its recorded form, but LIVE?! Insane! Tie your mother down because We Will Rock You will have you dancing the fandango with Figaro and Scaramouche will make your rockin' world go round!



Queen are undoubtedly one of the best rock band to have ever graced our planet – hell – any planet! – and Ben Elton has created a quirky, camp and over the top story which utilises their music to perfection and embodies everything that Queen were, and are known for. Instruments and real music have been banned in our future world (iplanet – formally known as Earth), and the only music available is pre-programmed mulch from the giant corporation Globalsoft. It is a world where all must conform, all must live their life through technology and the internet, and all must obey the tyrant leader Killer Queen. Enter Galileo Figaro, a rebellious bohemian who refuses to conform to a world that makes no sense to him. Galileo hears voices, dreams profound sentiments and is plighted by questions in desperate need of answers which randomly pop into his head. Dubbed The Dreamer, he finds himself on the run from the Killer Queen with another free spirit who he names Scaramouche (or Scary Bush). Their cause truly begins when they discover there are still some rebels left - The Bohemians- who fight for truth, friendship, and rock n' roll. Galileo must guide them to follow the star and take them to the place of living legends in order to preserve real music and free will. With razor sharp humour, word play, and characters named after some of the biggest / popular music legends ever, the intellectual trademark of Ben Elton's writing is unleashed in full force. Ironically, the story was dubbed as weak, untruthful and unbelievable by those harsh critics when it first came out (not – me – I get pulled for being too positive and nice!) yet today we live in a world obsessed with social media, who do everything via their phones, and are also in a position of loss and fear from greedy corporations – oh the irony! Elton has composed a story dripping with music nostalgia, lyrics, song titles, and legacy. Those of us old enough will remember recording TOTP's on VHS, then playing it back over and over to watch your favourite band or artist. But what if technology has advanced so much that not only are VHS tapes obsolete, but a whole generation don't even know how to pronounce it?! What if you have been so brainwashed that you can no longer match your heart to a musical beat? And what if you had never heard of Queen?
Don't! I can't even go there!



The opening chord of Innuendo reverberates through the entire theatre, your entire body and your entire being. Drums, lights, special effects and Freddie. The show could have ended after that first few minutes and it would still have scored a perfect ten. The hits just keep coming one after the other, and with a live band smashing it, it's impossible to stop yourself from clapping along, tapping your foot and cheering like a banshee. This is a different production to the last tour. Everything is a little more understated, but this fact is humourously written into the script as, for instance, Sir Cliff pokes fun at the motorbike of previous shows being reduced to just handle bars claiming it is the only part that passed the clean air emissions thing-I-ma-jig-I-bob. Some songs have been cut such as Play The Game, but others have been added such as The Show Must Go On and best news ever is that Don't Stop Me Now (which was irritatingly always cut short in previous shows just as it was getting going) is now given it's deserved and unapologetic full moment in the spotlight. The second half opens with "One Vision" and a reprise of Freddie's voice. It's so cool to see nods to the band throughout, especially the "Day Oh" sing back section. The audience all knew exactly what to do, bang on cue. Lit to a back drop of Wembley, it's the closest many of us will ever get to that historical time.


The set (Tim Blazdell) is simple, unpretentious and works succinctly for a show wired in technology. Moving imagery, amazing lighting, and an archway of scaffolding form the continual set, with smaller elements brought on as and when they are needed. This is enough to transport you through this futuristic world. Mashed together with the raw and basic elements of the bohemian's hideout, it does a great job of allowing the cast to shine. The rock concert vibe is met head on, throwing flashing lights and strobes across a pumped up audience who are well and truly ready to rock.



As we are informed from the very start by a Ben Elton voice over, this is a cast of impressive professionals, and WWRY never fail to amaze me with the talent they bring to the stage. Galileo was the alternative - Damien Walsh (MYTH, Sunny Afternoon, Dreamcoats & Petticoats) and ripped the stage to shreds. A powerful, igniting performance full of charm and rebellion. Elena Skye (Les Mis, Kinky Boots) as Scaramouche is the kind of laid back cool, sarcastic and in control kind of character I'm sure we all wish we could sometimes be. A calm and collected wit that had the audience in stitches. Michael McKell (10cc, Doctors, Kavanagh QC, Tonight's The Night) is brilliantly zany as Sir Cliff, with cracking physical acting honed to perfection, truly making you belly laugh. Jenny O'Leary (Heathers, Rent, Groundhog Day) as Killer Queen has killer pipes! What a powerhouse performance and duets brilliantly with Adam Strong (Jesus Christ Superstar, Joseph, The Barricade Boys) as Khashoggi, who is able to switch from playing quiet and intense, to rock god faster than Flash Gordon can save the earth! Martina Ciabatti Mennell (Pretty Woman, TriOperas, The Voice) pulls at your heartstrings with her raw and honest rendition of No One But You then flings herself across the stage with an untamed rock energy and Edward Leigh (Blues Brothers, Clockwork Orange) stepped into the role of Brit tonight, providing a strong, believable rebel with a very real cause.



We Will Rock You continues to work it's kind of magic throughout, building its audience of fans, new and loyal, to a Wembley like frenzie. It accelerates from allegro to prestissimo, whilst still allowing moving moments of reflection, emotion and serenity. The show crescendos to its climax collaboration from the Bohemians – their rhapsody. If ever you wanted to feel the beating heart of the arts – this is it. Theatre, rock n' roll, lighting, design, costume, you name it, it all explodes together at just the right time in perfect harmony to create a living legacy of Queen. Cast and audience become one as the theatre pulses and throbs with an eclectic, electric energy of thunderbolts and lightening – except they are far from very very frightening! So ask yourself – is this the real life? Is this just fantasy? Who the hell knows, but I do know that Freddie would have had a blast at this birthday celebration tonight and be proud that his light hasn't dimmed, not even a little. Happy Birthday Freddie – Manchester salutes you.


WE SCORE WE WILL ROCK YOU – 10/10


You can see We Will Rock You at Palace Theatre until Saturday 10th September 2022.