HOMOBLOC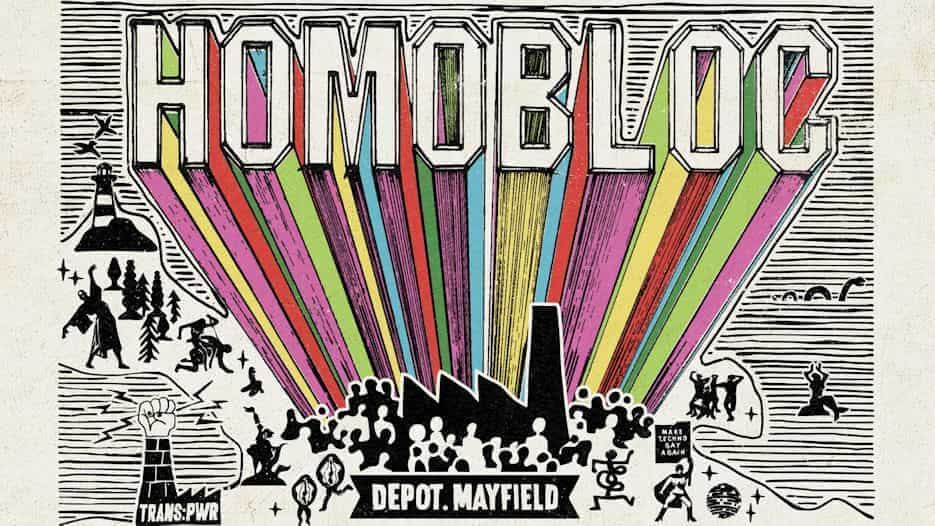 A queer block party for all. For homos, hetros, lesbos, don't knows and disko asbos. Featuring a vast array of genres, cultures and experiences, the 2023 Homobloc Festival Line-up includes:
Jessie Ware. Confidence Man. The Blessed Madonna. Peaches. Romy. David Morales. Horse Meat Disco. Sherelle B2b I. Jordan. Avalon Emerson. Todd Edwards. Lsdxoxo. Salute. Prosumer. Tygapaw. Roi Perez. Suze Ijó. Jodie Harsh. Dj Paulette. Cakes Da Killa. Juliana Huxtable. Hifi Sean. Cormac. Girls Of The Internet. Wes Baggaley. Gabrielle Kwarteng. Joshua James. Kath Mcdermott. Gina Breeze. Kim Lana. Grace Sands. Man On Man. Cumgirl8. Shrekx666. Myst Milano. Jamie Bull. Veba. Sue Veneers. Tokky Horror. Real Lies. The Niallist And The Fuck Pigs. Guy Williams. Your Dad Sells Avon. Soz Lad. Supernature. Mix-stress. Arch Femmesis. Ghetto Fabulous. Dj Soyboi. Meme Gold. Egg (Porij). Club Zindagi. Dj Duckdown. Atalaya. What She Said. Rojak. Will Tramp. Lukas. Bay Bryan. Spellbound. Ashtylr. Wditmf X Dandy. Chipped Polish. Ali Pitstop . Mr Bear Gran Canaria . Club Clam . Creatures By Beau Azra . Cutie Whippinham . Da Guwrlz . Devonnxthaniel . Dymond . Eat Me . Fire At The Disco . House Of Blaque . House Of Spice . Hotline . Ivy Profemme . Jordan Roberts . Kitty Velour . A Lawless Agency Feat: Bj . Danni Spooner . Finn Love . Gisele . Harvey Rose . Josh Walker . Karteer . Lucy Fizz . Taali Not Charlie . Yung Reenie . Lill . Liquorice Black . Lucinda B.hind . Lupae . Maisha Kungu . Drag Kings Of Manc Feat: Tom Buoy . Dandy Dyke . Big O . Seb Aceous . Miss Combobulated. Tk Maxximus . Oscar. Miss Chief By Banksie Presents: Angel Pinks . Bon Appetit . Chastity Stone . Monique Eboné . Renee Sance . Vill . Miss Jackie P . Missy Daubs. Mister Dolly . Nadiva. Night People . Noirgayze . Olivia . Strutty Bitch Presents: Cute Cartel . Lucas Vasconcelos . Sodomite . Tranuary . Wyn N Sin . The Cavalcade . The Cequin Circus . The Fat Britney . Yos Clark.

Plus Many More Yet To Announced.
HOMOBLOC Tickets
Manchester
Manchester
Depot Mayfield
Sat 4 Nov 2023
Other events you may like...
Most Popular Shows and Events in Manchester