Unfortunate: The Untold Story of Ursula the Sea Witch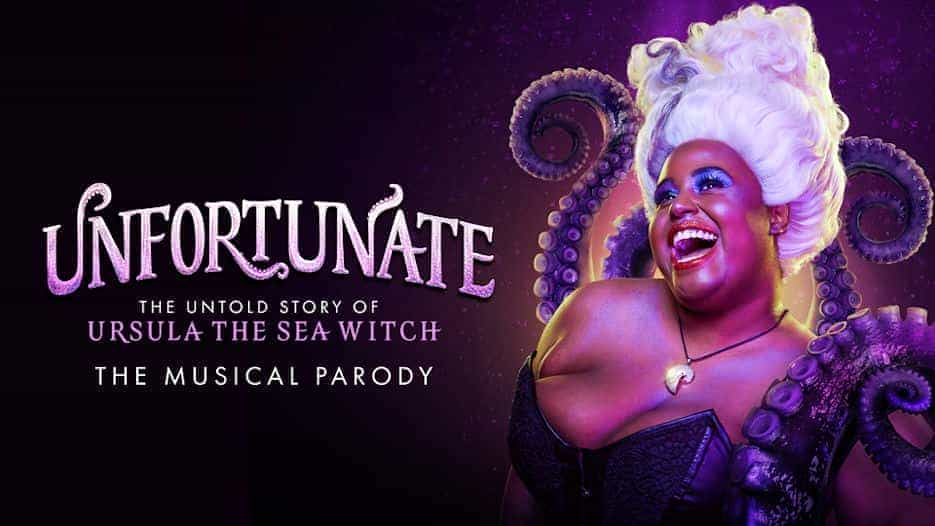 Disney villain. Octo-woman. Plus-size icon.
From multi-award-winning Fat Rascal Theatre and fresh from complete sell-out runs at the Edinburgh Fringe and around the UK comes this critically acclaimed hit parody musical. 'Unfortunate' splashes into town - and things are gonna get wet.
Join everyone's favourite Disney Diva, Ursula, as she gives her take on what really happened all those years ago under the sea. With an original hot pop soundtrack and trademark filthy humour, it's time to take the plunge and dive in to this year's hottest night out.
Cruella told her side, and Maleficent's had her moment. Now the legendary queer queen is ready to spill, in this tell-all tale of sex, sorcery and suckers.

Age Guidance: 16+ Contains strong language, partial nudity, scenes of a sexual nature and flashing lights.
Unfortunate: The Untold Story of Ursula the Sea Witch Tickets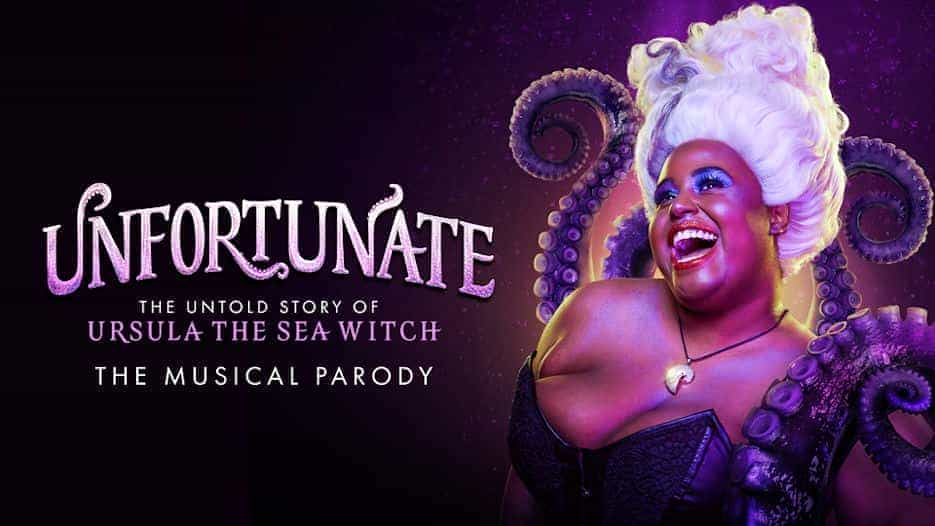 Sorry, there are no tickets for Unfortunate: The Untold Story of Ursula the Sea Witch in Salford available at the moment. This maybe due to one of the following reasons:
- Unfortunate: The Untold Story of Ursula the Sea Witch in Salford tickets are currently not on sale.
- The event has sold out.
- Details have not yet been announced for Unfortunate: The Untold Story of Ursula the Sea Witch in Salford.
- The event may have been cancelled.
- The event has been and gone.
Join our free mailing list for
updates about this event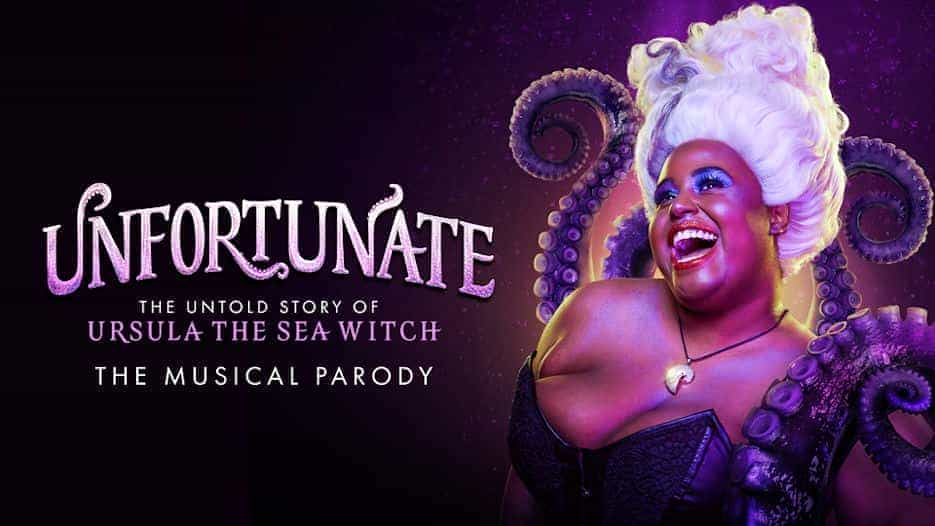 Unfortunate: The Untold Story of Ursula the Sea Witch ON TOUR
Our review on Unfortunate: The Untold Story of Ursula the Sea Witch
Unfortunate - The Lowry, Salford - Wednesday 7th September 2022 by Karen Ryder
Our Rating
Unfortunate has been creating a lot of buzz in the theatre world, and many have been eager to see this rebellious take on The Little Mermaid. Take the Disney out of Disney, tell the story from a different character's point of view and you have yourselves a fresh, fierce, and fabulous show that has more pulling power than Ursula's sea witchy octopus tentacles. Make no mistake, this is Ursula's story and Ariel is merely bait.
Unfortunate is the new offering from Fat Rascal Theatre, a company set up by graduates of East 15 and run entirely by women. They have produced 7 brand new musicals to date, winning numerous awards, and pride themselves on challenging the constraints and stereotypes of being a woman in the biz we call show. Their aim is to create theatre that not only entertains but evokes a sense of empowerment, inspiration and liberation. So, have they achieved this, and what is their show all about? Ursula has always been seen as a villain, but really, she ain't so bad – she's just misunderstood. She has had her heart broken, and honestly – we've all been there and done some crazy things ourselves in that position. She just needs a little understanding and then maybe even she can have her own happily ever after, right? Ariel is so last year, so let's find out what really happened under the sea all those years ago through the filthy, smutty mind of a delicious diva.
We follow Ursula from when Atlantica banished her after she was framed for murdering Kirsty the sea cucumber, to her years living in the corpse of a sea creature with her two gay best friends, to the deal she makes with King Triton in which she is to prepare Ariel for the throne. As her story unfolds through catchy new music written by Tim Galvin, cleverly interspersed with musical phrases from The Little Mermaid and nods towards other musical favourites such Wicked and numerous other Disney films such as The Lion King, we are treated to some brilliant one liners which divulge more information (sometimes more filth than we needed to know) about Ursula's lifestyle, love life and aspirations. Interestingly, her story arc is about falling in love, losing love then finding it again, and whilst this may seem at odds with the objectives Fat Rascal have of empowering women, it is enlightening to see things happen on HER terms, right down to making her man give birth instead of her!
Think Book Of Mormon, meets Wicked, meets Drag Race, meets Disney and you'll still only have an inkling of what to expect in this unique smutty, slutty, shake your coconutty kind of show. The audience were wild! Unfortunate has clearly already accrued a fan base who had turned up in full force tonight, helping Triton and Ursula whisk up a frenzied storm in the aptly named Quays theatre. The jokes, one liners and innuendo are so thick and fast (ooh err missus) that you hardly dare breathe for fear of missing a gag or ten, and the references to popular culture are dripping throughout, with a 'Free Shamu' campaign even being shoehorned in.
Song lyrics are sharp, sarcastic yet with genuine messages, and aren't afraid to sick two fingers up to outdated Disney messages. A strong example of this is when the song 'Kiss The Girl' from The Little Mermaid is parodied into 'Ask For Consent Before You Kiss The Girl.' The great thing about new musicals is new songs, and Unfortunate has a varied, fun collection, with title track Unfortunate being my personal favourite. Coupled with satirical, tongue in cheek lyrics that poke fun, they don't hold back on language, so don't assume that a show about Ursula is one for your younger children, with songs such as "I Wanna Be Where The Boys With Dicks Are," parodying the infamous Disney song "Part Of Your World." "We Didn't Make It To Disney", is another brilliant number that allows for more fun poking, showing all the characters that fall outside of their perfect world and gives endless scope for imagination.
Due to cast illness, Allie Dart stepped in at the last minute to play Ursula – what a phenomenal performance! Commanding, engaging, and down right fabulous from the tip of her bouffant wig, to the last scale on her tentacle! Her timing and gift for a filthy one liner had the audience eating out of the palm of her hand and I'm sure her fan base multiplied with every nuance. Danni Payne also stepped in to play a different role, Sebastian, amongst many others. The energy, the switching of accents, switching of roles, from crabs to puppetry, was non stop and portrayed a huge range of talent. Miracle Chance gave us Ariel as you've never seen her before – a TOWIE, meets Love Island, meets X Factor wannabe, whose head is so filled with salt water that she doesn't know her backside from her elbow.
The voice is hilarious, the facial expressions even more so, which are just sublime when Ariel has lost her voice and so has to communicate in a whole different way. It's brilliant. Jack Gray, Jamie Mawson, and George Whitty play every other character between them and work tirelessly and beyond the expectations of anyone. I literally don't know how they kept it up without collapsing. Each character was completely different from their last, whether that be through style, puppetry, dance, or how much they sent themselves up. George Whitty in particular had a cracking voice as Triton. In short, they are all brilliant, and possible one of the tightest casts I have ever seen. They are relentless with their performing and it pays off in tidal waves.
As mentioned, puppetry is used throughout Unfortunate and is a fantastic addition to the show, creating endless opportunities for hilarity, creativity, and uniqueness. Hugh Purves has designed these perfectly for the style of the show and each one has its own way of being operated which is equally interesting to witness. The lighting synchronises nicely with music and also sets the scene and mood changes throughout. Costumes are comically brilliant, ensuring there is a clear nod to their Disney characters, but still with a new and fabulous twist. Ursula's tentacles protrude and penetrate all she encounters with such authority that you often find yourself mesmerised as they seem to have a life force of their own, particularly in the second act when Wicked is parodied as Elphaba sings 'Defying Gravity.' It would be very much at home on a RuPaul runway that's for sure!
Unfortunate is brash and crass, with musical theatre class. It is an immersive experience, using everything in sight to its advantage and beguiling its audience into the heart of the show. It is empowering, with strong messages of 'love yourself' and speaks to anyone who has ever felt powerless, unheard, judged, marginalised or insignificant because of who they are. This is a new breed of musical theatre which some will love, some will hate, and some won't have a clue what's going on, but whichever camp you fall into, there is no denying the energy in the theatre tonight, the catchy songs and the sprinkling of individual positivity we all left with. If you want to try something different, have a good old giggle, and learn more about octopus sex than you ever needed to know – this is the show for you! Don't be the Unfortunate soul who misses out because this show is destined to go down in cult history.
WE SCORE UNFORTUNATE – 9/10
Other events you may like...
How to get to The Lowry, Salford
Most Popular Shows and Events in Manchester