The Addams Family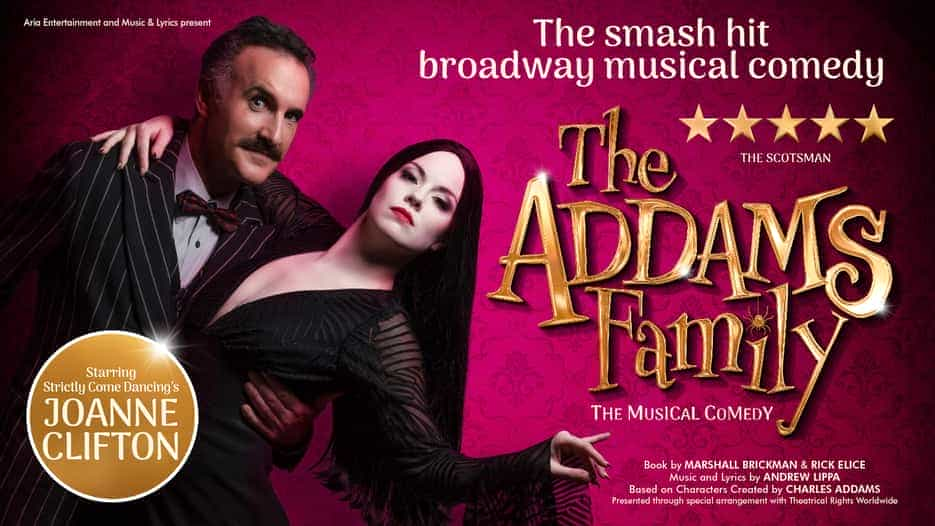 Everyone's favourite kooky family are coming back on stage in this spectacular musical comedy from the writers of multi award-winning hit musical JERSEY BOYS, with music and lyrics by TONY AWARD nominated Andrew Lippa and starring Joanne Clifton (Strictly Come Dancing and The Rocky Horror Show) as Morticia.

Wednesday Addams, the ultimate princess of darkness, is all grown up and has a shocking secret that only Gomez knows. She's fallen in love with a sweet young man from a respectable family. With his cherished Morticia in the dark, will Gomez manage to keep his daughter's secret until the two families meet for a fateful dinner with hilarious consequences?
Join them, Uncle Fester, Lurch, Pugsley and more for a heart-warming story of love, family and friendship… with a twist!
Featuring a live orchestra and extraordinary original score THE ADDAMS FAMILY is sure to entertain whether you are 12 or 312!

Duration - 2 hours 30 mins
The Addams Family Tickets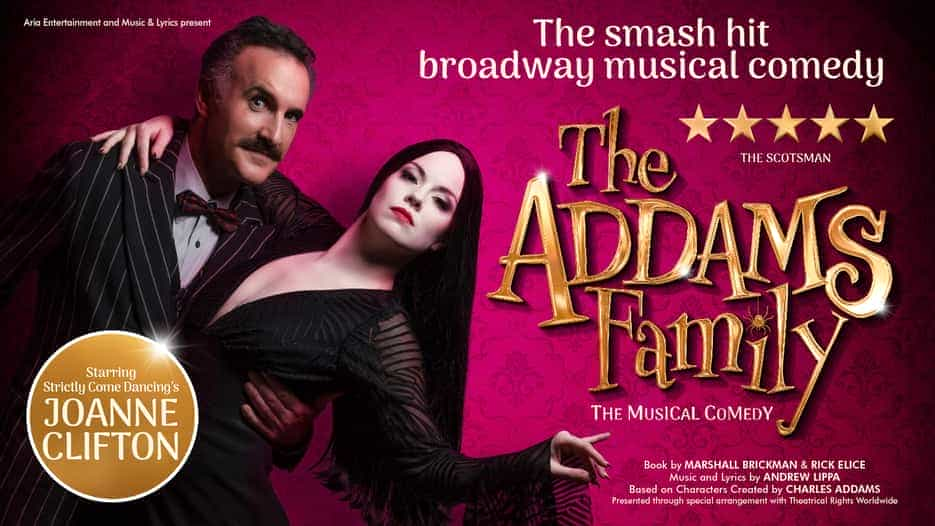 Sorry, there are no tickets for The Addams Family in Manchester available at the moment. This maybe due to one of the following reasons:
- The Addams Family in Manchester tickets are currently not on sale.
- The event has sold out.
- Details have not yet been announced for The Addams Family in Manchester.
- The event may have been cancelled.
- The event has been and gone.
Join our free mailing list for
updates about this event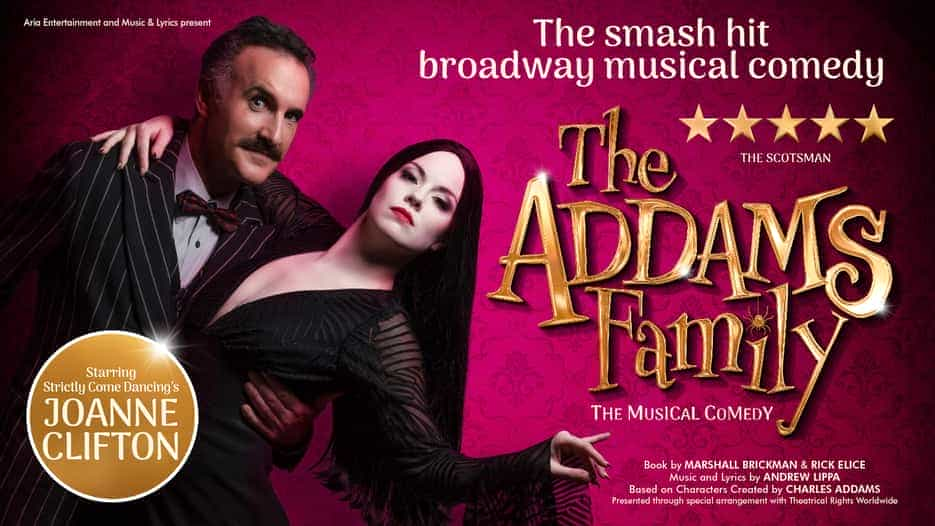 The Addams Family ON TOUR
Our review on The Addams Family
The Addams Family - Opera House, Manchester - Tuesday 19th April 2022 by Karen Ryder
Our Rating
Du du du dun 'click click!' What an amazing round off to a wonderful Easter break – an instantly recognisable theme tune, all the nostalgia of happy childhood family memories, and iconic characters that everyone knows and loves, wrapped up in a stonkingly eery fangtastic new story that thrills, thrives and enthrals. I am still agog that I've been able to see our favourite frightful family brought to life right before my eyes. Let's face it, we all know an Uncle Fester, have a friend who looks like Lurch and occasionally wish we could get away with the antics of the dark and delightful Wednesday when someone has pushed our buttons one too many times.



Your inner Addams geek is quenched right from the off, with a magnificent set dominating the stage, welcoming you to The Addams Family home. A gloriously goth grandeur grips the stage with its opulent pillared balconies and imposing gate, entwined with the family logo. Dripping with atmosphere, the theatre is lit to twilight perfection, with delightfully devilish technics throughout such as creaking floorboards, spattered screams and secret shadows lurking around every corner.

So please, come along and meet The Addams Family. They are just like any other family really, well that's if your family poisons family members just to get a ride in the ambulance, kills animals at the petting zoo with a bow and arrow for dinner or sets Jehovah's witnesses on fire for fun! But this is why we know and love The Addams Family – their kooky quirks have cranked their way into our crazy hearts, and because they're Addams, they will absolutely not rest there in peace.

You know the show has started when that infectious and infamous Addams Family melody starts, Thing appears as a solitary hand through a letter box ready to take on the leading role of the 'clicks' and the whole audience, without prompt or pre-arrangement join in. It's quite a statement to the popularity of this fictional family. But don't get too lost in nostalgia or else you'll miss your date with darkness for Wednesday is in love! She wants to marry Lucas, the son of a normal family, which as you can imagine throws quite the curve ball when the two families meet and try to find common ground. It's kooky verses quaint, terrifying verses twee and this forms the basis of many a humorous moment in the show. The whole episode questions "what is normal?" a revealing question as you find yourself identifying more and more with The Addams Family's values above and beyond the so called picture perfect family. Gomez is just a dad after all, like any other dad, who is overprotective of his only daughter, and when you look past their unique tastes, you find a family that's heart and soul is love, loyalty and longevity – after all, 'When You're An Addams' you're an Addams through and through. This sentiment is held dear when we see them celebrating their ancestors at the start of the show (for family is family whether alive or dead) and of course a little resurrection every now and then is the key to any successful party right?! Fester won't allow the dead ancestors to return to their afterlife until they have helped him guide Wednesday to her happy ever after though, or as happy as an Addams knows how to be at least. But as Wednesday wants to keep her impending marriage to Lucas a secret from her mother, the secret slowly devours her family from the inside out, resulting in Morticia leaving Gomez, Lucas leaving Wednesday and Fester singing love songs to the moon! Will the two families learn from each other and discover common ground? Will they accept, as Morticia so eloquently puts it, that "normal is an illusion. What is normal for the spider is devastating for the fly," and will they ever discover just whose mum Granny truly is?!

Joanne Clifton (Strictly Come Dancing, The Rocky Horror Show, Flashdance, Thoroughly Modern Millie) is spellbinding as Morticia. She has absolutely nailed Morticia's hip wiggling walk and embodies the fascinating combination of dark gothic goddess and nurturing mumsie mum. She has an incredible set of pipes on her and I was thrilled to witness her dance skills in her tango / paso dance duet with Gomez – it was like a two for one night out! Gomez was indeed portrayed by Cameron Blakely (Les Mis, Rock of Ages, Into The Woods, Oliver) and was the perfect blend of charm, schmooze, humour and danger. I imagine he is how every father feels inside when his first born child brings a partner home! Clifton and Blakely pay homage to their respective characters with dutiful respect, love and brilliance.

Scott Paige (Cinderella, Nativity, The Wedding Singer, Eugenius) is insanely talented and born to play Uncle Fester. His quirks are plentiful, he has the audience eating out of the palm of his hand and just when you think he is the ultimate class clown, he breaks open this incredibly moving, and equally gentle and thunderous singing voice that wowed everyone. I will be searching for YouTube clips of Paige as soon as I have finished this review because I want to hear more of his voice. It was beautiful. His character work as Fester is second to none and he was definitely one of the audience favourites.
Wednesday Addams was created by Kingsley Morton (Freaky Friday, Nice Work If You Can Get It, Jerry Springer The Opera) and her husband to be Lucas by understudy Matthew Ives (The Boyfriend, Joseph And The Amazing Technicolour Dreamcoat, La Cage Aux Folles). The duo were magnificent together and Morton had some amazing solo's where her voice was really able to shine. Her long suffering brother Pugsley is played by Grant McIntyre (We are Here, Bugsy Malone, Click & Collect) who is able to be both sinister and adorable at the same time – quite the acting achievement. Acting legend Carol Ball (National Theatre, 42nd Street, Chicago, Hello Dolly, The Muppets Most Wanted) plays Grandma, and is always ready with her pet dragon to bite your hand off and make sure you are paying attention. She has delicious attentive detail to her performance, and no move or breath is wasted. A joy to watch.
Sean Kingsley (Les Mis, Billy Elliot, Scrooge, We Will Rock You – it's easier to say what he hasn't done!) and Kara Lane (classically trained, Phantom Of The Opera, The Sound Of Music, Mary Poppins, Home & Away) play the in-laws- to be Mal and Alice Beineke. Their character transformation throughout the show is brilliant, funny, and reminiscent of watching Brad and Janet finally letting their true selves show in Rocky Horror. Lane's voice is outstanding and is another I shall be searching for further music of. There were many none spooky, and utterly pleasurable goosebumps during her vocal performances. Last but by no means least (and his Lurch character traits of being so amazingly slow at everything means it's fitting that we put him last) is Ryan Bennett (The Importance Of Being Ernest, Cinderella, Comedy Of Errors, Jersey Boys). Bennett is another audience favourite as Lurch and is a performance I wish many a young drama student who counts the amount of lines they have in any given performance, could watch. Bennett truly demonstrates how you can steal the show with no words at all. He is controlled, makes the audience wait for him time and time again, and not only do they wait, they love it! His language of grunts and groans, along with his precise and hilarious movements convey everything he needs to. So be prepared for an incredible surprise towards the end of the show, that will leave you knowing what a true showstopper Bennett really is.
All of the cast are dressed to impress, with a wardrobe to die for. The ensemble have the most eclectic costumes with a shredded historical wardrobe metamorphosized into zombie figures and Halloween heaven for all to enjoy. I LOVED them! The main cast have instantly recognisable clothing which is exactly what you would want, with a shock or two along the way, particularly from Wednesday!
There are amazing original songs throughout the show, but the two I have left humming and are imprinted on my brain are Full Disclosure – an epic musical theatre full company number - and Crazier Than You – a beautifully blended upbeat duo that transcends into a catchy quartet. All of the music is great and it was musical theatre heaven to be indulged and immerged into a whole new soundtrack and see audience members being swept along. And boy was this audience swept along! The laughter simply did not stop from every age and the humour was pitched just right to appeal to both young and old. The Addams Family really do have family at the heart of everything they do! It is spooky without being too spooky, dark without being too dark and most importantly, full of love, heart and a hair-raising home life that we can all relate to no matter if you're goth, full of glitter or somewhere inbetween. Everything in The Addams Family is a paradox. We can be happy and sad, we can be evil and good, we can love and hate all at the same time. We can be two equal things, seemingly pulling us in opposite directions, but actually the absolute best of us is accepting that we aren't just one thing, we don't have to be labelled, and that the perfect version of ourselves can be that very parody hiding inside pandoras box. So celebrate your quirky, embrace your spooky and kooky, be mysterious and spooky and go and watch The Addams Family 'click click!'

WE SCORE THE ADDAMS FAMILY – 9/10

Other events you may like...
Most Popular Shows and Events in Manchester