Matthew Bourne's Sleeping Beauty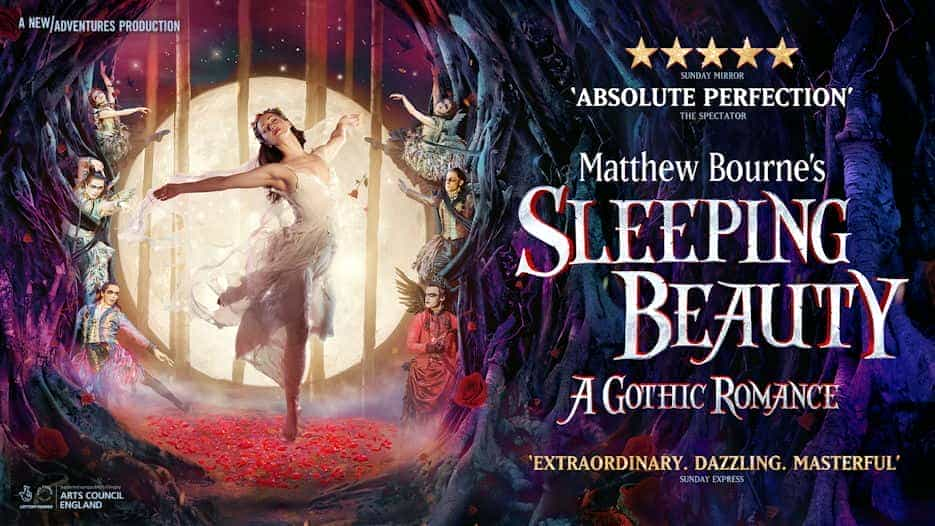 Matthew Bourne's Sleeping Beauty reawakens in 2022, celebrating 10 years since its premiere at Sadler's Wells, when it became the fastest selling production in the company's history.
Now established as a firm favourite in the New Adventures repertoire, the award-winning Sleeping Beauty has enchanted international audiences throughout the UK and across the globe.
Enter a wondrous world of magical fairies and vampires, where the timeless tale of good vs evil is turned upside-down, creating a supernatural love story that even the passage of time itself cannot hinder. Will Princess Aurora ever find her true love again?

With an unforgettable score by Tchaikovsky, sumptuous sets and costumes, evocative lighting and masterly storytelling, the beloved fairy tale is brought to life by the uniquely talented New Adventures company. Get ready to be transported in time from the halcyon days of the late Edwardian era through to the modern day in this dazzling gothic romance.

The production won three Los Angeles Drama Critic Awards and the Ovation Award for Best Production.
Matthew Bourne's Sleeping Beauty Tickets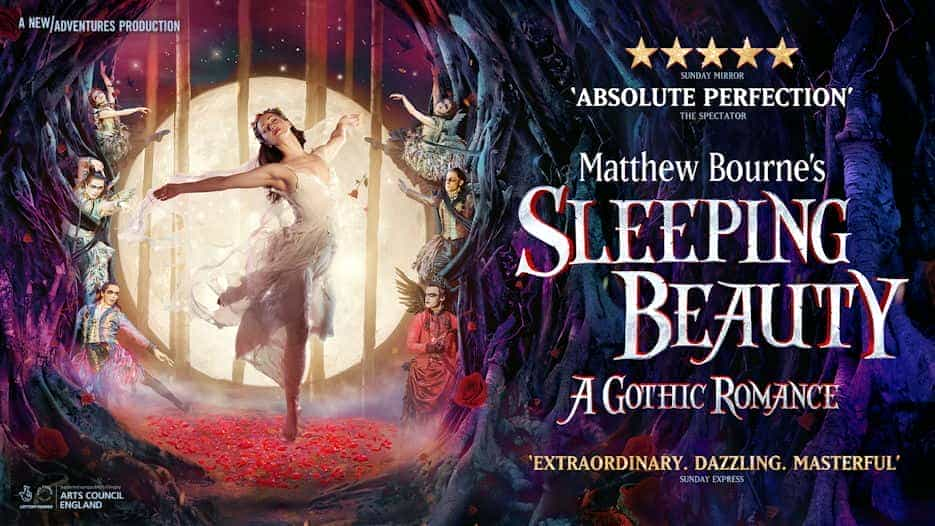 Sorry, there are no tickets for Matthew Bourne's Sleeping Beauty in Manchester available at the moment. This maybe due to one of the following reasons:
- Matthew Bourne's Sleeping Beauty in Manchester tickets are currently not on sale.
- The event has sold out.
- Details have not yet been announced for Matthew Bourne's Sleeping Beauty in Manchester.
- The event may have been cancelled.
- The event has been and gone.
Join our free mailing list for
updates about this event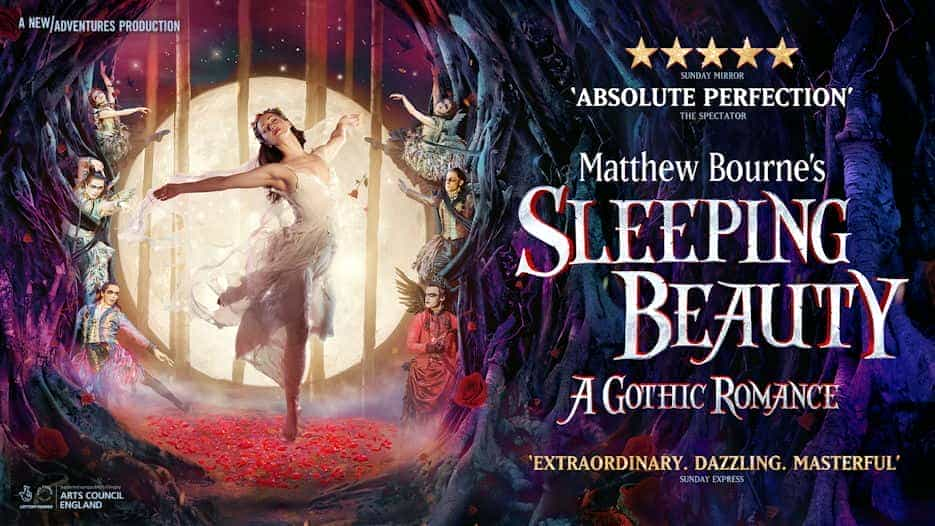 Matthew Bourne's Sleeping Beauty ON TOUR
Our review on Matthew Bourne's Sleeping Beauty
Matthew Bourne's Sleeping Beauty - The Lowry, Salford - Wednesday 23rd November 2022 by Karen Ryder
Our Rating
MATTHEW BOURNE'S SLEEPING BEAUTY HAS EVERYTHING A FAIRY TALE SHOULD HAVE, WITH A GENEROUS AND GLORIOUS GOTHIC EXTENSION!

Whilst I am all about the fairy tales in my life, I have to say that for me, this evening's pull wasn't the story Sleeping Beauty, but the choreographer Matthew Bourne. To watch a Matthew Bourne show is to tick a major life goal off my bucket list, and as cheesy as it sounds, my life now feels richer for doing so. As an eclectic mix of audience gathered in the warmth of the theatre, I felt the magic begin to wash over me and knew from the animated chatter that Matthew Bourne doesn't just deliver ballet, he delivers an experience.



This is the 10th Anniversary production of Matthew Bourne's Sleeping Beauty, and as it continues its tour of the UK, the phenomenal presence this show creates gives credence to its equally impressive touring history. With previous performances in New York, Charlotte, Washington, Des Moines, Cleveland and LA in the United States, Seoul in South Korea, Singapore, Shanghai and Beijing in China and Tokyo in Japan, I simply don't foresee an end to its brilliance. Known as the Gothic Romance, an amalgamation of the various versions of the fairy tale of Sleeping Beauty are brought to life in true Bourne style. New perspectives, twists, darkness, heightened tension, and a blend of dance styles interlock beautifully against the traditional Tchaikovsky music, ensuring power, excitement and adrenaline are a plenty.



A creative prodigy, multi award winning and OBE recipient Bourne is his own triple threat, encompassing the roles of creator, director and choreographer to sublime heights. Conceived for his New Adventure's dance-theatre company's 25th anniversary, Sleeping Beauty completed his trinity of Tchaikovsky ballets alongside Nutcracker and Swan Lake. With such re-imaginings, it is no wonder he is acknowledged as one of the UK's most successful and popular choreographers and directors, and it is no wonder that even on a wet, cold, dark and miserable Manchester evening, he can still bring warmth, joy and happiness and entirely fill the Lyric Theatre.



Matthew Bourne's version of Sleeping Beauty transcends time, transporting us from the Edwardians, to the Victorians, to modern day. As the dark fairy Carabosse provides the King & Queen with the baby they longed for, a dangerous resentment and anger seeps into her heart for she perceives she does not get the recognition she deserves. In a fit of jealous rage, she places a sleeping curse upon Aurora. The King and Queen, not wanting to risk any further influence from Carabosse, assign a nanny and some good fairies to watch over Aurora to try and prevent the curse from materialising. As we then do our first time-hop, we pass over many years to where Carabosse is dead, but her son Caradoc is very alive and very determined to continue his mother's evil plan. Aurora's coming-of-age is celebrated, and we discover her heart is not with noble suitors, but with the Gamekeeper Leo. Enter Caradoc who ensures that Aurora pricks her finger on a cursed rose and falls into a sleeping curse lasting 100 years, before she can ever marry her love. So, what does one do in such circumstances? The fairy King turns Leo into an immortal fairy vampire of course, guaranteeing that he will still be alive in 100 years to provide true loves kiss which will break the spell. This takes us into our last time-hop where the Aurora and Leo are finally reunited. But Bourne's Sleeping Beauty does not end as you might expect. It is not a case of true loves kiss ends the story. Far from it. This production has so much more story to tell, and it is full of gripping twists and turns, leaving you teetering on the edge of your seat.




The introduction of Cardoc into this version of the story is absolutely brilliant for it provides a sustained battle of good versus evil with the added valour of testosteronal pride at stake. It also allows for a sneaky surprise towards the end just when you think everyone is about to get their happily ever after, and it even provoked an audible gasp from the audience. I just love it! I'll say no more but instead do a little time travel of my own and go back to the beginning of the story to mention the puppetry, which I wasn't expecting and was a welcomed surprise. Baby Aurora is indeed a puppet and controlled in such a magical way by the performers that you don't even notice or see them. It is dramatic, funny, and outstanding work that will have you enraptured and guarantee you not only laugh out loud but find the ironic humour in the fact that a puppet is demanding all eyes be on her!


The individual dances of all the fairies are outstanding as they deliver their virtues and personalities with vigour. This allows for a melting pot of dance styles and is an exemplary way to highlight how dance is indeed a universal language. The detail and thought put into every single second of this production mean that you could watch it time and time again and still be noticing things. Dancers look through records in time to the beat, waltz with picnic blankets whilst stood at the side of the stage, even the stage lights are decorated with fairy wings! Dream like sequences battle with magical ones. Love scenes clash with violent attacks, and heartache is blinded by perseverance. Whether the dancing be solo, partnered or ensemble, the strength, power, dedication, and trust shines through like a shooting star.



The staging is everything you could want from both a fairy tale and a dramatic gothic tale. Castles, dark forests, and seedy nightclubs also guarantee that the different eras are wonderfully represented in a production that dazzles with detail and feeds the senses more deeply than the bite of any poisoned apple. Ok, I know that is a different fairy tale, but you get my point. The use of clever perspective within the set creates a larger world beyond the stage, and we glide from scene to scene with the use of conveyors which the dancers utilise with impressive effects. Elements of story book moments are projected onto the scenery too, guiding you through the fairy tale in a humourous and concise way.



The costumes are, in a word, stunning. They are quite possibly the ultimate fantasy of anyone who ever dreamed of fairies, magic, sparkly things and enchanted worlds. If the costumes were alive, which they very may well be for they move with mesmerising clarity, they would tinkle, laugh rainbows and breath glitter. From the shredded gothic fairy costumes, to the high brow societal, to the casual modern day, to the sleek and sophisticated club style, each costume theme has it's own colour palette which perfectly flavoured its own atmosphere. Beautiful. Thank you Lez Brotherston for conceiving both the staging and the costumes.



The ultimate best bit though has to be the Bourne identity which is stamped all over this production. An igniting and invigorating arrangement of classical, modern, inventive, and unique choreography, which has the power to make your heart drum along to every move, every pause, and every nuance. There are many respectful nods to the original Petipa ballet moves in this piece, but the element of surprise is never far away with Bourne allowing the human body to speak in delicious and hypnotic ways. Bourne's dancers glide effortlessly, but for such light and graceful movers, they equally bring power, strength and an enigmatic style all of their own. I almost don't even want to try and describe it. I simply want you to feel it.



Ashley Shaw has the expertise and glorious ability to take us on wonderful journey as we follow Aurora through her different stages, from rebellious and mischievous, to love struck, to enchanted. Even when she is asleep, her control at being uncontrolled and completely floppy so to speak, is incredible. Shaw is so expressive with her dance that she demands you understand everything her body is speaking. Andrew Monaghan as Leo partners Shaw as if they were one. An utterly believable couple on stage, they compliment each other and are so playful, delicate, and joyous together that your heart and soul are completely sucked into the fairy tale promise of loves young dream. His solo upon entering the forest is a highlight as he seems to float on air through time and love.



Paris Fitzpatrick brings a very different kind of presence to the stage, but an equally impressive one as both Carabosse and Caradoc. His darkness penetrates the stage and he moves with a menacing fervour that commands attention. Dominic North, a long-standing member of the company, is phenomenal as King of the Fairies and effortlessly switches from gothic to regal, to vampire, to powerful avenger. Even more impressive is that each transition is so natural, it's only as I'm writing now that I am kind of going 'Wooahhhh! He literally did everything!' The entire cast – including the elusive puppeteer(s) – are outstanding. They are beyond dancers; they are masters of their art and profound story tellers. With a fantastic mix of original cast members and a new, younger generation coming up through the ranks, a wealth of knowledge, experience, and youthful wisdom guarantee that this production will still be around to celebrate in another 10 years!



If you love your fairy stories, then you will love this re-imagined Sleeping Beauty. It has everything a fairy tale should have, with a generous and glorious gothic extension courtesy of Bourne's irrepressible imagination. It is beautiful. It sounds too simple to say that, but it really is. I don't know how to effectively put into the words the 'ahhhh' feeling I had in my heart throughout, but the nearest I can get is utter contentment. I was completely swept away and bought into the entire experience from beginning to end. Bourne's re-imagining is enchanting and spellbinding and the most beautiful fairy tale for grownups you are ever likely to see.
WE SCORE MATTHEW BOURNE'S SLEEPING BEAUTY...


Other events you may like...
Most Popular Shows and Events in Manchester