Pride & Prejudice (sort of)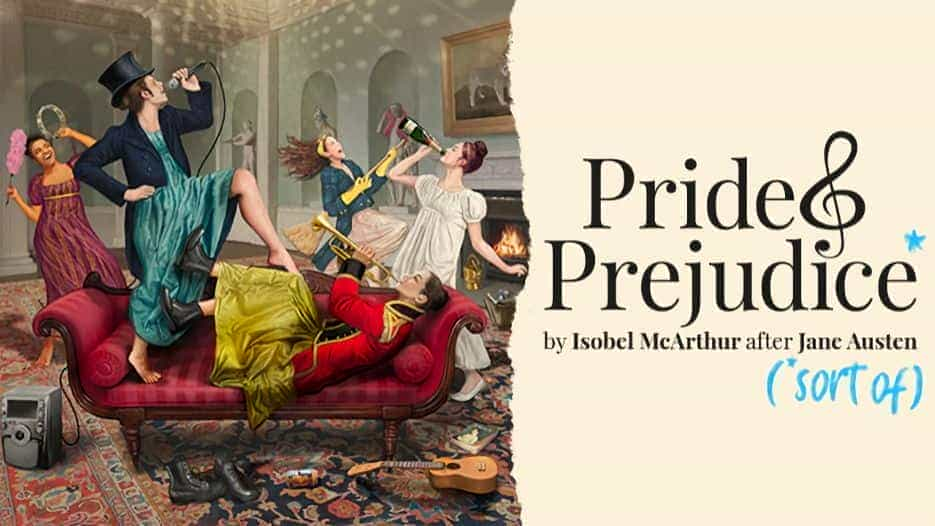 The five star comedy sensation direct from the West End by Isobel McArthur after Jane Austen.

Pride and Prejudice* (*sort of) is a unique and audacious retelling of Jane Austen's most iconic love story. Men, money and microphones will be fought over in this irreverent but affectionate adaptation, where the stakes couldn't be higher when it comes to romance.
It's the 1800s.
It's party time.
Let the ruthless matchmaking begin.

'Deserves the standing ovations it's getting nightly' ~ Domenic Cavendish, The Daily Telegraph.

'Completely faithful to the book, it's also a raucously irreverent romp' ~
Patrick Marmion, Daily Mail.

'Riotously funny...gloriously entertaining...frankly sensational' ~
David Benedict, Variety.

'Hilarity, romance, madness and utter theatrical joy.
The whole house rose to its feet and cheered and cheered' ~
Stephen Fry.
Pride & Prejudice (sort of) Tickets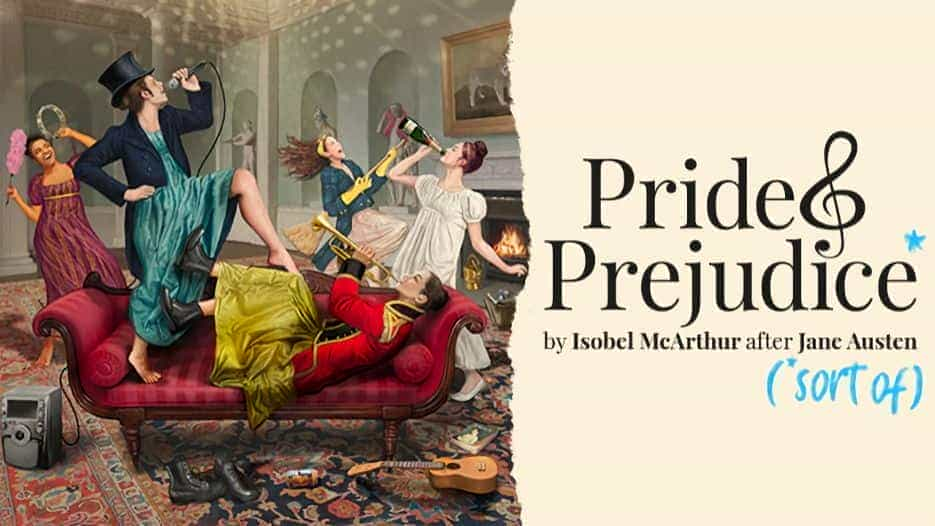 Sorry, there are no tickets for Pride & Prejudice (sort of) in Manchester available at the moment. This maybe due to one of the following reasons:
- Pride & Prejudice (sort of) in Manchester tickets are currently not on sale.
- The event has sold out.
- Details have not yet been announced for Pride & Prejudice (sort of) in Manchester.
- The event may have been cancelled.
- The event has been and gone.
Join our free mailing list for
updates about this event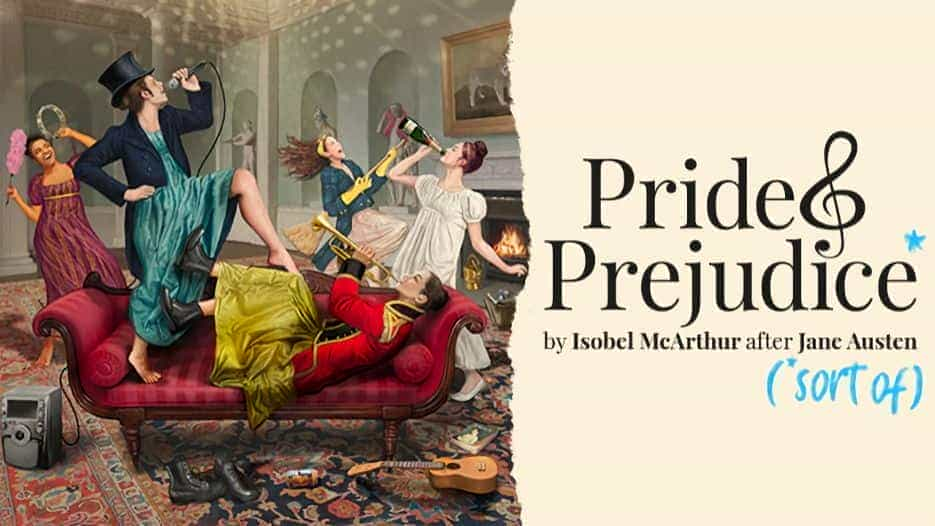 Pride & Prejudice (sort of) ON TOUR
Our review on Pride & Prejudice (sort of)
Pride & Prejudice (sort of) - The Lowry, Salford - Thursday 19th January 2023 by Lizzie Johnston
Our Rating
THE PERFECT WATCH TO BEAT THE JANUARY BLUES!

It's my first review of 2023, and with so many incredible shows appearing in Manchester last year, the stakes are high. I couldn't have asked for a better way to start theatre going this year than with the 2022 Olivier award winning production straight from the West End, Pride & Prejudice* (*sort of). This modern, comedic adaptation of one of Jane Austen's most popular novels, and personally one of my favourites, took to the stage at The Lowry theatre.



For those of you who aren't familiar with Pride & Prejudice, the story follows the turbulent relationship between Elizabeth Bennett, the daughter of a country gentleman, and Mr Darcy, a rich landowner. In order to fall in love and marry, they must overcome the titular sins of pride and prejudice and leave their stubborn ways behind them.



The Regency rom-com has got to be one of the most popular love stories of all times, with several adaptations and its continuing popularity among readers of all ages, so there was no surprise that the theatre was buzzing with Austen enthusiasts. The show already has a strong reputation amongst theatre lovers, and it's easy to see why. Pride & Prejudice* (*sort of) is a unique and fresh take on the iconic story where the stakes couldn't be higher when it comes to romance. Five young women have a story to tell where men, money and microphones are fought over with the hope everyone finds their happy ending. This all-female production brings Elizabeth, Darcy, Jane, Bingley and even those who never got names to the party in time for ruthless match-making games.
This version brings Austen's characters into a 21st century light, still set in the Regency era but with narration fit for today's audience, including language that was absolutely not heard back in Austen's day! Think Bridgerton meets your local nightclub - elegant gowns, old-fashioned values but with red plastic cups and banging tunes.



The set was minimalist with a cascading staircase in white and pale blue, partnered with a monochrome print of a book lover's dream library collection. It's the kind of set up you would imagine at a grand home in Austen's era with furniture to match and a white piano place at the back. The modern-day contrasts happen through the use of props, with pringle cans, wagon wheel biscuits and a little karaoke machine to add an extra element of fun. The actors switched between characters, from the servants to the iconic names, by simple layering over a jacket or dress.

The show has an all female cast made up of Lucy Gray (Fen, Red Velvet, Blue Stockings), Dannie Harris (Love Letters, Away in a Danger, Teechers), Leah Jamieson (Romeo & Juliet, Spring Awakening, Market Boy), Emmy Stonelake (Double Drop, A Christmas Carol, Belly Up), Megan Lousie Wilson (Twelfth Night, Blood On Your Hands, The Mousetrap), Ruth Brotherton (As You Like It, Estella, Puss in Boots), and Laura Soper (The Storm Whale, The Wind in the Willows, Love's Victory).


Each actor was great, differentiating between their characters with obvious posture changes, mannerisms and accents, so it was very clear when the switches occurred. A particular standout was Harris' portrayal of Mrs Bennett and the desperation she felt trying to get at least one of her daughters wed. The contrast between this breathless, overdramatic mother to Jamieson's stubborn Elizabeth and Wilson's sweet Jane was excellent material for standout comedy moments, and the audience really did have a laugh. They truly embraced Austen's girl power and independent woman stance by creating a huge contrast between all the characters - some want to marry for money, some want to marry for love, and some represent the importance of self love. All common themes found in Austen's repertoire.

The plot lines of the novel were (sort of) sped up to hit the comedy cues and fit into a two hour show. The dynamic of the servants narrating the story directly to the audience kept the flow going without missing out any important detail. This concept added some fun and brought Austen's infamous wit to the production as it had fast-paced comments and several references to the other adaptations of the novel, most famously Colin Firth's Mr Darcy.



What I particularly enjoyed was how the show wasn't afraid to be daft and silly, afterall Austen is known for her comedic wit. The addition of the karaoke machine and a few popular anthems gave a jukebox musical vibe (sort of) and songs including Bonnie Tyler's Holding Out For a Hero and Young Hearts Run Free have been running around my head all morning! It's chaotic brilliance and just all around joy.

It's a brilliant, fresh and different adaptation for Austen fans to enjoy and introduces her work to newbies in a relaxed way. You really don't need to know much about Pride & Prejudice to embrace this production, it's easy to follow along, witty and fun.
WE SCORE PRIDE & PREJUDICE (SORT OF)...


Other events you may like...
Most Popular Shows and Events in Manchester