The Shawshank Redemption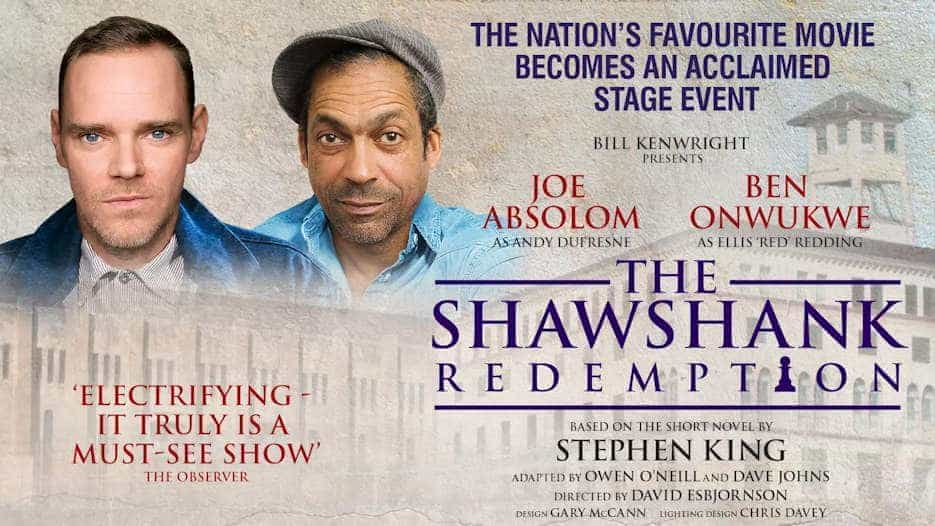 THE ACCLAIMED STAGE VERSION OF THE NATION'S FAVOURITE MOVIE
Bill Kenwright presents:
THE SHAWSHANK REDEMPTION
Based on the short novel by Stephen King
Based on the 1982 novella Rita Hayworth and The Shawshank Redemption, the play examines desperation, injustice, friendship and hope behind the claustrophobic bars of a maximum-security facility. The 1994 feature film regularly voted Britain's favourite ever movie, starred Tim Robbins and Morgan Freeman and was nominated for seven Academy Awards.

Despite protests of his innocence, Andy Dufresne (played by Joe Absolom) is handed a double life sentence for the brutal murder of his wife and her lover. Incarcerated at the notorious Shawshank facility, he quickly learns that no one can survive alone. Andy strikes up an unlikely friendship with the prison fixer Red, and things take a slight turn for the better. However, when Warden Stammas decides to bully Andy into subservience and exploit his talents for accountancy, a desperate plan is quietly hatched…
The Shawshank Redemption Tickets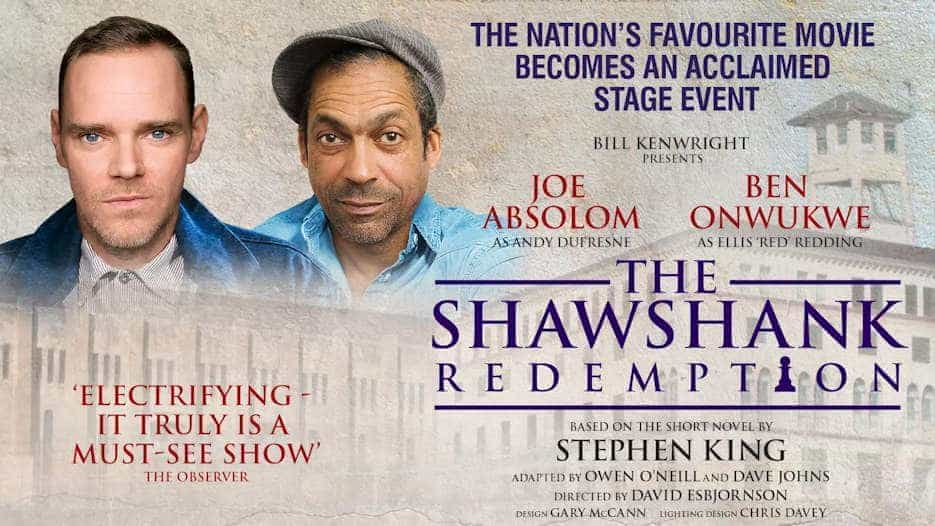 Sorry, there are no tickets for The Shawshank Redemption in Salford available at the moment. This maybe due to one of the following reasons:
- The Shawshank Redemption in Salford tickets are currently not on sale.
- The event has sold out.
- Details have not yet been announced for The Shawshank Redemption in Salford.
- The event may have been cancelled.
- The event has been and gone.
Join our free mailing list for
updates about this event
Our review on The Shawshank Redemption
The Shawshank Redemption - The Lowry, Salford - Monday 31st October 2022 by Karen Ryder
Our Rating
GET BUSY LIVIN' AND SEE THE SHAWSHANK REDEMPTION!


The Shawshank Redemption may initially appear to be a story just about convicts, deceiving you into believing that you have nothing in common with its characters and no way to relate to them, but anyone who has seen the film or read the Stephen King novella will strongly disagree. For this is a story about the human spirit, what can and cannot be taken from us, and how different ways of responding to the same situation will lead to very different outcomes.


"I guess it comes down to a simple choice, really: Get busy living, or get busy dying."



The story follows a group of convicts inside Shawshank prison, with a particular focus on two men – one guilty, one innocent. They form a strong friendship during their life imprisonment and grow to respect each other for the person they are, not the crime they did or did not commit. They pit the ideas of hope against resignment, free will against institutionalisation, and the belief in change versus acceptance. Andy is quiet, reserved, and takes his beatings from the prison bullies with dignity in order to maintain a low profile which inevitably serves his end game. Red is the man you go to when you need something and has a respect and authority from the other inmates that serves him well. Andy, an ex-banker, is brainy, ballsy and looks out for his friends, so when the opportunity to help the brutal prison guard with a financial issue presents itself, despite warnings from his pals, he takes it – not to gain favour with the guards but in order to get his buddies some beers in return and allow them to feel human again. More than anything, this is the change we see Andy bring to Shawshank – that the prisoners still be recognised as living breathing humans who can believe in hope. He writes letters every week for years to get funding to build a library, and it finally pays off. He starts to use this to educate other prisoners, his financial expertise is extended to other prison workers and eventually he becomes the corrupt accountant for the prison warden. After a disagreement with the warden leaves him in solitary confinement, it appears Andy is a broken man, but little does everyone else realise that Andy has been planning his escape since his first day inside. He does not want to end up like Brooksie – the lifer who has no idea how to adjust to the outside world when he is released and so commits suicide. Andy escapes in a legendary manner, ensuring that the prison warden's illegal activities are bust wide open, and that upon his release, Red has a friend and a place to go. The story highlights that even though life tends to split us into the good guys and the bad guys, that this is a generalisation and the good guys can have bad people in them and the bad guys can have good people. Hope, loss, unconditional friendship, revenge, humour, sadness, and the complexity of humanity are all here in abundance. It is understandable why it is held up as one of the best stories ever told.
The show starts with Red introducing us to his world as he stands inside Shawshank, and we witness the arrival of the new prisoners, naked, deloused, and vulnerable. One of them is Andy Dufresne. The prison set is cleverly constructed, with the cells running along the side of the stage, arches along the back, and a walkway above, with lighting setting the dark and dingy atmosphere. Tables, beds, and bookshelves are brought on to depict the minimal scene changes needed. An eerie and effective notion of the oppressing prison is captured through background noise and sound effects, such as the chilling clanking shut of prison cells, the screams of a beaten inmate, and distant sirens warning of who knows what. Music is played at intervals throughout the play, with songs matching the year of the story - a simple yet brilliant way to show the passing of time. Tonight's production seemed to adopt a more gentle re-enactment of the violent elements of the story than the film, such as the brutal beatings, weapon attacks and gang rape. Don't get me wrong, they are there, but are handled with more sensitivity. At first I was surprised by this (not that I'm a twisted individual who wanted to watch these things in more gruesome detail) but as time passed, I soon realised that this approach worked as it allowed you to focus on the way the inmates dealt with these attacks rather than focusing on the attack itself, hence once again engaging you with Andy's possibility of hope and life even through the darkest situations. There is surprising humour to be found throughout the play, whether it be dark, cynical, sarcastic, or an out and out joke. It brings great light and shade and helps once again to paint the inmates as more than stereotypical criminals who are only the sum of their crime. It is remarkable how you end up liking these characters, even as you are listening to each of them admit their guilt to murder, you find it hard to match their crime with the character you have been watching.
I always wonder if it must be intimidating or exciting to take on a role that is so huge, so well known, and played by a Hollywood legend. Well, that is exactly what Ben Onwukwe (The Lion, The Witch & The Wardrobe, The 47th, London's Burning) has done in recreating Morgan Freemans Red, and what a fantastic job he has done. Onwukwe has an incredible presence on stage and you can't help but watch him, and follow his every move. This is exactly what his character needs to be. He is able to elicit humour, empathy, kindness and respect. This is never more present than when he forms his friendship with Andy and shows us that even after all he has lived, witnessed and become during his time in Shawshank, he is still capable of learning, still capable of human growth in a way that even the prison guards aren't.
The minute I heard that BAFTA nominated Joe Absolom (A Confession, The Bay, Doc Martin, Eastenders) was taking on the role of Andy, I could already see it! What fantastic casting! Absolom portrays Andy's aloofness and awkwardness brilliantly, whilst still managing to be the only prisoner to elicit a true friendship. With his educational background setting him aside as a quiet but assertive leader who persists in his goals for change, Absolom provides us with a gentle humour and gives the prisoners a reason for hope. He tackles Andy's quietly superior role with subtlety and creates his own character rather than just producing a carbon copy of Tim Robbins in the film, which pays off in bucketfuls.


Mark Heenehan (Evita, Of Mice & Men, Jersey Boys) plays the warden Stammas with a skin crawling excellence. He is brutally convincing at playing the creepy disciplinarian who is all kinds of evil. Exploitation, manipulation, violence, and fear permeate everything he does through his calm and controlling manner, and it is deliciously delightful to watch such acting up close and personal – not too close and personal though as Heenehan is really good at it and I scare too easy.
The most loveable inmate has to be Kenneth Jay (Witness For The Prosecution, The Woman In Black, Doctor Who) as Brooksie. He truly packs a punch with the emotional heart of the show and brought about a few tears from those around us, really bringing home the question of what rehabilitation really is, or more importantly, what it isn't. His final scenes are a case of "I'm not crying – you're crying!"


Joe Reisig, Owen Oldroyd, Jay Marsh, Leigh Jones, Jules Brown, Kieran Garland, Coulter Dittman and Samarge Hamilton complete the cast as a mixture of inmates and prison officers, each with a completely individual and believable character. Whether it be a fixed stare, a distinct laugh, a particular walk, a flex of a muscle, a nervous nature, or an authoritative stance, this cast are strong and it is clear that they are all equally important as each other in order to create a slice of anything that resembles the dark truth about prison life. Directed by David Esbjornson and Tim Welton, Shawshank is brought alive within the safety of The Lyric Theatre, and it is a comfort to know that we all get to go home tonight.

It doesn't matter if you haven't seen the film for this production has its own adaptation to work off anyway (Owen O'Neill & Dave Johns) and brings the Stephen King story to life through its plentiful and colourful characters. The ending is emotional and the visual contrast provided through colour with a stunning beach backdrop that appears to be bathed in a warm sunshine glow lit from both behind and in front, certainly has the desired impact on the audience. The Shawshank Redemption does its job in reminding us that, as Andy says, "Hope is a good thing, maybe the best of things, and no good thing ever dies." This production of The Shawshank Redemption dutifully ensures that no good thing ever dies, as it captures one of the best stories ever told for a new generation.


WE SCORE THE SHAWSHANK REDEMPTION...


Other events you may like...
How to get to The Lowry, Salford
Most Popular Shows and Events in Manchester