COMPETITION - Neighbours - The Celebration Tour - Win 2 stall seats
COMPETITION - Neighbours - The Celebration Tour - Win 2 stall seats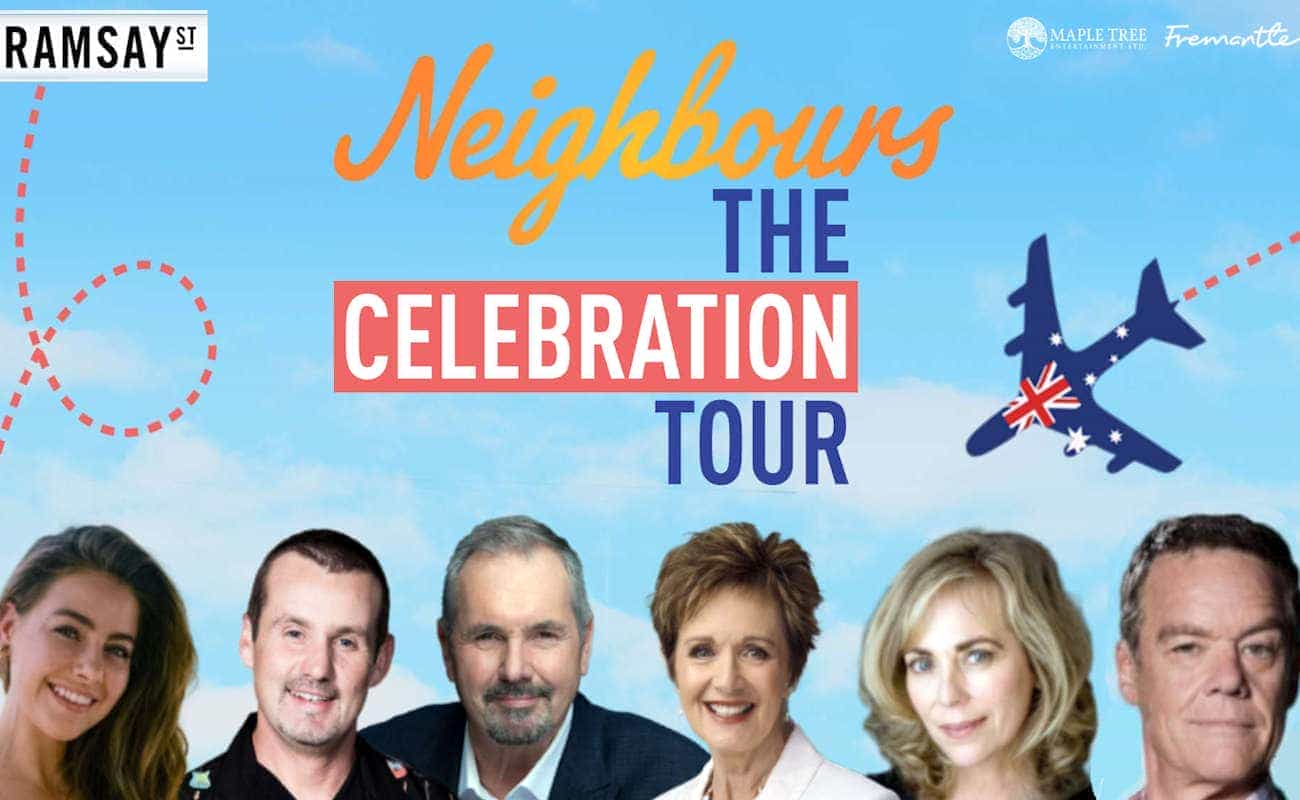 The Bridgewater Hall, Manchester
Fri 3 - Mon 6 March 2023
A pair of tickets up for grabs for this sold out show!
It's time to celebrate the fantastic news that Neighbours isn't saying farewell afterall, as it is returning to our screens in 2023. Originally titled "Neighbours - The Farewell Tour", it has now been renamed, "Neighbours - The Celebration Tour".

Karl (Alan Fletcher), Susan (Jackie Woodburne), Paul (Stefan Dennis), Toadie (Ryan Moloney), Jane (Annie Jones) and Chloe (April Rose Pengilly) are all confirmed to appear, making all the die-hard fans, very happy!

This will be the ultimate celebration of all things Ramsay Street. Maple Tree Entertainment in collaboration with Fremantle Australia will be flying over some of the biggest and best names from the show all the way from the other side of the globe.

This celebration will give Neighbours fans a chance to reminisce on your favourite Erinsborough moments from across the last 37 years. Join us as we look back at some of the footage from across the years, enjoy never before heard stories from the cast as they are interviewed live on the stage, plus surprises and a Q&A session at the end. This will be the ultimate night for any Neighbours fan - and the perfect way to say 'farewell' to one of Britain's most-loved soaps.

Hosted by Leah Boleto
To take advantage of this offer, follow the instructions below...
Terms & Conditions
1.COMPETITION MECHANIC AND HOW TO WIN
Each section is worth one entry.
It's free to enter.

Join the ManchesterTheatres.com mailing list - by entering this section, you give ManchesterTheatres.com and PrideOfManchester.com permission to join their mailing list
Instagram Follow - by entering this section, you should follow the Instagram account stated to receive your entry credit
Facebook Visit Like - by entering this section, you should follow the link to the Facebook group and like the group to receive your entry credit
Twitter Follow - by entering this section, you should follow the Twitter account stated to receive your entry credit
YouTube - by entering this section, you should follow the link and subscribe (it's free) to the PrideOfManchester YouTube channel to receive your entry credit
Visit Webpage - by entering this section, you should follow the link and visit Manchester Theatre's Offers and Competition page to receive your entry
credit
Bonus - if you enter all 10 sections, you can claim 10 bonus entries meaning you can have up to 20 entries for the competition

If you are already following us on Facebook, Twitter, Instagram and YouTube, you can still enter.

2. Entry Platforms and Costs
It is free to join and enterEntry is through the PrideOfManchester.com and ManchesterTheatres.com websites

3. DATES
The draw ends on Saturday 31st December 2022 and the winner will be contacted on Sunday 1st January 2023.

4. ENTRY RESTRICTIONS
Open to UK residents aged 18 years or over on date of entry.
Tickets are non-transferable.
Winners must comply with the venue's COVID policy.
5. THE PRIZE
1 pair of tickets (front row seats) to see Neighbours - The Celebration Tour at the Bridgewater Hall, Manchester - Monday 6th March 2023 - 7.30pm
The Prize is non-transferable, non-refundable and there is no cash alternative.
Entrants who sign up to ManchesterTheatres.com can opt out at any time. All marketing content which is sent to entrants will have an opt-out link within the content.
The successful winner will be sent tickets to their email address.
OTHER CONDITIONS
DATA PROTECTION

. Names and email addresses, will be collected and used to process entries. Winner's details may be given to the prize provider to arrange delivery of the prize. Your details may remain stored after the End Date but will

not

be used for marketing unless you have ticked an opt-in box on entry. If you have, your details will be used in accordance with the information given when you ticked the opt-in box and gave your consent.



MISCELLANEOUS

.

Entries that don't comply with these terms won't be accepted and you may be disqualified if we think you've breached them.
Participants can enter up to 3 times using 3 different email addresses (max of 60 entry credits)
If there is a dispute about the operation of the Competition, our decision is final, and no discussion will be entered into on this subject.
We may cancel / amend / end / suspend the Competition if we need to do so due to circumstances outside our control.
CONTACT DETAILS. Any concerns? Please email: info@manchestertheatres.com
Concerns won't be considered if made more than 14 days after the date the winner is announced.
Our Manchester Theatre Special Offers...