EXCLUSIVE OFFER - Grayson Perry at The Lowry - £30 matinee tickets
EXCLUSIVE OFFER - Grayson Perry at The Lowry - £30 matinee tickets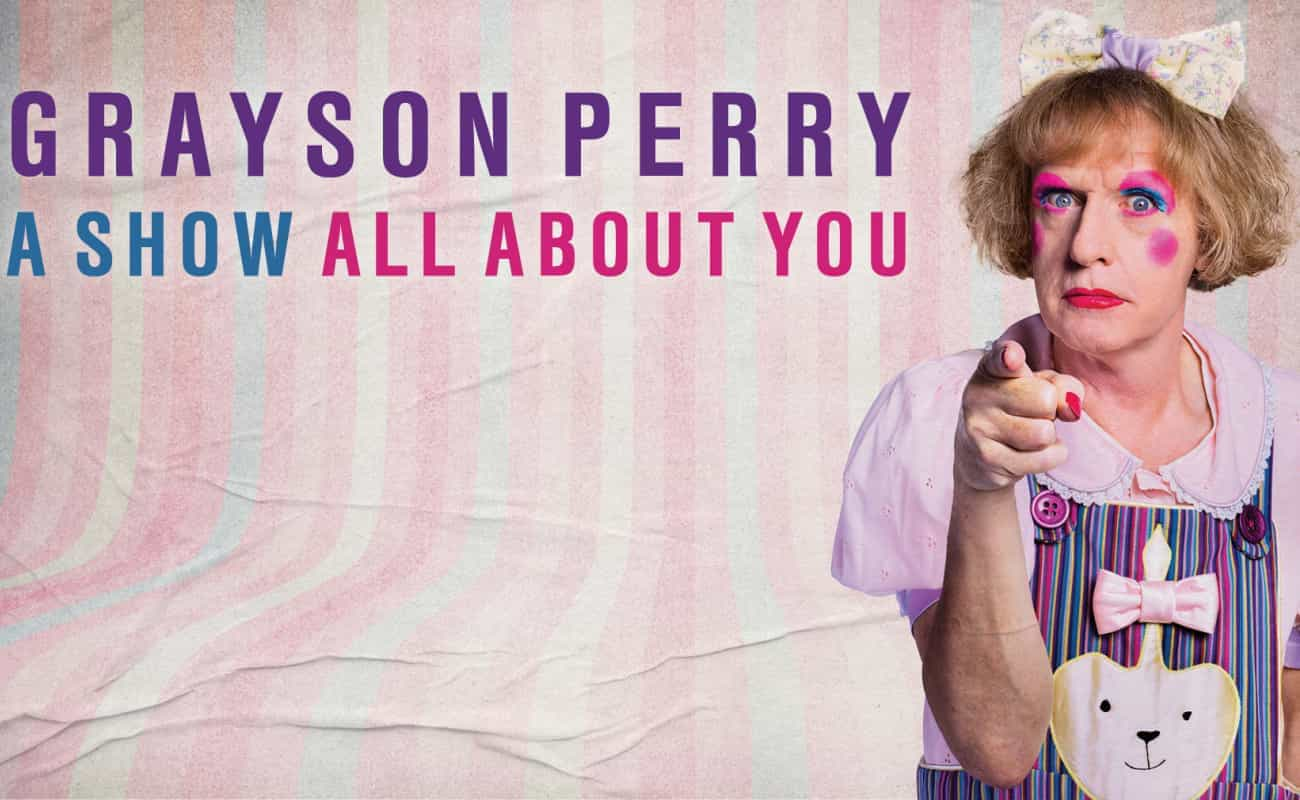 The Lowry, Salford
Sun 8 October 2023
£30 tickets for stall seats for matinee show
Chelmsford-born Turner Prize-winning acclaimed cross-dressing artist Grayson Perry CBE is as well known for his colourful pottery and tapestries as he is for his books, TV shows and social commentary. Using all these different media, he explores everything from identity and sexuality to religion, social status and what it means to be human.
Grayson Perry, white, male, heterosexual, able bodied, English, southerner, baby boomer and member of the establishment takes a mischievous look at the nature of identity in his new show, A Show All About You, that will make you laugh, shudder, and reassess who you really are. What makes you, you?
Is there a part deep inside of you that no one understands? Have you found your tribe or are you a unique human being? Or is it more complicated than that? In the last few decades a combination of individualism, the internet and the culture war has, for many of us, brought our feelings about our own and other people's identity to the fore.
To take advantage of this offer, follow the instructions below...

£30 TICKETS FOR MATINEE PERFORMANCES ON OCTOBER 8TH - 2.30PM

CLICK HERE FOR THE OFFER

Please note, max. 6 tickets per transaction.

Offer ends on September 21st.

*Booking fee applies.

Terms & Conditions
Valid for Grayson Perry at The Lowry for matinee performances on Sun 8 Oct (2.30pm).
Offer valid for stall seats available for October 8th, 2.30pm show.
Max. 4 tickets per transaction.
The offer ends on October 8th 2023.
All tickets are sold subject to availability.
The offer can be removed without notice.
Discount does not apply on previously purchased tickets.
This offer cannot be used in conjunction with any other offer and does not have any cash value.
Booking fee applies.
Our Manchester Theatre Special Offers...