EXCLUSIVE OFFER - The Hallé - R.E.S.P.E.C.T. - Best Available tickets for £25
EXCLUSIVE OFFER - The Hallé - R.E.S.P.E.C.T. - Best Available tickets for £25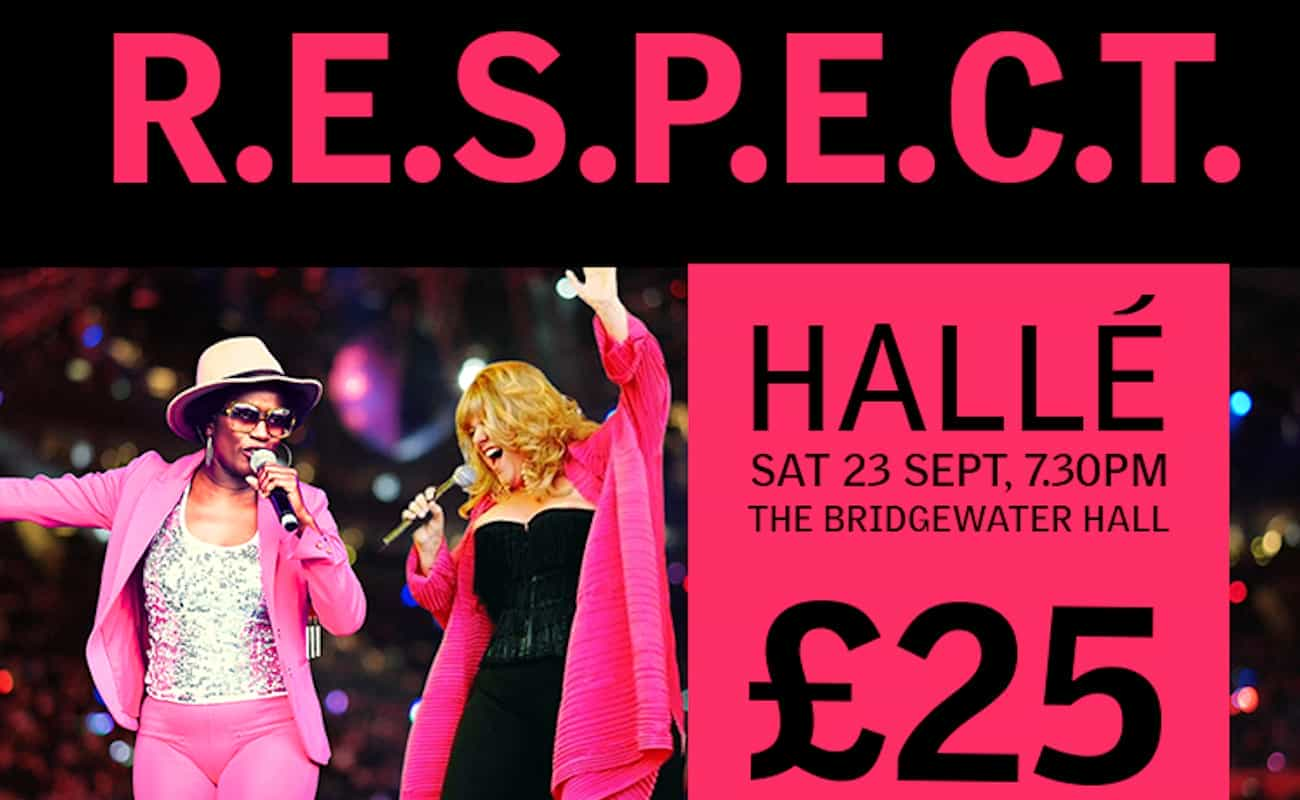 The Bridgewater Hall, Manchester
Save up to £21.50 per ticket
Let's get the party started and celebrate the greatest female songwriters and vocalists the world has ever known!
Alison Jiear, Hallé favourite and Australian vocal powerhouse is joined by Vanessa Haynes, lead singer of the legendary jazz funk band Incognito. Add a full orchestra, rhythm section and backing vocalists and you have the perfect night out!
Get The Party Started - Shirley Bassey/Pink.
The Promise - Girls Aloud.
I'm A Woman - Peggy Lee.
No More Tears (Enough is Enough) - Barbra Streisand and Donna Summer.
Sisters Are Doin' It For Themselves - Eurythmics feat. Aretha Franklin.
Over the Rainbow - Judy Garland.
Oh, Lady Be Good - Ella Fitzgerald.
Can't Get You Out of My Head - Kylie Minogue.
Skyfall - Adele.
Both Sides Now - Joni Mitchell.
Never Gonna Not Dance Again - Pink.
I'll Never Love Again from A Star Is Born - Lady Gaga.
Downtown - Petula Clark.
Perhaps, Perhaps, Perhaps - Doris Day.
Saving All My Love for You - Whitney Houston.
My Heart Will Go On - Celine Dion.
Back to Black - Amy Winehouse.
I Will Survive - Gloria Gaynor.
Respect - Aretha Franklin.
To take advantage of this offer, follow the instructions below...

£25 FOR BEST AVAILABLE TICKETS - SAVE UP TO £21.50 PER TICKET!

CLICK HERE FOR THE OFFER
To book this exclusive special offer, quote PRIDE in the Promo Code box

Please enter the code before selecting your seat!

Terms & Conditions
Full price tickets are priced at £46.50, £40.50, £33.50, £25.50 and £17.50 including £2.50 booking fee. This offer applies to the top four prices as listed above for the Hallé concert on Saturday 23 September 2023 at The Bridgewater Hall. Not to be used in conjunction with any other offer. The offer, and all tickets, are subject to availability.
Our Manchester Theatre Special Offers...