Airbourne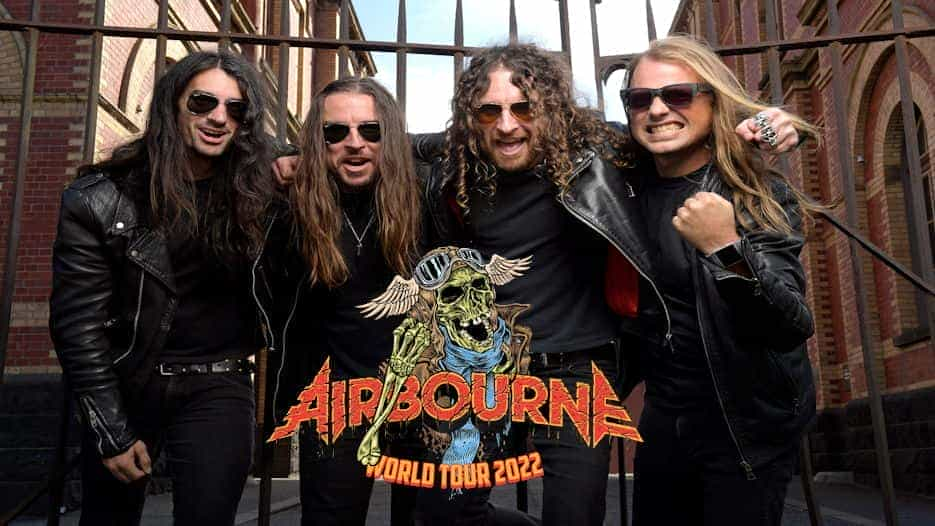 All-action Aussie hard rockers Airbourne are back with music cut from the same frayed cloth as classic late-'70s recordings – from an age before technology was driving the show, when it was all about energy, spirit and on-the-spot performance; when tape machines still added that extra warmth an' weight, and when the quest wasn't for perfection, it was for tracks that connected on an emotional, primal, gut level – in-your-face recordings laying bare the raw, ragged glory of the rock 'n' roll lifestyle, and if the levels sometimes peaked into the danger zone, well, all the better. Turn it up! Leave a mark!
Their straight-down-the-line pure rock 'n' roll drama smelling of burnt rubber, spilt gasoline and valves glowing red hot, everything lean an' lethal, stripped to the bone, to those essential elements that rock 'n' roll requires to properly do its work: raging guitars, pounding bass 'n' bass, vocals packed full of real personality – the kind of passion that only comes from wilfully pursuing a life on the line - has seen them score Top 10 success in the UK and Europe.
Airbourne Tickets
Manchester
Manchester
Albert Hall
Wed 26 Jul 2023
Other events you may like...
How to get to the Albert Hall, Manchester
Most Popular Shows and Events in Manchester