The Curious Incident of the Dog in the Night-Time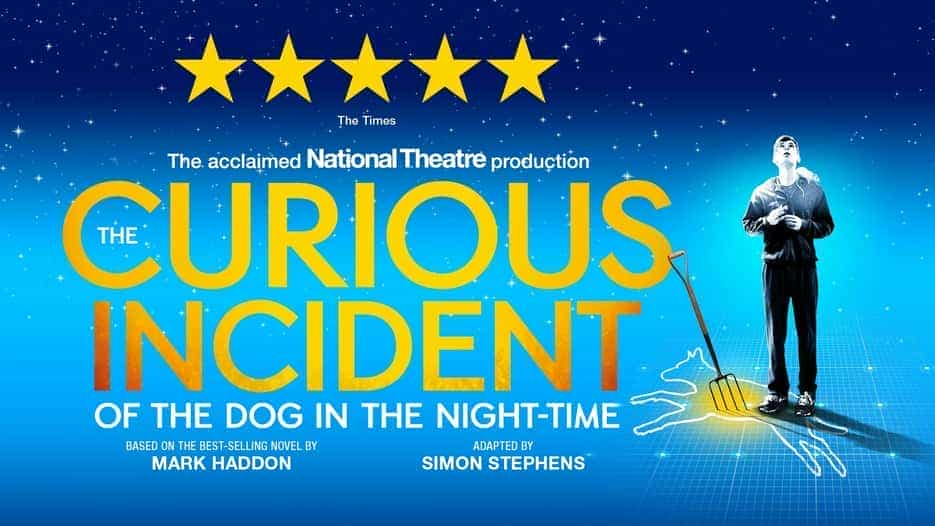 Winner of the Olivier Award and Tony Award® for Best Play, The Curious Incident of the Dog in the Night-Time brings Mark Haddon's international best-selling novel to thrilling life on stage in a dazzling adaptation by two-time Olivier Award winner Simon Stephens and directed by Olivier and Tony Award® winner Marianne Elliott (War Horse, Company).
Fifteen-year-old Christopher has an extraordinary brain – exceptional at maths, while ill-equipped to interpret everyday life. He has never ventured alone beyond the end of his road, he detests being touched and he distrusts strangers. When he falls under suspicion for killing his neighbour's dog, it takes him on a journey that upturns his world.
Hailed as 'extraordinary,' 'dazzling' and 'unmissable' by Time Magazine, The Curious Incident of the Dog in the Night-Time is a theatrical phenomenon simply not to be missed.
Please note: This production contains strobe lighting, smoke effects, high intensity video & light effects, and loud sound effects. Suitable for 11+. There is some strong language in this production, as there is in the novel. This occurs at the very beginning of the show and infrequently at other points during the show. We can provide a copy of the full script should you wish to have more information.
Running Time: 2 hours 30 mins including interval
The Curious Incident of the Dog in the Night-Time Tickets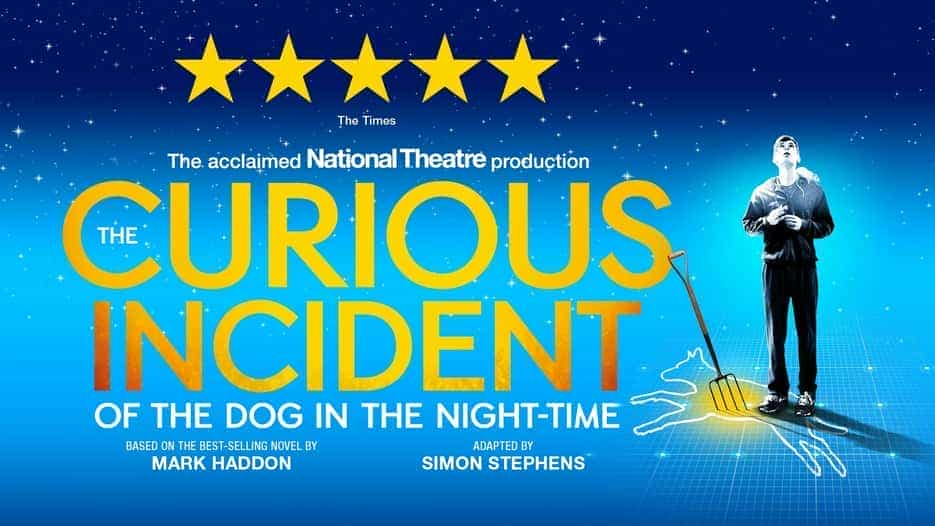 Sorry, there are no tickets for The Curious Incident of the Dog in the Night-Time in Manchester available at the moment. This maybe due to one of the following reasons:
- The Curious Incident of the Dog in the Night-Time in Manchester tickets are currently not on sale.
- The event has sold out.
- Details have not yet been announced for The Curious Incident of the Dog in the Night-Time in Manchester.
- The event may have been cancelled.
- The event has been and gone.
Join our free mailing list for
updates about this event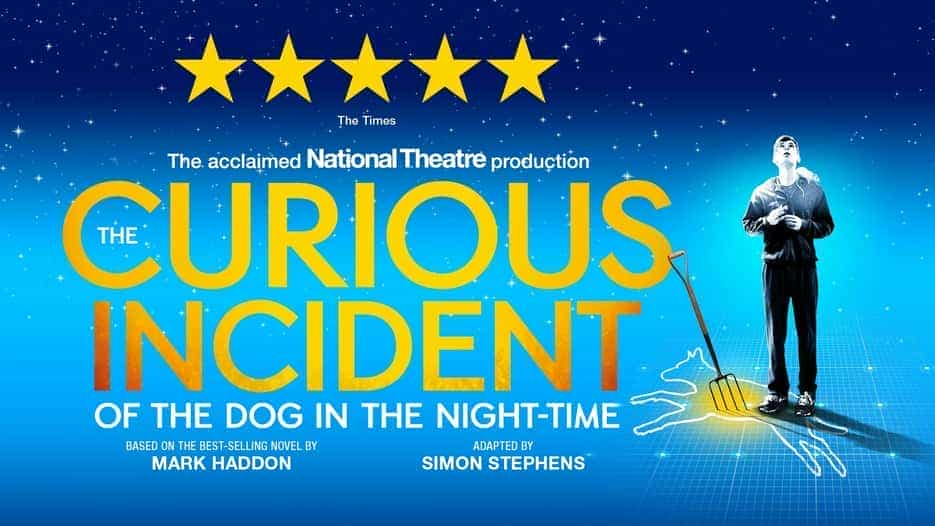 The Curious Incident of the Dog in the Night-Time ON TOUR
Our review on The Curious Incident of the Dog in the Night-Time
The Curious Incident of the Dog in the Night-Time - Opera House, Manchester - Tuesday 8th March 2022 by Karen Ryder
Our Rating
Celebrating its tenth anniversary, the Olivier and Tony Award winning The Curious Incident Of The Dog In The Night-Time is back by popular demand and with its life affirming, compassionate and gripping story, it is plain to see why. Mark Haddon's novel is the story every writer wishes they had written for it encompasses a diverse and infinite audience. It may have started life as a book for children and teenagers, but it has long surpassed this limitation, transcending its age barrier to become one of the bestselling, and most loved books out there.


Christopher doesn't like to be touched. He doesn't like strangers and he doesn't like it when he is accused of killing Mrs. Shears dog. All Christopher wants to do is solve the mystery as to who did brutally spear Wellington with a garden fork. Christopher has been taking notes, recording everything he sees to help him make sense of the world. But can these notes help him solve the murder mystery or will they lead to more questions than answers? Whilst he certainly has an extraordinary brain with such things as maths and the universe, everyday life and social niceties present Christopher with obstacles which often constrain his world. Christopher must stare his challenges in the face as his ordered life is turned upside down. The Curious Incident Of The Dog In The Night-Time takes us on an emotional journey and delicately allows us to see the world from a very different, very real perspective. It is enlightening, educational and epic.
The production itself is like nothing I have ever seen and was breath taking. As Christopher is challenged in the story, this show too challenges the rules of theatre to conceive a brilliantly stylised, artful and mind-blowing result. It seems to beautifully mirror Christopher's alternate way of seeing things and welcomes us into his world, all the time staying loyally true to the narrative of the book. The set multiverses projections, drawings, and scenery, skilfully blending a box from one object into another. Bunny Christie (set), Paule Constable (lighting), Finn Ross (video) and Scott Graham and Steven Hoggett (movement) join forces to ignite our senses and imaginations in a unique and exciting way. This was achieved superbly when Christopher was distressed for example. Flashes of confusing lights, echoes of sound whispering prime numbers and the screens flooded with the never-ending swirling array of said numbers depicted Christopher's anxiety through their synchronicity. Movement was equally vital to the production, excelling in many moments throughout the play, with the astronaut sequence defying acting by crossing over into something that would look just as at home in a Matthew Bourne piece. Another moment in the second half seemed to transcend gravity itself as Christopher walks across the full length of the walls of the set horizontally! It has to be seen to be believed! These elements are just as important to the production as the amazing actors and incredible award winning director Marianne Elliott.


The play unapologetically opens with a bang and expletives as we get our first glimpse of Wellington, the dead dog. It is immediately clear that this production is different and that, as we learn throughout the play, different can be a pathway to the extraordinary brilliance and bravery of any individual. As the story unfolds, we recognise that we are watching a play within a play – a performance of Christopher's book, detailing his journey since that fateful night of discovering Wellington. Rebecca Root (Sex Education, Finding Alice, Trans Scripts, The Proposal), skilfully guides us as both the narrator and Siobhan, Christopher's teacher. She provides a direct link between Christopher and the audience, inviting us into his world. Root beautifully demonstrates through her acting the understanding and patience she has for Christopher who is living with neurodiversity and is categorically believable. I genuinely expected to open up the programme and discover she wasn't actually an actor but a real life SEND trained educationalist. I have to say the entire cast create magic. They played multiple roles with such slick, speedy and sensational transitions that I wouldn't have questioned anyone who told me there were twenty cast members. They continually changed roles, even altering themselves into props and becoming beds, turnstiles and doors. They created an acting illusion Derren Brown would be proud of.
David Breeds (Dear Evan Hansen, The Girls, Thunderdome) is stunning as Christopher. He is intriguing, sensitive, complex, and endearing. His emotional range is multi-faceted and despite the exhausting journey he has to take his character on both mentally and physically, not for one second does he wane. The stylised approach of this production puts some pretty heavy demands on Breeds physically, including being flipped over forwards and backwards, using core strength to balance in a plank position on a continually changing arrangement of boxes and he does it all with the utter grace of a seasoned professional dancer. At one point he is running around the stage opening different cupboards to take out props and it is done with such speed, I have no idea how he remembered which cupboard to go at any given point. I can't even remember why I walked into the kitchen most days, let alone what he achieved in this segment. It was mind bogglingly impressive. His last question to Siobhan at the end of the play is heart breaking and I could have wept for his unobtainable hopefulness. Who am I kidding "could have wept" - I did weep! With the Olivier nominations being decided today, I hope Breeds is one of them.
Tom Peters (Harry Potter And The Cursed Child, Girl From The North Country, The Crucible), partnered Breeds wonderfully as his dad Ed. There were such contrasting moments between them throughout the play, illustrating their complex relationship. There were tender moments as we saw Peters portray a father desperately trying to find the best way to communicate with his son, challenging moments as we struggled to understand some of Ed's choices and perfect partner work between Peters and Breeds when Ed hits his son – brilliant because it was shockingly believable even though the two actors were stood at least a couple of metres apart when it happened, yet their react and response partnership along with the sound of the slap made you believe Christopher had just been struck with complete faith.


The second half was even stronger than the first and as the actors, sound, light, set, and movement all collaborated again, the utter chaos and over stimulation of a train station was realised with a claustrophobic quality, allowing us to understand just a little of what Christopher has to navigate every single day. The impact was felt and made me respect Christopher even more. His whole journey to London was theatre brilliance for it breathed new and exciting life into storytelling, creating moment after moment.
Kate Kordel (Perspectives, Northern Lights, A Midsummer Nights Dream) plays Judy, Christopher's mum and has to deliver some of her dialogue whilst balancing on the shoulders of her cast members, yet she looks as relaxed as if she were having a duvet day. Kordel is strong throughout, taking us through her own emotional narrative and delicately exploring the idea that her choices do not negate the love she feels for her son. The other cast member I have to mention (largely because they got the biggest reaction by far) is the adorable puppy played by either Oreo or Biscoff. This puppy proved that once again we are a nation whose heart is ruled by dogs, for this pup stole the scene and fair play to the actors who allowed this gorgeous fluff ball to have their moment.
The Curious Incident Of The Dog In The Night-Time is a beautiful piece of theatre and is literally the gift that keeps on giving. Don't leave too early because just like a Marvel film, even when you think it is over, it isn't. You will learn so much about yourself, about the human spirit, and even about maths! I implore you to watch this show, practise kindness and show compassion because the ease with which one person may take something for granted, could very well be someone else's Everest.

WE SCORE THIS AMAZING PRODUCTION – 10/10
Other events you may like...
Most Popular Shows and Events in Manchester