An Inspector Calls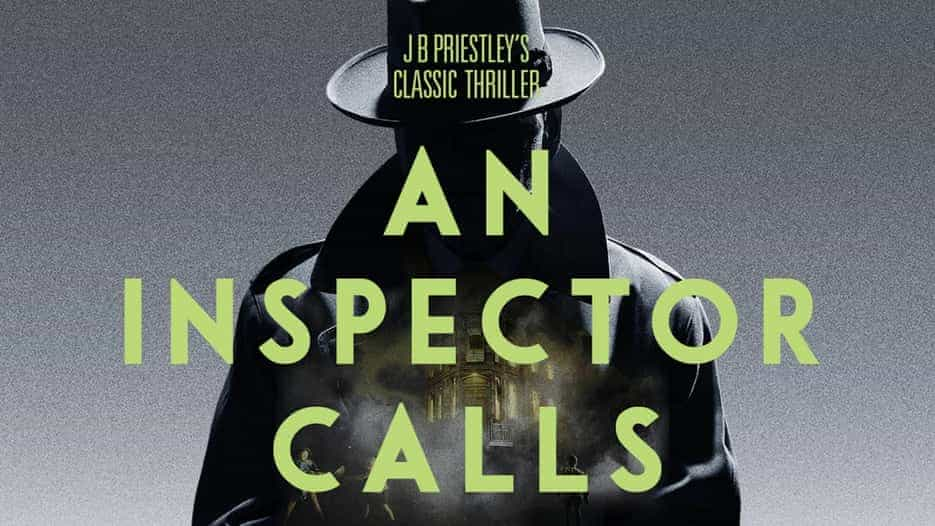 Stephen Daldry's multi award-winning National Theatre production of JB Priestley's classic thriller returns.
Since 1992, Daldry's production of An Inspector Calls has won a total of 19 major awards, including four Tony Awards and three Olivier Awards, and has played to more than 4 million theatergoers worldwide. An Inspector Calls is the most internationally-lauded production in the National Theatre's history.
Hailed as the theatrical event of its generation, winning more awards than any other production in history, An Inspector Calls has thrilled more than 4 million people worldwide.
When Inspector Goole arrives unexpectedly at the prosperous Birling family home, their peaceful dinner party is shattered by his investigations into the death of a young woman. His startling revelations shake the very foundations of their lives and challenge us all to examine our consciences. More relevant now than ever, this is a must-see for a whole new generation of theatregoers.
Featuring Ian MacNeil's ingenious designs, music by Oscar-winning composer Stephen Warbeck (Shakespeare in Love) and atmospheric lighting by Rick Fisher, this landmark production is guaranteed to have old fans rushing back and new theatregoers being swept away into the mysterious world of Inspector Goole.
Please note: Trailer features previous cast.
An Inspector Calls Tickets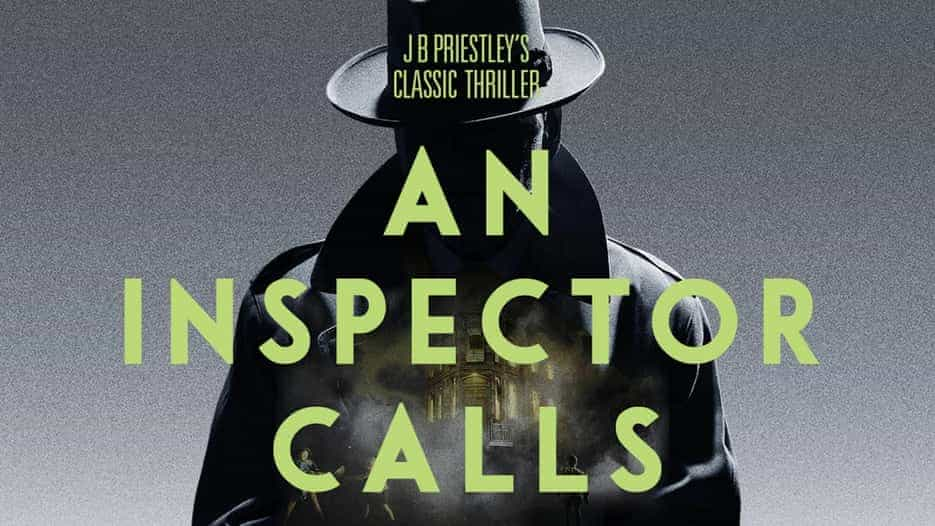 Sorry, there are no tickets for An Inspector Calls in Manchester available at the moment. This maybe due to one of the following reasons:
- An Inspector Calls in Manchester tickets are currently not on sale.
- The event has sold out.
- Details have not yet been announced for An Inspector Calls in Manchester.
- The event may have been cancelled.
- The event has been and gone.
Join our free mailing list for
updates about this event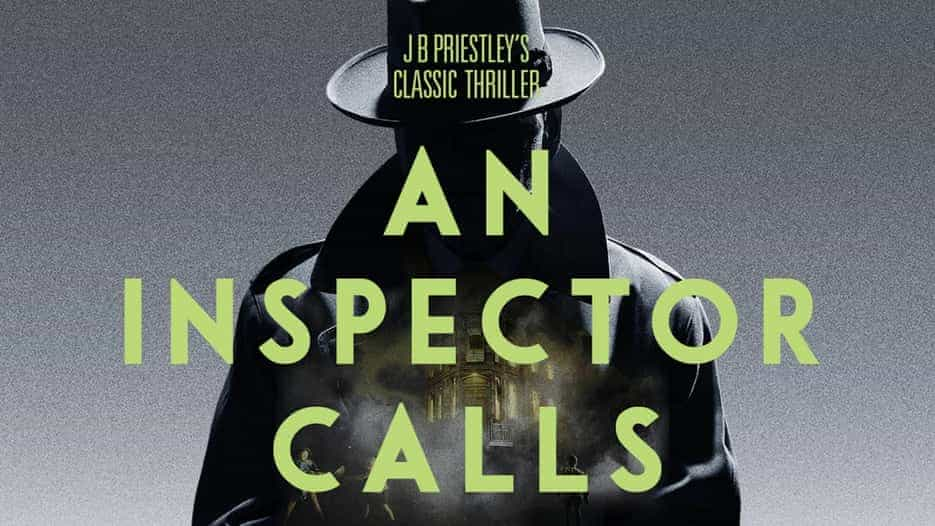 An Inspector Calls ON TOUR
Our review on An Inspector Calls
An Inspector Calls - The Lowry, Salford - Tuesday 10th January 2023 by Karen Ryder
Our Rating
Poignant, funny, thought provoking and hopeful, An Inspector Calls is a must-see classic!

J.B. Priestley's An Inspector Calls commandeered months of my life during my university days, and cemented some of the strongest friendships I still hold dear to me now. I therefore feel a strong personal connection to this celebrated, award-winning play, and so my expectations of tonight's production were teetering on the verge of an impossibly high pedestal. Of course, this is a Stephen Daldry production (The Reader, Billy Elliot, The Crown), so I never really had anything to worry about, and I have to say that my anticipation was welcomed with open arms and sent away with a goodie bag of fresh interpretation and appreciation of this Tony Award, Olivier Award and just about every other award-winning play. University wasn't the first time I'd come across An Inspector Calls, but it was the first time I truly began to understand it's themes of inequality, class division, capitalism, a lack of accountability, unchecked hierarchy, privilege and nepotism, leading to a sense of those with power or money believing their own hype and importance over others. It was the first time I'd experienced and witnessed these themes in the real world, and as they are still sadly relevant today, it doesn't take any effort to understand the lasting popularity of this relatable play. Injustice ripples throughout the entire story and leaves the audience with an uncomfortable realisation that An Inspector Calls has been echoing around us for a long time, from politics to social media, to celebrity and to the press. This is why it has played to well over 4 million people worldwide and why it will continue to do so.
An Inspector Calls is a different kind of whodunnit with a traumatic and mystical twist that challenges our hearts and our conscience with the untimely arrival of the mysterious Inspector Goole. Arriving unannounced in the middle of a celebratory dinner party, the wealthy Birling family are dismissive, rude, and disengaged, seeing Goole as nothing more than an annoyance. A young woman has been found dead, but the Birlings have no real interest, for the death of a young unknown, working class woman, doesn't impact their lives at all. Or so they believe. Yet as Goole asks more and more questions about the deceased woman, it appears that every family member has something to hide, something to fear, and something threatening to destroy their way of life. Every avenue investigated by Goole leads to another secret, another scandal, another revelation. The question is, just how much unravelling can one family take before the cracks begin to show? And just how much personal responsibility are they prepared to own before they start to throw each other under the metaphorical bus? As they are forced to stare their own conscience square in the face, can they cope with what is reflected back? The Birlings have many deep-rooted questions to ask themselves, but will they grasp the opportunity to change, or will they deny a young woman respect even in her death? It leaves a clanger of a question hanging in the air – what is more important, commerce and class or community and compassion?
With a play that threatens to be locationally stagnant, with much of the story unfolding in the Birling's dining room, this production has incorporated the design and set into the heart of the storytelling to ensure that this never happens. Ian MacNeil has gone beyond what is on the page and has stepped outside the front door to invite the audience into the world inhabited by not only the Birlings, but the people whose lives their every decision impacts. I absolutely adore it! It opens up the story, the characters, and the themes to a much bigger picture, and excites the child in me who would always want to know more than was on the page. Where did this character go to school? Where do they buy their coffee? What do their neighbours look like? Due to this design, the play is so immersive, with the rainy northern streets being just another accurate reflection of the world we find ourselves in – particularly on this Salford January day where the heavens haven't let up all day. Bold, inventive, yet routed in utter realism, traditional theatre conventions are seamlessly blended with the breaking of many 'rules', creating a dizzying atmosphere which expertly equals the spiralling lives of the Birlings. I don't want to give too much away but the only way I can describe the impact is that it is like you are in the story, maybe a curtain twitcher from across the road listening to the posh neighbours having some sort of family bust up! Brace yourself for walls of smoke, blasts of cold air, directional sound appearing from behind you, and for the cast to address you directly. The play opens with an almost cinematic scene, dripping with atmosphere, anticipation and drama. It is emphasised by incredibly emotive music written by Oscar-winning composer Stephen Warbeck. You feel the presence of his music. It speaks to you, announcing that something incredible is about to happen. Add in sound by Sebastian Frost that had me twirling in my seat to figure out where it was coming from, and incredible lighting by Rick Fisher that literally brought the outdoors inside, and this opening sequence will take your breath away, way before the dry ice does.
Liam Brennan is an exceptional Inspector Goole, with his naturalistic approach offering the perfect contrast to the dramatic and larger than life Birlings. His controlled delivery is beautifully teasing, allowing Goole's own brand of judgment, reserved for the likes of the oblivious Birlings, to be drip fed throughout. Brennan does this with such a practised ease that it is wonderful to have an unwavering belief that Goole can get you to reveal almost anything. His performance is persuasively powerful, particularly his last speech:
"We don't live alone. We are members of one body. We are responsible for each other. And I tell you that the time will soon come when, if men will not learn that lesson, then they will be taught it in fire and blood and anguish."
This was acted with such a raw honesty by Brennan that you could have heard a pin drop in this otherwise vocally responsive audience. A real goosebump moment.
Jeffrey Harmer sets and leads the tone of the Birling family's self-importance and larger than life antics as Arthur Birling. He demands attention, controls and dominates his family, and finds every available opportunity to keep building his character into someone we have all encountered and probably all wanted to bring down a peg or two ourselves. Harmer fills every nuance of his character with entitlement, whether it's the way he carelessly spits his tea out, walks around chest first, or switches from smug laughter to defensive anger. The mere fact that it becomes increasingly harder to find anything redeemable about him speaks volumes as to how well Harmer plays this role.
Chloe Orrock is a brilliant Shelia Birling. From her entrance as the socialite 'It girl', she is instantly recognisable as a certain 'Insta influencer' type, and engages the numerous youth and school groups in the audience to maximum effect. Her energy really drives the play and she somehow manages to deliver contrasting elements of her personality in an entirely believable way, highlighting the true complexity of human behaviour. She is entitled and oblivious yet capable of personal growth. She is defiant yet innocent, silly yet smart and Orrock expertly performs every element. She is cheered on when she stands up to her fiancé with whoops from the audience.
Christine Kavanagh is delightfully pompous as Sybil Birling, stepping up the self-righteousness a notch further and at just the right time. Her timing is impeccable and her dismissive nature of those she deems below her is superbly created by clever gestures and the way that she doesn't even acknowledge them with eye contact. She carries the character with such an aura that you can vividly picture the story we are told regarding her dismissal of the deceased girl. Simon Cotton plays Gerald Croft, Shelia's cad fiancé. He takes his character on an impressive journey, allowing us to see multiple facets of human nature, from the privileged and imposing businessman to the condescending fiancé who thinks he knows what is best for his little woman, to a glimpse of compassion, to it feeding his own desires, to a man desperate to excuse his behaviour rather than own up to responsibilities. In contrast to this is George Rowlands as Eric Birling, who starts out with the same under currents but does learns something along the way and struggles with the consequences of his actions. We slowly see Eric lose control and Rowlands portray this with a chaotic and wild freedom that is so juicy and contrasting to the other characters, it stands out, particularly the fight scene with his dad.
I wish any drama student who has ever sat counting how many lines they have and determined the importance of their role from this, could watch Frances Campbell as Edna. Her non-verbal role is essential and done with such clarity and skill that you are never in any doubt that this is an actress who knows how to act. Words are not needed.
An Inspector Calls is one of the most popular plays ever written with both audiences and critics alike. It is studied, debated, performed, and enjoyed. It never gets old, never ages, and never fails to provoke important discussions, ensuring it is a play for all age groups, as was reflected in tonight's audience. I was not surprised to discover that this productions run under the direction of Stephen Daldry and associate director Charlotte Peters at The Lowry is almost sold out, a testament to its brilliance, so I advise you to secure one of those remaining tickets before someone else does.
It will give your January some much needed umph and make you ask important questions at the start of your year that will serve you better than any half intended New Years resolutions. It is hard to ignore the fact that An Inspector Calls questions if the likes of the Birlings are really the type of people we want to look up to, the type of people we want to work for and give power to. We only have to switch on the news, flick through social media feeds, or listen to a conversation in a pub or coffee shop to know that the same debate is currently taking place in our real lives. Inspector Goole provokes the need for change, the need to hold irresponsible people in charge accountable for their decisions. Life reflecting art was never a truer statement. A brilliant production of an utter classic, that with its modern vibe and current flavours, feels like a new piece of theatre written specifically for today's audience. Poignant, funny, thought provoking and hopeful, An Inspector Calls rivals any television drama or box set and for many, will leave a fire in their belly and a desire to inspect the world they live in and call it out to make us all a little bit more responsible for our actions.
WE SCORE AN INSPECTOR CALLS...


Other events you may like...
Most Popular Shows and Events in Manchester