Poppy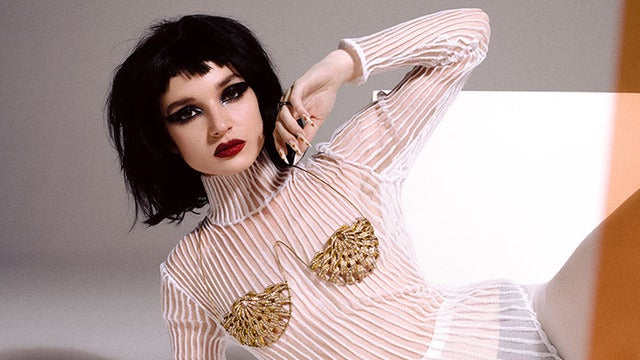 The American singer, songwriter, musician, and YouTuber gained viral fame in 2014 by starring in performance art videos as an uncanny valley-like android entity who commented on and satirised internet culture and modern society. She signed a recording contract with Island Records in 2015, and released her debut EP Bubblebath in 2016.
In 2017, Poppy signed a deal with Mad Decent and released her debut studio album Poppy.Computer, which consisted of art pop and bubblegum pop songs. To promote the album, she embarked on the Poppy.Computer Tour. In 2018, she released the pilot for the proposed surreal comedy online series I'm Poppy on YouTube Premium. She also released her second studio album Am I a Girl? In stark contrast to her previous style, the second half of Am I a Girl? began to show a heavy nu metal influence.
In 2020, Poppy signed to Sumerian Records and released her third studio album I Disagree, incorporating heavy metal and industrial rock. I Disagree featured visuals in her music videos which some critics described as "increasingly disturbing", "violent", and "macabre", continuing the shift in her music videos that started with her second album.
In 2021, Poppy's song "Bloodmoney" received a nomination for the Grammy Award for Best Metal Performance, making her the first and currently only female artist to be nominated in a metal category. That same year, she continued her long-time collaboration with professional wrestling promotion WWE NXT by releasing the metalcore soundtrack EP Eat (NXT Soundtrack). Her fourth studio album, Flux, was released three months later to critical acclaim, featuring a less harsh and more stripped-down sound than I Disagree and Eat.
Other events you may like...
How to get to the O2 Ritz, Manchester
Most Popular Shows and Events in Manchester