The Color Purple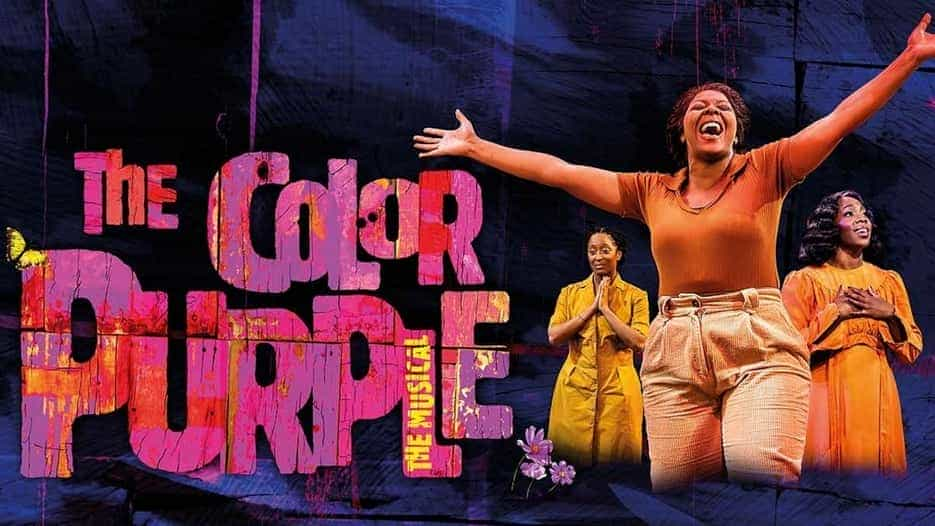 Based on Alice Walker's Pulitzer prize-winning novel and adapted for the stage by Pulitzer Prize and Tony award-winner Marsha Norman, Allee Willis, Brenda Russell and Stephen Bray, The Color Purple tells the powerful and life-affirming story of courageous heroine Celie. Abused and oppressed throughout her youth, Celie embarks on a journey through joy, despair, anguish and hope, discovering her own unique voice thanks to the incredible women in her life. From an unbreakable bond with her sister Nettie, to friendship with fiercely independent Sofia and a life-changing affair with glamorous singer Shug Avery, Celie learns to love herself.
With a profoundly evocative score by Grammy award-winners Brenda Russell, Allee Willis and Stephen Bray and drawing inspiration from jazz, ragtime, gospel and blues, this landmark musical celebrates life, love and the strength to stand up for who you are and what you believe in.
Suitable for ages 14+. Please note that this production contains themes of rape, abuse and incest, with overt racism and sexism.
This production will contain some strobe effects and the use of haze.
Running Time: 2 hours and 30 minutes (including a 20min interval)
The Color Purple Tickets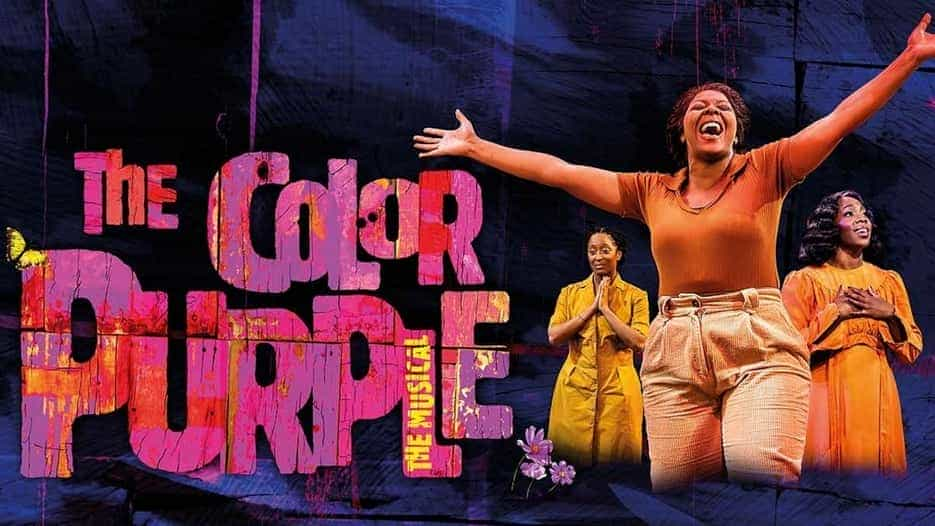 Sorry, there are no tickets for The Color Purple in Manchester available at the moment. This maybe due to one of the following reasons:
- The Color Purple in Manchester tickets are currently not on sale.
- The event has sold out.
- Details have not yet been announced for The Color Purple in Manchester.
- The event may have been cancelled.
- The event has been and gone.
Join our free mailing list for
updates about this event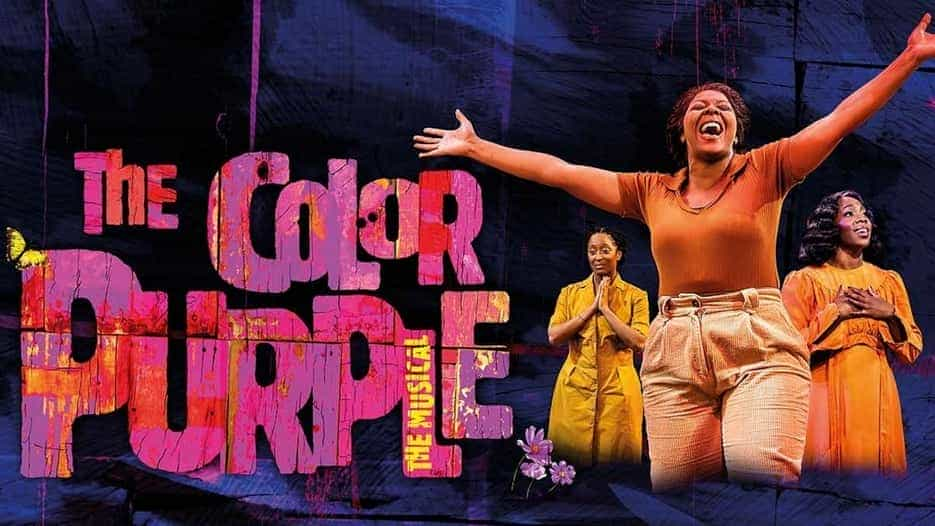 Our review on The Color Purple
The Color Purple - The Lowry, Salford - Tuesday 11th October 2022 by Karen Ryder
Our Rating
THE COLOR PURPLE IS A LIFE-AFFIRMING PRODUCTION THAT WILL HOLD YOUR HEART IN ITS HANDS!
From the Alice Walker novel to the 1985 Whoopi Goldberg movie, to now; The Color Purple is a story that keeps being retold because, quite frankly, it can't be told enough. The long awaited arrival of the UK tour has created a palpable buzz for some time and to be invited along to watch such a pivotal musical has resulted in a whirlwind of emotions that have left me in awe at the strength of the human spirit, the importance of self-worth, and the power behind rewriting your own story.
Celie, our protagonist, goes on one hell of a transformative journey in The Color Purple. From an early age, her world is one of abuse, lies, fear, silence and oppression. Abused by her so call stepfather, him marrying her off to a stranger when he becomes bored, abused by the new husband, reduced to a slave, children torn away from her, and diminished to a nonexistence which results in her not even knowing the name of her husband. Set in the deep South of America during the first half of the 20th century, Celie faces external prejudice, internal mistreatment, and somehow still finds the inner strength to face it all down and finally live a life of contentment and joy. As her sister is ripped away from her, the one person who she feels upon whom she can rely, she fears Nettie dead, but it turns out to be just another result of her husbands abuse and control. The day he moves in his mistress Shug Avery, is another attempted means of humiliation and empowerment over Celie, but Mister underestimates the solidarity of sisterhood, of empathy, and of the capabilities of the human spirit. As a beautiful bond blossoms between Shug and Celie, the truth of her past is set free. No longer a prisoner of the mysteries which have engulfed her life, Celie is given the gift of enlightenment. Shug enables her to see that her story can change. She can be her own author, and she still has the future of her own story to write, but make no mistake, it is now very much Celie's story to write, and no one else's. As Celie's eyes are opened to a world beyond the one her circumstances have so far trapped her in, exciting new ideas, possibilities and mindsets manifest themselves in a gloriously empowering ownership, enlightening Celie to the strength of her own voice. A beautiful independence emerges, ensuring Celie can choose to be successful, happy, expressive, and content and highlights that love, in all its forms, can be found in the most surprising of places.
Me'sha Bryan (Romantics Anonymous, Caroline, or Change, The Lion King) is phenomenal as Celie. Her performance is from the heart, reaching into your soul and speaking directly to you as if no one else were even in the audience. As I say, phenomenal. She takes you on the difficult journey of her character, all the while holding your hand, and reassuring you that everything will somehow be ok. In the hands of the wrong person, this role could elicit only sympathy, yet Bryan propels beyond expectations, ensuring we have hope even in the darkest of times. I know this essence was felt in the other audience members for she is quite literally cheered on throughout, and with showstopping moments such as 'What About Love', 'I'm Here' and 'The Colour Purple', it would take a robot to respond in any other way. If Me'sha Bryan doesn't receive an Olivier, I shall………well I don't quite know what I shall do, but I shall do it!
Bree Smith (The Wiz, Coming To England, West Side Story) is sensational as Shug Avery and makes it crystal clear that everyone should have a Shug in their life. Her performance of 'Push Da Button' (no not the Sugababes song) alone will leave you in no doubt that Smith is a force to be reckoned with. Her ability to fill the theatre with individuality, compassion, and inner strength, whilst reducing you to lip wobbling emotions, is a true skill. Unafraid to show her vulnerable side, she is sassy, sensual and sensitive, reminding us we can be all of these paradoxical states and do not ever have to pigeonhole ourselves to a one dimensional role that society expects of us.
Ako Mitchell has the ability to dominate with a ferocity that is so believable, you find yourself either recoiling or wanting to jump up and fight him whenever he is on the stage. That is meant as a compliment for he is so believable with his performance that you forget that is IS a performance. We are also given insight into why his character behaves as he does and this revelation is delivered so strikingly by Mitchell that it allows the edges of distaste for him soften, confusing the bejesus out of you, leading to a lot of internal questions about where the lines of acceptance, forgiveness, and understanding lay. An exceptionally powerful performer, with a heightened sense of attention to detail ensure Ako Mitchell is a name you will google and won't forget.
Ahmed Hamad (The Addams Family, Rumi) and Anelisa Lamola (The Wiz, Sunset Boulevard) provide a touching partnership as Harpo and Sofia, defying stereotypes, and providing us with a contrast to Celie and Misters relationship. Their connection is feisty yet gentle, passionate yet calming, highlighting their talents with crystal clear clarity. Sofia was one of my favourite characters, and Lamola's performance of 'Hell No!' brought the house down. The attitude was insane and I think many of us probably left making a promise to ourselves to channel our inner Sofia when the world tries to extract the urine!
The entire cast are undoubtedly brilliant, and I wish I could simply sit here and name check every single one of them, but instead I urge you to go and see for yourself, for you will not be disappointed. And every exceptional cast always have an equally exceptional creative team behind the scenes, providing the magic which whisks us away into another world. The Colour Purple is directed by Tinuke Craig and Lakesha Arie Angelo, choreographed by Mark Smith, designed by Alex Lowde, and lit and visualised by Joshua Pharo. The immense Lyric Theatre stage becomes the host for wonderful theatre illusions, whether it be secret reveals from the stupendously brilliant set, luminating backdrops, transformative video production, or the subtle background sound effects subconsciously dripping into your brain. But let's just go back to the set for a second. Huge walls host sliding openings that are like the door Mr. Ben found himself walking through, for you never knew where they could lead. As they opened up, almost like an advent calendar, new sets within the set were revealed, meaning with no visible fuss, you could be taken from a shop front, to church, to a bar, to a prison. It was brilliant and I was in awe of the sprinkling of magic theatre dust once again.
The book by Marsha Norman truly makes use of its theatre artform, thrusting the storytelling right into the palm of our hands via it's complex and contradictory characters, giving us more insight into why people are the way they are and highlighting important themes, such as community, trauma and abuse as an inherited and learnt behaviour, and love in every adaption possible, from romantic, to platonic, to parental, sibling, community, and most importantly, self-love. Music and lyrics stand equal in driving this production. Written by Brenda Russell, Allee Willis and Stephen Bray, the songs blend into the familiar story with such honesty and emotion that it almost becomes impossible to imagine the The Color Purple without them. They are used in an exemplary manner for musical theatre in that they take you places words cannot always express, allowing you to understand by feeling the emotion. Musically, they are genius. Inspired by flavours of the South, you will have your taste buds ignited by hints of jazz, ragtime, blues, R&B, gospel, African, and even a little bit of rock n' roll. The impact is mesmerising. And when a show is opened up with such joyous gospel music, it's all you can do to remain seated and let the professionals do their job, such is the inspirational power of music.
A stroke of storytelling genius were the three 'gossips' who fill us in on what is going on, share their opinions, and generally keep us informed. The gossip style is delivered through brilliant singing canons, that are so quick, articulate, and hilarious, that the trio built up their own fan club as the show went on. This element ensured that the shows dark and heart wrenching themes didn't pull down the mood to such a level that it became difficult to enjoy the recovery and the survival.
The Color Purple is a stunning story, and despite it sounding potentially depressing with such hard hitting themes, instead, you are actually left with an overwhelming feeling of joy. It is inspirational, and even though you may or may not directly identify with the themes of the play, I guarantee you will find yourself reflecting on elements of your own life because it connects with everyone on their own personal level in a way that will inspire, hearten and enlighten you to have courage, have hope, and have an unshakeable belief that you do matter and you can absolutely take ownership of your own story. Whatever life you are living, The Color Purple, if nothing else, reminds us that it is YOUR life.
WE SCORE THE COLOR PURPLE...


Other events you may like...
Most Popular Shows and Events in Manchester