Manchester Theatre News & Reviews
REVIEW - Animal is eye-opening, heart-wrenching, hilarious and educational, keeping the audience entertained throughout!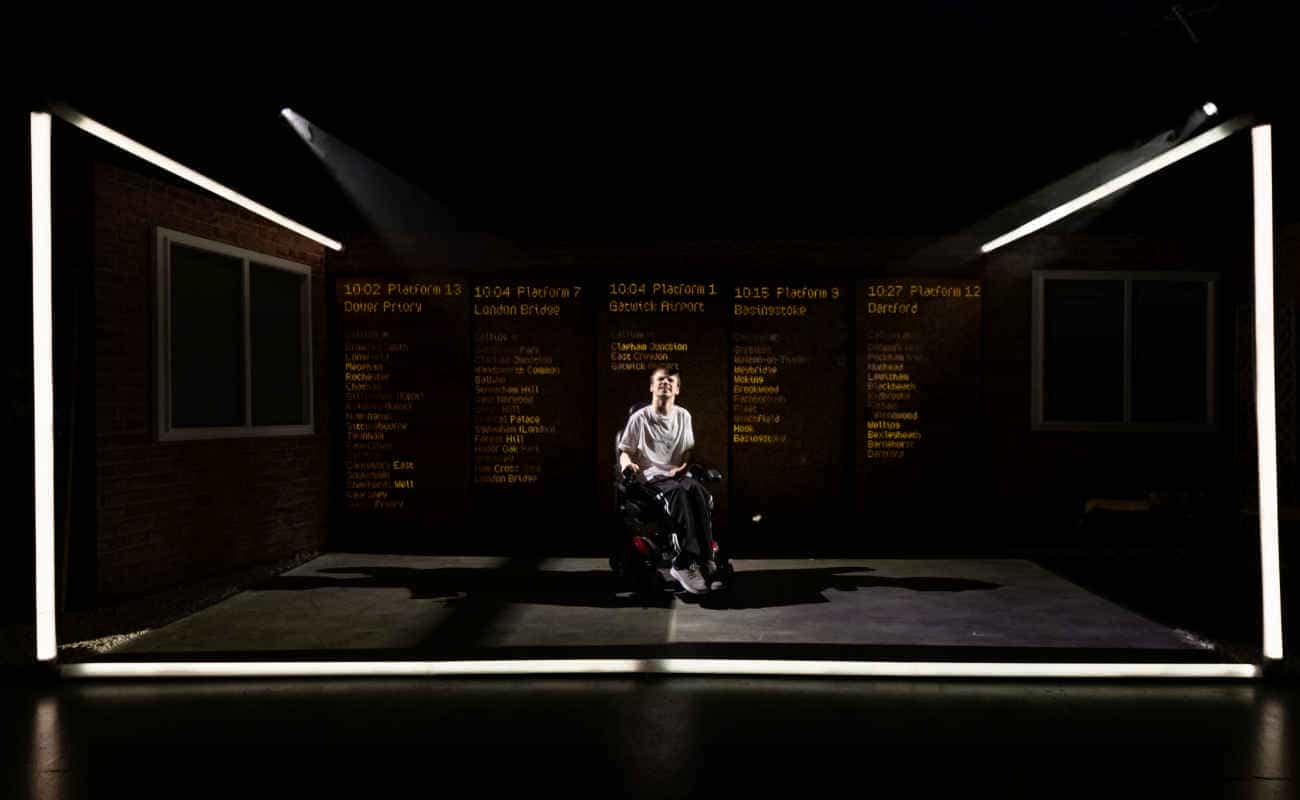 BOOK TICKETS FOR ANIMAL
On Tuesday, we went to the Hope Mill Theatre, Manchester to see Animal. Read what our reviewer, Lizzie Johnston had to say about the production...


Animal is a new play produced by Hope Mill Theatre and Park Theatre which won Hope Mill Theatre's inaugural Through The Mill Prize and was shortlisted in the top five for the Papatango Prize out of more than 1,500 entries. Its subject could be seen as tantalising yet the play isn't intended to be an agritprop, it demands no more than empathy and attention and delivers an entertaining production.


Animal follows the character David as we get to see how sex can be a challenge. He's gay, disabled, profoundly horny, and relies on round-the-clock care. He can't eat, drink or shower by himself, let alone rest. Totally inexperienced, he embarks on a sexual and romantic odyssey, armed with a fierce brain and impressive nudes (which someone else has to take). With a lifetime of knock-backs, David has to manage the thrills and uncertainty of random hook-ups without getting too attached and risk hurting his feelings.


As soon as you enter the theatre, you're inside David's apartment. The set was cleverly designed to have sliding doors which revealed a hallway and kitchen or club and outdoor terrace, making it easy to transition between scenes. The teal velvet sofa was quickly adapted to a bed to make a quick switch from living room to bedroom, and the walls would have projections of messages and dating apps to match what David was seeing on his phone screen.


Christopher John-Slater (The Dumping Ground, Sorry, We Missed You, All of Us) embarks on a journey of sexual awakening as David goes from frustrated, to horny and ultimately to hopeful as he swipes through and meets several Grindr dates. His performance of David was captivating with laugh-out-loud highs and heartbreaking lows. His comedic timing was excellent as he had the audience belly laughing with one-liners and his curiosity and open-mindedness about sex.


David isn't an angel or a victim and John-Slater's vulnerable performance shows how frustrating and infuriating it is to have to rely on other people for everything. He is complex and flawed, and the needs and the relationships from his impairments are a worthwhile source of drama and comedy. Yet, the humour within the play doesn't come from the expense of David's disability, it comes from naivety, excitement and curiosity of this sexual odyssey.


David's inner circle of friends and carers have a real bond with him, since they spend so much time together. Jill, played by Amy Loughton (Crackers, Romeo & Juliet, Henry V & The Tempest) is David's full-time carer who lives in his flat with him. She finds herself a boyfriend, played by Harry Singh (But I'm a cheerleader the musical, West End Does: Magic of Animation 2, One Young World Opening Ceremony), which gives her a new focus in life and leads to a bit of jealousy from David. Singh doubles up as David's best friend Mani, an eccentric and loveable gay best friend who lives life to the fullest. Derek is David's other carer, played by Matt Ayleigh (Timons of Athens, The Boy on the Swing, Love for Love), and is an out-of-work actor, trying to squeeze in auditions around shifts. They are all supportive of David's wants and concerned when they need to be, showing up when he is at his most vulnerable and helping without the need to be asked. Yet, all of them have their own desires and frustrations, which can sometimes clash with David, leading to odd tense situations, often broken by an excellent comedic one-liner.


Animal is a play like I've never seen before, and one I'd like to see more of. It was eye-opening and heart wrenching as we got an insight into how disabilities can take away so much independence and ultimately impact their private time. The play is a telling of a much needed important story, originated by Josh Hepple, an activist, equality trainer and writer who has cerebral palsy, and written for the stage by Jon Bradfield (Another F***ing Christmas Carol, He Shoots! He Scores!, A Hard Rain).


This new, modern and different play is a comedy full of uplifting and eye-opening moments. Whether it's the relationships between friends, frustrations over simple tasks in life or the sex, it'll keep you entertained throughout.


WE SCORE ANIMAL...





Animal is on at Hope Mill Theatre until Saturday 1st April.