Manchester Theatre News & Reviews
REVIEW - Everybody's Talking About Jamie is phenomenal - A great way to start the new season!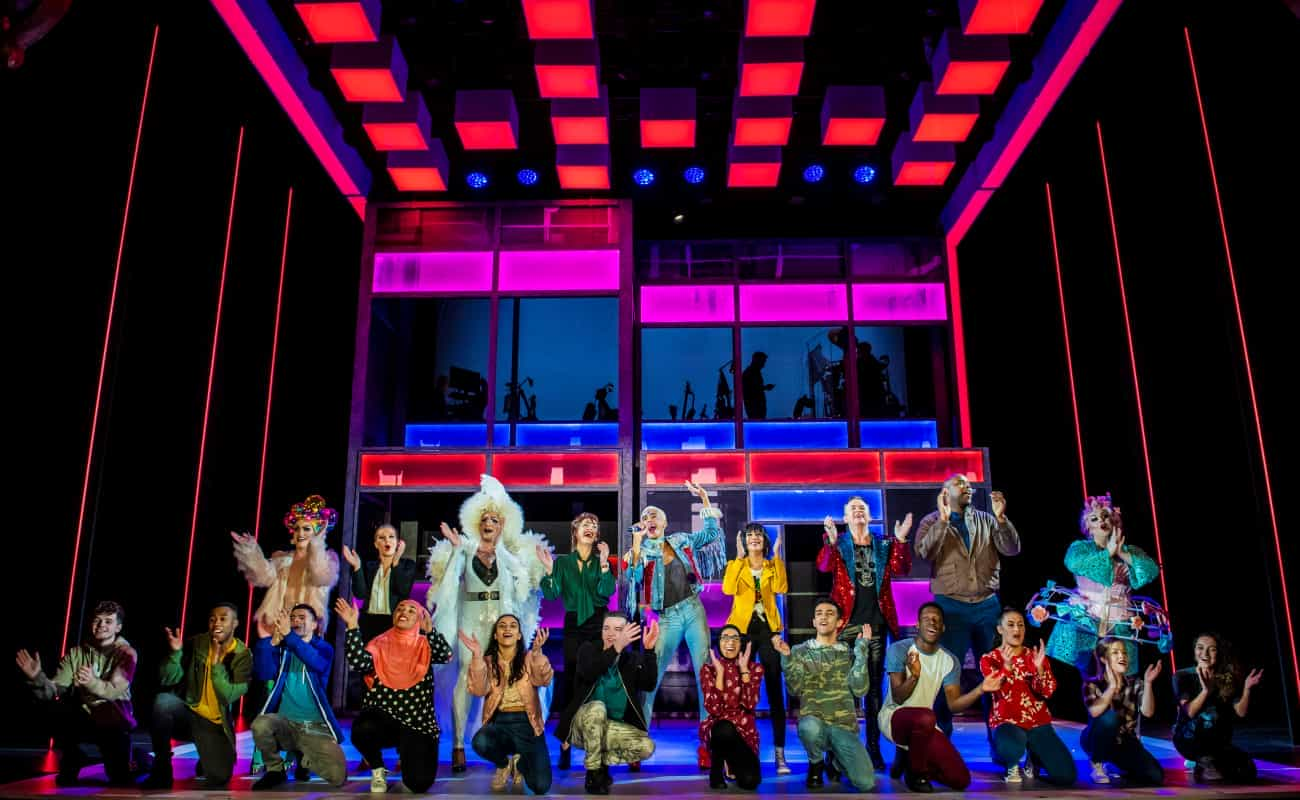 BOOK YOUR TICKETS HERE!
On Tuesday, we went to The Lowry, Salford to see Everybody's Talking About Jamie. Read what our reviewer Christa Norton thought about this wonderful show...


Everybody's Talking About Jamie has to be one of the hottest tickets for the autumn. It starts its UK tour here in Salford after a phenomenally successful run on the West End and a hit film of the show courtesy of Amazon Studios.

Written by Dan Gillespie Sells (The Feeling) and Tom Macrae (Doctor Who, The Librarians), based on an idea by Jonathan Butterell (Hamlet, Fiddler on the Roof), the production itself has won numerous awards – not least Best New Musical at the prestigious Whatsonstage Awards - and its uncompromising take on identity politics combined with a strong anti bullying message seems to become more prescient and relevant as every year passes. So I took my seat with very high hopes for the evening – and I was not disappointed!
Everybody's Talking About Jamie is the story of Jamie New, a 16 year old school boy who dreams of becoming a drag artist. He lives in a gloomy, soot-drenched Sheffield – always presented in black and white on the staging backdrop - and faces the barriers you might expect: the homophobic school bully, the world-weary teacher, the judgemental and largely absent father.
At this point it would be easy to make assumptions about this play: cliched, maybe a Billy Elliott but with drag rather than ballet. This couldn't be further from the truth. The story never feels contrived; possibly this is because it is based on the real life account of Jamie Campbell, which gives the production a definite emotional grounding, but I think it's more that the characters themselves aren't caricatures, they are carefully considered and authentic. This is particularly important given some of the themes tackled by the show: homophobia, bullying, the nature of identity, and the relationship between parent and child. There are moments when this show packs a really powerful emotional punch. But it is also full of joy: the music is upbeat and vibrant, the costumes are glitzy, the script is sharp and full of wit, and the cast deliver it with a sense of glee, and none more so than Ivano Turco (Cinderella, Camelot in Concert), as the titular Jamie New.
I have rarely seen an actor enjoy owning the stage in quite the way he does: he is simply wonderful to watch. His face is incredibly expressive, with a megawatt smile that is infectious, making him instantly likeable. He holds himself like a ballet dancer and throughout his performance consciously uses the full breadth of his body to create movements that are fluid, graceful and mesmerising. His physical poise is matched by a voice that is quite exceptional and he has ample opportunity to demonstrate just how capable a vocalist he is. For me, one particular highlight was 'Ugly in the Ugly World', an emotionally-charged ballad that was incredibly demanding, yet which Turco delivered perfectly.
Opposite Turco is Talia Palamathanan (Matilda the Musical, Everybody's talking about Jamie) playing his best friend Pritti Pasha. I really enjoyed her performance, especially the ballad 'It means beautiful', which Palamathanan sings almost as a lullaby to soothe and comfort a distraught Jamie. The sweetness of her voice during this ballad belies some of its power, but her ability to keep the song simple and innocent made it all the more touching.
Rebecca McKinnis (Mamma Mia, Beauty and the Beast) deserves particular recognition for her role as Jamie's mother Margaret. The story focuses heavily on the relationship Jamie has with his mother – and the relationship he doesn't have with his father - and explores with great sensitivity the challenging issues of parental rejection and abandonment. It also looks at the nature of parenthood, the many sacrifices that parents do make for their children. In the song 'He's my boy,' McKinnis brings to life exactly what it means to be a mother, the joy and frustration of parenthood. The emotional power she brings to this song is just overwhelming – I and no doubt every other mother in the room was with her in that moment and I will admit I was completely reduced to tears by her gutsy, passionate performance.



John Partridge (Rent, Chicago) offers Jamie an alternative parental figure as Hugo/Loco Channelle. His performance focuses on clearly establishing the difference between the artist as a person and the drag act itself, to land the point that a drag queen is so much more than just a "boy in a dress." It was a joy to watch him skilfully carve out his own two distinct characters, person and persona, and then slip effortlessly between them – sometimes in mid conversation – through something as simple as a change in stance.
Comic relief was provided with wonderful aplomb by the superb Shobna Gulati (Coronation Street, Dinnerladies) playing family friend Ray. The role will forever stick in my mind for the weird and wonderful range of knock off chocolates she finds – not least the After Sevens. Gulati does an excellent job of cutting through the atmosphere at key moments in the production and providing a sense of momentum where emotional scenes may otherwise slow the production down.
Hayley Tamaddon (Unforgotten, Emmerdale) is wonderful as the snooty, patronising and wholly uninspiring careers teacher Miss Hedge. I found it very interesting how at first her character is sympathetic, wanting to prepare her students for the realities of life outside of school, and yet this 'sense of reality' quickly moves into the need to fit in with, and abide by. societal norms. Tamaddon navigates the subtle shifts in her character brilliantly.
The excellence of the cast is easily matched by the excellence of the ensemble – a brilliant team of young artists who bring energy, humour and a definite sense of sass to the production, whose singing of the big toe-tapping set pieces is bright and articulate, and whose dancing is sharp and snappy.
I absolutely must call out the designer Anna Fleischle for an inspired approach to the staging. It is formed of a grid system of blocks and a projected backdrop that can transform the stage from school classroom to housing estate to drag catwalk within a few moments. The band are housed in the upstairs of the grid behind the backdrop which means that whilst they are a constant presence on the stage, they are often silhouetted. It reminded me at times of Madonna's Vogue video with its use of silhouettes, and no doubt drew inspiration from this, as did several of the dance sequences.
The choreography, created by Kate Prince MBE (Message in a bottle, Ballyturk) is both beautiful and inventive. Whilst the set pieces delivered some fabulous routines, I particularly enjoyed a quieter moment with the ballad 'If I met myself again', sung by Rebecca McKinnis, during which two members of the ensemble, Joshian Angelo Omana (Aladdin) and Jessica Daugirda (Bugsy Malone, The Sound of Music) dance together to bring the emotion of the song to life.
Given the material, much of the humour and language is very much on the adult side, and this is definitely not appropriate for younger children. However, my 13 year old son who accompanied me thought it was brilliant – more importantly, he was also really keen to talk to me afterwards about some of the themes, especially the bullying.
This is a phenomenal production and utterly deserving of the standing ovation it received last night. It was obvious from the opening number that the cast themselves love performing this production and it is impossible not to share their view.


WE SCORE EVERYBODY'S TALKING ABOUT JAMIE...


Everybody's Talking About Jamie is on at The Lowry, Salford until Sunday 17th September 2023.


Watch our video "In Conversation with Hayley Tamaddon" discussing the show.

Watch our video "In Conversation with John Partridge" talking all things Jamie!