EXCLUSIVE OFFER - Quiz at The Lowry - £20 tickets (save up to £24 per ticket)
EXCLUSIVE OFFER - Quiz at The Lowry - £20 tickets (save up to £24 per ticket)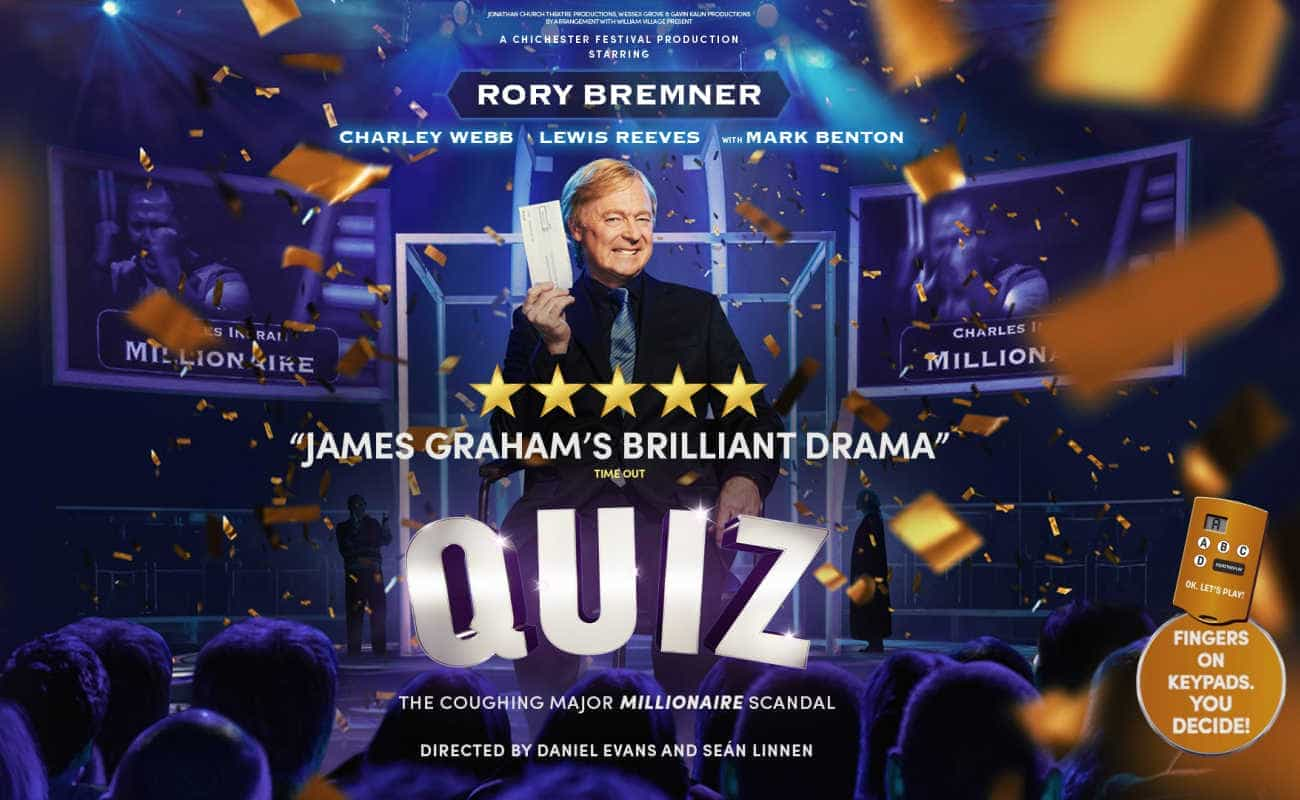 The Lowry, Salford
Valid for all performances and seats
QUIZ: the Coughing Major Millionaire Scandal
In a shockingly shameless scam, Who Wants to Be a Millionaire was duped out of £1,000,000. Or was it?
Rory Bremner, Britain's top satirical impressionist, stars as TV's Chris Tarrant in James Graham's thrilling, entertaining and provocative drama, Quiz.
The story remains a mystery and had over six million people glued to their screens watching ITV's adaptation of this West End smash hit play.
Now, uncovering new evidence, it's time to ask you, the audience, to put fingers on keypads and answer the ultimate 50/50: guilty or not guilty?
Quiz's star cast includes Rory Bremner, Britain's top impressionist, actor and comedian, Emmerdale's Charley Webb in her first role since leaving the iconic soap, Lewis Reeves, best known from I May Destroy You and The Midwich Cuckoos, with Mark Benton, star of hits including Northern Lights, Waterloo Road and most recently Shakespeare and Hathaway: Private Investigators.
Quiz is by James Graham and is directed by Daniel Evans and Seán Linnen.
QUIZ is a fictional imagination based on real events which took place in 2001 following an episode of Who Wants To Be A Millionaire? It is not in any way connected with the makers of the programme or any of the individuals portrayed. The television programme Who Wants To Be A Millionaire? is produced by 2waytraffic.
To take advantage of this offer, follow the instructions below...

£20 TICKETS FOR ALL PERFORMANCES AND SEATS

CLICK HERE FOR THE OFFER

Please note, max. 4 tickets per transaction.



Save up to £15 per ticket!

Terms & Conditions
Valid for Quiz at The Lowry for all performances on Tue 24 - Sat 28 October.
Offer valid for all seats available.
Max. 4 tickets per transaction.
The offer ends on October 28th 2023.
All tickets are sold subject to availability.
The offer can be removed without notice.
Discount does not apply on previously purchased tickets.
This offer cannot be used in conjunction with any other offer and does not have any cash value.
Our Manchester Theatre Special Offers...