Quiz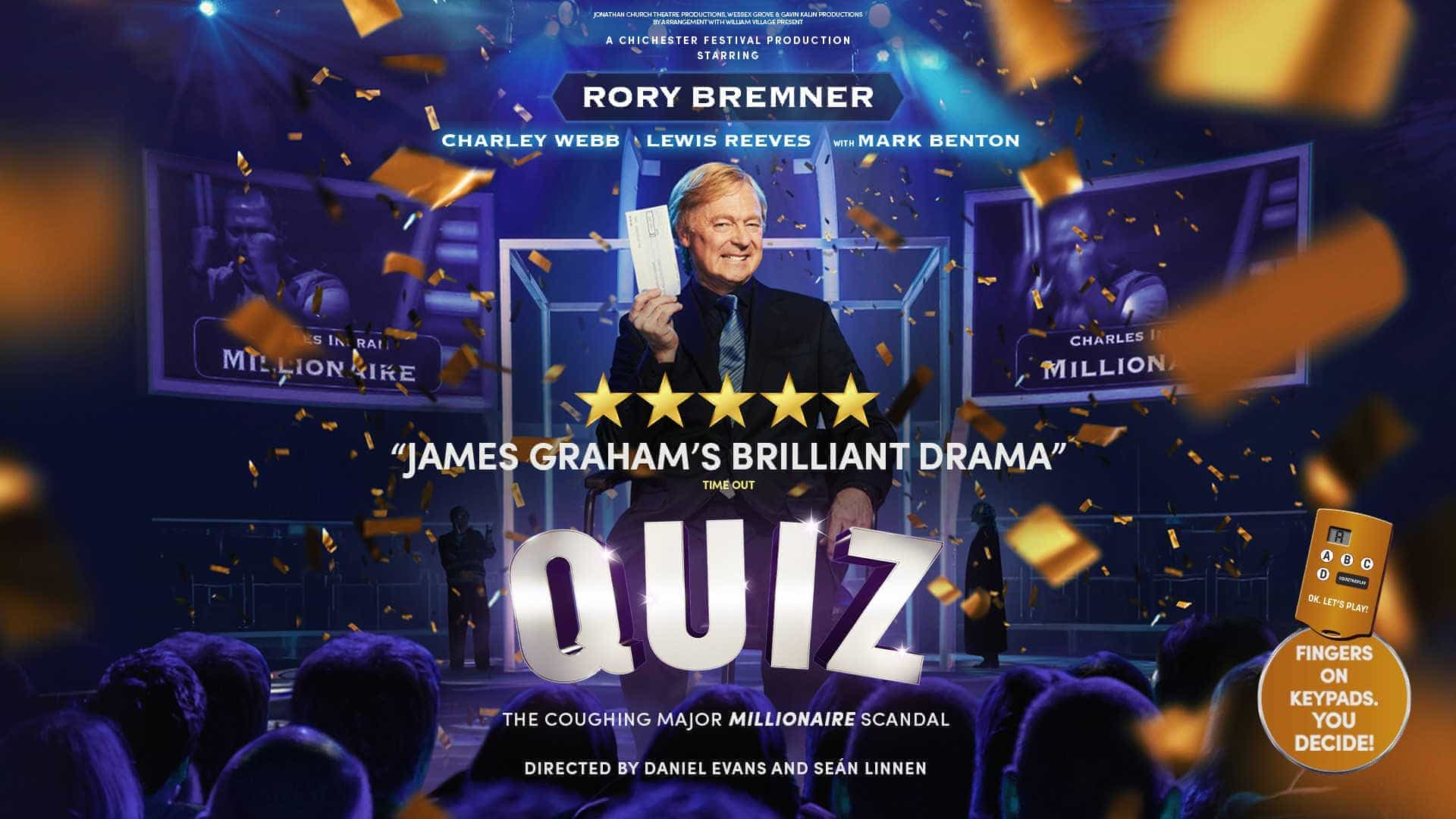 Rory Bremner, Britain's top satirical impressionist, stars as TV's Chris Tarrant in James Graham's thrilling, entertaining and provocative drama, Quiz.

September 2001: the nation is gripped by a scandal that remains, to this day, a mystery. In an outrageously audacious heist, Charles Ingram, aka the Coughing Major, and his accomplices duped the world's most popular TV quiz show, Who Wants to Be a Millionaire, out of £1,000,000. Or did they? And if they did cheat, how did they really do it?

OK, let's go 50:50. You decide!

Uncovering new evidence, it's time to ask you, the audience, to put fingers on keypads and answer the ultimate 50:50: guilty or not guilty?

Nominated for two Olivier Awards including Best New Comedy, James Graham's smash hit play, Quiz, transferred to London's West End with sensational reviews in 2018, following a sold-out run at Chichester Festival Theatre. And in 2020, millions tuned in to see the three-part ITV adaptation starring Michael Sheen, Matthew Macfadyen and Sian Clifford.

Rory Bremner is 'a one-man opposition party' (Daily Telegraph). As a mimic, he's provided definitive impersonations of PMs and Presidents from Major, Blair and Brown, to Clinton, Cameron, Bush and Trump. As himself, he's been a presenter, writer, quiz-show host, actor, translator and even (briefly) ballroom dancer (Strictly Come Dancing, 2011).
Watch our "In Conversation with Charley Webb" video who stars in the show.
Quiz Tickets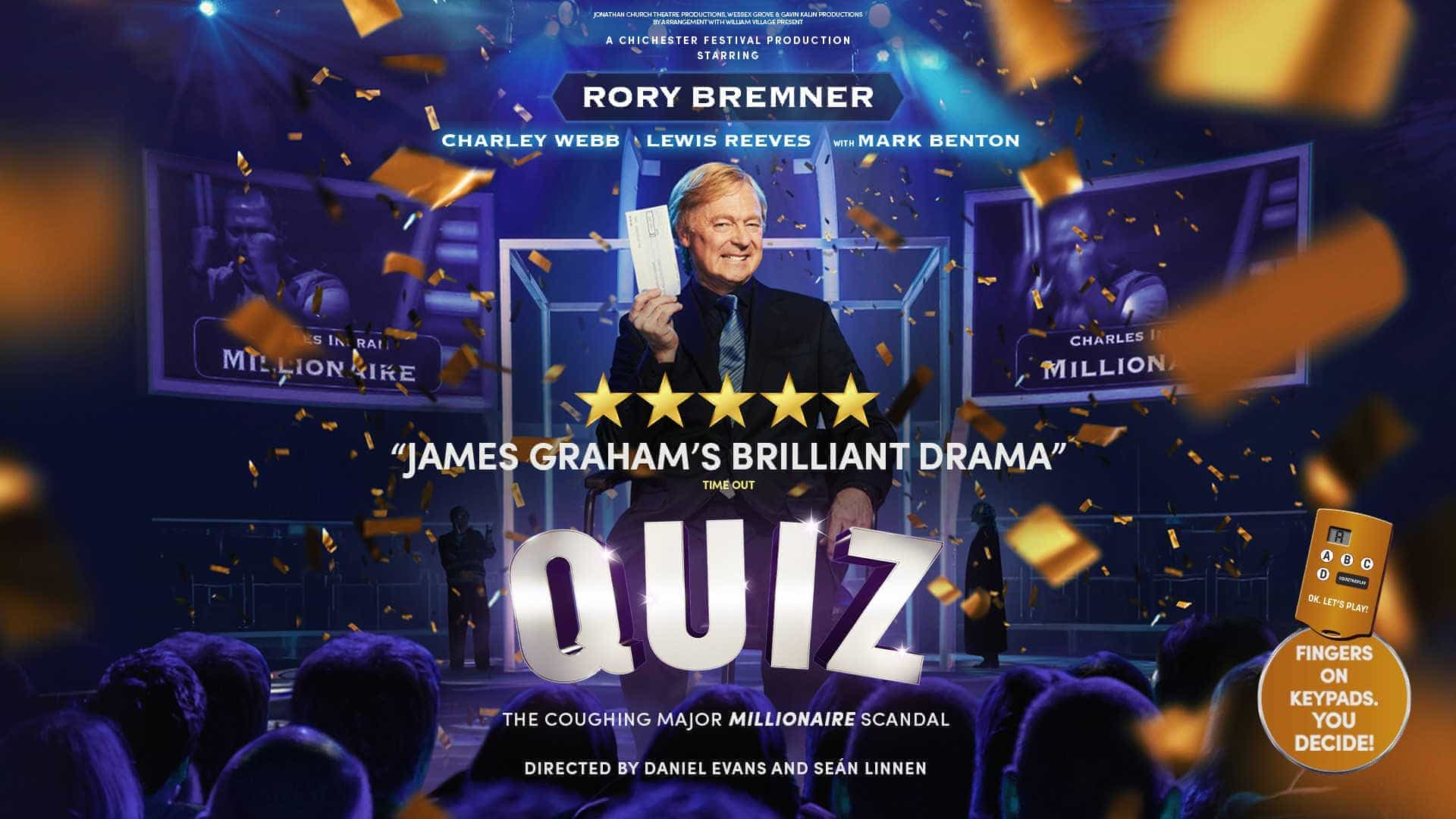 Sorry, there are no tickets for Quiz in Manchester available at the moment. This maybe due to one of the following reasons:
- Quiz in Manchester tickets are currently not on sale.
- The event has sold out.
- Details have not yet been announced for Quiz in Manchester.
- The event may have been cancelled.
- The event has been and gone.
Join our free mailing list for
updates about this event
Our review on Quiz
Quiz - The Lowry, Salford - Tuesday 24th October 2023 by Karen Ryder
Our Rating
QUIZ IS A CLEVER AND FUNNY PLAY, LEAVING YOU PONDERING WHAT REALLY HAPPENED

Everybody loves a good conspiracy theory, and when there are multiple choice theories on offer about a quiz show that serves up multiple choice answers, then the irony is just too delicious to ignore. So, when a British Army Major is accused of cheating on one of the biggest quiz shows on the planet via a code of coughing, a play, a book and a TV drama seemed inevitable. This story really grasped an entire nation and it seems we still haven't grown weary of its intrigue, drama, and mystery, as the adrenaline fuelled audience for tonights performance were happy to chat with complete strangers in order to share their own ideas and theories.



The infamous circular lights that loom over the contestants heads on the TV show 'Who Wants To Be A Millionaire' dominate the stage when you walk into the auditorium, providing a sense of excitable familiarity and setting the scene. Rory Bremner makes his way onto stage as Chris Tarrant, and there is an audible gasp at the uncanny resemblance, followed by laughter of joy and sheer disbelief as he smiles, utters a few words and makes you believe entirely that he IS Chris Tarrant! A fully fledged fan of Bremner, I knew this impersonation would be unparalleled, but to witness it live is another thing altogether. Not only is an exceptional impersonation on offer, but to do so in its entirety, we cannot blur over the acting skills of Bremner. He beautifully blends impersonation with comedic and naturalistic acting, so you feel you are dipping in and out of a play and reality. It is astonishing and to be honest, took my breath away at the layers of talent on display.



Charles Ingram is explored and brought to life with a tender loving care by Lewis Reeves (My Night With Reg, Unforgotten, The Sandman). We are introduced to the real person behind the media frenzy, a family man, someone who served his country, and perhaps someone who tried to save his family. We'll never really know, but Reeves made Ingram likeable which I wasn't expecting. I even felt sorry for him at one point, particularly when we witnessed what his family were subjected to. Diana Ingram was portrayed by Charley Webb (Emmerdale, The Long Shadow) and the transformation from Debbie Dingle to a home counties, perfect appearance wife was incredible, displaying what a true talent Webb is. She seemed unflappable, and almost a less murderous version of Lady Macbeth, perhaps pushing and guiding Charles to her own desired outcome. Who knows!



This play by James Graham is written so well that it continually throws up new ideas and theories around every corner. It lends itself beautifully into the new age we find ourselves in, trial by social media, where mob opinion and often brutality, seems to have the power to evoke change, cancel culture and find someone guilty without them ever stepping foot inside a court of Law. Mark Benton was not in last night's performance, but his many roles were in the dedicated and brilliant hands of Dean Graham who had us belly laughing at his varied and riotous characters. He introduced us all to The Syndicate – an underground quiz team who apparently worked tirelessly to beat the system and ensure their people got on the TV show, for a cut of any winnings. Who knew quizzing had such a dark side?! It was fascinating and Graham was incredible.

Marc Antolin played the renowned cougher Tecwen Whittock and through his brilliant portrayal, offered us an alternative version to digest. He was so good that you didn't dismiss this version immediately, but instead, allowed it space to be pondered. Leo Wringer and Danielle Henry were phenomenal as the defence and prosecution QC's. They spoke directly to us, engaging us in their world so much that you could be forgiven for forgetting you were not an actual jury and did not have to make an important decision. They were both so convincingly persuasive that I bought into their performance in its entirety. The entire cast were sublime and it really was an ensemble piece of work.



Cameras were used with live feeds to screens that helped give us a television studio vibe, but equally worked when the media interest was whipped up into a frenzy. We saw close up interviews with a whole host of characters that were never really considered in the version of the story presented at the time. We saw close ups of Charles and Diana being hounded via the media and in court, and of course, the screens also doubled to the studio screens projecting the questions of the quiz show itself. The whole thing was very slick and worked incredibly well. Another great moment was the inclusion of the song Endless Love via a karaoke style sing along. It used humour to its best, playing it alongside some difficult moments, and the impact was brilliant.



Quiz teases you with multiple threads weaved in and out of a non linear time line. From the show 'Who Wants To Be A Millionaire', to the court case, and snippets into the lives of Charles and Diana Ingram - namely a local pub quiz and the army. Our role as the audience continually shifts making it an exciting piece of theatre. We are cast as the TV show audience, the jury in the court case and on both occasions given the opportunity to voice our opinions via an electronic vote. Time flips forwards, backwards, sideways and even questions time itself by placing doubt upon our own memories. Yet despite all of these time and location transitions, the jigsaw of the story all fits together perfectly, without ever leaving you confused as to what is going on.



The story poaches the infamous format of the TV show to draw parallels with the court case. As previously mentioned, audiences and jurors alike are asked to vote on questions placed before them. "What is Audrey's daughter called In Coronation Street?" "Are the Ingram's guilty or not guilty?" In a quiz, we use reasoning, but also instinct, and pure guess work if we don't know the answer. Can we apply that same approach in court? The answer of course should be no, but when the court is based around evidence from a TV show that by its very nature edits and presents a certain version of events to its audience in order to get the desired outcome, can we really say this is a million miles away from what Lawyers do in court? It's a very interesting question that is posed to us.



This is not only a vividly funny play in its own right, with a talented cast bringing a multitude of characters to life, it also has the added bonus of intrigue brought about by delving into a true life story that happened within our life time. On top of that, it is clever. It uses its own format to highlight the flaws in the whole system and raises questionable issues regarding the duty of care TV shows should perhaps have for their contestants and reality stars.



The Ingrams may have been found guilty in a court of Law and you may attend Quiz convinced that this is the case. But the real million pound question is, "Will you leave the theatre, without a shadow of a doubt, believing the same thing you thought when you arrived?" You can't phone a friend. You can't go 50/50 or ask the audience. You have to decide for yourself. It's not as easy as it sounds. Quiz illuminates a whole world of conspiracies and an entire cast of characters we were unaware of. It will bend your mind, leave you laughing, and will place a doubt in your mind as to who the real cheats were – the ones who won the money or the ones who didn't want to give it away?


WE SCORE QUIZ...





Watch our "In Conversation with Charley Webb" video discuss the show



Most Popular Shows and Events in Manchester