A Tale of Two Cities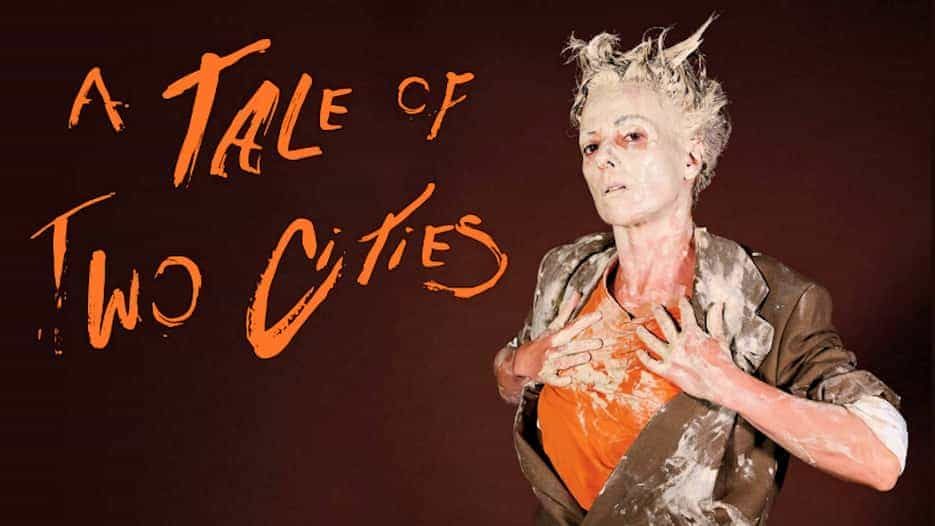 This is Lost Dog's nearly unrecognisable re-imagining of Charles Dickens' classic, A Tale of Two Cities.
If you've never read Charles Dickens' novel of revolution and excessive gestures of love, then this is the show for you. If you have read it, this might also be the show for you, depending on how well you remember it.
Lucie Manette and her aristocratic husband escaped Paris at the height of the French Revolution. It was a daring and unlikely escape that traumatised her young daughter, also called Lucie. Now that Lucie the younger is older, she wants some answers from her tight-lipped mother as to what exactly happened. In order to get those answers Lucie is making a documentary, bringing her family together to restage the events that she was too young to remember, in order to finally confront the past. But what they have to say is not what Lucie wants to hear.
From the creators of Paradise Lost (lies unopened beside me) and Juliet & Romeo, comes a re-staging of one of the bestselling novels of all time (allegedly). Featuring live camera work on-stage, and Lost Dog's acclaimed blend of contemporary dance and theatre, rediscover Dickens' A Tale of Two Cities from a whole new perspective.
A Tale of Two Cities Tickets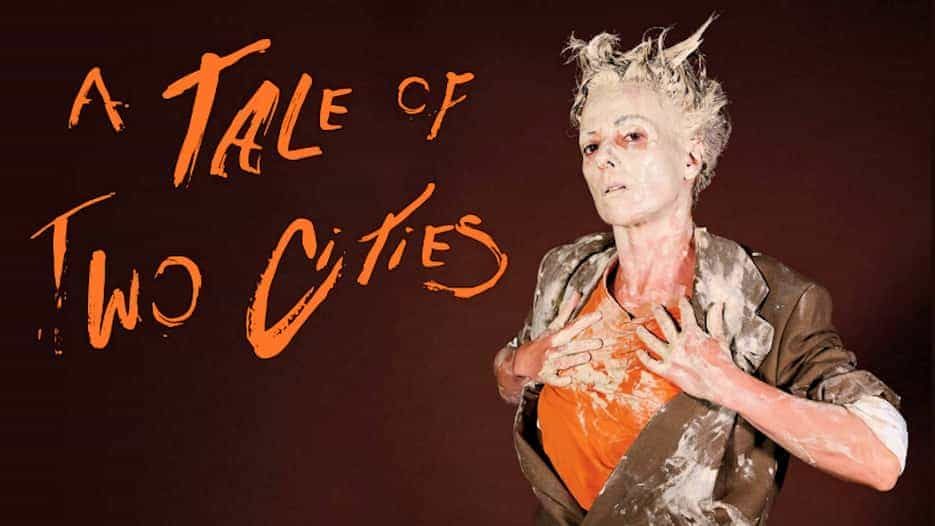 Sorry, there are no tickets for A Tale of Two Cities in Manchester available at the moment. This maybe due to one of the following reasons:
- A Tale of Two Cities in Manchester tickets are currently not on sale.
- The event has sold out.
- Details have not yet been announced for A Tale of Two Cities in Manchester.
- The event may have been cancelled.
- The event has been and gone.
Join our free mailing list for
updates about this event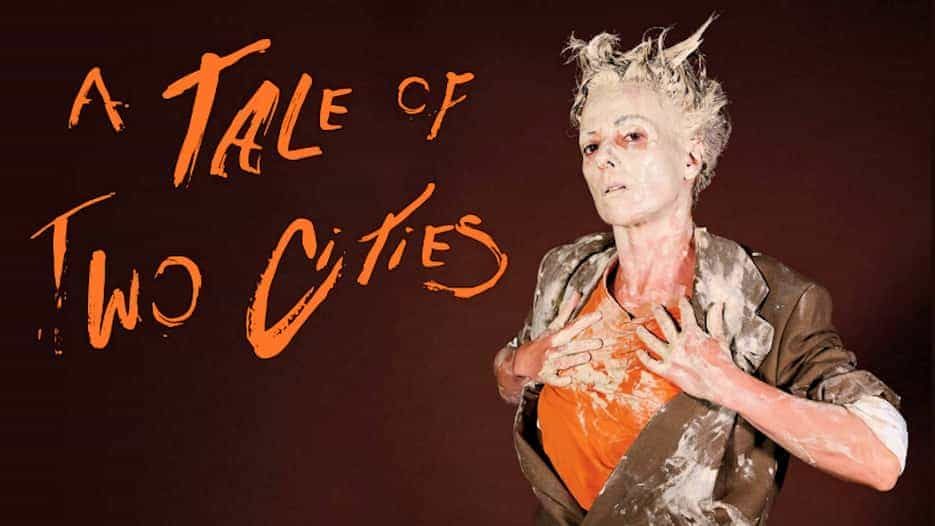 A Tale of Two Cities ON TOUR
Our review on A Tale of Two Cities
A Tale Of Two Cities - The Lowry, Salford - Tuesday 15th March 2022 by Karen Ryder
Our Rating
A Tale Of Two Cities isn't a stand-off between Salford and Manchester, it isn't written by Shakespeare no I didn't get to choose which two cities I was going to visit and neither is it a grown up version of the children's classic City Mouse Country Mouse. These were my "hilarious" (coughs) family and friend's comments and queries before visiting the theatre for tonight's show. I must admit, I didn't read all the small print of tonight's show. What I thought I was getting was a stage adaptation of the book and was a little wary as to how long that may take and how heavy it would be. What I actually got was an incredibly clever and engaging synopsis of the story retold in a dynamic, modern and refreshing way.



Charles Dicken's novel is set against the French revolution and deals with extreme gestures of love, the possibility of resurrection, duality, sacrifice, violence, oppression, class and justice but to name a few. So, it's not really your cheery toe tapping escapism kind of show. However, this production uses the focal characters daughter (also named Lucie) to retell us the story as she is trying to find out her family history. Think of the television show "Who Do You Think You Are?" meets Dickens characters and this is the approach used for the re-telling of a heavy novel. This method of direction allows for humour as we see a modern day family with petty squabbles that are quite frankly hilarious as we see ourselves in them, as they try and recall parts of their past for Lucie, but remember the same story slightly differently. We've all been there, and its funny to watch the character of Darney as he learns that his wife doesn't remember him from the first time they met!
Regardless of whether you've read the novel or not, this show has a strong message to deliver and achieves it through a fascinating blend of techniques and styles, all blended together as one.
Those who know the novel well may question the information that has been left out but Director Ben Duke –(Juliet & Romeo, Paradise Lost and extensive work with Lost Dog) has been smart in opting for a brief family history approach. It would take us till next week to include the book in its entirety, so the question of what to leave out becomes one that is impossible to appease. However, Dickens himself left details out of his own book, particularly with the central female character Lucie. Her psychological complexity is one that can be studied to much better effect in todays world with the understanding we now have based around mental health and this is where tonight's show unleashed its creative collaboration with the original work. This allows those familiar with the novel to re-experience the characters psyche from a new perspective. Placing A Tale Of Two Cities in the 21st Century supports this new outlook and permits us to embrace Lucie and Darney through new and enlightened eyes.
In a nutshell, A Tale Of Two Cities tells the story of Doctor Manette who was assumed dead but had actually been in the Bastille for the past eighteen years. His daughter Lucie, assumed to be an orphan and living in London, is brought to meet her Father as he is discovered alive in France. Father and daughter are reunited. A few years later, Lucie meets Darney who has just been acquitted of treason. They form a bond, and Darney renounces his French aristocracy heritage but keep his identity a secret from Lucies dad. When Darney propose he promises to reveal his true identity, but someone else is after Lucies hand in marriage. With the start of the revolution, Darney, Manette and Lucie have some impossible decisions and sacrifices to make in the name of love, honour and justice.
This re-staging of A Tale Of Two Cities is a fusion of dance, theatre, documentary and film. It uses the novel as a leaping board, giving the themes and characters the wings to fly into unchartered territories. It is beyond a re-imagining, it is a re-awakening of elements we know understand far more than when the novel was born. The play opens with Lucie and Darney's daughter, also called Lucie, talking directly to the audience, explaining that she is making a documentary of her family tree and that we might want to write things down as it will get complicated. With this format, she is able to talk directly to the audience throughout and keep recapping, ensuring we are fully aware of what is going on at all times, which is a nice touch. The staging is a dilapidated house that we actually can't see into, so they use the documentary making process to send a live feed onto two screens for us to watch. This means that half the show feels like a tv drama, even though you know the action is literally happening at the same time. Its effective and the cameras in the room sometimes give the feel of a police interview room, creating a whole new dimension. It also allows them to mix the live feed with super imposed CGI, generating moments of unbelievable theatre, allowing the ghosts of characters to appear on the screen at the same time as the live actors, until the memories blend into one and the live actors actually embody the ghosts. It's so cool and really hard to explain but simply brilliant. This effect of imposed CGI on the live feed is also used to include fire to show the house being burnt down.
The dance elements are phenomenal. They are beautifully stylised and mix dance and physical theatre into the most sublime story telling. The trust that these performers must have in each other is insane for the moves they make, the way they fall, use each others body weight and twist together is just incredible. Dance is used to express many pivotal moments, such as the riots during the revolution. This is done through a slow motion movement sequence and the control each dancer has over their body is mesmerising. Another significant piece is the hanging, A countdown is projected onto the screens and we watch as we know how long it will take him to die with a fantastically choreographed / free style piece as the panic hits when his life is ebbing away. A dance showing Sydney drugging Darney was my favourite. I couldn't steal my eyes away. This creative piece between two strong men was brutal yet tender, lyrical yet athletic. I loved it. The partner work was flawless. The production was naturalistic one minute, like you were watching the family next door, then completely stylised the next. The manipulation of mind this creates means as an audience member you never know what is coming next, and what an exciting and alluring possibility that is!
The cast is 6 strong (five performers and an interpreter - Hannes Langolf - collaboration with world class artists and companies such as William Forsythe, Angelin Preljocaj, Akram Khan and DV8, John Kendall - Edge, balletLORENT, Café Fuerte, Joan Cleville Dance), Nina Madelaine - La Parenthese / Christophe Garcia, Erika Tremblay-Roy, Ze Crumpettes, Temitope Ajose-Cutting - staged and created works for The Royal Opera House and ROH2, Ekckhard Thiemann - Punchdrunk, Protein Dance Company, Valentina Formenti - Requardt& Rosenberg, New Adventures,, H2 Dance, Simon Vincenzi, Vincent Dance Theatre. This cast were outstanding. Each had a central role they portrayed but also represented the numerous other characters in the story. They were all clearly dance trained and have worked as a collective within Lost Dog Dance to create this innovative production. They were all outstanding actors too, and their combination of other qualifications such as street dance and yoga shone through effortlessly. It was a true gem of a show. Clare Edwards interpreted the entire show with BSL and was a fantastic storyteller too. I was mesmerised.
This production of A Tale Of Two Cities was not the best of times and the worst of times, it was simply the best of times. Period. I love discovering new ways of storytelling and Lost Dog have not only broken the mould, they have taken all the different possible moulds, melted them down, and mixed them together to create something entirely new. I thoroughly recommend. NB – The show is 90 minutes with no interval so take that toilet trip before the show starts as you won't want to miss a beat.


WE SCORE A TALE OF TWO CITIES - 9/10
Most Popular Shows and Events in Manchester