Bat Out Of Hell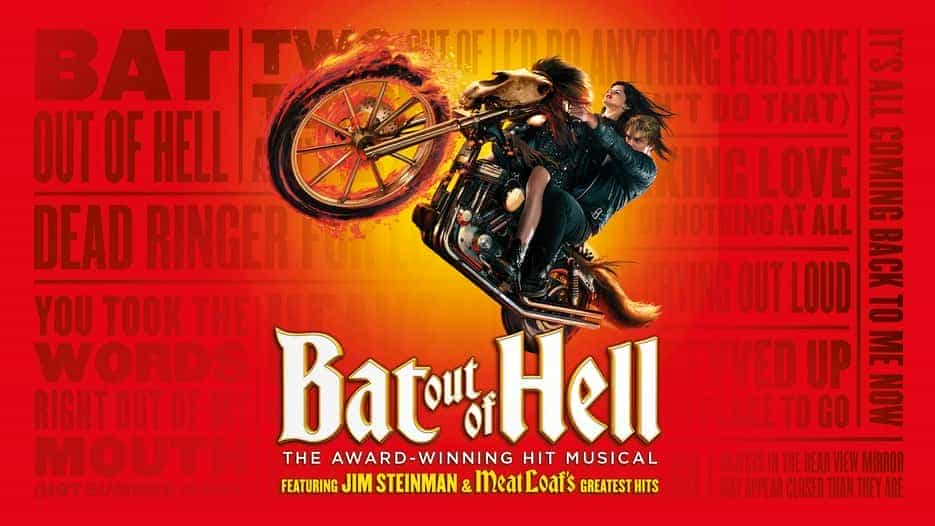 Bringing to life the legendary anthems of Jim Steinman & Meat Loaf, this critically-acclaimed production uniquely combines the magic and excitement of a musical with the immense energy of rock 'n' roll.
Join Strat, the forever young leader of rebellious gang 'The Lost' as he falls in love with Raven, the beautiful daughter of the tyrannical ruler of Obsidian.
This award-winning musical thunders through iconic hits including I'd Do Anything For Love (But I Won't Do That), Paradise By The Dashboard Light, Two Out Of Three Ain't Bad, Dead Ringer For Love and Bat Out of Hell, in an over the top theatrical spectacle unlike any other.
THE BEST NIGHT OUT – GUARANTEED (with your clothes on!)
Bat Out Of Hell Tickets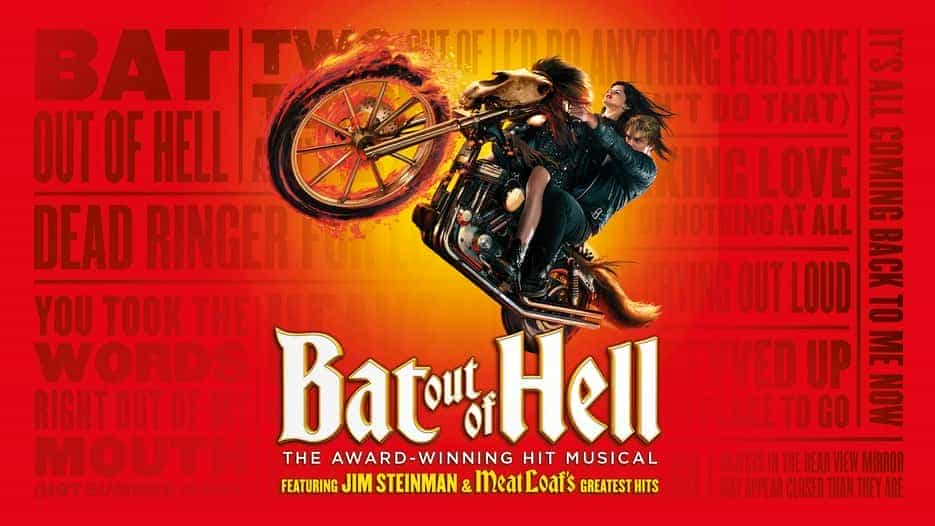 Sorry, there are no tickets for Bat Out Of Hell in Manchester available at the moment. This maybe due to one of the following reasons:
- Bat Out Of Hell in Manchester tickets are currently not on sale.
- The event has sold out.
- Details have not yet been announced for Bat Out Of Hell in Manchester.
- The event may have been cancelled.
- The event has been and gone.
Join our free mailing list for
updates about this event
Our review on Bat Out Of Hell
Bat Out Of Hell - Opera House, Manchester - Tuesday 14th September 2021 by Lindsay Harris
Our Rating
Well I remember every little thing as if it happened only yesterday……. well actually it was yesterday, It was my first theatre trip since pre-covid so it had to be a good one, it was bigger and better than I could've expected.

Being 'of that age' my teenage years were spent listening to Meatloaf's 'Bat of Hell' we could all sing along to the entire album, it was a rite of passage for girls of my age, so when I heard the show was coming back to Manchester I was first in line for tickets. I had no idea of the storyline, but knew that the Jim Steinman penned songs are operatic in their own right and they'd lend themselves perfectly to a musical.
We arrived at the Opera House to a red carpet of Harley Davidsons to set the scene. A quick mention to Covid precautions too, we had to show passports or have a quick temperature check, it was all very easy.
The curtain rose to a set of 'The Deep End' with some of the cast sat around on a Harley or on rocks. When the rest of the set burst into life with lights and music, there was so much going on I hardly knew where to look. The inside, of Falco towers, The Deep End, home to The Lost and a large screen which is used throughout the show. 'All Revved up and no place to go' was the big show starter, the cast immediately showing us what kind of a night we were in for, with all the audience clearly as impressed as me. It was real wow moment.
Glenn Adamson and Martha Kirby as leads Strat and Raven were believable and lovable from the start with amazing vocals. We follow these two through their journey of unrequited love as a rich, spoilt girl just turning 18 and a boy from 'The Lost' a gang that have been stuck as teenagers since a chemical war and living in hiding. It's tough to pick out a favourite song from these two as they were all fantastic but the title song 'Bat Out Of Hell' closing the first act was huge, the vocals, the passion from these two, the set, with lighting and pyrotechnics not to mention the story line around the scene was absolutely a favourite. 'You took the words right out of my mouth' as a favourite song of mine also more than lived up to expectations.
Ravens Parents Falco (Rob Fowler) and Sloane (Sharon Sexton) provided the comedic aspect to the show, although the storyline gets darker around them as the show progresses. The two of them were a perfect casting, they play Ravens parents, Falco is the disapproving father and Sloane the cocktail loving mum. Their rendition of 'Paradise by the Dashboard Light' was a definite highlight, a classic song brought to life with stunning vocals and choreography, clever use of the aforementioned screen made this another favourite for me. Vocals from Fowler and Sloane were showcased in other songs and were always met with appropriate audience response. These two were clearly audience favourites and for good reason.

I could name all of the cast as I don't think there was anyone that didn't stand out but I'm in danger of being here all day. However, I can't not mention Joelle Moses as Zahara, what a voice! I'd love to see her in other shows, Joelle and James Chisholm as Jagwire had a real electricity to their scenes.
The choreography, the unusual and striking set, the classic rock songs that we know and love as well as a few new ones written for the show, the costumes, the vocals, the acting, the lighting….. you get my point, there are really no words. It was a show that I could sit through again and again and that really doesn't happen often. I have been singing the songs since I left last night and I'm going to check ticket availability and try and get back before the show ends.

The raucous applause throughout and particularly at the finale was no surprise, nor was the fact that we all spilled out on the Quay Street singing and saying how amazing it was and how much we had enjoyed it. The only tough thing was trying not to sing along and embarrass myself.
I cannot recommend it enough. If you know the music like me or if you've never heard it before but want to see a show that's funny, sad, stunning and a great night out with the best score then get tickets quickly.
If I could give it more than 10 I would. Rock Musical at it's very best.


WE SCORE BAT OUT OF HELL - 10/10!!!



Our review on Bat Out Of Hell
Bat Out Of Hell - Opera House, Manchester - Tuesday 14th September 2021 by Tabitha Clarke-Harris
Our Rating
Wow! What an amazing show.
When my auntie said we were going to Bat out Of Hell, I didn't know any of the music or anything about the storyline but I couldn't wait to get back to the theatre after our long covid break.
When we arrived the red carpet was full of Harley Davidsons which set off on a noisy drive by past the theatre. It was quite the start to the show.
The show opened to Raven played by Martha Kirby stamping her foot which lit up the set, her monologue about the past led into the start of the main storyline where she was about to celebrate her 18th birthday and began to fall in love with Strat, Glenn Adamson. Strat the leader of The Lost was joined by the rest of the cast to sing 'All Revved up'. At the end of the number the whole audience went mad cheering and I knew I was going to love the show.
The set was amazing, it combined Falco Towers, with the area known as 'The Deep End' where the teenagers known as The Lost live. They are going to stay teenagers for ever and as Strat and Raven fall in love the musical tells their story.
Falco played by Rob Fowler and Sloane, Sharon Sexton are Raven's parents and they disapprove of Strat. The couple have several funny scenes and star in some of the big songs, Paradise by the Dashboard light being my favourite of theirs.
There were too many amazing numbers to choose a favourite, but You took the words out of my mouth and I'd do anything for love were two that really stood for me. All of the cast were fantastic and the choreography and costumes along with the amazing set and lighting and the music which I now love all made it into one of my favourite ever shows. I'd definitely love to see it again. I'm 17 and even though there were some scenes that were inappropriate for younger children I'm sure anyone over 14 or 15 would love it.
Other events you may like...
Most Popular Shows and Events in Manchester