Billionaire Boy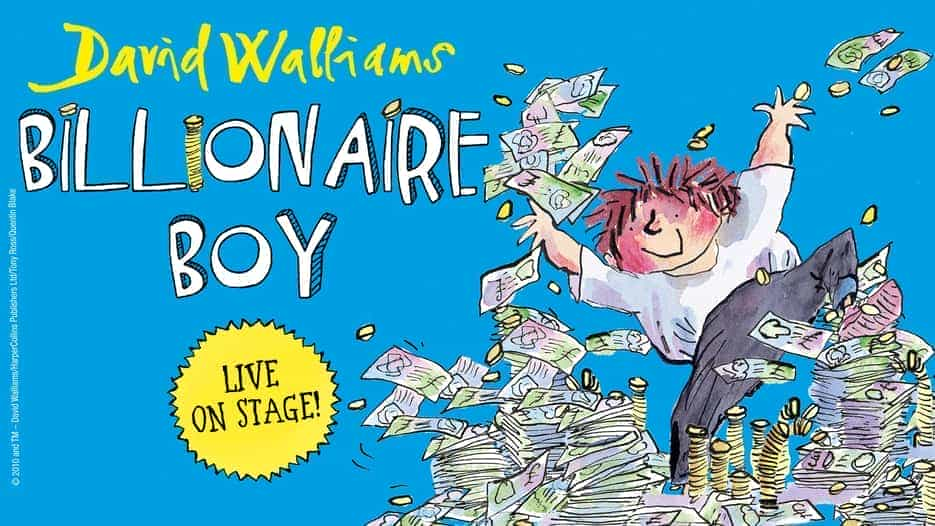 From the award-winning West End producers of Gangsta Granny comes this amazing new production of David Walliams' best-selling story Billionaire Boy!

Joe Spud is twelve years old and the richest boy in the country! He has his own sports car, two crocodiles as pets and £100,000 a week pocket money! But what Joe doesn't have is a friend. So he decides to leave his posh school and start at the local comp. But things don't go as planned for Joe and life becomes a rollercoaster as he tries to find what money can't buy!
Billionaire Boy Tickets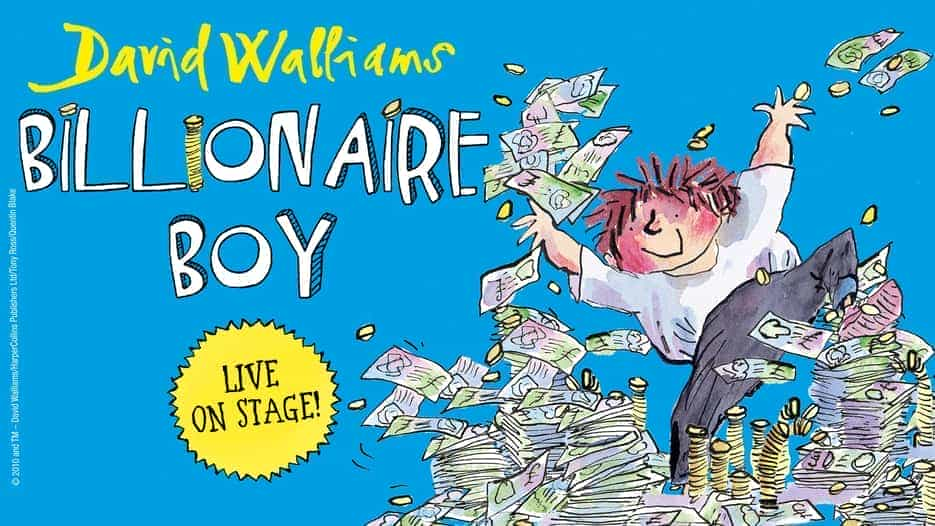 Sorry, there are no tickets for Billionaire Boy in Manchester available at the moment. This maybe due to one of the following reasons:
- Billionaire Boy in Manchester tickets are currently not on sale.
- The event has sold out.
- Details have not yet been announced for Billionaire Boy in Manchester.
- The event may have been cancelled.
- The event has been and gone.
Join our free mailing list for
updates about this event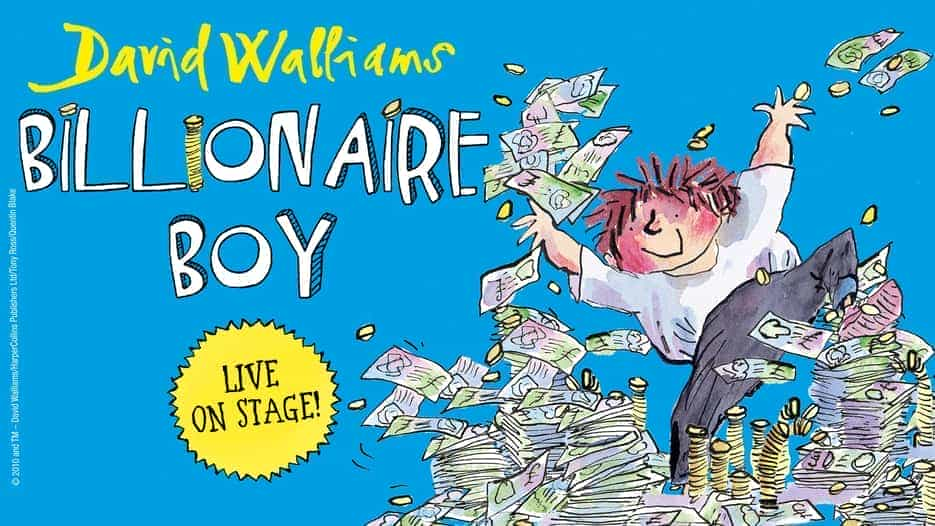 Our review on Billionaire Boy
Billionaire Boy - Palace Theatre, Manchester - Wednesday 9th March 2022 by Karen Ryder
Our Rating
David Walliams has done it again! After being lucky enough to watch Gangsta Granny late last year, I knew I was in for an entertaining, fun and fabulous night out, with a few belly laughs along the way. As someone who teaches children, I know that Walliams is a legend in their story telling lives, a little like Roald Dahl was (and still is) to my generation. He has succeeded in engaging a nation in reading, sharing books and delving into the literary world and for that I applaud him with all the enthusiasm that a self-confessed book worm can give. The theatre was alive with excitement and the chatter of the mini Walliams experts, all eager to ensure their grown ups were prepped and prepared for the story before it unfolded. Kids don't care about spoilers, they want you to know that they know and that they understand. Their eagerness is infectious and provided the theatre with a youthful energy making it impossible to do anything but sit back, relax and enjoy the show.
Billionaire Boy introduces us to Joe Spud – the richest twelve-year-old in the country! It seems Joe has everything – his own sports car, exotic pets and a mere million pounds for his birthday. But Joe doesn't have the thing that all twelve-year-olds truly want and need – a friend to call his own. Joe thinks the answer to this lies in leaving his expensive fee-paying school for the local comp, but there are many things Joe, in his haste, hasn't thought through. Joe is about to learn a life lesson that money isn't everything, can't buy everything and doesn't solve everything. Sometimes, there are more important things in life, and like money, those things need investment in order to receive the biggest return. Joe's dad Len has made his money by creating BumFresh – toilet roll that is moist on one side and dry on the other. He throws his money around like he is TP-ing and even though Joe hates the embarrassment this causes him, it seems that he has picked up a bad lesson or two from his dad along the way. Both Joe and Len need to learn about the things that can't be bought before it is too late.
The cast is nine strong and work relentlessly, playing multiple roles to create an ensemble of many more memorable characters such as the mean bullies The Grubbs (who visually reminded me of The Krankies), the school cook Mrs. Trafe, Sapphire the gold-digging girlfriend of Len, school children, teachers, factory workers and not forgetting Raj – the loveable and reoccurring shop keeper in Walliam's novels. The characterisation is strong, enabling each role to be distinctive from it's last, and though it sometimes relies on the more obvious symbolic choices to do so, with so many roles for the actors to constantly create, it is an understandable and logical choice, allowing the audience, particularly its younger members, to accept rather than question why Joe's dad is also Joe's bully. One of the funnier songs that both the teachers in the audience and the children all related to, was the teacher's song, consisting of all those well-known teacher phrases we all know and love such as "The bell is there for me, not you." "Walk! Don't run!" "Would you do that at home?" I actually used this last one three days ago in a drama class. I won't tell you why I used it because it wasn't pretty but needless to say the child in question didn't do that at home and will never do it in my class again either!
Matthew Gordon (Doctors, Tom Gates Live On Stage, Macbeth) is Joe Spud and is instantly likeable. He owns the part and the entire audience find themselves completely engaged in his plight, even when he steers off course, you can't help but cheer him on. Matthew Mellalieu (Holby, The Rise and Fall Of The Krays, Suspicion) is primarily Joes dad Len but equally knuckles down to support the ensemble by playing other roles, including one of the Grubb bullies. He flits from one to the other with a joyus ease and impresses us all when he arrives on stage in a helicopter! He pumps up the audience here a little like a pantomime, encouraging us to shout out and cheer that we too would like a private helicopter. The children lap it up, and to be honest, the adults enter into the spirit of things and lap it up too. Jake Lomas (Seussical, The Dreaming, Cabaret) plays Bob – Joes best friend, then not best friend, then best friend again. He was a very natural actor and brought the emotional heart to the show in many ways. Rosie Cole (Dick Whittington, Nell Gwynn, The Wind In The Willows) had an absolutely cracking set of pipes (yes Billionaire Boy is a musical! Who knew?!) She pinged from role to role like a ball in a pinball machine, hitting the target every time and wowing us all. Her voice was incredible and I'm glad she got a solo so she had the chance to show it off. Emma Matthews (The Bay, Billionaire Boy West End, Gangsta Granny) made me do a double take when she came out as Mrs. Trafe – the school cook, for she was the epitome of a Vic Wood character in Dinnerladies! It was like watching Victoria Wood play one of her fantastic characters and actually made me quite emotional as Vic Wood is my idol, so I really am giving the gold star of praise here. She was just so visually and vocally funny, it really wouldn't have mattered if she was just reciting the alphabet, she still would have got the rapturous applause she deserved. Her Food Glorious Food solo had the audience, particularly the children ewwing and fake vomiting at her concoctions with glee, and it was all topped off with a showbiz finish………but when you don't have a top hat and cane to hand then you do the only thing a cook can possibly do and grab your colander and big spoon instead!
I had told my friend that I was excited to see the set as the one for Gangsta Granny was an Aladdins cave, meets Pandoras box, meets rubik's cube, with the entire thing opening up to reveal something new and surprises hidden in every nook and cranny. Billionaire Boys set matched it in equal measures and the creative thought that went into every detail was impressive to say the least. Joes' house – The BumFresh Manors Mansion, is built from toilet rolls, but each section opens up to evolve into a new set, the school toilets have toilet rolls built into the walls, Raj's shop advertises BumFresh, Chandeliers are hidden inside walls you didn't even know opened up, you could have hours of fun just discovering all the hidden secrets of this set alone, so huge praise for set designer Jacqueline Trousdale.
Billionaire Boy was a surprisingly good night out, and only surprising because I am obviously not the age range of the target audience, though clearly I am with my humour! I found it highly entertaining, endearing and left me wishing I lived near Raj's shop because he sold Joe a huge bar of a popular chocolate for £1.50!!!!! With them selling for £3.99 in most supermarket chains, no wonder that Raj has not made his fortune yet, but that he lives in hope of one day becoming the Billionaire Boy! As the play ended, the audience burst into spontaneous and raucous applause, whooping and hollering to show their appreciation of a billionaire of a show. The musical encore had everyone clapping along and losing themselves to the sheer escapism enveloping us all. I felt quite emotional at the end because with all that has gone on in the last two years and the current monstrosities, children have had to live in a very adult world. Tonight, they did not. Us adults were invited into their world, and it was a wonderful place to be.

We score Billionaire Boy - 9/10
Other events you may like...
Most Popular Shows and Events in Manchester