Cruise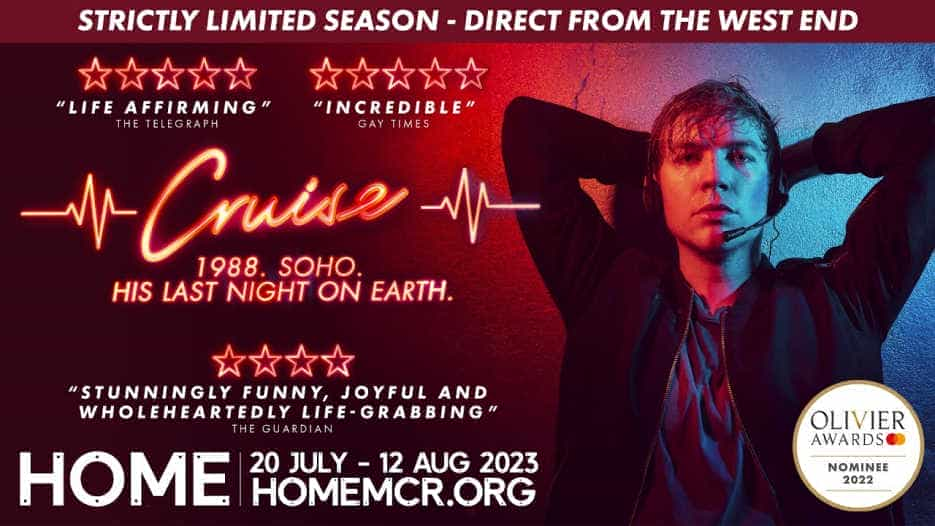 1988. Soho. His Last Night on Earth
The "stunning, joyful and wholeheartedly life-grabbing" (The Guardian), Olivier award nominated Cruise is the true story of what should have been Michael Spencer's last night on earth.
When he's diagnosed with HIV in 1984, Michael is told he'll have four years to live – at most. On the last night of his four-year countdown, Michael decides to go out with a bang. He says his goodbyes, dances, sings, and says yes to everything and everyone.
Written and performed with "vast charm, empathy and energy" (Evening Standard) by Jack Holden, Cruise is a celebration of queer culture. A kaleidoscopic musical and spoken word tribute to the veterans of the AIDs crisis with an irresistible 80s soundtrack. Cruise will make you laugh, cry, and inspire you to live every day as if it's your last.


Running time: 1hr 40mins (no interval)
Suitable for 16yrs+
This production contains smoking, smoke and haze
There are adult themes throughout this production including references to self-harm
Cruise Tickets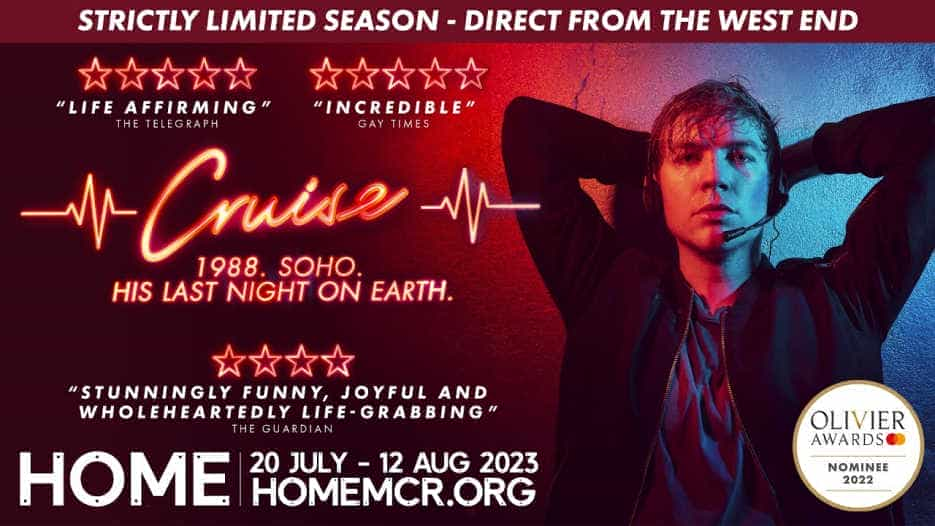 Sorry, there are no tickets for Cruise in Manchester available at the moment. This maybe due to one of the following reasons:
- Cruise in Manchester tickets are currently not on sale.
- The event has sold out.
- Details have not yet been announced for Cruise in Manchester.
- The event may have been cancelled.
- The event has been and gone.
Join our free mailing list for
updates about this event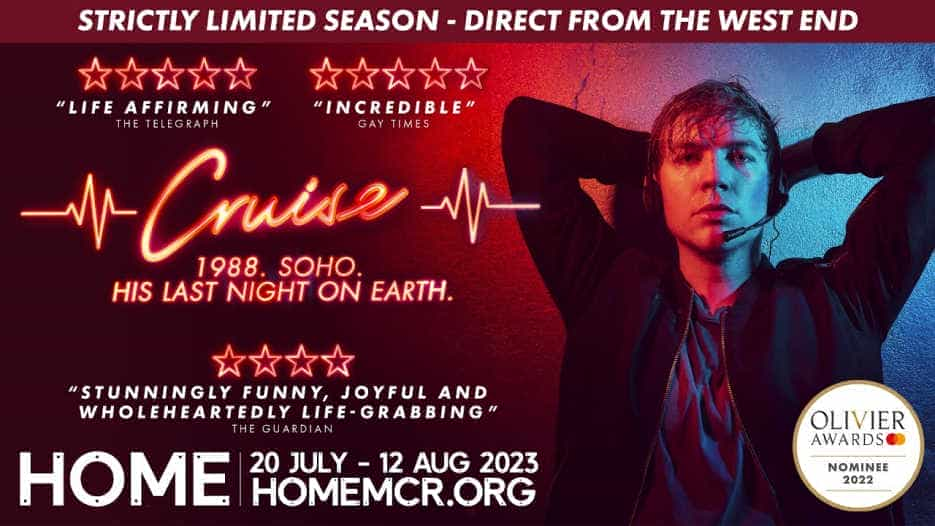 Our review on Cruise
Cruise - HOME, Manchester - Tuesday 25th July 2023 by Karen Ryder
Our Rating
CRUISE IS NOT ONLY A BRILLIANT SHOW, IT IS AN IMPORTANT SHOW, AND ONE THAT LEAVES A HANDPRINT ON YOUR HEART!
When an Olivier Award nominated production for 'Best New Play' pops into town, you sit up, pay attention, grab your pals, and get yourself down to the theatre, especially when it has chosen Manchester for its regional premiere. I mean, it would be rude not to go right?! Cruise seems to be the gift that keeps on giving, for after its initial opening to rave reviews straight out of lockdown, it made a few tweaks and took the spotlight once more at the Apollo, where it was described as 'unmissable', 'life-affirming', and 'joyful'. It is now stepping out of 'that there London' and sharing its brilliance with the rest of us, and I have to say thank you because what a powerhouse of a show!
Cruise is the incredible creation of Jack Holden, who has brought a true story to life before our eyes and immersed us into the world of Michael Spencer. So, if you're expecting a Jane McDonald style documentary or a certain Tom shaking cocktails or flying navel planes, then think again (though Tom Cruise does make an appearance of sorts funnily enough). This Cruise may serve up a few hangovers, and be as explosive as a fighter jet engine, but it is brilliantly unique, will tingle your spine and goose your bumps with its raw honesty and mesmerising delivery. We soon discover that it only takes one phone call to change someone's world. Enter Michael. His devastating diagnosis plots out what he has been told will be the rest of his life. With just four years to live, he sets out to do just that. He sells up, breaks free and turns the world into one big party with his partner Dave. When Dave passes away two years later, Michaels actions and decisions get larger, more reckless, and with little care for any looming consequences. After all, his clock is ticking, and so when he reaches the final day of his four year prognosis, it is a heartbreaking moment. What would you do if you thought it were your last day on earth? I can't imagine the resonance of conflicting emotions it would bring. Michael decides to dress the part, then spend the evening saying farewell. Farewell to those he has loved and loathed, to places of importance and familiarity. And when that is done, the only thing left to do it party. Literally party like it is the last night of your world.


But what if it isn't? What if, somehow, you were that one in a million who defied the odds?
The set is a playground of opportunity and creativity, using scaffolding type rigging, and a revolving steel framed piece, offering the elusive doorway to all of Soho's night life with a little imagination. Combined with a balcony dedicated to the musician providing a pulsating soundtrack (John Patrick Elliott), live music and atmospheric sound effects effortlessly merge into the heartbeat of the story and heighten moments of emotion. This is a clever design. Lighting only adds to the shift of locations, from the dazzling nightclubs, raves, the help switchboard room, and even to the intangible location of utter oblivion. We are guided through Jacks retelling of Michael's story with ease.


And can we now talk about Jack Holden? What a talent! Written and performed by the man himself, he is charming, engaging, brutally honest, intelligent, funny and enlightening without ever making you feel preached at. His technique of gliding from one vivid character to the next through varying accents and physicality is genuinely jaw dropping and mesmerising. Each character is as lovingly brought to life as the next, and you are submerged into a world full of larger than life characters, with all their brilliance, their flaws, their quirks. They were real. These are characters you recognise, and the variety of them is insatiable! From Cat the bar maid with a big heart and a high ponytail face lift, to Fingers the Mancunian with a passion for music, to the fabulously Northern drag Queen whose set will leave you crying with laughter. Jack also sings! And his voice is stunning, leaving a spine tingling moment after his rendition of Elvis' 'Can't help falling in love.' How can one person be so talented? I cannot emphasise enough just how crystal clear all of the cast of characters he created were. You will be submerged full throttle into the 1980's and experience Soho life for yourself. It's remarkable.


John Patrick Elliott is the composer of the original music in tonight's show, including a mind-blowing rave. He is also the sound designer and performs in the show too, playing multiple instruments, singing and never stopping for a heartbeat. He enters the stage solo, ending the perpetual ringing of phones in the call centre, and slowly fills our senses with his music, setting the scene and musically teasing us for what is to come. It is absolutely no surprise to learn that John is an award-winning composer, music producer and songwriter for film and theatre, and with a new album and tour coming up, I'd recommend checking it out.
Jack Holden has paid tribute to an era, a legacy, a heartbreaking time in history, and to his lead characters of Michael and Dave, who thanks to Jack, will be forever remembered. What a stunningly beautiful gift to offer. This is not only a brilliant show, it is an important show, and one that will leave a handprint on your heart.


WE SCORE CRUISE...


Other events you may like...
Most Popular Shows and Events in Manchester