Joseph and the Amazing Technicolor Dreamcoat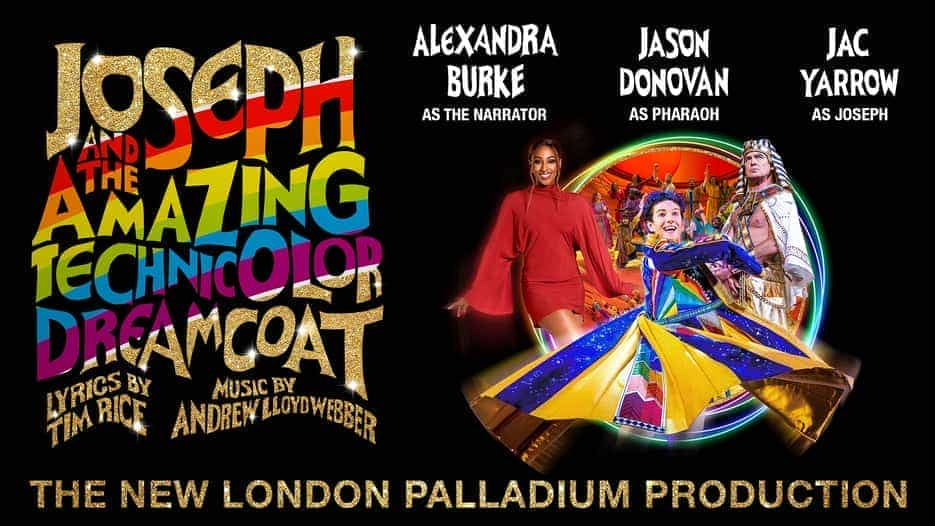 The multi award-winning show has been performed in over 80 countries worldwide and has become one of the world's most beloved family musicals.
With stars from The London Palladium Alexandra Burke, Jason Donovan and Jac Yarrow, the show features songs that have gone on to become pop and musical theatre classics, including Any Dream Will Do, Close Every Door To Me, There's One More Angel In Heaven and Go, Go, Go Joseph.
Joseph and the Amazing Technicolor Dreamcoat Tickets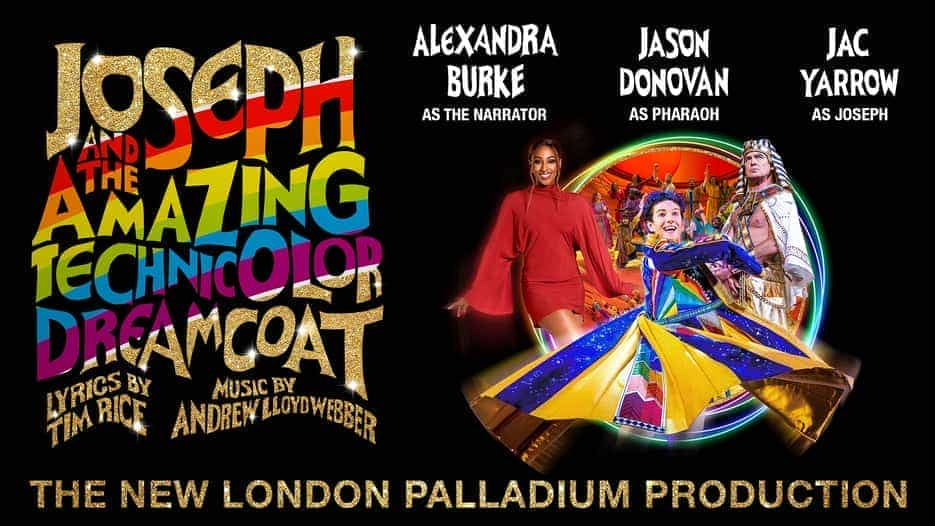 Sorry, there are no tickets for Joseph and the Amazing Technicolor Dreamcoat in Manchester available at the moment. This maybe due to one of the following reasons:
- Joseph and the Amazing Technicolor Dreamcoat in Manchester tickets are currently not on sale.
- The event has sold out.
- Details have not yet been announced for Joseph and the Amazing Technicolor Dreamcoat in Manchester.
- The event may have been cancelled.
- The event has been and gone.
Join our free mailing list for
updates about this event
Our review on Joseph and the Amazing Technicolor Dreamcoat
Joseph - Opera House, Manchester - Tuesday 29th March 2022 by Karen Ryder
Our Rating
In a week that celebrates National Theatre Week I think it is a fitting time to welcome Jason Donovan, Alexandra Burke, Jac Yarrow and the cast of Joseph and The Amazing Technicolour Dreamcoat back to Manchester!
In my theatre bubble I imagine everyone must have grown up singing the tunes from this epic musical. For many youngsters, it is their pathway into musical theatre, and for good reason. Originally written by Sir Andrew Lloyd Webber and Sir Tim Rice at the request of a family friend for a school chorus, the creation met with such huge success that it was consequently expanded and eventually took on a life force of its own, growing into the production we know and love today. I have so many happy memories of singing the shows songs at primary school, at friends houses and even trying (and failing) to create our own playground version of it! Yes, the story may originate from The Book Of Genesis in the Bible, but you don't need to be religious to follow or enjoy the story. The over riding success of the show comes from its familiar, catchy and colourful songs.
If you know the music but not the story, basically it follows Joseph who lives in Canaan with his eleven brothers and dad Jacob. Joseph is by far Jacob's favourite son and all the other brothers, as you can imagine, aren't exactly thrilled by this. Sibling rivalry means they may accidentally (or not) sell him into slavery. Things deteriorate, and whilst the family Joseph has been separated from struggle to make ends meet, Joseph himself ensures that he makes good of every opportunity and uses his gifts of hard work and interpreting dreams to climb to the very top of Egyptian society. Once there, his family, who are now starving and desperate, come to visit the Pharoah to beg for food and help. They do not recognise their brother Joseph who is stood by the Pharoah's side, so he decides to play a trick on them. He plants a golden cup in his youngest brother's sack to accuse him of stealing. When Joseph witnesses how the other brothers leap to Benjamin's defence, his heart melts and he comes clean and forgives them all. We just love a happy family reunion at Manchester Theatres!


Now onto this sensational, revived production. Go Go Go Joseph! Come on! It's brimming with everything that British music is often categorised for – an array of musical sounds and influences from pop to gospel, to rock n' roll and even in this case – calypso! Mix that with musical theatre, combine the model with Joann M Hunter's incredibly varied choreography from street dance, jazz, line-dancing, tap, pop, classic musical theatre, and even a glimpse of the can-can and your endorphins are elevated, your serotonin is shimmying, your dopamine is dancing! I had goosebumps three times in the first ten minutes from the sheer power of the music from the incredible orchestra and cast. I literally felt each note as it reverberated through my entire body. The children burst onto the stage with Alexandra Burke (Aladdin, The Bodyguard, Sister Act, Chess, Chicago, winner of The X Factor, sold over five million records in the UK) as their teacher and set a scene recognisable to any primary teacher. It was busy, alive, vibrant and full of sass as the "students" mimicked Burkes vocal runs by channelling their inner Mariah Carey-isms. It quickly became clear that the revival of this show opened opportunities for The Narrator to play multiple roles, including Jacob, Potiphar's wife, jailbirds and many more quirky and quintessential Joseph characters. Burke achieved this with ease and it was great to see her embrace the humour and playfulness required of this newly amalgamated role. She sashayed from character to character with subtle moves, looks, accents, and costumes, never once dropping the elevated standard of her outstanding performance. Burke seemed to be totally at home in this role, performing with an engaging and relaxed ease of someone who has found their safe space and it was a delight to watch just how funny she truly is.



The cast of eight incredible children also played multiple roles, including Joseph's brothers, Potiphar, and the goat sacrificed to stain Joseph's coat with blood, though this fantastic actress – fresh from being held in the splits mid-air – stopped the show to announce she wasn't up for being sacrificed! She'd been told it was only a bit of dress up! There are many fast and furious quips such as this sprinkled throughout the entire production and it has permitted Joseph to pull on any lose threads where the old coat may have been a tad twee and upcycle to a coat worthy of a 2022 audience.
The Joseph's Coat number unleashed the power of the rainbow into the theatre. Its colours blazed so brightly that I'm sure half of Manchester wouldn't be surprised to find a pot of gold. It was incredible! Every time a colour was sung in the song, it was echoed in lighting and with swathes of matching materials expanding across the stage. Add the fantastical costumes into this too and the overall effect was mesmerising. I didn't know colour could make you so happy.



The first half was just bam! Bam! Bam! with joyous song after joyous song, making the arrival of the more heartfelt Close Every Door even more poignant – not that Jac Yarrow (Glow & Darkness, In My Skin, Pantoland At The Palladium, Olivier award nominated for his debut theatre role in Joseph & The Amazing Technicolour Dreamcoat) needed any assistance whatsoever. His rendition of this famous song was spectacular, with vocal choices I have never heard before. He made it entirely his own. Starting out a cappella with a spine-tingling echo to his voice, he created a stunning and moving piece of theatre. He raised the roof with his stella performance and most definitely earned his place in the Joseph Hall Of Fame (if such a thing existed). He was strong, natural, energetic and captivating throughout.
The second act opened with the entr'acte in which the MD John Rigby deserves an applaudable mention. It was fantastic to see a conductor with such enthusiasm who entertained us, encouraged us to join in with the music and led the audience as much as he did his orchestra. He included us and it was brilliant! Then my thirty-six-year wait was finally over! Years of posters on walls, buying tape cassettes, LP's, recording the top ten and pausing it to scribble down the words to songs yet STILL I never got to see my childhood pin up live………until now!!!! I can solidly say it has absolutely been worth the wait! Jason Donovan (Neighbours, pop star, Rocky Horror Show, Chitty Bang Bang, Priscilla Queen Of The Desert, Sweeney Todd, Jeff Wayne's War Of The Worlds) had entered the building people!! And as his Pharoah was akin to Elvis meets Frank-N-Furter, meets Felicia from Priscilla, it felt very apt so say "Thank you very much uh huh." I could write a review just on this Pharoah section alone because there was so much going on. The stage transformed into a glittering golden oasis of shimmer, complete with singing statues of Egyptian Gods whom all acquired rock n roll guitars for the Pharoah's Story, and a backwall full of hieroglyphics! But look closely for even these are hilariously mischievous. Mixed into these familiar symbols were hamburgers, musical notes and even the cheeky touch of a Phantom Of The Opera mask! Donovan's performance was incorrigible, irresistible and self-depreciating, making light of his pop star age when he struggled to stand up. He played Pharoah as a lover not a hater and he didn't care who he loved! Again, there was such a freedom with his performance that he just oozed personality, wit and charm.
The set design is courtesy of Morgan Large and is as dazzling as the dreamcoat itself! Ethnic prints, a glorious sun and a stage with a kaleidoscope of changing colours, mirroring the multiple colours of the infamous coat (lighting by Ben Cracknell) reflect the thought and follow through detail this production encapsulates. When we leave Canaan behind and transport ourselves into Egypt, a transformation of glittery wealth unfolds before our eyes, allowing your heart to shimmer along with the sensational set. Camels appear as amusing and cleverly designed floats, constructed with a bicycle base, supporting freedom of movement and a distinctive blend of puppetry and engineering.
Laurence Connor has directed an unapologetic updated revival of Joseph And The Amazing Technicolour Dreamcoat. The sense of occasion at tonight's performance was without a shadow of a doubt, unrivalled. It was like the first night of theatre's reopening after lockdown, Christmas and New Year all rolled into one. Every song received an unprecedented rapture of applause, wolf whistles, cheers and genuine love. It was a very special evening for a very special show and the love we clearly have for Joseph in our hearts shone through as a matter of pride. It is still most definitely a family favourite, but an equally jubilant show for groups of friends, celebrations and for revisiting your childhood. No matter what your reason for attending, find one! Go and watch simply because it's a Tuesday, it doesn't matter, but go and watch because I promise this production will be the talk of the playground, the office, and the pub for many weeks to come, and if you don't hear such talk, I can guarantee you will hear its many tunes hummed somewhere on your travels. Come on, you know you can't resist joining in……. "I closed my eyes, drew back the curtain….AHH AHHAAAAA." As the song "Any dream will do," instructs, "Pull back the curtain and see for certain, what I thought I knew." The Opera House did indeed pull back the curtain to reveal what we all knew – possibly the most nostalgic and loved show Britain has to offer.

WE SCORE JOSEPH - 10/10
Other events you may like...
How to get to Manchester Opera House, Manchester
Most Popular Shows and Events in Manchester