Fatal Attraction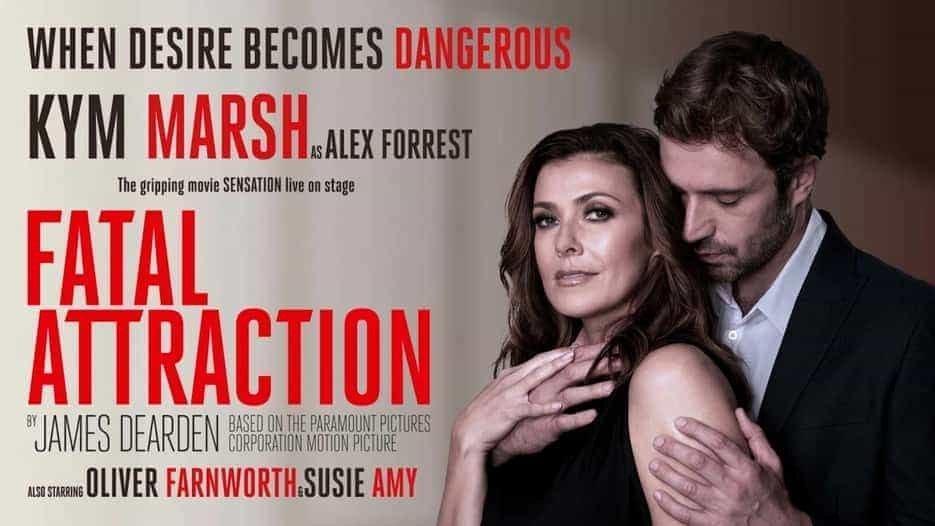 Based on the classic Paramount Pictures Corporation motion picture, James Dearden's intoxicating new stage play of Fatal Attraction brings the definitive movie thriller to the UK stage.
Kym Marsh (ITV's Coronation Street) will perform the iconic role of Alex Forrest, Oliver Farnworth (ITV's Coronation Street) her lover, Dan Gallagher and Susie Amy (ITV's Footballers' Wives) his wife, Beth.

When happily married New York attorney Dan Gallagher, meets charming editor Alex Forrest on a night out in the city, they both commit to a night of passion they can't take back. Dan returns home to his family and tries to forget the mistake he has made, but Alex has different ideas. Dan's about to discover that love is a dangerous game, and Alex has only one rule; you play fair with her, and she'll play fair with you.
Tipped to be the most provocative and gripping stage-play of the year, Fatal Attraction is a tale of seduction and suspense that asks the question; what happens when desire becomes deadly? It promises to be sensational, edge of your seat entertainment.
Experience the iconic story like you've never seen it before.
Fatal Attraction Tickets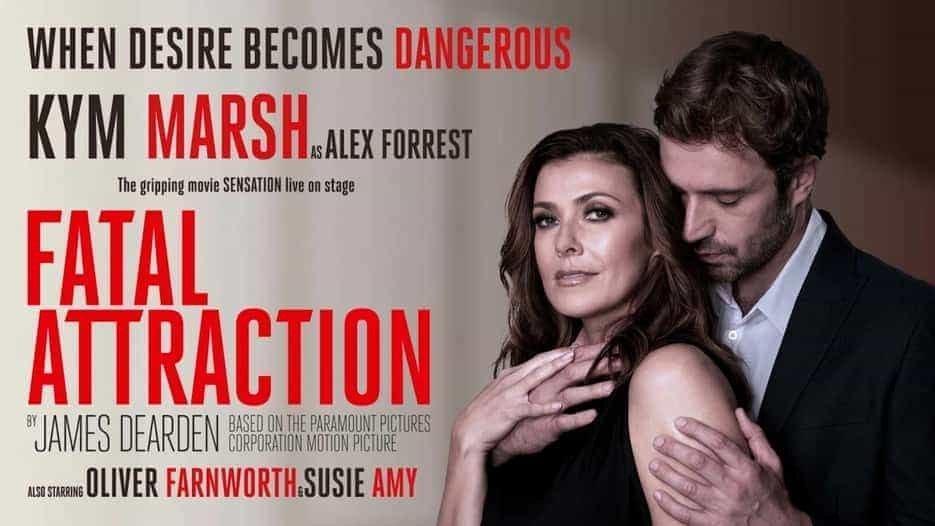 Sorry, there are no tickets for Fatal Attraction in Manchester available at the moment. This maybe due to one of the following reasons:
- Fatal Attraction in Manchester tickets are currently not on sale.
- The event has sold out.
- Details have not yet been announced for Fatal Attraction in Manchester.
- The event may have been cancelled.
- The event has been and gone.
Join our free mailing list for
updates about this event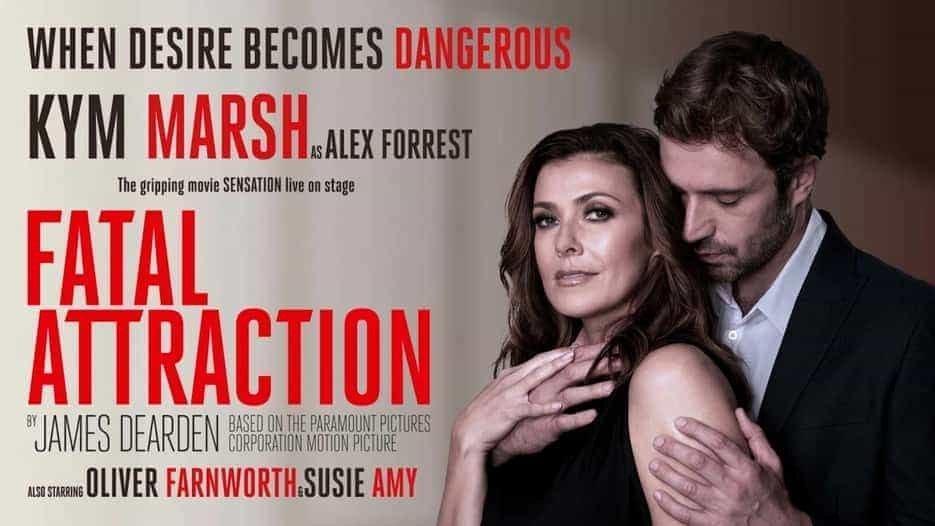 Our review on Fatal Attraction
Fatal Attraction - Opera House, Manchester - Wednesday 22nd February 2022 by Karen Ryder
Our Rating
I find it can be a little tricky reviewing a play that started life on the television or on film because I'm always conflicted. Do I view it as a stand alone performance and ignore that the original exists? Do I compare it to the original and scrutinise it for which bits are the same, different or completely white washed? I've only seen the film of Fatal Attraction once and that was probably about 15 years or so ago, so I don't have total recall on it anyway. I was going to watch the film again before I saw tonight's show but decided against it as that would simply encourage me to draw comparisons, and I love going to the theatre for enjoyment and pure escapism, not to subconsciously be looking for where it does or doesn't live up to the original. So, I decided against it because let's be fair who in their right mind would dare attempt to compare Glenn Close and Michael Douglas to anyone?!
Fatal Attraction by James Dearden follows Alex Forrest (Kym Marsh – Coronation Street, Hear'say, The Syndicate, Morning Live) as she becomes somewhat obsessed with Dan Gallagher (Oliver Farnworth – The Girl On The Train UK Tour, Coronation Street, Hollyoaks, Mr. Selfridge) following a one night stand. As married family man Dan instantly regrets his night of infidelity but Alex makes it abundantly clear that she intends to forget nothing and refuses to simply be a mistake that Dan can wish away. All she wants is for Dan to play fair and so long as he does, he has nothing to worry about. But who decides what is fair? Who decides the rules? And how can you play to win if you don't even know you're trapped in a game with the highest stakes possible?

The show started before everyone had actually taken to their seats – probably a last minute scramble for selfies with what proved to be a star studded audience. This was definitely a huge turn out for the local corrie actors and added a real buzz to the evening.
The set was simple yet imposing, a series of flats that covered multiple levels and allowed moving, life like images to be projected onto them, enabling swift location changes from a bar, to an apartment, Manhattan skyline, and even a car chase. It also helped bring the story from the 1980's into modern day with the use of video calls being projected, along with text and voice messages. The furniture was delicately changed, and the whole effect was very slick and worked well. Background noise often enhanced the surroundings, bringing the low rumble of a New York evening into a Manchester theatre. On occasion, the sound did seem a little confusing or too loud, so you couldn't actually hear the actors or understand what the impact or relevance was supposed to be, but both Marsh and Farnworth worked their socks off (and…..well…..all of their clothes off too come to that….) to truly sell their story to the audience. The only other distraction was what I can only call the "extras" – a small group of hard working actors, with excellent miming skills, who frequently appeared in scenes in the background – just as they would in a film or television show. They portrayed waiters just walking behind the action in the bar, a doctor passing through at the hospital, colleagues at Dans Law firm having a muted gossip in the background. I couldn't decide if this was a really fabulous addition or one that the show didn't need.

Marsh had some brilliant moments as Alex, and the detail she put into her performance did not go unnoticed. As we witnessed her first emotional struggle upon slitting her wrists, she beautifully depicted the raw emotion physically. We observed her tremble and shake continuously right down to her fingers even when trying to embrace Dan, allowing us for a split second to see her flawed desperation and possibly even feel a nano second of compassion. It was the delicate tapestry of moments like these, woven into a seemingly otherwise straightforward story of "the bunny boiler" being the only one at fault, that actually left the audience with a variety of conclusions. Is Alex just an evil temptress? Or does Dan take advantage of her? Which one is therefore the victim? The ending of the stage version playing out differently to the film pushes you into asking these questions further. If only Dan hadn't said yes………..if only Dan hadn't stayed………if only Dan hadn't gone back……..if only………..Today's audience is not of the same mind set as the 1980's audience so it truly provoked some interesting conversations that I nosed in on during the walk back to the car.

Farnworth didn't stop through the entire show. I lost count of the amount of times he took his clothes off and then put them on again! He was pretty much on stage the whole show and as well as maintaining his characters mounting pressure, he was also given the task of breaking out of it to narrate directly to the audience before jumping back into dialogue. This didn't stop him from keeping fully focused and engaged with Marsh, or Susie Amy (Footballers Wives, Hollyoaks, Echo Beach, Wright Stuff) as his wife Beth, John Macaulay (Waterloo Road, M.I High, Comedy Of Errors) as best friend Jimmy, or Anita Booth (Intergalactic, Vanity Fair, Mamma Mia) as his mother in law Joan.

Interestingly, the play received more laughs than I had anticipated. I think it is such a well known, almost cult film, that certain bits which appeared full of suspense and scary in the film, were rejoiced and longed for in the play, so when delivered or even just referenced – it was a warm chuckle of familiarity that came forth, not the nail biting tension it possibly intended. The most obvious of these was the first time a bunny rabbit was even mentioned. Everyone sniggered! And by the time we met the poor bunny in the second half, it was like an in joke that everyone wanted to happen! Poor Casey.

Fatal Attraction gave us an enjoyable night at the theatre. The passionate sex scenes from the film weren't so over the top they made you cringe, the tension and terror climaxed in the second half giving it more urgency, and ultimately – the oddly twisted audience all got to see the one thing they demanded of this story – a bunny being boiled!
(*no bunnies were harmed in the making of this play – it's a puppet!!*)

WE SCORE FATAL ATTRACTION - 7/10
Other events you may like...
Most Popular Shows and Events in Manchester