Passion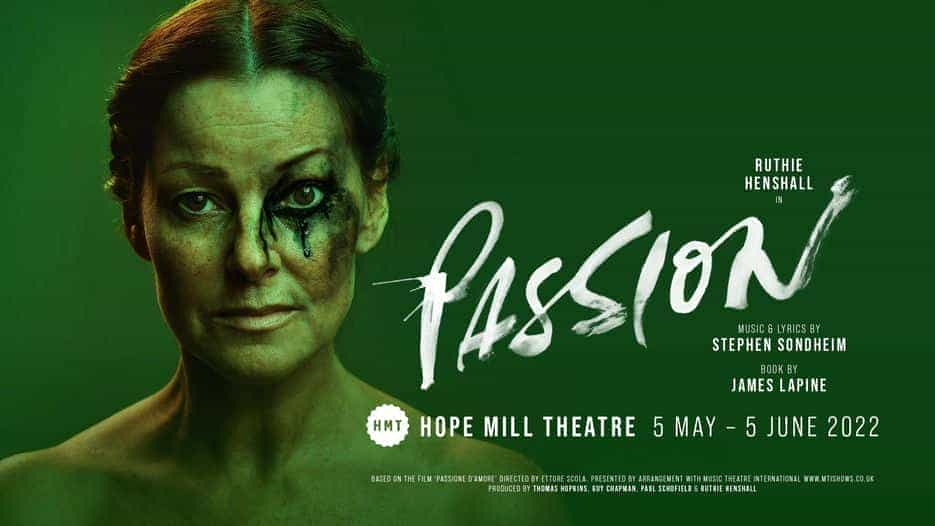 Olivier Award winner and Musical Theatre icon Ruthie Henshall will lead a reimagining of Stephen Sondheim and James Lapine's multi-award-winning Passion at the Hope Mill Theatre. Directed by Michael Strassen this revival will reenergise the tale of love, sex and obsession in a new dynamic staging.
Arguably Sondheim's most lyrical and romantic work, Passion is a legendary musical based on Ettore Scola's Italian film, Passion d'Amore. Situated in 19th Century Italy, the production tells the tale of a young soldier, Giorgio, who is obsessively pursued by the relation of his superior officer, Fosca – a woman prone to severe melancholy and mania.
Exploring the consequences of intense passion and obsessive adoration, Passion is a ravishing and thought-provoking look at the lengths people go to for desire.
Produced by Thomas Hopkins, Guy Chapman, Paul Schofield and Ruthie Henshall
Passion Tickets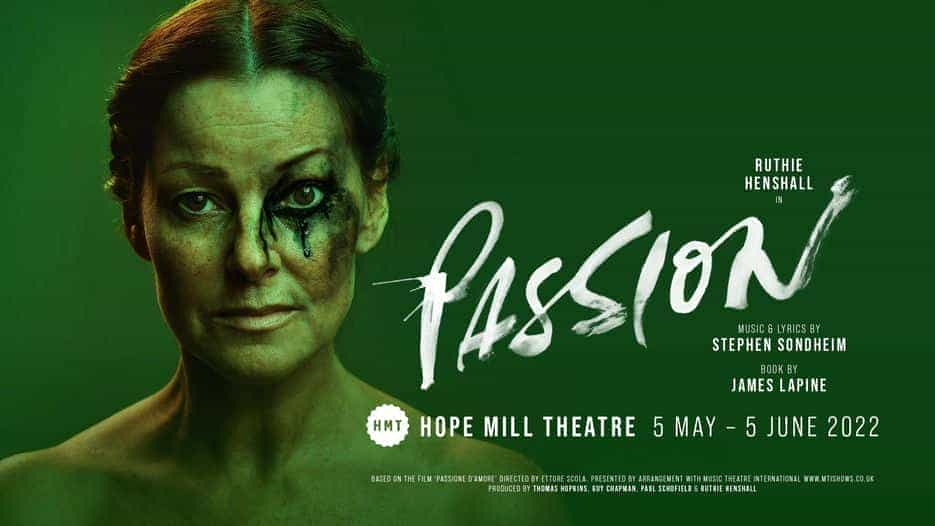 Sorry, there are no tickets for Passion in Manchester available at the moment. This maybe due to one of the following reasons:
- Passion in Manchester tickets are currently not on sale.
- The event has sold out.
- Details have not yet been announced for Passion in Manchester.
- The event may have been cancelled.
- The event has been and gone.
Join our free mailing list for
updates about this event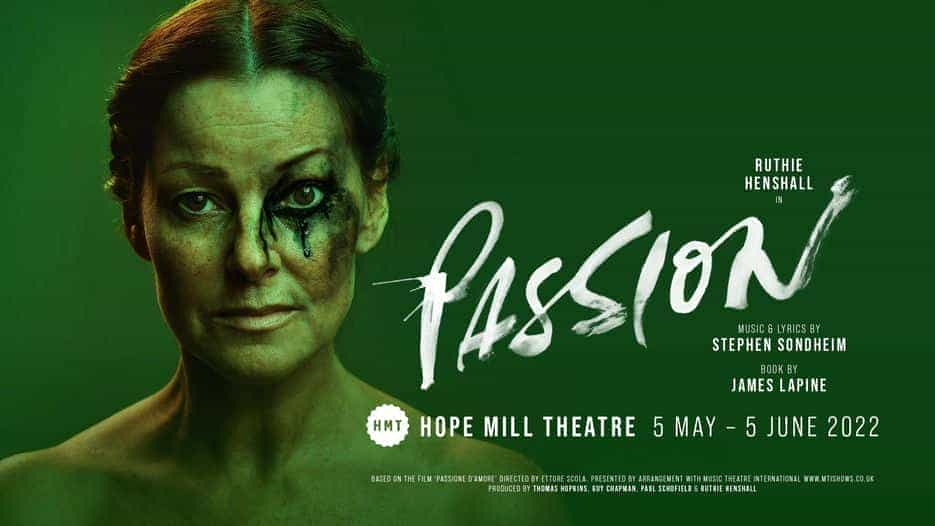 Our review on Passion
Passion - Hope Mill Theatre, Manchester - Wednesday 11th May 2022 by Karen Ryder
Our Rating
You only have to say the name Stephen Sondheim and I'm there faster than the wit and intricacy of his lyrics! Add Ruthie Henshall into the mix as the leading lady and this show promises to be the stuff of musical theatre legends for years to come, and with the beautifully intimate Hope Mill Theatre as its home, I feel genuinely honoured to be up close and personal to such theatre royalty.

Set in Italy, Passion is inspired by the novel Fosca and the 1981 film Passione d'Amore. Fosca, played by Henshall, is an obsessive, emotive and sometimes questionable woman in love with soldier Giorgio. She is driven by deep desires and we bare witness to how unconditional her love is. The question has to be asked though, where does love end and obsession begin? Giorgio - performed by Dean John-Wilson – is already in love with Clara, who he bids farewell to as he sets off to join his new regiment. Clara, it seems, is already married to someone else but they agree to keep in touch via letters. As the secluded Fosca and Giorgio meet when he lends her some books for companionship, Fosca develops an unhealthy attachment and dependency on Giorgio, and many dangerous warning signs start to appear. As Giorgio continues to write to Clara, he speaks of Fosca, and Clara warns him of the potential dangers that such an unstable relationship may hold. But is seems it is too late, for Fosca's fixation with Giorgio is stronger than ever. Unsure of what to do, Giorigo asks for leave to put some distance between them but is persuaded to write to Fosca in his absence. She learns of his companionship with the married Clara and if affects her so deeply, many fear for her wellbeing and sanity. Her doctor is concerned that the only thing to ease her suffering is the return of Giorgio. He obliges and discovers the cause of her ailing state of mind – a cruel and humiliating failed marriage to a fraudulent Count. Following a mix up over a love letter written by Fosca but assumed to be written by Giorgio to Fosca, things come to a head as her cousin tries to protect her honour. Giorgio and her cousin duel as Fosca struggles to cling to life itself. Can Giorgio get to Fosca in time to declare the discovery of his love for her? Is his mind strong enough to take on the strength and passion of such a love? Fosca, Giorgio and Clare weave us into their tumultuous love triangle of obsession, power, manipulation, and of course, passion. Heralded as one of the few projects Sondheim personally conceived, and with the book by regular collaborator James Lapine, Passion certainly lives up to its name.

Upon walking into the theatre at Hope Mill Theatre, a translucent white sheet disguises two actors whose intimate movements are captured through their shadows and silhouettes. This build up is ever present long before the show begins and engages the audience into immediately asking questions. The show officially starts when the sheet drops to reveal Giorgio and Clara entwined in an impassioned embrace and we instantly grasp the physical intensity of their relationship. Swift and simple movements from both actors and moving stage slats allow the passing of time in a clear and fathomable manner and pave way for an uncomplicated and efficient journey from a battlefield to a bedroom. The lighting subtly plays its part too, delicately enhancing the scenes with a mixture of naturalism and symbolic moods. Lastly there is the use of a drum and trumpet played on stage by the actors, which mark the passing of time with a notable rhythmic beat.

In addition to our three main characters, we also have a small cast of soldiers, Colonels, Sergeants and Doctors completing the military company. Ray Shell (Starlight Express, The Bodyguard, Miss Saigon), Tim Walton (Matilda, Mamma Mia, Love Never Dies), Juan Jackson (Cats, HMS Pinafore, West Side Story), Steve Watts (As You Like It, The Pleasure Garden, classical / choral experience), Charlie Waddell (Half a sixpence, Cats, South Pacific), Danny Whitehead (Wicked, Phantom, South Pacific), Adam Robert Lewis (Phantom, Guys & Dolls, Witches Of Eastwick) are possibly the best supporting cast I have ever heard! Their harmonies were testimony to the level of these performers – all leading roles in their own rights. Their solo elements only offered further proof to the quality of their vocal abilities. It was like having the lead of every West End show up there all at once. Their scenes offered a sprinkling of light humour and a clever carefree contrast to the intense emotive nature of our love triangle. These scenes are not only vital in delivering important segments of the story, but in allowing the audience time to digest the powerful and sometimes uncomfortable themes of love throughout. They break the tension for the audience but just enough to allow you to breathe and catch your breath without ever pulling you out of the passion.

This ensemble also provide creative and exciting roles when we learn of Fosca's harrowing past, with gender neutral casting. It was moving and inspiring to see these strong male identifying soldiers suddenly switching to playing the young female Fosca, or her mother, and for the audience to utterly accept that these two male soldiers are now in love with each other as a Count and a young Fosca. This was a modern and welcome piece of direction from Sondheim specialist Michael Strassen.

In a typical Sondheim manner, his glorious melodies and lyrics are echoed by different characters at different times throughout the performance, permitting an ebb and flow to the production but equally providing new interpretations of the same song by character circumstance and perspective. After all, that's what Passion is ultimately about – different perspectives on love. Depending on who you are, your values, your past, your present, your appearance, your will and desire, you will view love and all it encapsulates with a unique and sometimes biased view. The psychology of what it is to love becomes intoxicating, it completely messes with your mind, manipulating your thoughts, questioning what you believe to be right and condemning you to the realisation that ultimately, love is intangible. It is not a fixed form that you can easily explain because love is different with everyone, for everyone and because of everyone you will ever meet. These things subconsciously shape your view of love, have the power to alter its very existence, and this is what we see Fosca do to Giorgio. Is hers a true unconditional love or pure manipulation? Is it freely given or does it come with a hefty price? I don't know! I can't answer! It has infiltrated my own mind, so everything feels a little upside down and what I thought I knew I realise is only a part of the full story that is love.

What I am 100% sure of though is that the theatre gods have delivered in abundance with the casting of this show. Ruthie Henshall (Olivier winner and 5 times nominee, She Loves Me, Crazy For You, Chicago, Cats, Woman In White and mainstream is known for her time on I'm A Celebrity) is just outstanding as Fosca. I know I am privileged to have watched a class act in such close quarters and this is why I love Hope Mill. I sincerely felt a shimmer and a warm glow run through me when she appeared, and her first notes rang out. Henshall's ability is unfathomable, with the skill and technique to caress you with the most tender and heartfelt whisper, to scorching your soul through her powerhouse capabilities within one musical phrase. The animalistic haunting howls she dug from the depths of her soul were so terrifically torturous that her pain reverberated throughout the audience, leaving some genuinely worried as to whether Henshall was indeed acting or not. She blows my mind and I am officially at a loss for words!

Dean John-Wilson (Originating the role of Aladdin in Disney's Aladdin, The King & I and more recently appeared on The Voice) is charismatic as Giorgio and so skilful that is easy to understand how he finds himself the object of so much attention. He is a beautifully controlled and generous performer, allowing everyone he shares the stage with to shine. He instinctively knows when to step back and when to step up. This is a rare humble and moving value. John-Wilson's final scene was so bravely raw that it broke the few remaining members of the audience who were just about managing to stay in control of their emotions. He was unbelievable and it was even more moving to see him wipe away his own very real tears from performing this scene, as the audience were addressed at the end of the show regarding the Hope Mill's wonderful charity.
Kelly Price (Olivier nominee, What's New Pussycat, Peter Pan, Othello, Aspects Of Love) is a force to be reckoned with as Clara. Strong yet delicate, her complicated entanglement with Giorgio was played with a rousing and engaging energy that was infectious. An incredible actress, she was unafraid to make eye contact with the audience and pulled us willingly along on her journey and version of love. As Giorgio started to question what he wanted and needed rather than just giving way to Clara's needs, we saw a brilliant transformation by Price which personally left me questioning whether to feel sorry for Clara or whether I had been hoodwinked by her. It takes a remarkable actress to take you on such a journey and her vocals were capable of seducing you or shredding you. Incredible.

Passion is an intense blend of those deep, visceral and instinctual feelings that drive our truth. Everyone is driven by passion, by magnetic values and unavoidable thoughts that flow through our very cores. This is what it is to be human after all. But Passion exposes the very fine crossroads between what is deemed a respectable and admirable pursuit of all that matters to you, and an unhinged, dark and obsessive slight in your heart and soul. When does Passion become poison? When does virtue become venomous and morality merge into malicious? Prepare to feel exhausted as this exemplary cast expose your nerves to their raw hearts, and their passions in this outstanding piece of theatre. Passion celebrates the sophistication and spectacular work of Sondheim with abundance and it is an evening I will remember for a long time. What an honour Mr. Sondheim. Thank you, and goodnight. x
WE SCORE PASSION – 10/10


Other events you may like...
Most Popular Shows and Events in Manchester