Shakespeare's Othello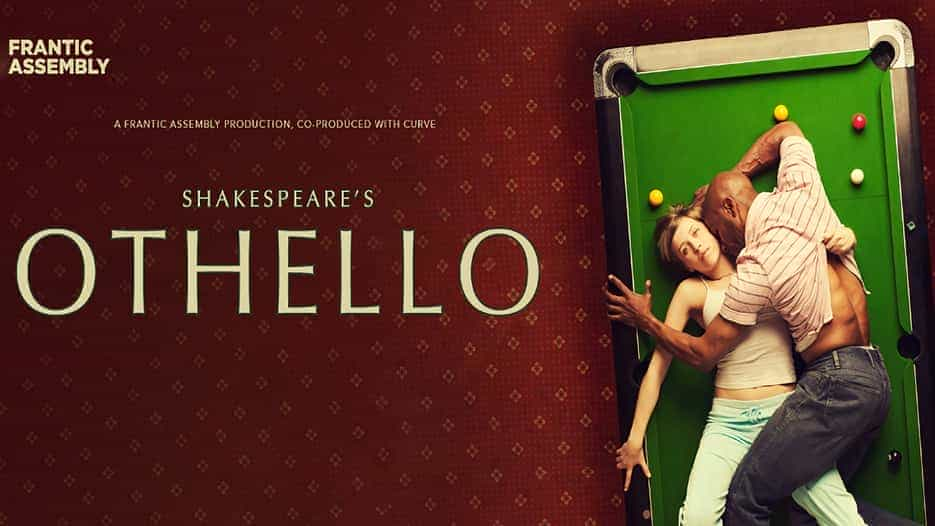 A Frantic Assembly Production, co-produced with Curve.
Originally a Frantic Assembly and Theatre Royal Plymouth collaboration, in association with Royal & Derngate Northampton and developed at the Lyric Hammersmith Theatre.
Shakespeare's OTHELLO.
Frantic Assembly presents its award-winning and electrifying take on Shakespeare's tragedy of paranoia, sex and murder. Othello's passionate affair with Desdemona becomes the catalyst for jealousy, betrayal, revenge and the darkest intents.
Frantic Assembly takes Shakespeare's muscular and beautiful text, combines its own bruising physicality, and presents an Othello firmly rooted in a volatile 21st century. This is a world of broken glass and broken promises, of poisonous manipulation and explosive violence.
As relevant today as it ever was, Othello exposes the tension, fear and paranoia buried beneath the veneer of our relationships and how easily that can be maliciously exploited.
Following highly acclaimed runs in 2008 and 2014, audience favourite Othello returns this autumn with an updated version for 2022.
Age guidance: 14+ contains violent scenes.
"A fierce re-imagining of Shakespeare's tragedy, tense and highly watchable." - The Times.
"A pulsating production that hurls Othello well and truly into our times." - The Independent.
"Frantic Assembly breath new life into Shakespeare's tale…in Scott Graham's pulse-racing production." - Time Out.
Shakespeare's Othello Tickets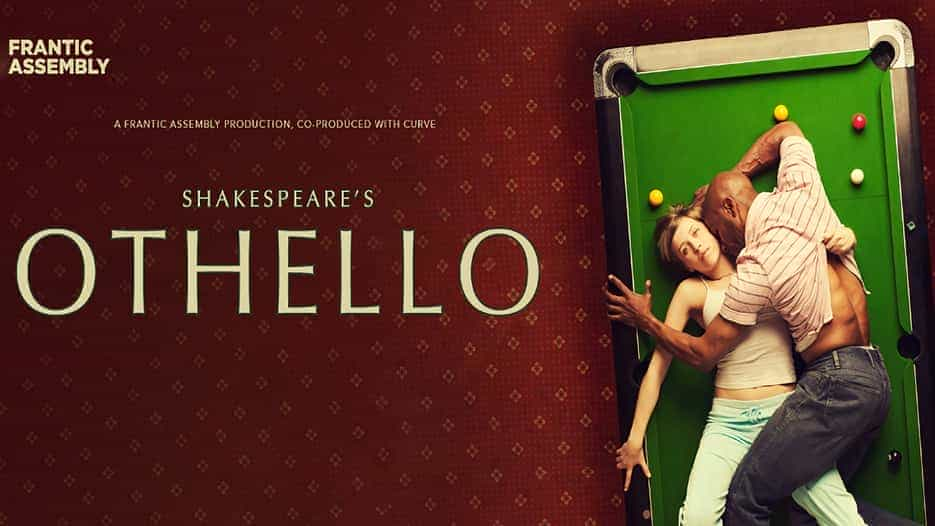 Sorry, there are no tickets for Shakespeare's Othello in Manchester available at the moment. This maybe due to one of the following reasons:
- Shakespeare's Othello in Manchester tickets are currently not on sale.
- The event has sold out.
- Details have not yet been announced for Shakespeare's Othello in Manchester.
- The event may have been cancelled.
- The event has been and gone.
Join our free mailing list for
updates about this event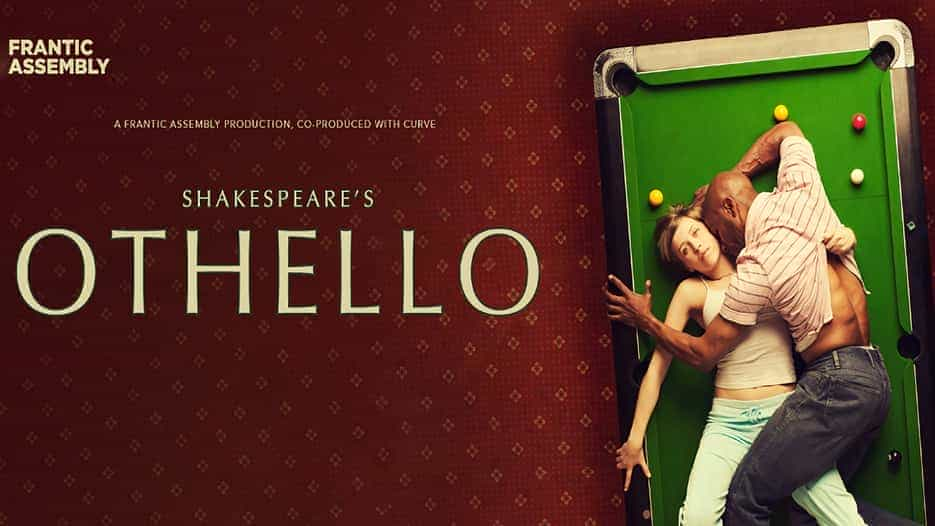 Shakespeare's Othello ON TOUR
Our review on Shakespeare's Othello
Frantic Assembley's Othello at The Lowry, Salford - Tuesday 15th November 2022 by Karen Ryder
Our Rating
FRANTIC ASSEMBLEY'S OTHELLO IS STRIKING, POWERFUL AND ONE OF THE BEST MODERN-DAY DRAMA PRODUCTIONS YOU'LL SEE!

Jealousy, justice, deception, treachery, race, isolation and incompatibility are just a few well known themes of Othello, one of Shakespeare's 'cooler' plays with the younger generation. Mix in a tale of betrayal, manipulation and an awful lot of fighting with the equally cool and modern Frantic Assembly, then it's fair to say I knew this wasn't going to be any old production of our intelligent yet insecure military main man, but even with that in mind, I wasn't prepared for just how much my mind was about to be blown. Othello is already bursting with relatable relationship messiness and action, so Frantic Assembly tapping into this timeless and enduring human reality with a 21st century make over may be the one relationship in Othello that has a future together. Set in a dark, dangerous and dated pub inhabited by a gang, with walls symbolically painted red, we immediately get the sense of a world that is of our time, making the characters, their decisions, and their lives a little more real.



Frantic Assembly were formed with one thought; "Can you be terrified and fearless at the same time?". Twenty-five years later and they have become one of the UK's most successful and loved theatre company's. Known for a commitment to creating brave and bold theatre, through an ethos of collaboration and empowerment, their resulting work is outstanding. They thrive on telling stories through new voices, achieving remarkable and inventive ways of doing so, and ensuring that creativity, particularly through physical movement has reshaped theatre in a positive and invigorating way. They are even studied on British and international educational syllabuses so if you have any young thespians in your house, chances are – they will be able to tell you all about Frantic Assembly.
This dedication to approaching storytelling from a fresh perspective has made this production of Othello engaging, powerful and one that will stay with you long after you have left the theatre. It doesn't matter if you struggle to understand Shakespeare's language because Frantic have brought it to life in a way that you will not only understand, but that you will feel and experience from deep within. It is so clever. At the same time, they stay dutifully and respectfully true the text, ensuring an understanding on a guttural level that you cannot forget or ignore.



This was evident in the eclectic mix of audience members for tonight's performance. From those who were there because they loved Shakespeare, to those who were there because they loved Frantic Assembly, right down to those who were there because they were clearly studying it and had been made to attend. However, it is this last category that enthralled me the most because their excitement was palpable, their energy at being a part of live theatre was infectious, and as a drama tutor myself, I am thrilled to see our younger generation alive with expectation and appreciation of the arts.



In a nutshell, Othello is the victim of Iago's uncontrolled rage and jealousy as he discovers that he is overlooked for promotion. Iago knows that Othello secretly married Desdemona. He also knows that his friend Roderigo is in love with Desdemona himself, and lastly, he knows that Desdemona's father would not approve of Othello. Iago uses his knowledge to stir up trouble for Othello as payback for keeping him in a low-ranking military position (or in this version, his right hand man in the gang). He tells Roderigo to keep chasing Desdemona, and he also tells her father about the secret marriage. Her father disowns her. Roderigo confesses to Iago that he doesn't think he can woo Desdemona but Iago reassures him that he can. He then gaslights a fight between Roderigo and Cassio in which another soldier Montano is stabbed. Unaware of the full facts and Iago's involvement, Othello blames Cassio and strips him of his officer status. Next, Iago gaslights Cassio, convincing him to enlist Desdemona's help in convincing Othello to reinstate his status. But this is a ploy so that he can further gaslight Othello by dropping clonking hints that something is going on between Cassio and Desdemona because they are clearly plotting and have sweet secrets together. With doubts of jealously dropped into Othello's mind, Iago becomes a mischief maker, ensuring there are many more moments where Othello can doubt his beloved wife. Fun fact – this is where our well-known phrase "the green-eyed monster" comes from when we refer to someone who is jealous. Lots of other stabbing later, Othello is consumed by Iago's lies until they torture his mind so deeply that he murders Desdemona. Iago's wife has a light bulb moment where she realises everything that Iago has been doing and so spills the beans. Iago doesn't take that too well and so kills her too. Othello then kills himself as he can't live with his mistakes. Sorry – no spoilers intended there, but it is Shakespeare – of course they all end up dead! If it helps, Cassio survives!

Michael Akinsulire (Foundation, Trigger Point, Stephen) is magnificent at portraying every single one of Othello's steely undercurrents. He encapsulates an incredible range of not only emotions, but states of being, from rage, jealously, lover, loner, violent, and remorseful to name just a few. His physicality is mesmerising, moving and masterful. Capable of instilling fear, capable of delivering love, his multifaceted performance brings the paradox of Othello to life in a way that allows you to understand this complex character more than ever before. He enables you to understand that Iago's psychological abuse and the injustice he faces, bruise deeper than any of the attacks that take place.
Joe Layton (Marvels Agents Of S.H.I.E.L.D, Tatau, Casualty) is beautifully vile as Iago, so convincingly so that a few audience members around me were talking about him as if he were a real person at the interval. This is the true mark of an actor. His ability to switch from sincerity to sneer is captivating, and his abundance of monologues were a highlight of the show.

Chanel Waddock (Rock, Paper, Scissors, Hamlet, This Is Going To Hurt) is fantastically innocent as Desdemona, freeing her to be loving, flirtatious and heighten all the deceit around her. She has some excellent moments, and makes you pay attention to her early on, with one particular scene on top of a pool table. Some of the teenagers didn't know where to look! Desire, loyalty, passion, confusion, trust, and pure devotion are her strengths, and sadly become her downfall. She is able to deliver chemistry with both the Othello and Cassio actors, but in completely different ways and it is stunning to watch.
Tom Gill (The New Tomorrow, Growing Pains, Dunsinane) as Cassio is excellent at playing a hot head, physically showing his unpredictability and ability to boil over at any given second. This makes everything he does exciting to watch for you know to expect the unexpected.
Oliver Baines as Montano, Felipe Pacheco as Roderigo, Hannah Sinclair Robinson as Bianca, Kirsty Stuart as Emilia, and Matthew Trevannion as Brabantion / Lodvico complete the cast and as Frantic Assembly work as a living breathing collaborative, it is fair to say that this is amplified by their cohesive work. They create and establish the scenes, ignite the set with all its possibilities, and ensure that physical theatre is ever present in this production. They are energetic, enigmatic, and create endless mind-blowing opportunities from the most ordinary of situations and objects. I promised I would give a special shout out to Oliver Baines who apparently is friends with and studied at college with two of my graduate drama students, which also means he studied at the same college as all of us at Manchester Theatres, so whoop whoop! Thrilled to see a local lad achieving remarkable work.

Scott Graham and Steven Hoggett have adapted Othello into a thrilling and fearsome tale of the 21st century, enrapturing an entire new audience and eliciting fresh appreciation for our beloved Shakespeare. Once upon a time, it was only Shakespeare himself who could have managed such a task, so full kudos to our modern masters of storytelling. Pulsate this captivating re-telling with rejuvenating and funky music by Gareth Fry and Hybrid, let Natasha Chivers and Andy Purves loose with intoxicating lighting that subtly and psychologically sets the mood long before you are even aware of what is going on, give Laura Hopkins licence to design a fabulous set that keeps pace and almost dances along with the cast, and Frantic Assembly have done it again.
From moving with snooker canes, leaping on and off tables, sofas and tables, back flipping, front flipping, side flipping – you name it, they flip it – this cast are relentless with their physical ability. I can't say it's dance, because it is also gymnastics, and I can't say it is gymnastics because it is also parkour, ariel and a little bit of magic. How Frantic Assembly do what they do is beyond me, and how they then have the breathing capacity to deliver Shakespeare with such control should surely be impossible. The trust involved is exemplary to us all and this element of teamwork alone is worth teaching on any National Curriculum. Every single nuance and second of this performance must be planned and rehearsed until it becomes as natural as breathing for otherwise, there would be several broken limbs. I am not exaggerating the superhuman powers involved I promise. Someone literally steps backwards off a table trusting that the others will be there in time to catch them!







Another brilliant choice was allowing all the actors to speak in their own reginal accents, many of which were Northern. This choice immediately broke down barriers of Shakespeare's language as the sounds were familiar to us, and again were of this world in the here and now. In short, it made Shakespeare accessible. The final scene is the real showstopper in this production with some disturbing and graphic special effects during the fight scenes. The young audience were enraptured, audibly shocked and completely locked into the moment. I was also caught unawares and so am taking this opportunity to class myself as a young member of the audience! However, the update of the fighting to the use of baseball bats and people being glassed was clearly something that was believable and in the stratosphere of a modern audience, so this very clever update got the message across and truly ensured every set of eyes were glued to the stage. It was shocking, it was upsetting, it was brilliant.
This production of Othello is striking, powerful, and right up there with the best of any modern-day drama. I could genuinely go and watch it again tomorrow, and that's a huge statement because even the biggest of Shakespeare lovers would be hard pushed to watch his demanding work two consecutive nights, yet Frantic Assembly somehow manage to respect Shakespeare whilst making it entirely their own. It is the perfect way to enjoy, understand and marvel at arguably one of the greatest writers that ever lived, as his work is rejoiced by the uber talented Frantic Assembly.
WE SCORE FRANTIC ASSEMBLY - OTHELLO...


Other events you may like...
Most Popular Shows and Events in Manchester