Strictly Ballroom The Musical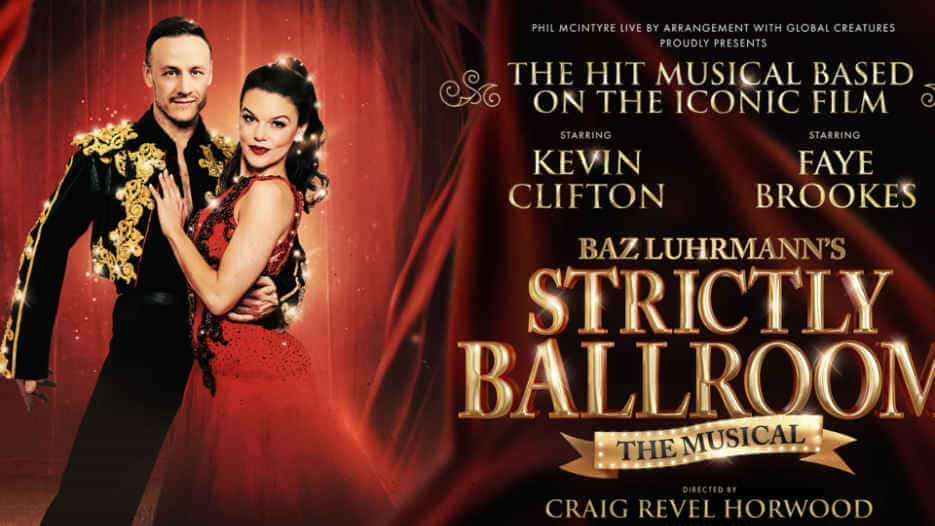 Strictly Ballroom the Musical, based on the award-winning world-wide film phenomenon, is heading out to tour the UK and Ireland!
With direction from dancer, choreographer, theatre director and Britain's favourite TV Judge, Craig Revel Horwood, Strictly Ballroom the Musical will be will be foxtrotting around the UK from September 2020.
Bringing together a cast of over 20 world class performers, Strictly Ballroom the Musical follows arrogant, rebellious young ballroom dancer, Scott Hastings. When his radical and daring dance style see him fall out of favour with Australian Federation, he must dance with beginner, Fran. Together they find the courage to defy tradition and discover that to win, your steps don't need to be strictly ballroom!
Featuring break-into-song numbers such as Love is in the Air, Perhaps Perhaps Perhaps and Time After Time, as well as several wonderful new songs by internationally acclaimed artists including Sia, David Foster and Eddie Perfect. This spectacle is sure to make for an unforgettable evening under the glitter ball that will send your heart soaring and toes tapping!

WATCH OUR "IN CONVERSATION WITH FAYE BROOKES" VIDEO HERE!
Strictly Ballroom The Musical Tickets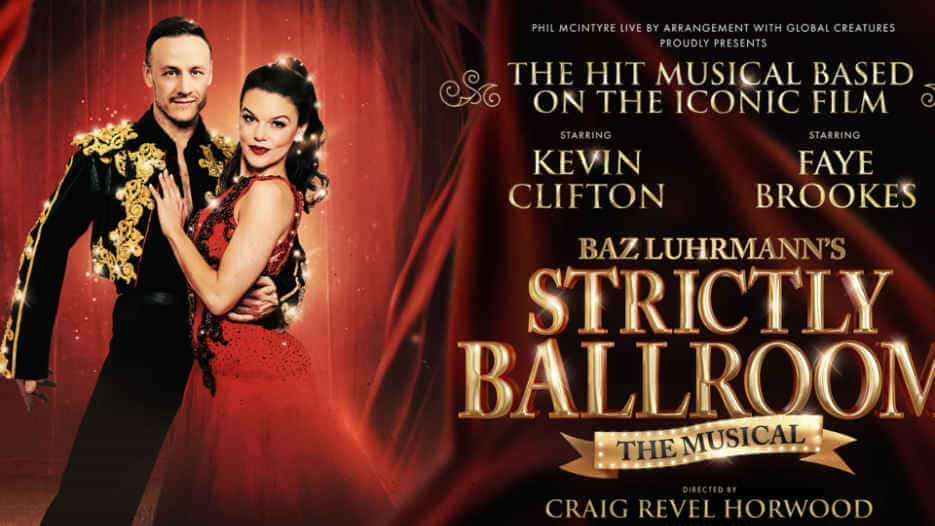 Sorry, there are no tickets for Strictly Ballroom The Musical in Manchester available at the moment. This maybe due to one of the following reasons:
- Strictly Ballroom The Musical in Manchester tickets are currently not on sale.
- The event has sold out.
- Details have not yet been announced for Strictly Ballroom The Musical in Manchester.
- The event may have been cancelled.
- The event has been and gone.
Join our free mailing list for
updates about this event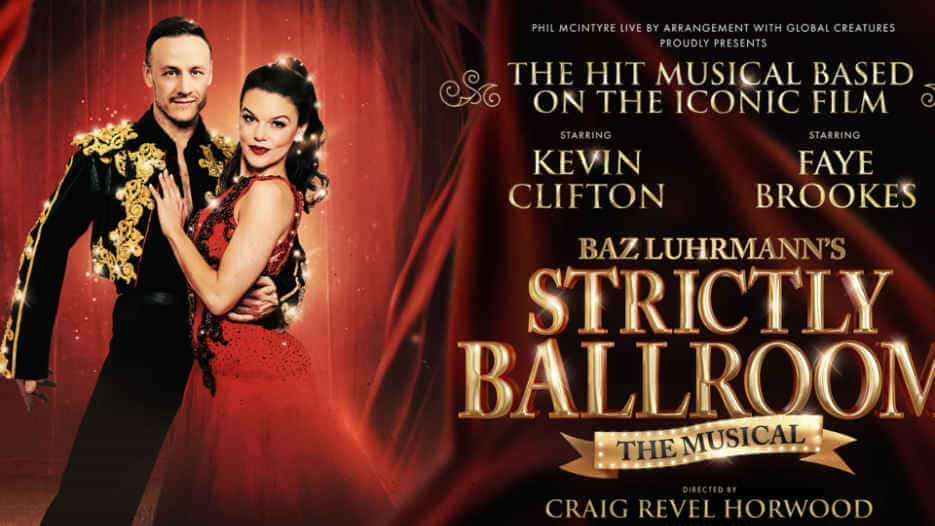 Strictly Ballroom The Musical ON TOUR
Our review on Strictly Ballroom The Musical
Strictly Ballroom The Musical - The Lowry, Salford - Monday 26th June 2023 by Christa Norton
Our Rating
STRICTLY BALLROOM THE MUSICAL IS BEYOND EXCEPTIONAL WITH SO MANY SHOW-STEALING MOMENTS!

I have long been a fan of the Australian writer and director Baz Luhrmann; the visual extravagance of his films is sumptuous, but it doesn't overwhelm his storytelling, and for me he has a knack of compiling the most perfect soundtracks, creating or repurposing songs that perfectly capture a mood, a sentiment. The effect is dazzling and every time I see one of his films, I come away feeling satiated. However, I was fascinated to know whether that same richness could be achieved on stage, or whether Luhrmann's particular brand of magic relied too much on film making tactics.


Released in 1992, the film Strictly Ballroom was Luhrmann's directorial debut and quickly gained him international recognition. It tells the story of Scott Hastings, a highly talented but maverick ballroom dancer who has trained all his life for the chance to win a trophy at the Pan-Pacific Grand Prix Dancing Championship. Set just three weeks before the finals take place, and abandoned by his original dance partner, Scott chooses to pursue his own style of dancing. In doing so, he finds a true partnership with beginner Fran, who shares his passion for innovative and inventive dance. The story has overtones of everything from Romeo and Juliet to Footloose, all against the backdrop of Australian amateur ballroom dancing. Unsurprisingly the movie became something of a cult hit, so it was good to see that Strictly Ballroom the Musical keeps to the original story and – more importantly – retains the gloriously offbeat Australian humour that made the film so enjoyable.


But this production is more than enjoyable: it is beyond exceptional. Directed and co-choreographed by Craig Revel Horwood (Strictly Come Dancing), it is a dazzling and joyous display of singing, dancing, comedy and physical theatre, performed by a cast of incredible calibre. It has so many show-stealing moments it is frankly impossible to list them all and, even several hours later, I still find myself smiling.


The first stand out performance of the night has to be Scott, played by Kevin Clifton (Strictly Come Dancing). Like many, I have watched him dance repeatedly on television, but it is a whole other world to seem him dance in person. The sheer physicality, power and strength of every single move, the speed and accuracy of even a gentle flick of his hand, which is just lost on the television, is in full force here. He is mesmerising, the power of his dancing helped by his easy smile and clear joy in what he is doing. In the first half of the show, he performs a solo that vents Scott's frustration at the rules of dancing but also explores how he wants to dance. The range of emotion he expresses during this solo is just incredible – from joy to anger to the erotic. And then he begins to sing. And oh can he sing. He has a rich, velvety voice that meets the needs of the songs with ease, and which blended perfectly with the sweet voice of Fran, played by Faye Brookes (Coronation Street, Our Girl).


Brookes is just wonderful. She plays Fran unashamedly with an awkward, goofy clumsiness that makes you immediately adore her. Her physical comedy is brilliant and I laughed out loud during her first dance lesson as she walks across the stage more like a chicken than a ballroom dancer! She acts with a total lack of self-consciousness, so when Scott bursts into song, it makes perfect sense for her to say 'Oh are you singing now?' – a hint at breaking the fourth wall without dispelling the magic of the moment.


The chemistry between the two leads is charming, but more than that, their comfort with each other and their own sheer enjoyment in the performance is evident. This sense of enjoyment is infectious, and it creates a wonderful atmosphere within the theatre.


The ensemble cast are all equally superb, indeed in the set pieces it is sometimes impossible to know where to look, or whose dancing to follow. The choreography is generous, allowing all members of the ensemble the opportunity to take centre stage. Danielle Cato (So you think you can dance, 42nd Street) is particularly memorable as she shimmies and shimmers as the wonderfully named Tina Sparkles whilst Oliver Brooks (Matilda the Musical, As you like it) really stood out as the fabulously camp JJ.


Kieran Cooper (Victoria, Bring it on) delivers a suitably slimy performance as the conniving villain of the show, Barry Fife. whilst Nikki Belsher (Fat Friends The Musical, Billy Elliot the Musical) and Les Kendall (Little Shop of Horrors, Pennyworth) offer brilliant comic performances as Shirley Hastings and Les Kendall respectively. It is these three characters who in many ways bring the show to life and deliver the camp, Australian craziness and charm of the original film.


But for me the stand out performance is Rico, performed by incredible Jose Agudo (Silk Road, Carmen). His demonstration of the Paso Doble at the end of the first half is an absolute masterclass: his total respect for the dance, his tremendous focus on calm, controlled energy, on the importance of rhythm, is simply electrifying. Again the power on stage as he teaches Scott how to feel the rhythm of the music – and as Agudo and Clifton dance together in unison, stamping and pounding through the steps – is visceral.


As mentioned, I have always felt Luhrmann had a talent for soundtracks and Strictly Ballroom – The Musical has a brilliant score. It comprises a series of well-known covers - such as Time After Time and Love in the Air – combined with new, purpose written songs that work together incredibly effectively. I found many of the new songs were reminiscent of other musicals – I definitely heard hints of Cabaret and West Side Story - yet, as Luhrmann is want to do – he has brought them all together thematically so that the soundtrack feels seamless. I personally loved the 'Beautiful Surprise' number which recurs throughout the production.


The staging for this production is incredibly effective. The glitterball is ever present, adding that sense of glitz and glamour throughout, whilst the use of a curved panels that are reminiscent of a scallop shell gives a sense of shape to the stage. The use of a digital backing screen allows projections of everything from the sky at night and other landscapes to memories and photos, bringing real variety and context to what was happening on stage and allowing quite significant shifts of scene with very little physical work.


And it would of course be inconceivable not to mention the costumes. This was Strictly Come Dancing on steroids, with the cast working their way through a huge number of sequin-drenched costumes, from full Viennese Waltz ballgowns to the skimpiest of Samba outfits. The costumes were beautiful and appropriately over the top – think full pink glitter - but more impressive were the 90s style wigs donned by most of the male cast!


I cannot recommend this production of Strictly Ballroom the Musical highly enough: it is a perfect show for fans of the original movie, for fans of Strictly Come Dancing, for fans of dancing in general, or indeed for anyone who just wants a good night out. I would suggest it is a show more for older teens and adults as there are some very filthy jokes, bad language and sexual references made on several occasions which are probably a little too blatant to be missed by younger members. But that aside, this offers an evening full of laughter, with amazing performances, and songs you will be humming for days.


WE SCORE STRICTLY BALLROOM THE MUSICAL...





Strictly Ballroom The Musical is on at The Lowry, Salford until Saturday 1st July.


WATCH OUR "IN CONVERSATION WITH FAYE BROOKES" VIDEO DISCUSSING THE SHOW




Other events you may like...
Most Popular Shows and Events in Manchester