Tell Me on a Sunday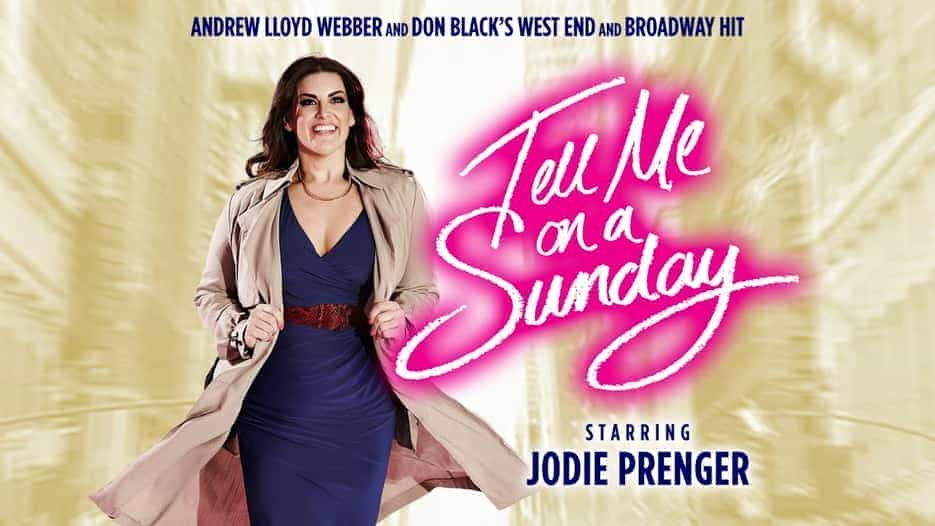 SPECIAL OFFER - £20 TICKETS FOR ALL PERFORMANCES!

Returning to the stage following her acclaimed performances in the National Theatre's production of A Taste of Honey, Oliver!, One Man Two Governors, Annie, Abigail's Party and Calamity Jane, Jodie Prenger stars as 'Emma', in the 2021 UK tour of Andrew Lloyd Webber and Don Black's classic musical, TELL ME ON A SUNDAY reprising a role Jodie first bought to life in 2016.
TELL ME ON A SUNDAY charts the romantic misadventures of a young English girl in New York in the heady days of the 1980's. Brimming with optimism, she seeks success and love. But as she weaves her way through the maze of the city and her own anxieties, frustrations and heartaches she begins to wonder whether she's been looking for love in all the wrong places.
This iconic musical features Andrew Lloyd Webber's wonderful score, accompanied live by West End musicians, including the chart-topping Take That Look Off Your Face, and title track Tell Me On A Sunday. Previously performed by iconic musical theatre stars Marti Webb and Sarah Brightman, this new production directed by Paul Foster includes an intimate post-show chat with Jodie charting her life, love and experience playing the role of 'Emma'.
Andrew Lloyd Webber's numerous awards include 7 TONYs, 3 Grammys, 7 Oliviers, a Golden Globe, an Oscar, 2 Emmys and the Richard Rodgers Award for Excellence in Musical Theatre.
Don Black is an Oscar winning lyrist (Born Free) who has penned numerous James Bond theme tunes and chart hits including Michael Jackson's Ben and Lulu's To Sir With Love.
Tell Me on a Sunday Tickets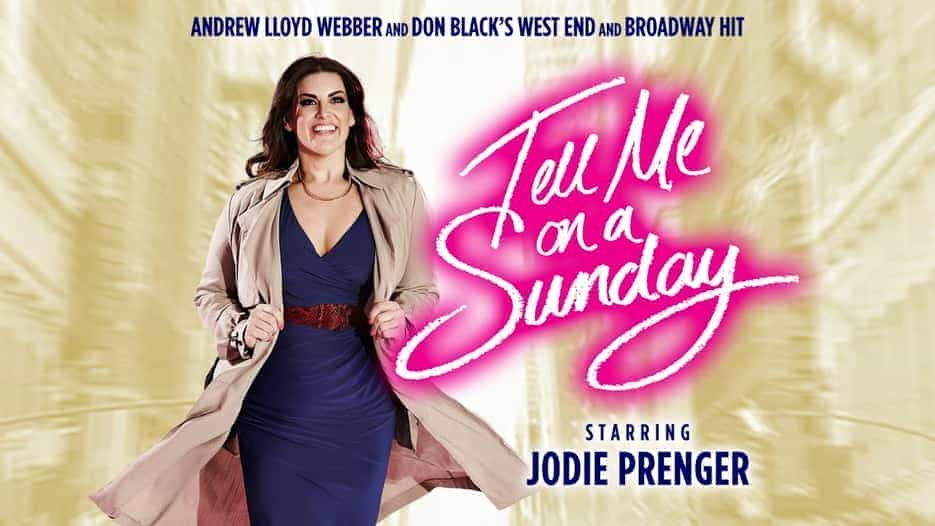 Sorry, there are no tickets for Tell Me on a Sunday in Manchester available at the moment. This maybe due to one of the following reasons:
- Tell Me on a Sunday in Manchester tickets are currently not on sale.
- The event has sold out.
- Details have not yet been announced for Tell Me on a Sunday in Manchester.
- The event may have been cancelled.
- The event has been and gone.
Join our free mailing list for
updates about this event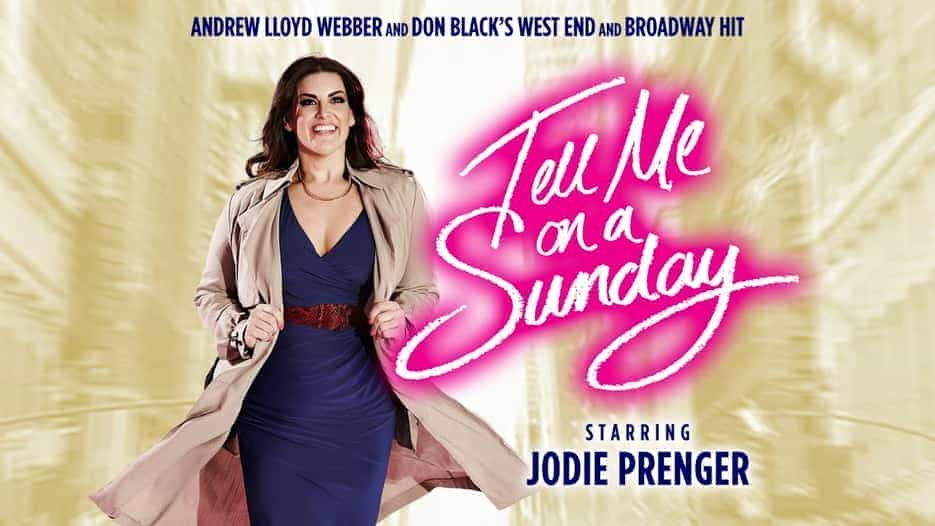 Tell Me on a Sunday ON TOUR
Our review on Tell Me on a Sunday
Tell Me On A Sunday - The Lowry, Salford - Tuesday 19th October 2021 by Karen Ryder
Our Rating
One of our trusted reviewers, Karen Ryder, headed over to The Lowry on Tuesday to see the wonderful Jodie Prenger on centre stage in Tell Me On A Sunday. The musical runs until Saturday and we have an offer for Wednesday and Thursday shows. Book your ticket today...


I'm going to ignore the productions instruction and tell you about Tell Me On A Sunday on a Tuesday. Oh "Take That Look Off Your Face," blame my Dad for a lifetime of bad dad jokes (sorry dad!)
I have never seen Tell Me On A Sunday and had no preconception of what it was about (well until I heard on the radio that the first act consisted of the show itself and the second act was a Q&A) but it turns out I did know many of the songs from my musically well spent youth, much to the annoyance of my friend as I found myself humming snippets throughout the interval. And as she frequently likes to tell me, I sound like a strangled cat!



Tell Me On A Sunday portrays the story of Emma and her rather rocky love life. Set against a beautiful New York skyline, the set design creates a wonderful intimacy, so we feel connected to Emma in her apartment. I must admit, it made me look up holidays to NYC when I got home, only to be stopped by the need to write this review.
With music written by Andrew Lloyd Webber, lyrics by Don Black and direction by Paul Foster, this production of Tell Me On A Sunday certainly has a winning team. This one woman show (and incredible live band) may be a revival meaning it's leading lady Jodie Prenger (winner of ALW "I'd Do Anything", Nancy in Oliver, Miss Hannigan in Annie, Madame Thenardier in Les Mis, Shirley Valentine tour but to name a mere few from her extensive career) is walking in the footsteps of musical theatre legends such as Bernadette Peters and Marti Webb, but fear not because Jodi is simply spectacular.



The first act follows Emma's bumpy search for a Green Card and for love. It takes her from England to New York, to California and back to New York again. She does find the green card but not the man. Fear not though because all ends on a positive note of resilience, strength and gritty determination that things can and will change for Emma. As this is a one woman show, it takes a lot of convincing acting from Jodie Prenger to make us believe she is having conversations with her love rat boyfriends and questionable friends, but convince us she does. It's quite incredible that the combination of her talent, sound effects, song lyrics, and musical repetitions allow the story to move along so easily and without the need of anything big or flashy. The sound effects help move the story along and help place the scene, such as a doorbell, a door slam, a plane taking off at an airport and a telephone ring. The musical repetitions allow us to follow the pattern of Emma's life, with letters to her mum wittily and touchingly informing us of her latest break up or of a new fella and see her trying to put a brave face on, whilst "Let Me Finish" allows us into her inner turmoil of the beginning of the end with her latest flame. The lyrics to the songs are touching, poignant and funny in equal measure. Lyrics from "Capped Teeth And Caeser Salad" stood out and tickled me as Emma shares her views on life in LA.
"When her bosoms droop, fifty surgeons swoop"



Tell Me On A Sunday and Jodie Prenger really takes us on a personal journey and it does so with humour, despair and brutal truth. It isn't overly sentimental and isn't too theatrical. It is just right. I would love to see this again in a smaller theatre as I think the level of intimacy the show tries to create would be even more appreciated.
The second half was essentially advertised as a simple Q&A session so I know a few people left, however it was so much more. It was actually kind of like of a mini concert, with more ALW songs from Jodie and her amazingly talented understudy Jodie Beth Meyer who is definitely one to watch out for. Yes there was a Q&A (which was brilliant by the way and we got to see the full bubbly, showbiz personality of Jodie Prenger) but it was matched with familiar songs and even a bit of "Oom pah pah" and clapping from the audience, all overseen by the ridiculously talented musical director Francis Goodhand who accompanied on the piano. I loved the Q&A's of "When did you first get into drama?" "The minute I was born darling!" and "What is Andrew Lloyd Webber really like?" "Well he can write a good tune so I think he'll do alright."



Jodie Prenger is truly engaging in this role. She is dynamic, delicate and delightful in the face of her downright disastrous love life. Jodie is able to portray Emma as a woman who is dedicated to finding true love and the subtly with which she achieves this is a beautiful tribute to the lesson of "Less is More."
Tell Me On A Sunday is a unique musical theatre show and it works in its favour so I shall be telling people about it every day of the week, but especially on a Sunday.

We score Tell Me On A Sunday - 8/10


We have an offer for performances on Wednesday & Thursday. The show ends on Saturday.
CLICK HERE FOR TICKETS TO SEE THIS PRODUCTION
Most Popular Shows and Events in Manchester