The Bodyguard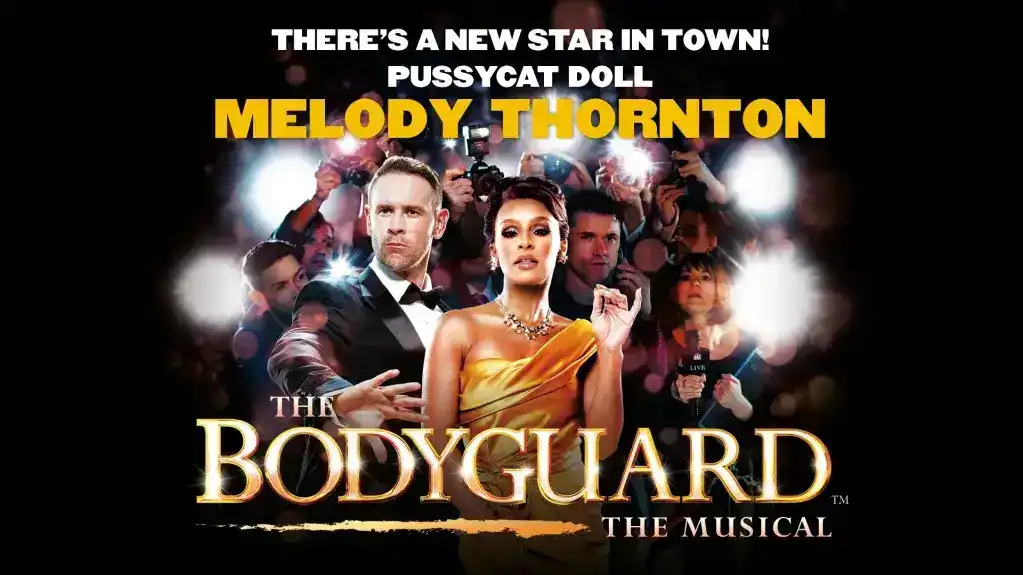 The international, award-winning smash-hit musical The Bodyguard is back! Starring Pussycat Doll, and multi-platinum Grammy nominated MELODY THORNTON* as Rachel Marron.

Former Secret Service agent turned bodyguard, Frank Farmer, is hired to protect superstar Rachel Marron from an unknown stalker. Each expects to be in charge – what they don't expect is to fall in love.

A 'brilliant!' (The Times), breathtakingly romantic thriller, The Bodyguard features a whole host of irresistible classics including Queen of the Night, So Emotional, One Moment in Time, Saving All My Love, Run to You, I Have Nothing, Greatest Love Of All, Million Dollar Bill, I Wanna Dance With Somebody and one of the greatest hit songs of all time ? I Will Always Love You

*Please note Melody Thornton will perform the role of 'Rachel Marron' at all evening performances only. Cast and performance schedule subject to change without notice.


Watch our interview with Ayden Callaghan who talks about the hit musical coming to the Palace Theatre, Manchester...

The Bodyguard Tickets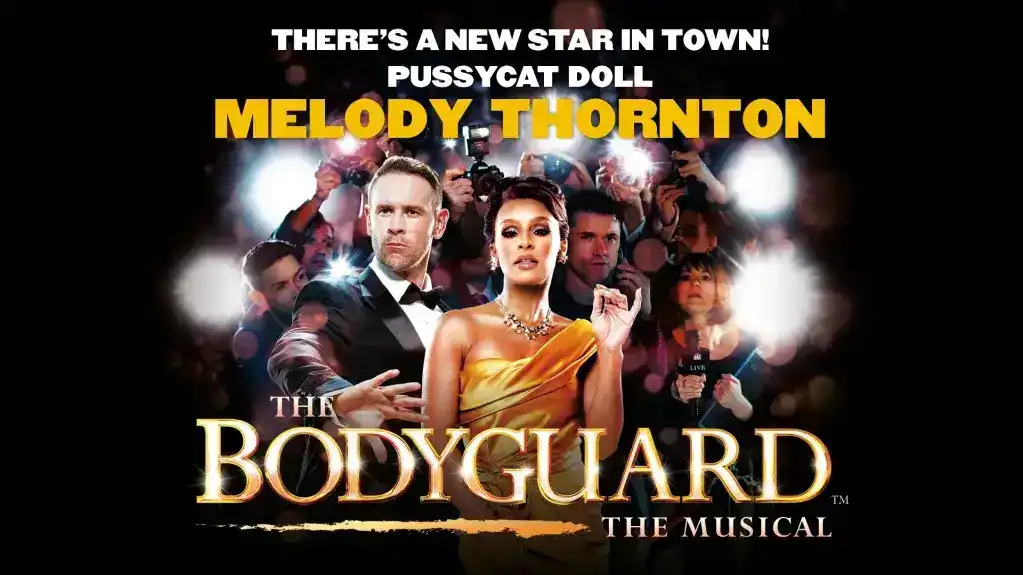 Sorry, there are no tickets for The Bodyguard in Manchester available at the moment. This maybe due to one of the following reasons:
- The Bodyguard in Manchester tickets are currently not on sale.
- The event has sold out.
- Details have not yet been announced for The Bodyguard in Manchester.
- The event may have been cancelled.
- The event has been and gone.
Join our free mailing list for
updates about this event
Our review on The Bodyguard
The Bodyguard - Palace Theatre, Manchester - Monday 3rd April 2023 by Karen Ryder
Our Rating
THE BODYGUARD TAKES THE AUDIENCE ON AN EMOTIONAL ROLLERCOASTER AND IT'S ONE HELL OF A RIDE!

Can you even utter the words The Bodyguard without a montage of timeless songs reeling through your head? And knowing that regardless of singing ability, the irrepressible desire to belt out "And Iiiiiiiiiiieeeeeeiiiiiiii will always love youuuuuuu oooohhhhhh" will ultimately win? That is the power of its music, and the iconic performances of Whitney Houston and Kevin Costner in the film that launched this blockbuster musical. I have to confess that my first experience of the musical in 2019 was approached with a little trepidation, fearful that one of my all time favourite films was being touched in any way, shape or form, but curiosity got the better of me and I comforted myself with the fact that I knew I would at least enjoy the music. But my fears were unfounded. I LIVED The Bodyguard with the stage production in a way I could never have imagined, and now I return with an eagerness, not just because of the film, or because of the music, but because of the unique and mesmerising experience that this show provides on its own merit. It stimulates your senses, plays hide and seek with your emotions, and toys with your adrenaline, rousing just about every emotional response in your repertoire.

Rachel Marron is a sensational, singing superstar with fame, fortune, the world at her feet, and a career to die for. Literally. For she has attracted an intense, dangerous, and deranged stalker. As things intensify, the stalker will not rest until he claims Rachel for his own. His determination and intelligence outwit her current security and he gets far too close for comfort. Her protection needs strengthening, and so former secret service agent Frank Farmer is enlisted. But Frank has a past, one he has not quite come to terms with, and one he needs to manage in order to believe in himself and keep Rachel safe. But Rachel refuses to cooperate with the restrictive demands Frank places in her life, so it is he who must learn to accept and understand her world. In doing so, they make an unexpected connection, and discover their opposing worlds have more in common than they thought. But in Rachel and Franks worlds, love comes at a price, and they must answer the question, is altruism the ultimate declaration of true love?


The Bodyguard demands your attention right from the off and puts you on high alert in an exciting and adrenaline fuelled way. It prepares you for what lies ahead and has subtle ways of placing you in Rachels shoes, whether that be a sudden gun shot, a deadly laser pointed at your head, or the stalker appearing in unexpected places. It teases and terrifies you with the danger that Rachel is in, then instantly relieves you of the fear with an epic concert vibe. It discombobulates and knocks you off balance so that the highs are intense, the danger makes you hold your breath, and the love story seems all the more impossible and beautiful for it. The immersive feel of technology is quickly established as Rachel is introduced in the iconic montage of any global superstar, boasting her career, awards and achievements on a huge cinematic screen! This immediately sets her status and the glamour contrasts to Franks life or death introduction. We are launched into our first Rachel Marron concert, with flashing lights, blasts of fire, and incredible dancers. The Bodyguard has begun.


Melody Thornton (The Pussycat Dolls, Rip It Up, Dancing On Ice) stuns the audience into submission with her powerful yet delicate performance as Rachel Marron. She is subtle and controlled, making the character less harsh than the movie version, which works really well. Her scenes with Rachel's son Fletcher were amongst some of my favourite of hers because we saw a true tenderness of the character shine through. Having said that, her natural stage presence and singing and dancing were impeccable and I did have a pinch me moment that I was watching an actual Pussycat Doll live!


Her scenes with Ayden Callaghan (Emmerdale, Hollyoaks, Romeo & Juliet) as Frank Farmer held a great chemistry and they allowed their love story to develop naturally, so it never felt shoehorned in or forced. Ayden Callaghan has truly made Frank his own and again, his scenes with Fletcher were beautiful to watch. He has captured this dark brooding man who is strong, stable, and seemingly impenetrable, but also allowed him to be human, to be vulnerable, to be flawed. His last scene, where he stands alone to the echo of Rachel's song, got me. To silently stand there and to be able to see his eyes fill with tears was a powerful moment.


Emily – Mae (Frozen, City Of Angels, Little Shop Of Horrors) is Nicki Marron and has a fantastic voice. She has a couple of great solos that are punctuated with excellent storytelling skills and her portrayal of Nicki makes it very clear that she has feelings for Frank from the off, with refined looks and gestures aimed in his direction. Her voice is crystal clear and it is easy to see why her character would feel side-lined because she is incredibly talented. Marios Nicolaides (Saturday Night Fever, Ghost, 42nd Street) is completely convincing as The Stalker and had me jumping in my seat for the whole show. His potential for physical strength and danger is gauged from the off through his physicality, but this quickly turns to a more sinister fear as he is able to control the audience without saying a word.


The mere fact that I always felt on alert for where he might appear next, even down to anticipating him jumping out from behind some columns (he didn't), tell me that he succeeded with his character. Kaylenn Aires Fonseca as Fletcher is an absolute star! He wowed us from the off when he started busting a move alongside the adult dancers and continued to do so with his acting and then his singing! Natural, genuine and believable, he was a legend! James Groom, John Macaulay, Graham Elwell, and Fergal Coghlan complete the remainder of the named cast and provide a mix of humour, seriousness, stubbornness, jealousy, and frustration. They all have moments to shine and help move the story along.


Thea Sharrock's direction has ensured this entire cast and ensemble are strong and cohesive. There seemed to be a genuine team spirit on stage and a respect of equality. With some big names on stage, this was a brilliant thing to see, for it never felt like the show had been staged around any one person, but that everyone on stage was important and needed in equal measure. Scenic and costume designer Tim Hatley has not only brought the beloved film to life, but somehow made you feel like you have stepped into the movie without losing any of the magic of a theatrical experience. Effortless changes sweep you from a concert to a glorious mansion, and carry you to a police station, a karaoke bar, a dance studio, a log cabin, to backstage at the Oscars! It feels rare to experience so many lavish locations in a stage show, but The Bodyguard has achieved this, ensuring dedicated fans of the film don't feel cheated in any way. It is impressive to say the least and instead of seeing the potential problems of taking the medium of film to the stage, they have embraced it and used it to their advantage.


The combined talents of all the creatives, including choreographer Karen Bruce and lighting designer Mark Henderson transform this production from stage, to cinema, to concert with such ease that you glide through a multi-sensation experience, taking the best from each of the sensory mediums. The audience are cleverly placed in the middle of the action, the story, the entire experience in a way that reverberates quite literally through your whole body. The use of the safety curtain as a cinema screen to project movie magic and iconic images at just the right moment will make you melt. I don't want to give anymore away here because it is the penultimate moment for any Bodyguard fan. The applause showed agreement of the spine tingling, hairs on your body standing up and goosebumps on your goosebumps appreciation!

The intensity and danger of The Stalker is not lost in this production. He doesn't act as a mere catalyst or subplot in order to bring Rachel and Frank together but sits very much at the heart of the story. His presence is played with so you never know how or where he may appear. There are moments when you realise he is suddenly there and you have no idea how long he has been there because you didn't notice him appear. It leaves your blood cold and acts as a chilling reminder that the very real threat has not gone away. One moment I remember from the first time I saw the show has not been diminished by my knowledge of it. The Stalker is loose with a laser gun and until he finds Rachel, the audience are his helpless victims. Having a red laser beamed at your head in the dark is an eerie experience. Following the initial gasps of shock, you could hear a pin drop. It is an uncomfortable yet thrilling and clever way to immerse us and allow us, for a few fleeting seconds, to understand Rachels fear.


The penultimate moment of a show fuelled by emotive and beloved songs that guide you through the story, evoke nostalgia and sprinkle you with joy, such as 'Queen Of The Night,' 'Run To You,' 'One Moment In Time,' 'Greatest Love Of All,' and 'How Will I know,' is 'I Will Always Love You.' Watching Melody Thornton perform this from the comfort of home on Big Night At The Musicals, I knew it would be spectacular, but even that did not fully prepare me for being rendered speechless. It was so evocative that you simply didn't know what to do with yourself. Audience members were torn between crying, whooping, clapping, standing ovations mid-song, and trying to express their reactions in a million other ways. Class. It was pure class. And you barely have time to catch your breath before Rachel Marron's concert encore begins! Lights, costumes, live music, and the bendiest, most acrobatic dancers ever. Relive this glorious music, take your dancing shoes, and let lose!


The concert vibe is a great high after the intense thriller and gut-wrenching love story you have just survived, and it will have you downloading all the music before you've even got home! As the band played us out, a school group in the gallery alone proved that the short stop in tonights performance due to technical difficulties did not dampen the atmosphere at all, for they filled the theatre with the sound of their joyful singing. It was wonderful to hear their happiness. And as the Palace Theatre audience spilled out onto the streets, a mash up of Whitney songs blended together to fill the Manchester air, as we all found ourselves powerless to resist humming our favourite tunes. This iconic love story is made all the more formidable in the theatre and if the finale was anything to go by, it proves that yes actually, we all just wanna dance with somebody after all.
WE SCORE THE BODYGUARD...


Most Popular Shows and Events in Manchester