The Osmonds - A New Musical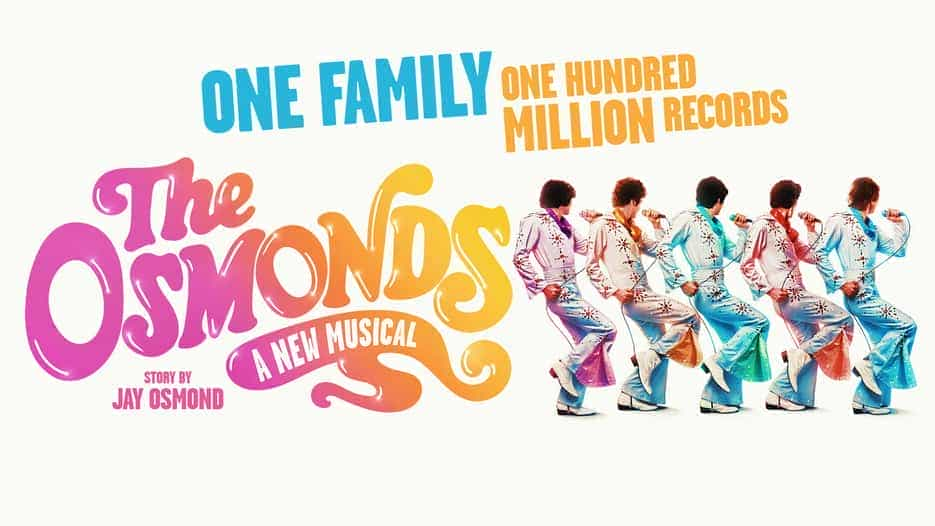 You Loved Them For A Reason. Now, for the first time, you can see this sensational new musical and relive one of the world's biggest ever boybands. THE OSMONDS: A new musical tells the official story from Jay Osmond about the five brothers from Utah who were pushed into the spotlight as children and went on to create smash hits decade after decade.

From their star residency on The Andy Williams Show, to the arrival of Donny and Marie, The Osmonds lived a remarkable life recording chart topping albums, selling out vast arena concerts and making record breaking TV shows - until one bad decision cost them everything.

Directed by Shaun Kerrison and choreographed by Olivier Award winning Bill Deamer, this brand new musical features a chart topping list of anthems including Love Me For A Reason, Crazy Horses, Let Me In, Puppy Love, One Bad Apple, Long Haired Lover From Liverpool, Paper Roses and many more, The Osmonds: A New Musical will take you back to the relive 60s…the 70s…the 80s….

We're Having a Party and you're invited to join us for this night of drama, nostalgia and dancing in the aisles.
The Osmonds - A New Musical Tickets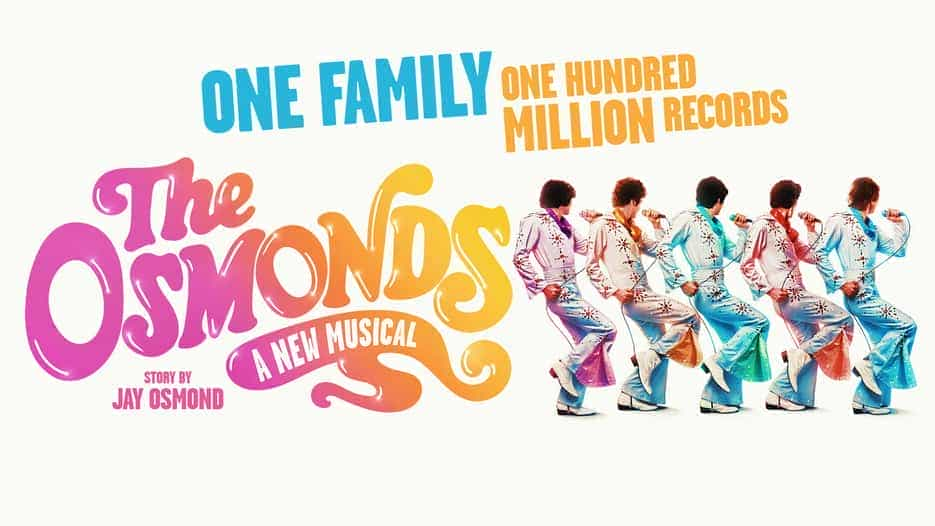 Sorry, there are no tickets for The Osmonds - A New Musical in Manchester available at the moment. This maybe due to one of the following reasons:
- The Osmonds - A New Musical in Manchester tickets are currently not on sale.
- The event has sold out.
- Details have not yet been announced for The Osmonds - A New Musical in Manchester.
- The event may have been cancelled.
- The event has been and gone.
Join our free mailing list for
updates about this event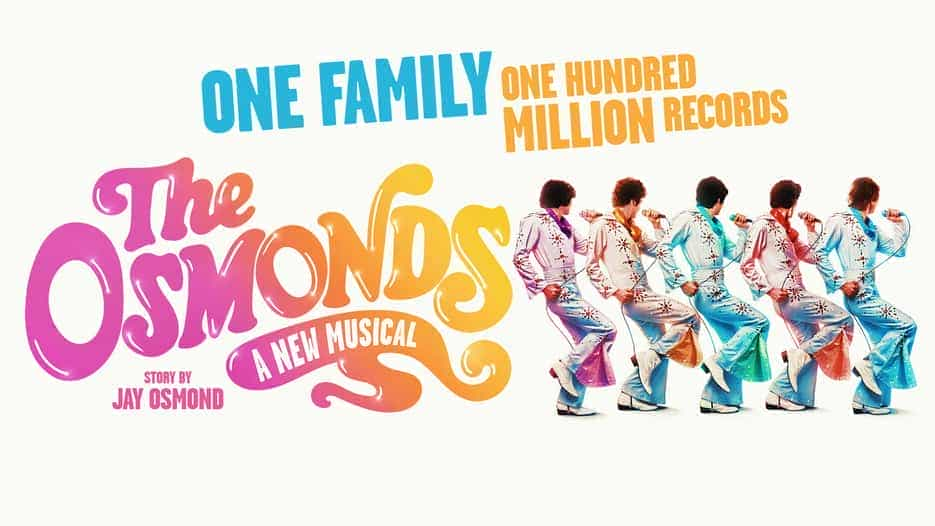 The Osmonds - A New Musical ON TOUR
Our review on The Osmonds - A New Musical
The Osmonds - A New Musical - Palace Theatre, Manchester - Tuesday 9th August 2022 by Karen Ryder
Our Rating
A standing ovation in the middle of the show is not something you often see, but that's the Osmonds for you!
Back in the day, when all my friends were singing along to NKOTB, I wasn't. I had my own boyband, handed down from endless tunes played in the car by my mum. I was an Osmond girl, trapped in the wrong generation, but happy to be there. Fast forward a few years and I remember feeling more than a little smug as peers, who had mocked me for liking The Osmonds, fawned over the 'new song' (snigger) - Love Me For A Reason - by the freshly formed Boyzone. Cassette tapes, CD's, rewinding my VHS video tape of Joseph and the technicolour doo dah coat and pausing on Donny in a loin cloth, to literally losing my mind in Blackpool one summer when watching a musical starring Jimmy Osmond, when out of nowhere, Donny jumps on the stage and joins him!
I am of course a more refined version of myself now I am older and wiser (hmmfff!!) so have only rocked out to Crazy Horses once today in preparation for tonight's show – much to the delight of my neighbours. A little bit of digging around whilst humming to One Bad Apple informed me that this musical was Jay Osmond's story. Would it be twee? Would it be an all American apple pie with a cherry on top retelling of their days on the Andy Williams show, with sparkling eyes and shiny teeth aglow? Or would we see another side to The Book Of Mormon with their devout religious upbringing?
Narrated by the character Jay, the Osmond's rise to fame is presented through those larger than life moments experienced before even reaching adulthood, such as meeting Walt Disney, selling 100's of millions of records, and their residency on The Andy Williams show. Here we are introduced to the most charismatic and talented children ever, whose harmonies and synchronicity challenge and rival the real Osmonds! Osian Salter, Jack Jones, Alfie Jones, Harrison Skinner, Tom Walsh and Fraser Fowkes are phenomenal and were a true highlight of tonights show. I hope and pray that there is a serendipity for these young actors portraying the fresh young talent who started out on The Andy Williams Show and going on to have a sensational career. Hopefully The Osmonds Musical is paying it forward for them in a beautiful reflective repeated history. But behind those famous harmonies was a childhood different to any that you or I may know.
With an Army trained father waking them up at 4.30am to drill their routines, and a mother who stood by his side, military discipline was a way of life. With mantra's such as "Don't be sorry, be better than last night", and "It doesn't matter who is in front, as long as it's an Osmond," it was only a matter of time before this unsustainable lifestyle started to show its cracks, its resentments and its rebellion. Things get a little edgier music wise, The Donny & Marie show feeds a nation with entertainment but a family with tension, marrying is forbidden to ensure fans still have the illusion of hope and to stop a few million hearts from breaking, business overtakes music with the development of their own studios, bankruptcy looms and the group pull further and further away from their father and each other. But in true Osmond style, the musical deals with any resentments swiftly, allowing us to move on to happier times and feed our souls with back to back hits in a tantalising taste of an Osmond's concert.
It is safe to say that Osmond Mania was out in full force once again this evening, and I even found myself chatting along to some lovely folk on the walk from the carpark to the theatre. Inside, the colour and life of the 70's sing to you, with the rainbow themed Osmond colour scheme everywhere, and a glorious theatre curtain in the auditorium, inspiring many selfies. It is framed to look like an old-fashioned television set, and this is carried through to the set design itself (designed by Lucy Osborne), with an interchangeable staircase, 60's style TV camera's whizzed on and off, and even the occasional Christmas tree. The design and flow are everything you'd want them to be and are simple enough to easily transform from television studio, to recording studio, to Madison Square Gardens. The lights, colours and costumes are just sublime, energising and delightful all at the same time, creating a happy buzz and exactly the right vibe for this excited audience.
The show starts with the infamous chant of "Bring on the Osmond's," with which the audience quickly and happily join in, before the stage bursts into life and the cheers start. There were many stand out moments in this evening's performance, but with recent events, an incredibly touching one was when Olivia Newton John was mentioned in the script as an artist the band had worked with and the whole show came to a halt as the audience applauded with genuine heart and respect. Mini Donny also stole as many hearts tonight as the real Donny did when he first appeared on The Andy Williams Show, aged just five years old. Osian Slater emulated this appearance to perfection and had us all oohing and ahhing at his cuteness, and grinning in disbelief at his talent. The applause was so strong that it actually overpowered the continuation of his duet with Andy Williams! Of course, when we saw a more grown-up Donny singing 'Puppy Love' – the audience went wild. It was insane and I can only begin to imagine what it must have actually been like back in the day! Don't get me wrong, the audience loved playing along, screaming in all the right places and waving their scarves in the air, but the atmosphere was palpable and even had security dealing with a few more excitable audience members!
A standing ovation in the middle of the show is not something you often see, but that's the Osmonds for you! There was also one at the end of the first half and two at the end of the show (fake finish – so don't leave too early!) A concert vibe can be felt throughout the entire show, with many moments taking this format, but the real treat is the megamix concert at the end, especially for tonight's audience as THE REAL LIFE JAY OSMOND, who had been happily watching the show all night and grinning from ear to ear, jumped up on stage and rocked out with the cast to Crazy Horses! What a brilliant moment! It just goes to show, there are so many Osmonds, you simply never know where or when one of them might pop up!
The darker scenes, such as the family meeting that exposed their financial ruin, were brilliantly acted and could have easily been expanded and built upon, for these were gripping scenes, however, with the show already running at almost three hours and a story to tell spanning 6 decades and numerous family members, it becomes impossible to give enough airtime to every element of their lives. The story makes it clear that there were problems, but chooses to focus more on their solutions, which ultimately always comes down to family first.
This cast were beyond energetic and would make the Duracell bunny look like a wet tea towel. I hadn't really thought it through, but I guess if you're playing the part of the "one take Osmonds" who can do anything and everything, then you have to be incredible, but still – I wouldn't have expected this much energy in one room. Now if it could somehow be converted, we may just have found the solution to the current energy crisis! Seriously though, I don't know how this cast breathe, particularly the Osmond troupe. They don't just sing and dance – they sing and bounce around like Tigger! They are a pretty special bunch. Alex Lodge (tick, tick…BOOM!, Bat Out Of Hell, Saturday Night Fever) is the anchor as Jay and is rarely off stage. Kudos to Lodge as it must have been intimidating, or weird at the very least to play Jay Osmond with Jay Osmond sat watching you, but he was natural, charming and exuberant., ensuring it was clear to see why he was the glue who held everyone together. Jamie Chatterton (Professional debut – whaaaattt???!!!!) is commanding as eldest brother Alan and does an excellent job of showing the internal struggle between doing what is wanted and what is needed, whilst trying to lead his siblings.
Ryan Anderson (Pippin, West Side Story, Grease) plays Merrill and has some cracking solo's, showcasing his rockier side, whilst delicately portraying the personal struggles he faced. Danny Nattrass (Pantoland, Joseph, Mamma Mia) provides perfect harmony as Wayne, and depicts the weight of carrying his family's legacy to dust with a gentle and touching humility. He also has a stunning solo. Joseph Peacock (Bat Out Of Hell, Joseph, Grease) come into his own as Donny whilst singing Puppy Love and whilst he looks in genuine shock at the audience reaction, he also knows how to play them and keeping upping the stakes. Georgia Lennon (Lady Chatterley's Lover, Beauty & The Beast, Jack & The Beanstalk) has a stunning voice and plays Marie with a cheeky charm and strength that is to be applauded amongst all those brothers! Charlie Allen (Eastenders, Home I'm Darling, Taming Of The Shrew) has a potentially difficult role to play as their father George, but does so convincingly well. He is completely believable as this looming authoritative figure with whom you would simply not argue, yet he still manages to display the compassion he had for his family, as did Nicola Bryan (Me & The Girls, Sweet Charity, Dreamcoats & Petticoats) as mum Olive. Alex Cardall (The Wind In The Willows, Evita, Putting It Together) played numerous roles, but his Andy Williams is worth a mention as his mannerisms were eerily spot on. An audience favourite was Sophie Hirst (Cabaret, We Will Rock You, Cinderella) as Wendy, or to use her full title 'Wendy from Manchester – your number one fan' (obviously I don't mean YOUR number one fan dear reader, but Jay's) for she brought a little bit of home to this worldwide phenomenon.
Even if you think The Osmonds aren't your cup of tea – remember they sold over 100 million records worldwide and have won an insane amount of awards, so there will be plenty of tunes that you recognise and possibly even have on your guilty pleasures playlist! A touchingly true story, written by middle sibling Jay Osmond and co-written by Shaun Kerrison, it favours the squeakier cleaner image they spent many years perfecting, and paints a few rainbows and sparkles over some of the grittier, harsher elements of their upbringing, but I understand why. Whilst it would no doubt make for a grittier story, and offer more truth and connection, do their life long, die hard fans, who let's face it this musical is aimed at, want their illusions of perfection shattered, or do they want to drown in nostalgia? Reminisce as they boogie down memory lane and playfully cheer on their favourite brother? After all, you hear Osmonds and you think floppy wigs, flares, sparkles, rainbows and lots and lots of smiling.
About half an hour in, I started to try and find reasons to give this show anything but a 10/10 score because I have awarded this an awful lot recently and I don't want to throw these 10s around for fun, but I just couldn't do it. There is simply no denying the hysteria, the love and happiness in the theatre tonight and the energy and hard work that was clearly visible. There was only positivity and a sense of elevated kindness. How can a show that literally alters the mental state of its audience and connects them all to each other with the purest of joys be awarded anything less than a 10? Tonight I learnt that even though I class myself as a fan, I am simply not in the same league as the majority of tonight's dedicated followers, but then again, I didn't grow up with the Osmonds – I wasn't even born, so I guess this speaks testimony to their pulling power (that, and I was already googling the merchandise prior to tonight's show) that someone from the wrong decade, who also grew up listening to Queen and Meatloaf, can also fall in love with (to quote Jay) The Mormon Von Trapps! Bring on the Osmonds!


WE SCORE THE OSMONDS – THE NEW MUSICAL – 10/10
Other events you may like...
Most Popular Shows and Events in Manchester