Wuthering Heights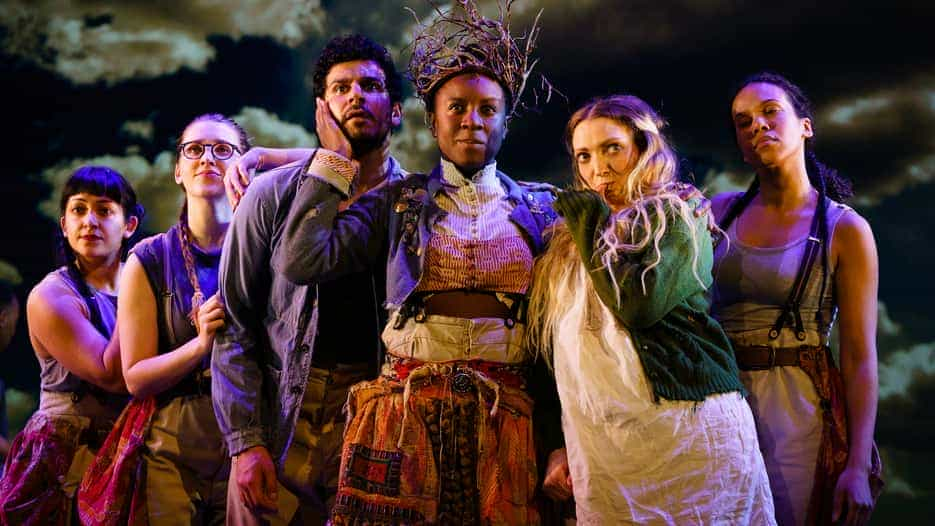 The Yorkshire moors tell an epic story of love, revenge and redemption.
Rescued from the Liverpool docks as a child, Heathcliff is adopted by the Earnshaws and taken to live at Wuthering Heights. He finds a kindred spirit in Catherine Earnshaw and a fierce love ignites. When forced apart, a brutal chain of events is unleashed.
Shot through with music, dance, passion and hope, Emma Rice (Romantics Anonymous, Wise Children, Brief Encounter) transforms Emily Brontë's masterpiece into a powerful and uniquely theatrical experience.
Lucy McCormick (Post Popular) leads the company of performers and musicians in this intoxicating revenge tragedy for our time.
"I am Heathcliff! Whatever our souls are made of, his and mine are the same."

Age recommendation: 12+
Wuthering Heights Tickets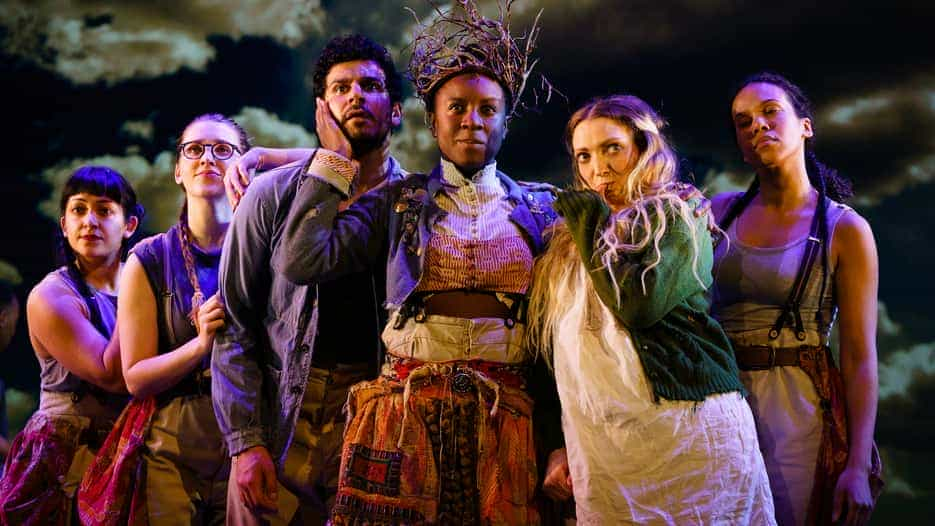 Sorry, there are no tickets for Wuthering Heights in Manchester available at the moment. This maybe due to one of the following reasons:
- Wuthering Heights in Manchester tickets are currently not on sale.
- The event has sold out.
- Details have not yet been announced for Wuthering Heights in Manchester.
- The event may have been cancelled.
- The event has been and gone.
Join our free mailing list for
updates about this event
Our review on Wuthering Heights
Wuthering Heights - The Lowry, Salford - Tuesday 3rd May 2022 by Karen Ryder
Our Rating
"It's me, I'm Cathy, I've come home now!"
I'm sure that the high-pitched infamous line from the Kate Bush song would not have been what Emily Bronte intended to run through our minds whenever Wuthering Heights was mentioned, but it does go to show how the power of her exceptional novel has transcended into a more modern popular culture, and I have to confess, it has been swimming around my head since I was invited along to tonight's show. I think I may be in the right frame of mind for this particular production though, for director Emma Rice is not known for simply recreating traditional portrayals of novels. On the contrary, Rice threads every artistic form possible into her productions, and Wuthering Heights is no exception. Expect this epic and wild love story of revenge and redemption to encounter dance, music, special effects, technology, puppetry and an unexpected humour. Expect the unexpected and allow yourself to be swept away to the Yorkshire Moors for this wildly supernatural experience.
Wuthering Heights is a dark love story, with tumultuous themes throughout such as love and passion, ghosts and spirits, revenge and redemption, obsession, class, gender, and upbringing. Heathcliff is alone in the world, that is until he is rescued and adopted by the wealthy Earnshaw family. He is taken to live with them at Wuthering Heights where he quickly finds a kindred spirit in Earnshaw's daughter Catherine. But a straightforward love story would have ended this novel rather quickly. Instead, their love is torn and ripped apart by forces from both within and without, with the same brutality as the gorging weather that rampages those eery Yorkshire moors. A dangerous power is unleashed within Heathcliff and his obsessive love grows and his desire for revenge on those who took it away from him engulfs his heart. His twisted torment becomes deadly and transcends into the next generation. Can peace ever be found in the wild hearts of all who inhabit Wuthering Heights?
This is Wuthering Heights as it has never been seen before. This truly theatrical experience untwists and unfurls the trickier elements of the novel, keeping it true to the story but making it equally accessible for anyone who has wanted to read it but has been put off by the 'heaviness' and length of the literature. Emma Rice (Romantics Anonymous, Wise Children, Brief Encounter) has created a modern masterpiece from a classic and her unique, creative and daring choices wowed me from beginning to end.
One of the first things to stand out was arguably the lead character in the story – the Yorkshire Moors themselves. Magnificently created by the actors as a chorus, their frantic movement quite literally brought the moors to life, allowing everything they represent to be personified. The cast vocally emerges you into the wild weather that rampages the landscape with a chilling soundscape of screams, screeches and shrieks. It raises goosebumps as if you were wrapped in the turbulent scene for real. Nandi Bhebhe (Bagdad Café, A Monster Calls, A Midsummer Nights Dream) leads this wonderfully wild chorus of Moors actors with a raw and relishing authority. She is strong, funny, captivating and has a beautiful singing voice. Minimal sets are used to maximum effect and create everything that is needed. The sparse stage is the perfect echo of the sparse moors, uncluttered, baron and with nowhere to hide.
This production of Wuthering Heights, which is co-produced by The National Theatre, Bristol Old Vic and York Theatre Royal, begins at the end. We are treated to a comedic breakdown of the complicated and entwined characters in the story, with an intimate approach by simply breaking the fourth wall. The cast makes themselves "one of us" by relating their own confusion, asking, "Why is it so difficult to follow?" and "Why do all the characters have to have the same name?" This is in no way a slight on the brilliance of Bronte's work, but a clever choice to assure the audience that we will be guided throughout the performance, and they thankfully stay faithful to their word, allowing for break out moments where the plot is recapped, the cast ask the questions we are all thinking so that we may receive and answer, and the numerous deaths are tallied and continuously made obvious by a chosen method of chalking them up on a board. Once this has been established and Lockwood has visited Cathy Linton and Hareton Earnshaw, we travel back in time to see how we got to this point.
The young Heathcliff, Catherine and Hindley Earnshaw are all portrayed by puppets, but with their counterpart older actor self, providing the voice besides them. This beautifully allows the same actor to play the character from children to adults. We immediately see the crackling relationship between Heathcliff and Catherine, and how this leads to Hindley feeling pushed out. The untamed nature of these children is quickly established through superb acting and teases us of the storm that is brewing.
These open sequences are complemented with the rest of the cast reading books around the edge of the stage, as words and sentences of the novel are projected onto the back screen in exquisite scroll. These books are duplicated throughout the production on sticks that flap and fly as the birds on the moors. Nothing in this production is by chance, every single detail has clearly been thought out, reworked, then planned a thousand more times until the genius that is this show was born.
The show is sleek and satisfying with its ability to mix Bronte's literature with new script, so we have a true Wuthering Heights but one that is interjected with modern asides to keep the audience engaged and enlightened. It is a remarkable achievement as the two scripts flow into each other without a single crack or crumble. This allows for such honourable nods to Yorkshire such as their hospitality, their love of tea, and even a Christmas song sung to the tune of "On Ilkla Moor Baht 'at (where the ducks play football)." This this leads me into my next point, because whilst this may have been a small and fun song, the singing and music in this production is insanely good! It is on the verge of being a musical as the use of song is present throughout. However, it doesn't rely on the songs to tell the story as a musical would. Instead, they enhance it and create atmosphere, and the live band throughout submerge us into the Yorkshire moors and the lives of these mixed up characters with an anthemic score usually found in big block buster films. The effect is incredible.
Lucy McCormick (Triple Threat, Post Popular, Life: LIVE!, Artist in resident at the Soho Theatre) powerfully leads the cast as Catherine and is made for this production. Her performance is feral, fierce and feisty as she twitches, growls and laughs with untamed abandonment throughout. McCormick is given flight to be at her best when she breaks into her rebellious rock song and dance routine "I Am The Earth", accompanied by a band that unleash prayer to all the rock gods! She recreates the electric intensity she is known for in her solo shows, injecting it into Catherine with all the untamed savagery needed for this tormented character. Her passion is so penetrating that you feel helpless watching the demise of Catherine. When McCormick spurges those famous words from the core of her being, "He's more myself than I am," I can honestly say that for the first time ever, I felt and understood the true depth of what they mean. She was incredible.
Liam Tamne (The Prince Of Egypt, Bonnie & Clyde, Spamilton, The Rocky Horror Show, Phantom, Les Mis) is brilliantly brooding as the wilful Heathcliff. His performance resonates as he meshes together the relevance of his hatred towards polite society, with issues of exclusion and prejudice that are still relevant today. Watching the transformation that Tamne takes Heathcliff on was so believable, it was terrifying. He took it so slowly, so subtly, that you suddenly found yourself watching a version of Heathcliff in the second act and wondered when did brooding become brutish? When did uncontrolled become uncontrollable? Tamne really drove home the dark and dangerous side of Heathcliff and between him and McCormick, their relationship was palpable.
Sam Archer (Bagdad Café, Wise Children, An Ideal Husband, La Boheme, numerous Matthew Bourne productions) springs onto the stage as both Lockwood and Edgar Linton. His Linton, particularly when first introduced and paired with Katy Owen as Isabella Linton was absolute comedy gold. The audience were belly laughing at his prancing, dancing and attempts at romancing. He was the posh, clueless, cad who had no idea of the world beyond wealth and servants and honestly had us all roaring. Equally, when things became ever more difficult and real for him upon marrying Catherine, you realised what a remarkable and well-rounded actor Archer is. As mentioned, Katy Owen (Wise Children, The Little Matchgirl and Other Happier Tales, A Midsummer Night's Dream, Rebecca) was Isabella and also young Linton. I have to say, Owen was on the verge of stealing the whole show and was an absolute audience favourite! Her physical comedy was in one word outstanding. She held the audience in the palm of her hand and one twirl across the stage, one attempt at standing up but being too weak to do so, one look, and one word with her hilariously upper class accent had us all appreciating her performance more and more. I cannot praise Owen enough. She knows her own strengths as a performer and uses them to maximum effect time and time again.
Tama Phethean (Grow Up, Be A Good Parent, Macbeth, Night Of The Living Dead Live! Manmuck) Hindley and Hareton Earnshaw and Stephanie Hockley (Malory Towers, Robin Hood, The Show Must Go On, Return To The Forbidden Planet) as Frances Earnshaw and Catherine Linton are wonderful at creating different roles and making their presence known on stage with their engaging and strong performances. They work together with an exciting energy as Hareton and Cathy and again have simply gorgeous singing voices.
Completing the ensemble are T J Holmes, Craig Johnson, Jordan Laviniere who set the cast alight by working none stop in numerous different roles, all as perfectly created as the last. Each of them stand out in their own rights and for their own reasons, whether it be as a multi-tasking musician, a wonderful comic, or a sublime dancer. They are by no means secondary members or characters of this production and their performance speaks volumes to this testimony.
Ian Ross has created an epic and atmospheric new score for this production and the combination of percussion, screeching strings and heavy rock capture the immense sense of foreboding rolling over the moors and into the lives of everyone entangled in Wuthering Heights.
If you are still reading this review, thank you. I know it's a long one, but it is a long show and it is all worthy of a mention. The first act alone is 95 minutes so if your bladder is of a weak disposition then it's advisable to tinkle before you ticket so to speak. Go and watch this production without expectation but with an open mind and heart. It is wonderful to see how a classic can be interpreted and delivered into a new world and live, thrive and survive within that world comfortably. The story has not been tampered with but it has been re-imagined and given a bold and audacious revamp, making many of its themes seem entirely relatable for todays audience. The injection of satire and humour into an otherwise dark and gothic story is one that is risqué and one that I applaud. Unique interpretation is key to this production of Wuthering Heights and tears down the old-fashioned class barriers associated with traditional and classic literature and theatre audiences, welcoming a new wave into the fold. There is still a place for such traditional pieces of course, but what this production does is recognise a much wider audience and encourages theatre for all. It cleverly pulls on themes from the book and mocks the silent hierarchy of those who still believe that classic literature and theatre are to be exclusively enjoyed by certain classes. So instead of saying "Bravo!" I will say "A Woo Hoo!" "Whoop Whoop!" and "It was reyt good kid!"


WE SCORE WUTHERING HEIGHTS - 9/10
Other events you may like...
Most Popular Shows and Events in Manchester