Manchester Theatre News & Reviews
I Should Be So Lucky - Full Casting and Press Launch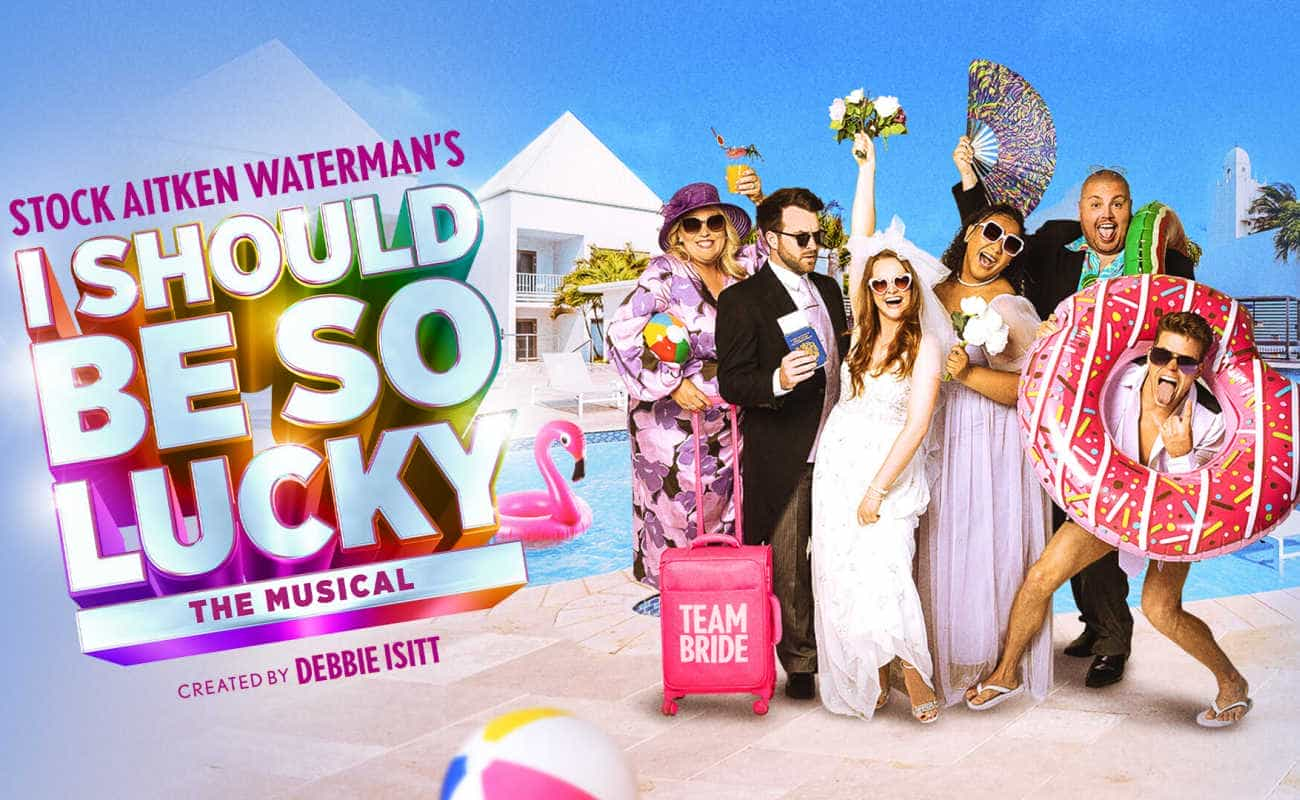 BOOK YOUR TICKETS HERE
Mike Stock, Matt Aitken, Pete Waterman, show creator Debbie Isitt and Ambassador Theatre Group Productions are delighted to announce full casting for I SHOULD BE SO LUCKY: THE STOCK AITKEN WATERMAN MUSICAL. The team also announce today that Kylie Minogue will digitally appear throughout the show as a specially created character unique to the musical. The World Premiere of the official Stock Aitken Waterman musical will open at the Manchester Opera House on Thursday 2 November 2023 before embarking on a UK tour.


Stock Aitken Waterman said today "Stock Aitken Waterman are thrilled to be part of this wonderful new adventure. To see our songs take on a new life in the world of musical theatre and working on a collaboration with Debbie Isitt and her talented team is so exciting and very special."

Kylie Minogue said today "I'm thrilled to announce that I will be joining Stock Aitken Waterman in presenting the new musical, 'I Should Be So Lucky'! It is the music that inspired a generation (plus my first five albums!) so to have all the SAW hits in this original story will make for a compelling, funny and heartfelt show. Let's enjoy the magic all over again!"
Bringing together the West End's finest talent, the full cast of the musical includes Kayla Carter (The Color Purple, Bedknobs and Broomsticks) as Bonnie, Jamie Chapman (Nativity! The Musical, The Mousetrap) as Spencer, Jemma Churchill (Guys and Dolls, Nativity! THe Musical) as Ivy, Matthew Croke (Wicked, Aladdin) as Nadeem, Jessica Daley (Mamma Mia!, Les Miserables) as Britney, Gary Davis (Annie, Oklahoma!) as Big Mike, Melissa Jacques (Everybody's Talking About Jamie, Mamma Mia!) as Shelley, Scott Paige (The Great British Bake Off Musical, Made in Dagenham) as Michael, Billy Roberts (Rock of Ages, Titanic The Musical) as Nathan, Giovanni Spanò (Jesus Christ Superstar, Bat Out of Hell) as Ash, Lucie-Mae Sumner (Mary Poppins, Guys and Dolls) as Ella and Anna Unwin (Aspects of Love) as Olivia. The cast is completed by Tegan Bannister, Ralph Bogard, Elliot Broadfoot, Emma Crossley, Kade Ferraiolo, Sydney Isitt-Ager, Joe Kelly, Aidan Nightingale, James Willoughby Moore, Lauren Woolf and Louie Wood.
THE WEDDING'S OFF, BUT THE HONEYMOON IS ON! Head from the aisle to the isles in the official Stock Aitken Waterman musical featuring the soundtrack of a generation with music from pop royalty including Kylie Minogue (I Should Be So Lucky), Rick Astley (Never Gonna Give You Up), Jason Donovan (Too Many Broken Hearts) and Bananarama (Love In The First Degree). I SHOULD BE SO LUCKY: THE STOCK AITKEN WATERMAN MUSICAL features no less than 10 Number 1 singles and over 25 songs from the Hit Factory whose music defined an era. Ella and Nathan, a young couple, hopelessly in love and about to take the biggest step of their lives – marriage. Until it doesn't go quite to plan. Will they be together forever, or will he make her cry and say goodbye?
I SHOULD BE SO LUCKY: THE STOCK AITKEN WATERMAN MUSICAL is written and directed by Debbie Isitt (the hit NATIVITY! franchise), choreographed by Jason Gilkison (Creative Director of Strictly Come Dancing and Eurovision 2023), with orchestrations and musical direction by George Dyer, set and costume design by Tom Rogers, lighting design by Howard Hudson, sound design by Ben Harrison, casting by Anne Vosser and production management by Simon Marlow. It is produced by Ambassador Theatre Group Productions and Gavin Kalin Productions.



STOCK AITKEN WATERMAN
In 1984 record promoter and producer Pete Waterman joined forces with songwriters, record producers and musicians Matt Aitken and Mike Stock, creating Stock Aitken Waterman.
Stock Aitken Waterman achieved a level of success and popularity that is unlikely to ever be repeated. Working with budding singers as well as established acts, they created an extraordinary pop catalogue that sold millions and dominated the music charts worldwide. Working with artists as diverse as Kylie Minogue, Sir Paul McCartney, Donna Summer, Dead or Alive, Rick Astley, Bananarama, Jason Donovan, Sir Cliff Richard, Mel and Kim, Sonia and many more, they provided the soundtrack to a generation that continues to be enjoyed today.
Stock Aitken Waterman were honoured to receive awards for music production and songwriting all over the world. BPI (Brit) Best Producers and 8 Ivor Novellos in the UK including Songwriter of the Year Award three times - a unique achievement, Numerous BMI Awards for songwriting and DMA Awards for production in America, JASRAC Awards (Japan) and CASH Awards (Hong Kong) and many more globally.
In the UK alone: Stock Aitken Waterman spent three and a half years without a break in the UK charts between March 1986 and October 1990 in one or more of the following roles: Record Producer, Artist, Songwriter. 13 Number 1's -three of which were consecutive, and over 100 UK Top 40 singles.
DEBBIE ISITT
Debbie Isitt is a BAFTA and EMMY award winning writer and director of film, television and theatre. Starting her career in theatre she toured across the world writing and directing with her theatre company Snarling Beasties winning numerous awards for her plays including a West End run of "The Woman Who Cooked Her Husband" starring Alison Steadman. Her first cinema film NASTY NEIGHBOURS starring Ricky Tomlinson was a major hit at the Venice Film Festival in 2000. Debbie then adapted Jacqueline Wilson's novel THE ILLUSTRATED MUM for Channel 4 winning a Bafta and two International Emmy's for best adaptation. Debbie went on to make the hit wedding comedy film CONFETTI starring a host of British comedy talent that was distributed worldwide by Fox Searchlight and nominated for a British Comedy Award in 2006. Debbie is best known for creating a hugely successful film franchise writing and directing a series of blockbuster Christmas films; Nativity! Starring Martin Freeman, Nativity 2 "Danger in the Manger" starring David Tennant, Nativity 3 "Dude Where's My Donkey?" starring Martin Clunes and Catherine Tate, and most recently Nativity Rocks! starring Celia Imrie and Craig Revel Horwood which have all been major box office hits. Debbie wrote all of the original songs in the Nativity movies and stage show alongside Nicky Ager and her five-star smash hit stage musical adaptation Nativity! The Musical has had four sensational years of sell out shows and is set to return Christmas 2024. Debbie's latest film Christmas On Mistletoe Farm enjoyed a global release last Christmas on Netflix. Debbie's next cinema film is a high school musical movie, shooting 2024.