Manchester Theatre News & Reviews
Life Of Pi's 'Richard Parker' visits The Lowry ahead of Christmas run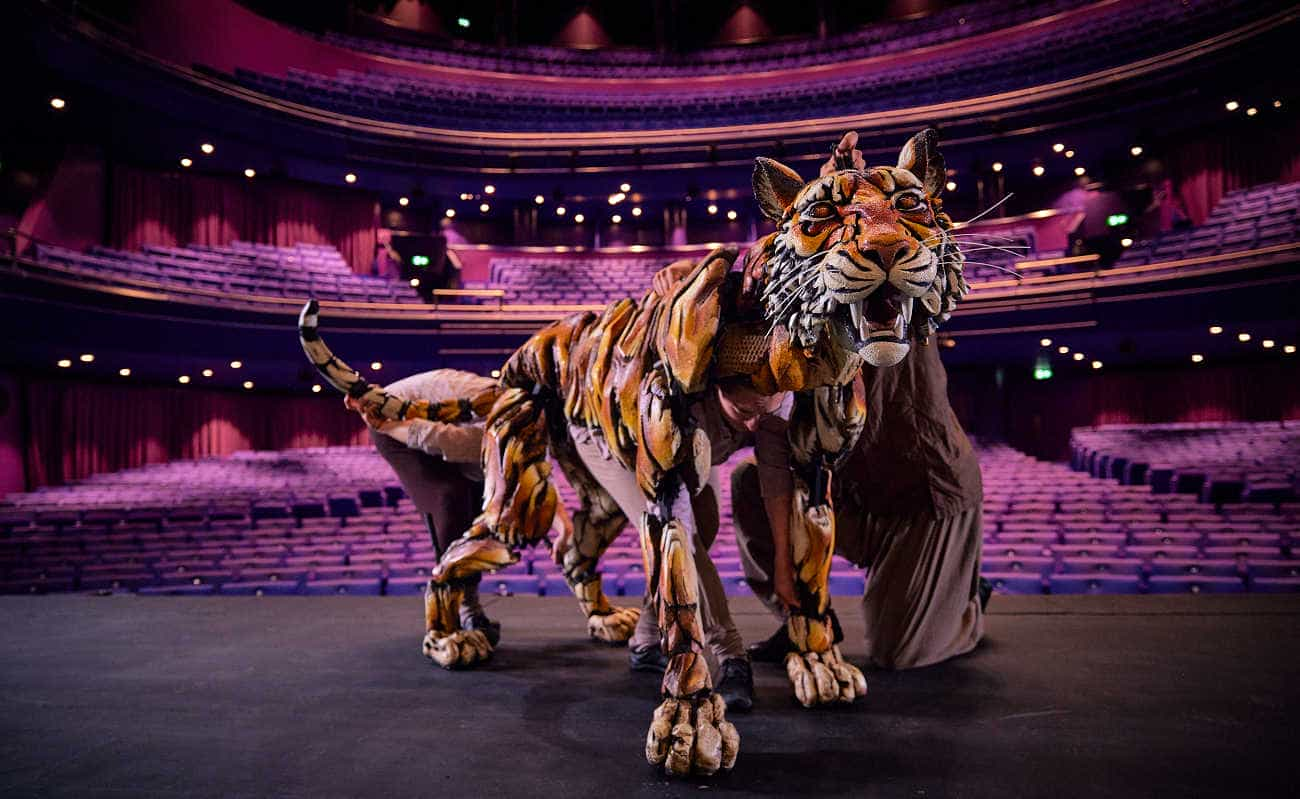 BOOK LIFE OF PI TICKETS HERE!
A very special guest visited The Lowry, Salford ahead of the award-winning Life of Pi's forthcoming Christmas season.

'Richard Parker' a life-size puppeteered Bengali Tiger that features in the show was in town for the press launch of the show, which will be running at The Lowry from Tuesday 5 December 2023 to Saturday 6 January 2024.

Also at The Lowry for the launch was playwright Lolita Chakrabarti, who adapted the much-loved novel for the stage, and Puppet & Movement Director Finn Caldwell.

The visit came in the week Life of Pi's Broadway production won 3 prizes at The Tony Awards in New York.

Life of Pi is Beginning its first-ever tour of the UK and Ireland this August 2023, before coming to The Lowry, Salford from 5th December 2023 to 6th January 2024, Divesh Subaskaran is confirmed to make his professional debut in the central role of Pi.

He is joined by Antony Antunes, who performs as Tiger Hind / Cook / Father Martin, Adwitha Arumugam as Pi Alternate, Bhawna Bhawsar as Lulu Chen/Mrs Biology Kumar, Ralph Birtwell as Mamaji/ Admiral Balbir Singh, Kriss Dosanjh as Father, Sebastian Goffin as Tiger Head, Akash Heer as Tiger Head, Romina Hytten as Tiger Heart and Hind, Katie Kennedy-Rose as Tiger Heart and Hind, Aizah Khan as Tiger Heart and Hind, Chand Martinez as Pandit-ji, Keshini Misha as Rani, Goldy Notay as Amma, Sharita Oomeer as Lulu Chen / Mrs Biology Kumar, Kate Rowsell as Tiger Heart and Hind, Lilian Tsang as Mrs Okamoto/Zaida Khan/Ships Captain, Peter Twose and Tiger Head/Voice of Richard Parker/Cook/Father Martin.



'IT WILL MAKE YOU BELIEVE IN THEATRE. A TRIUMPH.'
SUNDAY TIMES


Life of Pi, which concluded its West End run on 15th January 2023, first opened to critical acclaim at the Crucible theatre in Sheffield in 2019. International commitments for the show include its North American Premiere at the American Repertory Theater at Harvard University where it ran from 4th December 2022 to 29th January 2023, followed by its Broadway premiere at the Gerald Schoenfeld Theater where it opened on 9th March 2024. A European tour will follow the tour of the UK and Ireland and there are plans underway for a tour of Australia and Asia.

Life of Pi won five Olivier Awards in April 2022. As well as Best New Play, and Best Actor for Hiran Abeysekera (the original Pi); in an historic first for the Olivier Awards - the seven performers who puppeteer the Tiger 'Richard Parker' were collectively awarded Best Actor in a Supporting Role. The production also picked up awards for set (Tim Hatley, Nick Barnes and Finn Caldwell), and lighting design (Tim Lutkin and Andrzej Goulding).

Opening to celebratory reviews on Broadway in March the production this week won Tony Awards in the following categories: Best Scenic Design, Best Lighting Design and Best Sound Design.


'THE PUPPETRY IS OUT OF THIS WORLD'
DAILY MAIL


The production is directed by Max Webster, Set and Costume Designer is Tim Hatley, the Puppet Designers are Nick Barnes and Finn Caldwell, the Puppet and Movement Director is Finn Caldwell, the Video Designer is Andrzej Goulding, the Lighting Designer is Tim Lutkin, the Sound Designer is Carolyn Downing, the Composer is Andrew T Mackay, Dramaturgy is by Jack Bradley, the Casting Director is Polly Jerrold, the Associate Director is Leigh Toney, the Associate Puppetry and Movement Director is Scarlet Wilderink, the Associate Set Designer is Ross Edwards, the Associate Puppet Designer is Caroline Bowman, the Costume Supervisor is Sabrina Cuniberto and the Props Supervisor is Ryan O'Conner.

Based on one of the best-loved works of fiction – winner of the Man Booker Prize, selling over fifteen million copies worldwide – Life of Pi is a breath-taking new theatrical adaptation of an epic journey of endurance and hope.
After a cargo ship sinks in the middle of the vast Pacific Ocean, there are five survivors stranded on a single lifeboat – a hyena, a zebra, an orangutan, a sixteen-year-old boy, and a 450-pound Royal Bengal tiger. Time is against them, nature is harsh, who will survive?
Award-winning writer Yann Martel's works include The Facts Behind the Helsinki Roccamatios (1993), Self (1996), We Ate the Children Last (2004), Beatrice and Virgil (2010) – a New York Times Bestseller and a Financial Times Best Book, 101 Letters to a Prime Minister (2012) – a collection of letters to the prime minister of Canada; and The High Mountains of Portugal (2016).


'EVERYTHING ABOUT THIS PRODUCTION IS AMAZING.'
OBSERVER


Life of Pi is produced by Simon Friend in association with Playing Field and Tulchin/Bartner.

THE SPELLBINDING SHOW PLAYS THE LOWRY FROM TUESDAY 5 DECEMBER 2023 TO SATURDAY 6 JANUARY 2024