Manchester Theatre News & Reviews
REVIEW - A View From The Bridge is gripping and performed brilliantly by an excellent cast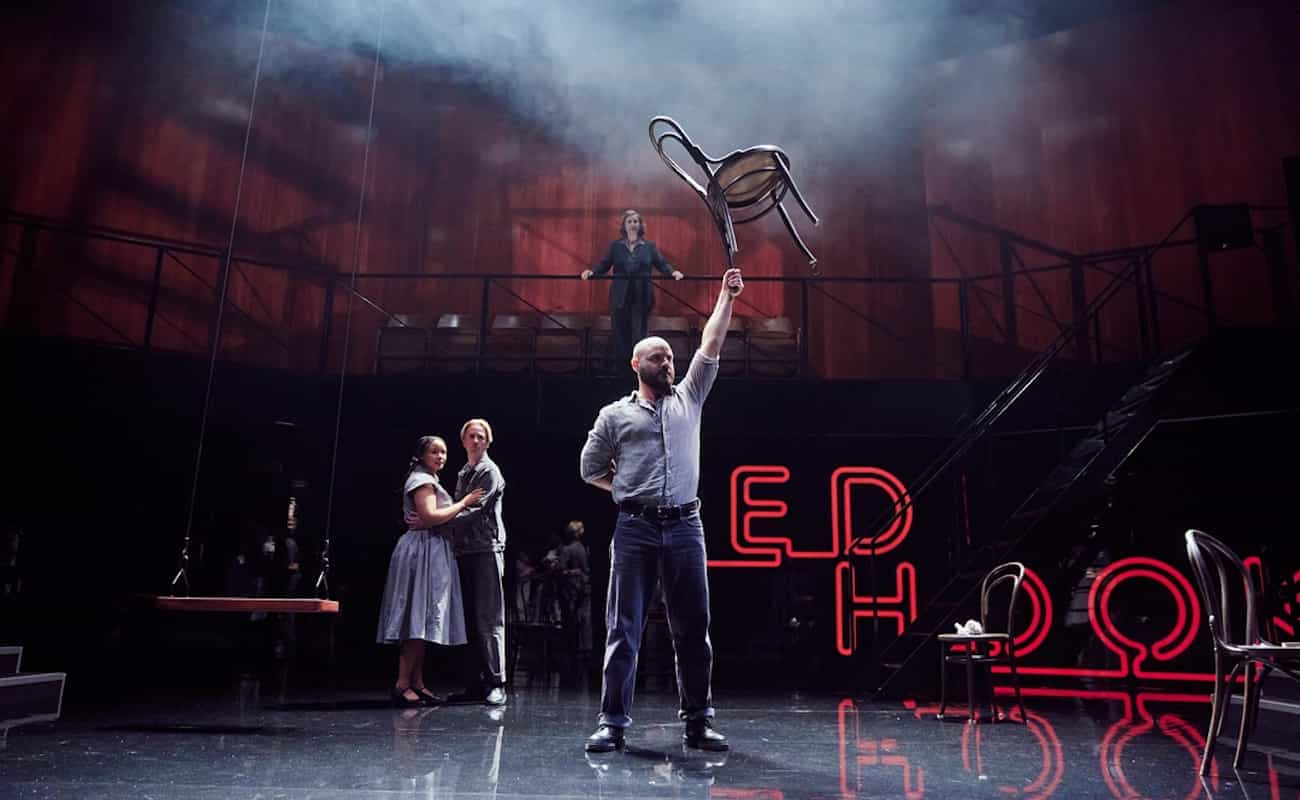 BOOK YOUR TICKETS HERE!
On Wednesday, we were invited to The Octagon, Bolton to see A View From The Bridge. Our reviewer, Julie Wilson went to see the show. Read what she thought of the production...


Arthur Miller's 'A View From The Bridge' set in Red Hook on the Brooklyn waterfront in an Italian American neighbourhood tells the story of Eddie (Jonathan Slinger) a dock worker, his wife Beatrice (Kirsty Bushell) and their orphaned niece Catherine (Rachelle Diedericks). They take in Beatrice's illegal immigrant cousins from Italy Marco (Tommy Sim'aan) and Rodolpho (Luke Newberry) with good intentions, however the story spins on its head after Catherine falls for Rodolpho and they agree to wed, encouraged by Beatrice but despised by Eddie whose desires for his niece are more than what would be expected for a surrogate father. Emotions spiralling out of control turn the play into a tragedy and Eddie into the person he once despised.


Director Holly Race Roughan's cast choice is excellent, Jonathan Slinger as Eddie is not only humorous but plays the serious, frustrated and tragic character with such power and ease, his turmoil of emotions although uncomfortable at times brought me great empathy for the tragic character. Kirsty Bushell was excellent in her portrayal of Eddie's frustrated wife, trying her hardest to hold the family together, not to mention her Italian/American accent which transported me to the streets of Brooklyn. The naïve, innocent niece Catherine played by Rachelle Diedericks, who develops into a young woman was played beautifully and with great balance between her two characters.


The staging was simple with a black reflective floor perhaps portraying the Brooklyn River and a simple swing in the background. The lighting (Alex Fernandes) conveying the darkness of the riverside along with the large red letters of 'Red Hook' which dimmed during the tragedy were effective in setting the mood of the play.
The scenes are emotional and powerful, especially the fight scenes and the tragic death scene during the second half, which brought me to tears and captivated the whole audience with a well-deserved standing ovation at the end.


Alfieri played by Nancy Crane deserves a mention. Nancy allowed us to see the world through the eyes of other characters, which was particularly important for characters such as Eddie. As the first female to play this part she did not disappoint.
The gripping, dramatic and tragic story of love, prejudice and selfishness was performed brilliantly by an excellent cast which left me felling slightly heartbroken for the characters. A play that is definitely not one to miss.

WE SCORE A VIEW FROM THE BRIDGE...





A View From The Bridge is on at The Octagon, Bolton until Saturday 30th September 2023.


WATCH OUR "IN CONVERSATION WITH NANCY CRANE" VIDEO