Manchester Theatre News & Reviews
REVIEW - The Way Old Friends Do mixes new and nostalgic perfectly - a Super Trouper of a show!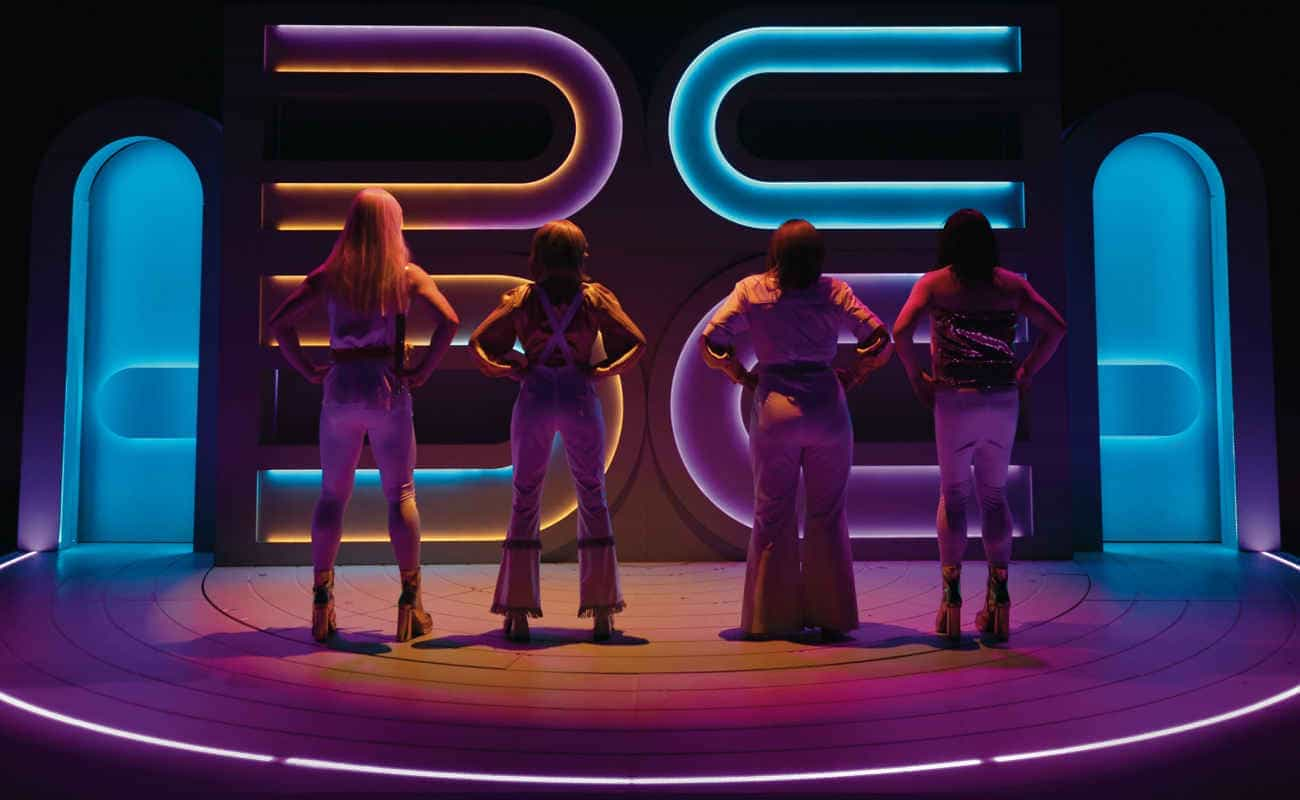 BOOK YOUR TICKETS HERE!
On Monday, we were invited to The Lowry, Salford to watch The Way Old Friends Do. Read what our reviewer Christa Norton thought about the new comedy production...

I have seen a number of shows and plays recently that explore our nostalgia for the pop music of previous generations – and how this same music is now finding a new audience amongst GenZ, bringing different generations together to share new experiences as well as enjoy the nostalgia.


I find this idea of mixing 'new and nostalgic' together quite fascinating, so I was particularly interested to see this new play 'The Way Old Friends Do'. Written by actor and playwright Ian Hallard (Adventurous, Horse-Play) and directed by his husband Mark Gatiss (Sherlock, Dr Who, The League of Gentleman), it follows the friendship of two gay men as they launch an ABBA tribute band. The twist? It's a drag act.



The story begins in 2015, when two former schoolfriends – Peter (performed by Hallard himself) and Edward (performed by James Bradshaw (Endeavour, Hollyoaks)) are reunited after twenty years through the wonder of social media. Or rather through the lesser wonder of Grindr. One wine-filled lunch later and the concept for an ABBA tribute drag act is born. It follows their journey – and their increasing success – over the next seven years through both Brexit and Covid, finishing as ABBA announce their own reunion.

Yet the play is much less concerned with the whys and wherefores of their success, and instead focuses on the impact this has on their relationships with each other, and with their off-stage families and friends.



Hallard is excellent as Peter, a gentle, easy going character completely and utterly obsessed with ABBA – even "before they were popular again." At 40ish years old, his teenage-y committed adoration of, and enthusiasm for the band is endearing – yet belies a certain naivety to the character which ultimately leads to the break up of their act. That said, there is a certain strength to Peter.

For example, in one scene, we witness Peter finally decide to come out to his elderly Nan (voiced by the inimitable Miriam Margolyes (Harry Potter series, Romeo and Juliet)), who he has never told that he is bisexual. In this moment, Hallard's acting really brings home to the audience the fear that surrounds saying words that cannot be unsaid, the fear of loss, of rejection. For anyone not in that position, it is impossible to appreciate, but just for a second, I felt like I understood. This scene was also an excellent piece of stagecraft: Margolyes had recorded her lines so Hallard was effectively in conversation with a recording, yet the cadence of the conversation never felt forced or rushed, but entirely natural.



Bradshaw's Edward is a natural foil to Peter. Seemingly brash and garish throughout, with little to no thought to the sensibilities of others, Bradshaw's superb acting nevertheless allows us brief glimpses of a man deeply uncertain as to who he is or what he wants. In the scene when Edward is finally seduced by Christian (in a gloriously devious performance by Andrew Horton (The Picture of Dorian Gray, Dracula), he clearly has doubts; despite his earlier leering and lechery, once in bed he is much more hesitant, you can see him asking whether this fling is really worth his marriage. More importantly, he is completely aware of his own faults – describing himself at one point as the epitome of the midlife crisis. His character arc, as he comes to take responsibility for his own decisions, is the most satisfying of the play.



Hallard and Bradshaw are supported by a truly wonderful supporting cast who bring real heart to their roles. In comedies, it can be very easy for the characters to become more like caricatures, but these performances felt genuine and rounded. Donna Berlin's (In Darkness, Dinner with my Sisters) Sally is ballsy, bossy and possibly the only person who can keep Edward in order. Yet she has one of the most touching moments of the play, smiling through clear heartache as she tells Peter that the latest round of IVF for her and her wife has failed. In the context of the play it is little more than a passing moment, but there was a sigh of sadness from the audience at this point, Berlin's performance touching everyone's hearts.



The role of Mrs Campbell was due to be played by Sara Crowe (Four Weddings and a Funeral, Carry on Columbus) but for this performance we were treated to Tariye Peterside (Lysistrata, The Game's Afoot), who is an absolute joy. Her comic timing is simply brilliant and she received the biggest laughs of the night, playing the character as that person who is definitely in the same room, but maybe not on the same planet.
Rose Shalloo (A Christmas Carol, Fiddler on the Roof) completes the cast with a sweet performance of the role of Jodie. Like the rest of the cast, she is a brilliant comedian, but it is her ability to turn what could be a fairly uninteresting character into the heart of the show that really stands out.



A final and unexpected cameo comes from another recording, this time of the late and great Paul O'Grady, who provides the voice of the Radio DJ. The performance opens with his voice and again, the audience couldn't help but cheer.

The staging and costumes are fantastic and really help bring a sense of disco to the production. The staging is particularly inventive: a rotating screen styled around the word ABBA, with the As forming doorways for entrances and exits, whilst the middle B letters provide some incredibly cool lighting effects. Make up, wigs, stick on beards (yes!) and the recreation of some of ABBA's iconic stage outfits bring the entire production together with vibrancy.



I had the most fantastic time watching 'The Way Old Friends Do' and - from the buzz and laughter - the rest of the audience seemed to agree with me. However this perhaps isn't a show for the easily offended as Hallard has taken what I can only describe as a 'South Park' style approach to the humour: it spans from clever and witty through to downright filthy in places and no-one escapes: religion, sexuality, disability, ethnicity, everything gets a spotlight. Yet, unlike South Park, the jokes are for the most part affectionate, and always self aware; it offers the audience the chance to laugh at their own absurdities as well as the foibles of others.



As we reached the end of the play, for me one thing that was missing was the performance itself – we only see behind the scenes during the play and to be honest, I really wanted to see a drag ABBA! However, we were all rewarded with a full rendition of Dancing Queen complete with costumes, wigs, make up and beards as part of the curtain call - and it is the perfect way to end the play.

WE SCORE THE WAY OLD FRIENDS DO...


The Way Old Friends Do is on at The Lowry until Saturday 27th May 2023.


Watch our video "In Conversation with Ian Hallard" discussing the show.


WE HAVE AN EXCLUSIVE OFFER FOR TUESDAY'S PERFORMANCES - 2 FOR 1 TICKETS