Manchester Theatre News & Reviews
REVIEW - WASTELAND is entirely captivating, gripping and one of the best pieces of dance theatre seen in years!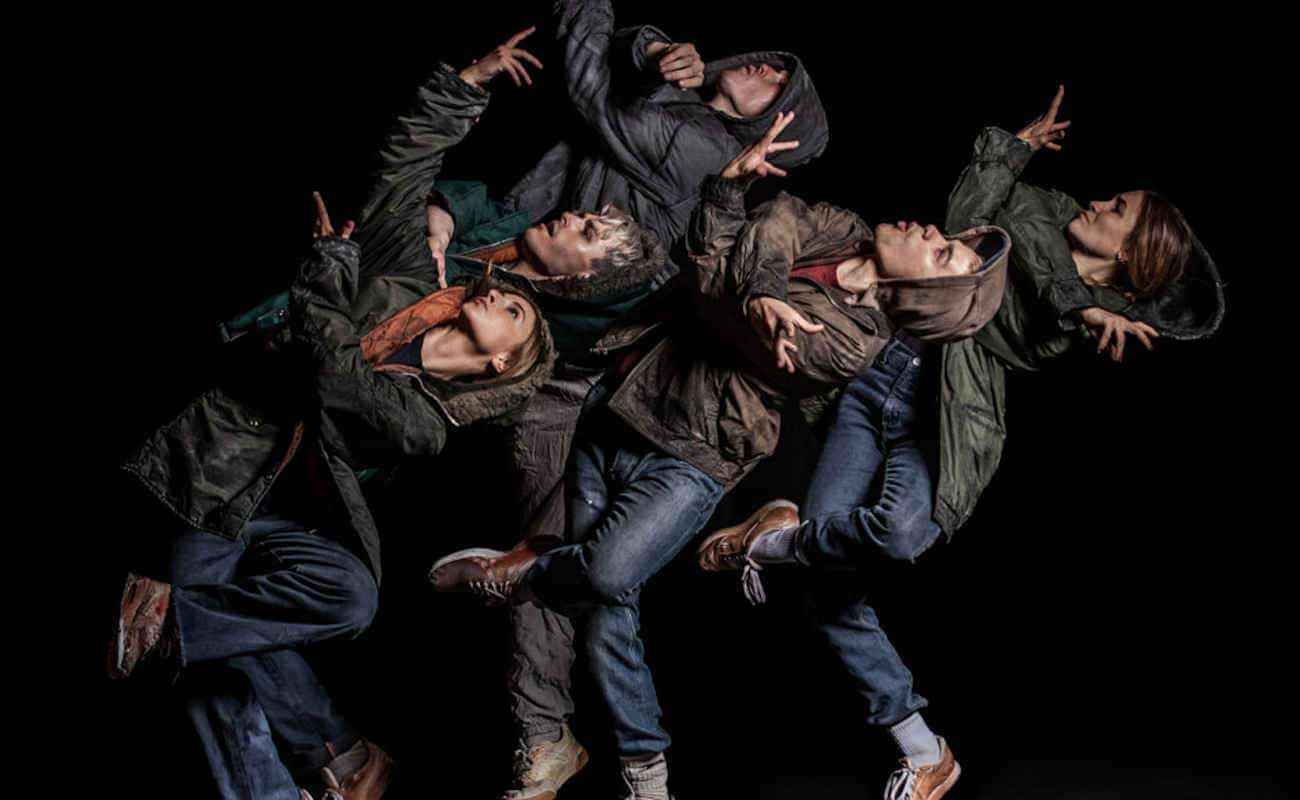 BOOK TICKETS FOR WASTELAND
On Wednesday, we were invited to Contact in Manchester to see WASTELAND. Read what our reviewer, Laura Carnaby had to say about this superb production...


Graduating from The Northern School of Contemporary Dance just eight years before I graduated from the Royal Academy of Dance, I have always held Gary Clarke and his Dance Company in the highest of esteem; following his progress from being a young dance student to some seventeen years later. It feels as though I know Clarke personally, not because I do, but because of the accessibility of his work and his ability to capture even the most sceptical of audience member. Clarke has become synonymous with winning award after award for his innovative theatrical dance works and site-specific choreography: regularly using pubs, clubs, graveyards and galleries as his backdrops. Clarke's choreography is thought provoking, humbling, visually striking and current, so when I was given the opportunity to finally watch his Company's production of WASTELAND, and sequel to COAL, I jumped (barrel turned) at the chance.
For those readers who haven't watched COAL, it explores the darker side of the mining industry, unearthing the body-wrecking demands of working-class life that are often forgotten today. Performed by just seven dancers, alongside a live brass band, COAL is emotional, moving, immersive and as-ever from Clarke, explorative. On the back of COAL, nearly 4 years later in 2019, came WASTELAND: created to mark the 25th Anniversary since the demolition of Grimethorpe Colliery and its surrounding tight-knit working-class community. It also marks 30 years since the rise of UK rave culture. It considers the fractured relationship between a father and his son and considers how two generations cope in an era filled with radical upheaval. We see the father and his generation slow exhaustedly while the son becomes embroiled in the 90s and its illegal rave scene, where derelict warehouses and abandoned workspaces become space for a community built on the foundation of music and dance. WASTELAND considers loss, hope, escapism and survival, and magnificently nods to our yesteryears while managing – as always with Clarke – to be so incredibly, well… cool.
"In 1994, the European Study of Deprivation named my home village of Grimethorpe as one of the poorest villages in Europe. As poverty and depression shattered through the village, the future looked bleak for my generation. The birth of the rave culture gave many of us the opportunity to escape these grim and grey realities and into a new world of expressive music and hard-core dance. WASTELAND is my attempt at recapturing this pivotal time in British history when industrial Britain fell and a new subculture emerged. I owe my passion for movement and dance to this time and the people who lived it", said Clarke in 2019. WASTELAND is therefore based on Clarke's own experience of reaching maturity at the height of the rave movement, alongside the many hours of interviews with former miners and with people who, like him, found escape through rave music and alternative subculture.
WASTELAND's set is exactly as you'd imagine: the space feels grimy, dirty, dark, and whether it's psychosomatic or not, the air smells as though the audience is surrounded by a mixture of coal and sweat. A projection screen dominates the stage, with archive footage and artwork by Jimmy Cauty used throughout the 85-minute interval-less Show; to further capture both the tragedy of mining's last days and the exhilaration of rave's roots. Jimmy Cauty was the co-founder of The KLF, a British electronic band, and artist, who became well-known for his yellow smiley-face artwork in which he painted over ex-police riot shields as a symbol of non-violent direct action and as a self-protective measure for his step-daughter during the Occupy St Paul's eviction. As part of the recorded music score, some of The KLF's rave music is used.

Similarly to how Clarke utilises his fellow Northerner's kindred heritage and links with both art and music amidst a political landscape as part of his set, so too does Clarke's adoption of live musicians: a community cast of 4 'Pit Men Singers' unique to each area in which the Show tours alongside 2 Brass Players. Back in 2019 when WASTELAND was first touring, Clarke stated that: "Like COAL, communities are at the heart of WASTELAND and it felt wrong to make a new show about communities without involving them".
With a cast of just 6 dancers and the 6 musicians, WASTELAND is entirely captivating, gripping and quite honestly, one of the best pieces of dance theatre I've seen in years. The Last Miner, played by Parsifal James Hurst (Matthew Bourne's New Adventures and Fallen Angel Dance Company), remains on stage throughout and depicts a haunting portrait of life post-mine closures. He is enthralling, emotional, and like all of Clarke's dancers; one feels as though there is far more dialogue used than the miniscule amounts that there are. His relationship with his son is moving and their scenes together tug at the heart strings.

The Boy played by Robert Anderson (Richard Chapelle Dance) is a phenomenal male co-lead that oozes both emotional maturity and immaturity in one. One scene sees Anderson dancing on a mattress in which there are elements of contemporary dance and contortion that mimic the drug-induced state of rave that, as with Parsifal James Hurst, is as though Anderson has delivered a 20-minute monologue as opposed to a 20-minute dance solo. He is riveting and I could not take my eyes off him.
The 4 ravers are a feat of energy and create a relentless vibe of pulse-racing anxiety, ferocity, and all-out sweat. Played by Jake Evans (The Royal Shakespeare Company), Shelley Eva Haden (Royal Danish Opera, Wayne McGregor), Patricia Langa (Rambert Dance Company) and Emily Thompson Smith (Shobana Jeyasingh, The Royal Shakespeare Company), I could watch them 'rave' for 20-minutes again and again. Clarke flexes his choreographic prowess throughout, but especially within these scenes, in which he perfectly synonymises choreographic content with rave culture and music. The music is so repetitive and perturbing that one is desperate for the rave to stop… but at the same time, never stop. It is difficult to watch yet even more difficult to not.

Without giving too much away, this show is so entirely enthralling, exciting and emotional, I both laughed and cried. The juxtaposition of the father and son's different worlds yet their love for one another through times in which they're trying to get through their individual turmoil is moving, poignant and even though set in the 90s: current.

The audience appeared to be a mixture of people like me that are dance enthusiasts, or those brought up in the 90s who remembered mines being closed throughout the UK. I didn't see one 'bathroom break' audience member leave the theatre during the 85-minute Show and everybody looked as magnetised as me. If you are even remotely interested in contemporary dance or simply a theatre goer who's always happy to watch something different; I urge you to go and watch WASTELAND: an unforgettable and compelling night of dance theatre, and one of the best things I have watched in years.
WE SCORE WASTELAND...





WASTELAND is on at Contact until Friday 3rd February.


WE HAVE AN EXCLUSIVE 30% OFF DEAL FOR YOU TOO!