Manchester Theatre News & Reviews
This Week's Best Movie Releases & £5 Off Cinema Tickets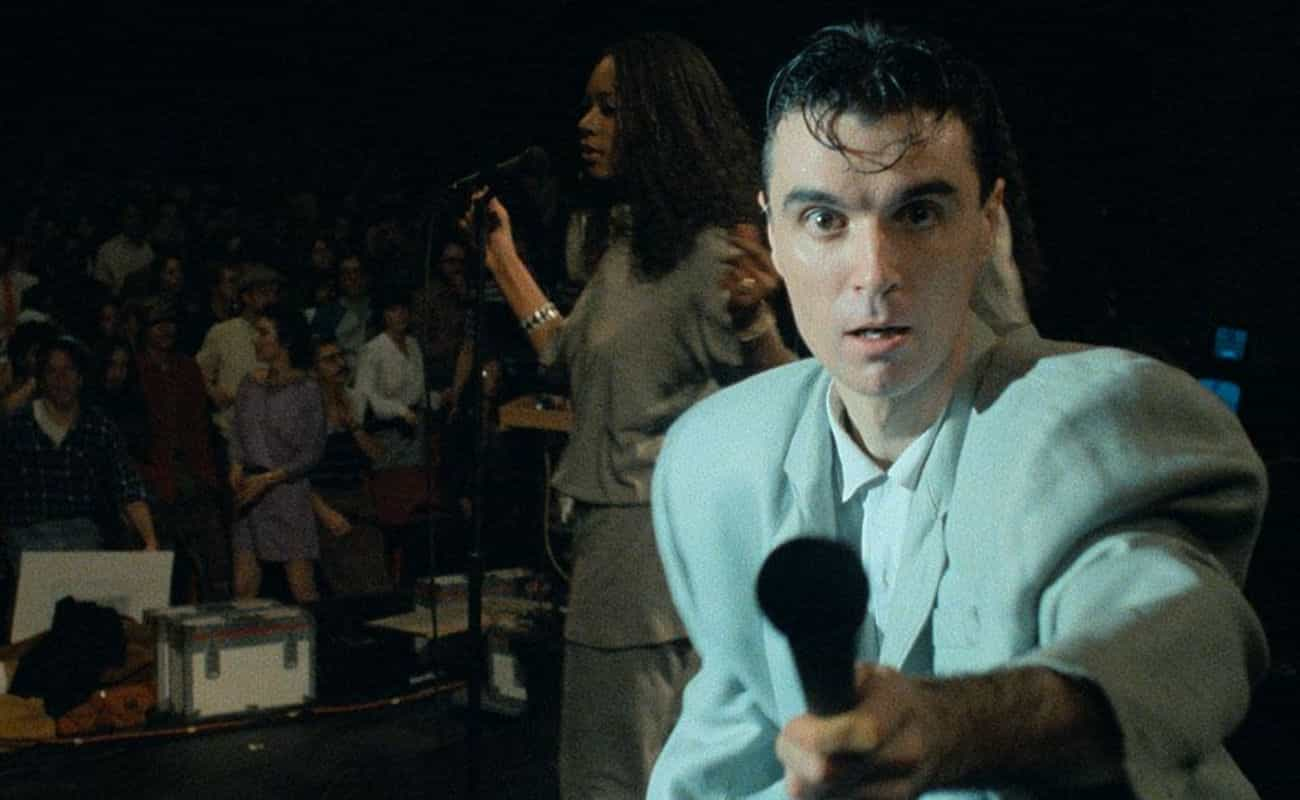 ~ Save up to £5 on cinema tickets ~
Below, we've rounded up the 10 best films currently screening in Manchester cinemas together with the 10 best releases new to the streaming services this week (Updated 29 Sep 2023):
1 ~ STOP MAKING SENSE (40th Anniversary IMAX Restoration)

Truly captivating entertainment. The Silence Of The Lambs director captures Talking Heads in concert. ~ Empire
It's time to dig out your ludicrously large suit, and brush up your best David Byrne dance moves. Because, as A24 is claiming (and frankly nobody is arguing), "the greatest concert movie of all time" is coming back to cinemas. Yes, it's 40 years since Stop Making Sense brought the immaculate vibes of the Talking Heads to the big screen, marshaled by none other than director Jonathan Demme – resulting in an all-time classic music movie. ~ Empire.
This document of Talking Heads' innovative 1983-84 stage show is perhaps the greatest of all concert movies, as well as a unique cinema classic in its own right. ~ Radio Times.
First released in 1984, the film has since been routinely hailed as the greatest concert movie ever made. But wait. Is that truth or fact? A welcome chance to find out comes with a major reissue, spiffed up by a pin-sharp restoration. ~ Financial Times.
An all-time classic. Rather than being lost as an artefact of its time, the film remains as fresh as ever, even if that famous suit has long since gone out of fashion. ~ The Observer.
2 ~ TOY STORY (Disney 100 Screening)

It is a joy to see these superb films back on the big screen, even after dozens of DVD viewings. ~ The Times.
Though this magnificent film will go down in history as the first completely computer-generated animation feature, it is much more than just a technical tour de force. Director John Lasseter has delivered a great adventure story that will not only entertain children but can also be enjoyed as a jokey parable by adults.~ Radio Times.
Its lightness of touch has not diminished, nor has its near-miraculous kidult-fusion humour. ~ The Guardian.
Of course, Toy Story has none of the sweet magic we might expect from old-style animation. Indeed there's hardly a beautiful thing in the film at all that's not simply lovely as a piece of technique. But it represents the kind of world that modern kids inhabit, touched with technical genius. ~ The Guardian.
Just perfect.~ Empire.
3 ~ PAST LIVES

Forget Barbenheimer, this is the summer movie you need to see; a quiet, clever drama which blows your fave blockbusters away – and there's not an atom bomb in sight. ~ NME.
One of the most affecting films of the year. ~ Empire.
A delicate and sophisticated, but also simple and direct must-see story of lost loves, childhood crushes and changing identities." ~ The Guardian.
Playwright Celine Song makes her extraordinarily accomplished film debut with a beautiful, aching story about childhood sweethearts reconnecting. ~ The Guardian.
This supremely confident feature debut from the Korean-Canadian writer-director is a spine-tingling gem. ~ Mark Kermode, Observer.
Her time-spanning romance is an exquisitely judged wonder. A directorial debut of remarkable poise and power." ~ Total Film.
A tender exploration of multiethnic romance, it is complimented by nuanced performances from Greta Lee and John Magaro. ~ Little White Lies.
Beautifully performed and shot, it is destined to be talked about for years. ~ Radio Times.
A masterclass in slow, simmering storytelling. It will stay with you, maybe even into your next life. ~ Empire.
4 ~ OPPENHEIMER

This combustible and relentlessly-paced biography of the 'father of the the atomic bomb' is a contender for Christopher Nolan's best film. ~ Little White Lies.
It's boldly imaginative and his most mature work yet. ~ BBC.
A masterfully constructed character study from a great director operating on a whole new level. A film that you don't merely watch, but must reckon with. ~ Empire.
5 ~ THE LORD OF THE RINGS: THE RETURN OF THE KING (4K Extended Edition)

The resounding climax to a landmark in cinema history. ~ Empire.
And so it ends, the greatest film trilogy ever mounted, with some of the most amazing action sequences committed to celluloid. The Return of the King is everything a Ring fan could possibly wish for, and much more. ~ The Times.
This is the crowning glory - a cinematic feat that satisfies at every level. ~ Sky Cinema.
Majestic, moving and immense, it is about as awesome as cinema gets. Sure, there are some problems, but it's hard to imagine a more assured adaptation of the final volume of JRR Tolkien's fantasy masterwork. ~ BBC.
A worthy conclusion to a modern epic. Don't worry that your expectations will be too high - Return of the King will exceed them all. ~ Total Film.
6 ~ THE EXORCIST (50th Anniversary 4K Restoration)

It was the movie phenomenon of the year. When The Exorcist was released to an unsuspecting American public on St Stephen's Day, 1973, cinema-owners reported faintings and convulsions among their audiences. One announced that: "My janitors are going crazy wiping up the vomit." As a marketing hype, it worked brilliantly: movie-goers queued around the block to share in this dubious experience. ~ Irish Times.
The 50th anniversary extended director's cut of the 1973 tale of teenage possession still shocks. William Friedkin's head-swivelling horror is still diabolically inspired. ~ The Guardian
Unbelievably scary when it first came out, its overall impact has been lessened by time and repeated genre duplication. But the macabre, obscene demonstrations of manifest evil still retain their power to startle and nauseate. ~ Radio Times.
Essential viewing for anyone who loves cinema. If you can endure it. ~ Total Film.
7 ~ FAIR PLAY

Phoebe Dynevor and Alden Ehrenreich give top-tier performances in a juicy crowd-pleaser about a couple competing at the same workplace. ~ The Guardian.
There's something bracingly modern yet deliberately old-fashioned about this guilty pleasure thriller set in the aspirational world of Manhattan high finance. ~ The Times.
More an introduction to the erotic-thriller genre than an immediate classic, Fair Play is a slickly made tale of twisted love that keeps you holding your breath until the end. ~ Empire.
8 ~ BARBIE

Barbie is one of the most inventive, immaculately crafted and surprising mainstream films in recent memory - a testament to what can be achieved within even the deepest bowels of capitalism. ~ The Independent.
Greta Gerwig's film – while still fundamentally being a summer comedy adventure about the Barbie toy line – is far from the blunt-force cash grab many of us feared. In fact it's deeply bizarre, conceptually slippery and often roar-out-loud hilarious.~ Daily Telegraph.
It's funny, it's bright and uplifting, and I think has a lot to say about the modern world – both in terms of feminism and gender equality. ~ BBC.
At its best, the movie is like the kind of high-end restaurant that serves great food in the playful guise of favourite childhood desserts. The pleasures of that - and the chutzpah of doing it at blockbuster scale - are to be applauded. ~ Financial Times.
What a gorgeous and fascinating mishmash this is. ~ The Times.
9 ~ R.M.N.

Another very special film from the exceptionally gifted and thoughtful (and extremely angry) Romanian director Cristian Mungiu, who returns with a superb intimate and intricate social realist western with its finger on the erratic pulse of Europe. ~ Little White Lies.
The Romanian new wave veteran tackles Europe's new wave of xenophobia in a compelling slowburn drama. ~ Time Out.
A low-key drama about a multi-ethnic community in Transylvania who turn on a group of Sri Lankan immigrants. ~ Guardian.
10 ~ THEATER CAMP

This joyous mockumentary is the funniest film in years. A sparkling comedy about a children's drama club which lampoons its subjects with such boundless affection, it leaves you loving them even more. ~ The Times.
Molly Gordon and Nick Lieberman have made watching bad acting a thrill in this zippy and joke-filled deeply charming and hilarious mockumentary about jazz-handing theatre kids.~ The Guardian.
Relentless gags, spot-on performances and dazzling showtunes to boot it is a feel-good delight. Jokes are pumped out at a rate of knots — barely 20 seconds ever go by without you laughing. ~ Empire.
__________________________

__________________________
NEW TO STREAMING:
AMAZON PRIME & YOUTUBE - THE GOLD RUSH

Quoted by Chaplin as "The picture I want to be remembered by", this comedy gem features some of his funniest scenes, including him eating his boot. ~ BBC.
The most light-hearted of his great features. The comedy dazzles (the dance of the bread rolls) and darkens (his starving comrade hallucinates that Charlie is a very edible chicken), but the ending is wonderfully affirmative, a fact that he couldn't help mocking. ~ Radio Times.
Brilliantly directed and realised, the comic set pieces are of a quality rarely seen in modern cinema. It's easy to see why this has consistently entertained generations of audiences.~ Empire.
BBC iPLAYER - PSYCHO

The best horror film of all time. ~ Mark Kermode, The Observer.
Containing the most famous montage sequence since The Battleship Potemkin (namely that shower scene), this is easily the most shocking film produced by the "Master of Suspense", Alfred Hitchcock. ~ Radio Times.
His 1960 horror thriller is one of the most celebrated films in history. Even now, it's distinctly unnerving. ~ The Telegraph.
As effective as it is as a genre piece, the proceedings are of course shot through with Hitchcock¹s sly, mordant and slightly sadistic humour which revels in the consequences of the oedipally induced madness and the sardonic irony of much of the dialogue. For all its playfulness however, it's still gripping and irrevocably gruesome fare played to perfection by a top notch cast, chief amongst them a suitably jumpy Anthony Perkins in a career defining role. An audacious treasure trove of riches. ~ BBC.
AMAZON PRIME & YOUTUBE - THE THIEF OF BAGDAD (1924 version)

For 70 years, Douglas Fairbanks's greatest triumph has languished in the shadow of Alexander Korda's lavish 1940 Technicolor Thief of Bagdad. Both movies are marvellous, different in tone but perfect for their times. ~ The Observer.
Fairbanks is magnetic in this fun early adventure. ~ Empire.
With a budget of around two million dollars, it was among the most expensive films of the 1920s. Using state-of-the-art special effects, it is a visual feast with flying horses, magic carpets, and exquisite sets, supporting the entertaining story of a charming rogue who undertakes great quests to win the favours of a beautiful princess (Julanne Johnston). ~ AllMovie.
Maybe it dawdles in some sections and some performances are distinctly wobbly, but even those, like the special effects, have a charm all their own. ~ Radio Times.
BBC iPLAYER - WEST SIDE STORY

This really is the musical for people who don't like musicals. ~ Empire.
Ten well-deserved Oscars - plus a special award for Jerome Robbins's dynamic choreography - adorned this electrifying and moving version of the magnificent Leonard Bernstein/Stephen Sondheim musical. ~ Radio Times.
It is at least the best screen musical since On the Town and may not get all the praise it deserves: it is galvanic, technically thrilling, and stylised with a neurotic skill sometimes only just short of genius. ~ The Observer.
It's the groundbreaking combination of toe-tapping tunes and wailing pathos, which makes this a truly arresting musical. ~ BBC.
It's impossible to begrudge the vertiginous energy and feeling that make this one of the great American musicals, and one radically told through dance. ~ The Telegraph.
Not seen it? Time you did. ~ Total Film.
AMAZON PRIME & YOUTUBE - HAXAN

Häxan is a fictional horror film in the form of a documentary, featuring crude black-and-white cinematography, a nonlinear structure, and grotesque imagery. ~ AllMovie.
This illuminating, frightening and amusing film was banned in some countries at the time, ostensibly because of its violence and nudity but its anticlericalism might have weighed more heavily with the censors. ~ Radio Times.
Danish director Benjamin Christensen's documentary-style investigation into Witchcraft through the Ages (the English title) employs an array of cinematic devices, with etchings, manuscripts and re-enacted episodes, in which Christensen himself plays the Devil. ~ Radio Times.
If this reminds you of The Blair Witch Project (1999), it's no coincidence - the makers of that film named their production company "Haxan" as a tribute to Benjamin Christensen's film. ~ AllMovie.
BBC iPLAYER - HAMZA: STRICTLY BIRDS OF PREY

A solid hour of utter loveliness from the Strictly winner; cameraman Hamza Yassin takes us to his Scottish village home for adorable meetings with locals – and magnificent encounters with eagles and ospreys. It's joyful, escapist TV. ~ The Observer.
What a joy to see the Glitterball champ in his natural habitat. The 2022 Strictly winner fronts this infectiously inspiring nature programme in which he films his favourite birds of prey in the wild.~ The Telegraph.
BBC iPLAYER - THE SHOP AROUND THE CORNER

One of the greatest romantic comedies, twice remade (as the Judy Garland musical In the Good Old Summertime, then as the Tom Hanks-Meg Ryan vehicle You've Got Mail), Lubitsch's 1940 original, set in Budapest, is the real thing. ~ The Observer.
This wonderful romantic comedy drama, about pen pals who fall in love without realising they work together, contains delightful performances by Margaret Sullavan (full of grace and warmth) and the young James Stewart (a portrait of perfection). ~ Radio Times.
Misremembered for the cutesy narrative premise, this Ernst Lubitsch masterclass is most remarkable for its fearlessness. ~ The Times.
Sure, the plot-turns are foreseeable, but the film's wit and perfectly gauged performances are undimmed delights. ~ Total Film.
ITV X & FREEVEE - THE BIG LEBOWSKI

The shaggy-dog stoner LA noir that may be the Coen brothers' comic masterpiece ~ The Guardian.
For those who delight in the Coens' divinely abstract take on reality, this is pure nirvana (cross Blood Simple with Raising Arizona if you must), yet beyond the hysterical black comedy, scattered violence and groovy dialogue, there sounds the same song to human goodness which enriched Fargo. ~ Empire.
Not only is this classic Coen Brothers, it's exemplary Jeff Bridges. ~ BBC.
The colder you go into this joyously unpredictable film, the better. This is the sight and sound of the Coens letting their hair down, and you really shouldn't miss the party. ~ Total Film.
In a perfect world all movies would be made by the Coen brothers. ~ Empire.
AMAZON PRIME - THE LONG GOOD FRIDAY

A benchmark British gangster classic with spot-on performances all round and a near wordless end scene that diplays some of the finest screen acting ever from Bob Hoskins. ~ Empire.
Sheer, ground-breaking brilliance; a superb script and great turns from Bob Hoskins and Helen Mirren are the making of John Mackenzie's classic London gangland thriller.~ Mark Kermode, The Observer.
Although The Long Good Friday is firmly rooted in a very different era - early 1980s Britain is another country entirely - the film still feels fresh and uncompromisingly tough. ~ The Times.
CHANNEL 4 ~ EAST IS EAST

A towering performance from Om Puri anchors this finely wrought adaptation of Ayub Khan Din's celebrated stage play, about a mixed race family wrestling with their cultural identity in 1971 Salford. ~ Empire.
A cast-iron crowd-pleaser in the best traditions of the Great British comedy. Don't be put off by the Muslims in Manchester pitch - East Is East is much more. A bold, hilarious take on family life for anyone who's fallen through the generation gap. ~ Total Film.
Funny, charming and refreshing, this is a great little film. ~ Radio Times.
__________________________