Snatched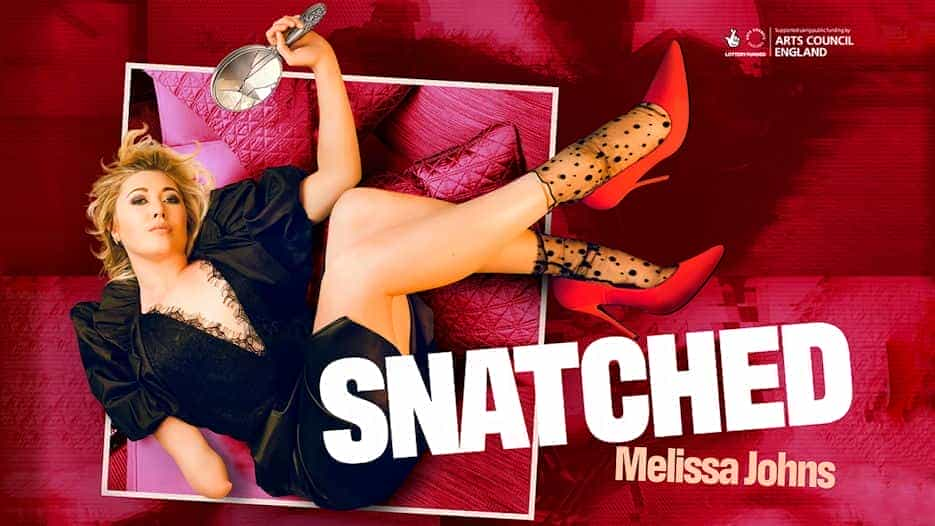 Snatched is a fast-paced, uplifting one-woman show accompanied by a live 90s/00s soundtrack.
In 2018, disabled actor, Melissa Johns' iCloud was hacked and explicit photos of her were released online.
A young disabled woman with a history of body dysmorphia comes to terms with her body becoming public property.
This humorous and revealing show displays no remorse in championing female sexuality, fighting body shaming and the taboo of sex and disability.
Please note: contains references of a sexual nature and eating disorders.
Supported by The Lowry and Arts Council England. Written and performed by Melissa Johns Co-devised and directed by Lily Levin.
Snatched Tickets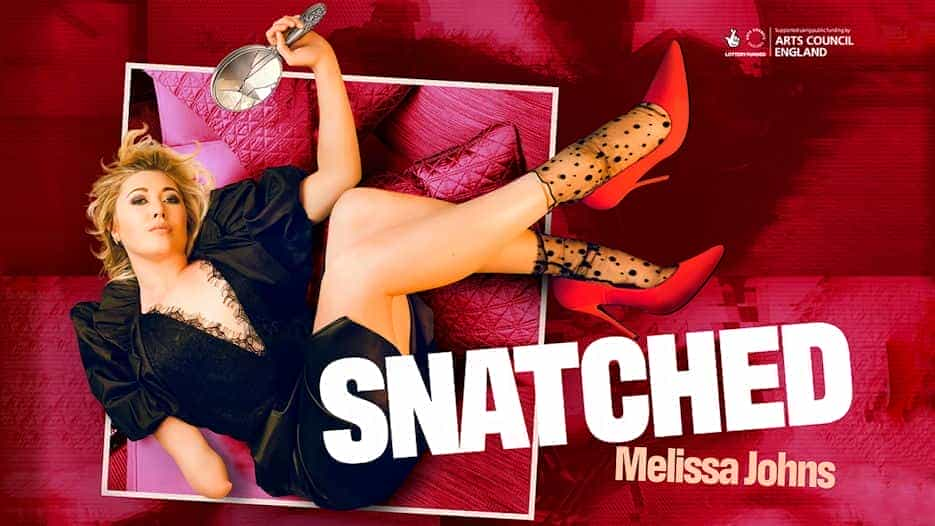 Sorry, there are no tickets for Snatched in Manchester available at the moment. This maybe due to one of the following reasons:
- Snatched in Manchester tickets are currently not on sale.
- The event has sold out.
- Details have not yet been announced for Snatched in Manchester.
- The event may have been cancelled.
- The event has been and gone.
Join our free mailing list for
updates about this event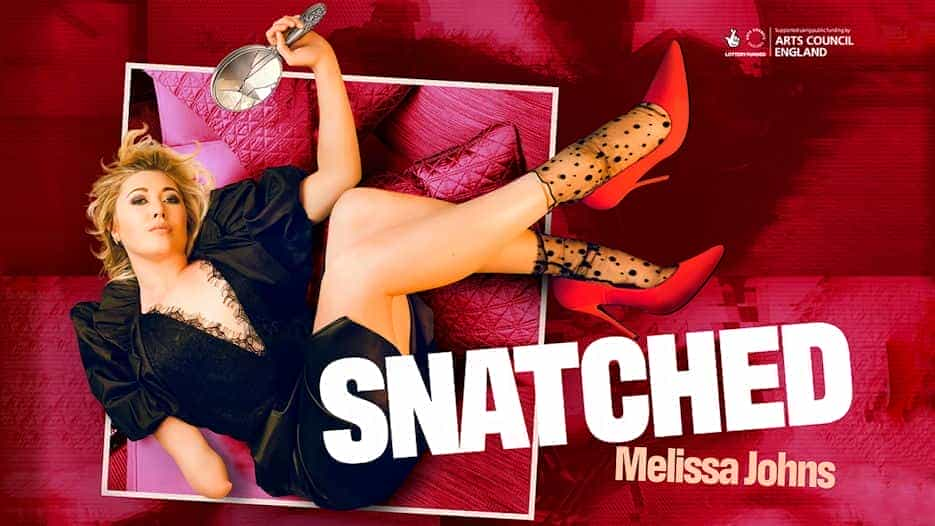 Our review on Snatched
Snatched - The Lowry, Salford - Friday 13th May 2022 by Karen Ryder
Our Rating
Melissa Johns (Coronation Street, Life, Granchester, Celebrity Masterchef, Henry V) takes us on an incredibly personal journey of her life, with humour, heartache and dignity. Snatched came about after Melissa's icloud account was hacked and explicit photos of her were released online in 2018. As a young disabled woman with a history of body dysmorphia, Melissa now had to come to terms with the fact that her body had been made public property without her say so. The strength of heart, mind, soul and character it must take to turn such an experience into a positive, uplifting and empowering play is nothing short of remarkable. It makes no apologies for championing female sexuality, tearing down body shaming, or for throwing the spotlight on the ridiculous taboo that 'shock horror' – people with disabilities have sex too! Snatched is a fast paced, witty, wry and wonderful piece of theatre, with a very real human story at its heart. I had no idea what to expect of tonight's show or if it was going to be my cup of tea, but instead I found myself connecting on a deep personal level with elements of Melissa's journey, found myself laughing out loud, and found the biggest admiration for the wonderful human that is Melissa Johns.
Performed in the Lowry's intimate Studio theatre, Snatched welcomes us with musician Imogen Halsey, who guides us through the play with a multitude of songs that form the playlist to Melissa's life. Songs from the 90's and 00's are reimagined throughout and enhance the storytelling with poignancy, pathos and perfect dark humour. The music is all played and sung live by the incredibly talented Imogen Halsey on a multitude of instruments and the song choices are sometimes so subtle, it's only when you stop and listen completely that you realise even these are clearly and intentionally thought out to maximise humour, such as "He's got the whole world in his hands," or to pull at the heart strings such as the melancholy version of "Dirtbag."
Melissa tells her story with the aid of numerous characters along the way, such as the irrepressible Mia Sporgan on Good Morning TV, whose interviewing technique and language is patronising and belittling to anyone with a disability (Brave, brave, brave, brave, brave, brave poor little Melissa). These segments hilariously highlight the marginalised and often condescending way that disabilities are portrayed in the media and in life, such as 'poor brave Melissa' being on the front page of the news for learning to ride a bike at six years old, or for getting a job, or dare we say a boyfriend 'even though she only has one arm'. Her portrayal of the interview when she landed the job on Coronation Street was brilliant, with Mia asking if she was surprised she was on such a show, to which Melissa's response was along the lines of, "Yeah, people thought I'd only play shark attack victims, or any role in medical drama where there's been a horrific accident really!" The dry humour is a tonic throughout and possibly the only way to survive in a world which is sometimes so ridiculously lacking with its understanding of both visible and invisible disabilities, and the thoughtless manner in which many people speak.
There are also the 'Humanitarian Over Achiever Awards' sprinkled throughout the show – a genius and comical salute to the self-appreciation of those who claim they are raising awareness and doing good but are actually belittling because they are more interested in self praise than the cause they are supposedly fighting for. Honestly, Snatched is so clever and highlights the insane prejudices that many do not even realise they present on a daily basis.
As we are taken through each milestone in Melissa's life, with stories from primary school, to boyfriends, to prom, to first job, it is interspersed with snippets of the harrowing period in her life when the photos were leaked. These two elements smash and clash into each other with a mix of the hilarious to the horrific heartache. Every story becomes more and more humbling as our eyes are opened wide into what it means to live with a missing limb, or Wiggy as her Grandad named it. Primary school – Melissa's voice is not heard when she says she knows how to recharge the battery on her prosthetic arm. Instead, she is separated from the whole class so she can be 'plugged into the wall', whilst they all enjoy story time together on the carpet. Boyfriends – how she learnt to hide her missing limb so that boys would even look at her, and the cutting phone message from a date when he did find out that stated freaks like her shouldn't be allowed out. Jobs – where she isn't trusted to carry plates whilst waiting on and instead is continually put at the back with just a serving jug of gravy or custard. The bullying, the hate, the exclusion, the harassment, the abuse, the incomprehension and yet Melissa has found a way to deal with it all and make the negative of her narrative into the most positive and proud elements of who she is. And so she should, for she is clearly a extraordinary woman. When the photos were leaked, Melissa learnt very quickly who stood with her and who ran away. Melissa had worked in education between acting jobs and they were one of the systems who ran a mile. In the Q&A after the show, Melissa highlighted that explicit photos being taken or shared without consent is not reserved just for those in the public eye. It is happening in every walk of life, and is increasingly apparent in schools, particularly upskirting. And there in lies the irony because far from being removed from education – Melissa Johns is EXACTLY the kind of positive role model that is in perfect position to give talks and educate students! She has lived life in a way that is unique and has a wealth of experience and insight to share from living with a disability, body dysmorphia and has lived through explicit pictures being shared without permission. Her mind set, her uplifting humour, her strength and her choice of where the power lies and how to take control of who she is, is a story that every student should hear. Infact, everyone should hear it.
Melissa's story telling, devised alongside amazing director and friend Lily Levin is motivating, moving and marvellous. This one woman show is interjected with family photos, family videos and voice interviews with her parents, recording their thoughts on the leaked photos. As the show comes to a head, we are plunged into darkness and reminded that yes we have laughed throughout tonight's show, but this is someone's life, a very real life of a normal girl that could be your friend, sister, daughter or partner. We see a reel of home videos and photos rewinding back to the beginning when Melissa was born, and as the show finishes, she defies all the hate by standing up for exactly who she is. Her final message left me so choked that as I joined in the standing ovation, I could not cheer or whoop or whistle. I desperately wanted to, but my throat was so constricted with emotion I found it impossible. As I said at the start, I didn't know what to expect from tonight's show, but I can tell you all now that this is so much more than a piece of theatre. It is possibly the best life affirming and motivational speech I have ever heard.
WE SCORE SNATCHED - 10/10


Other events you may like...
Most Popular Shows and Events in Manchester