Steel Magnolias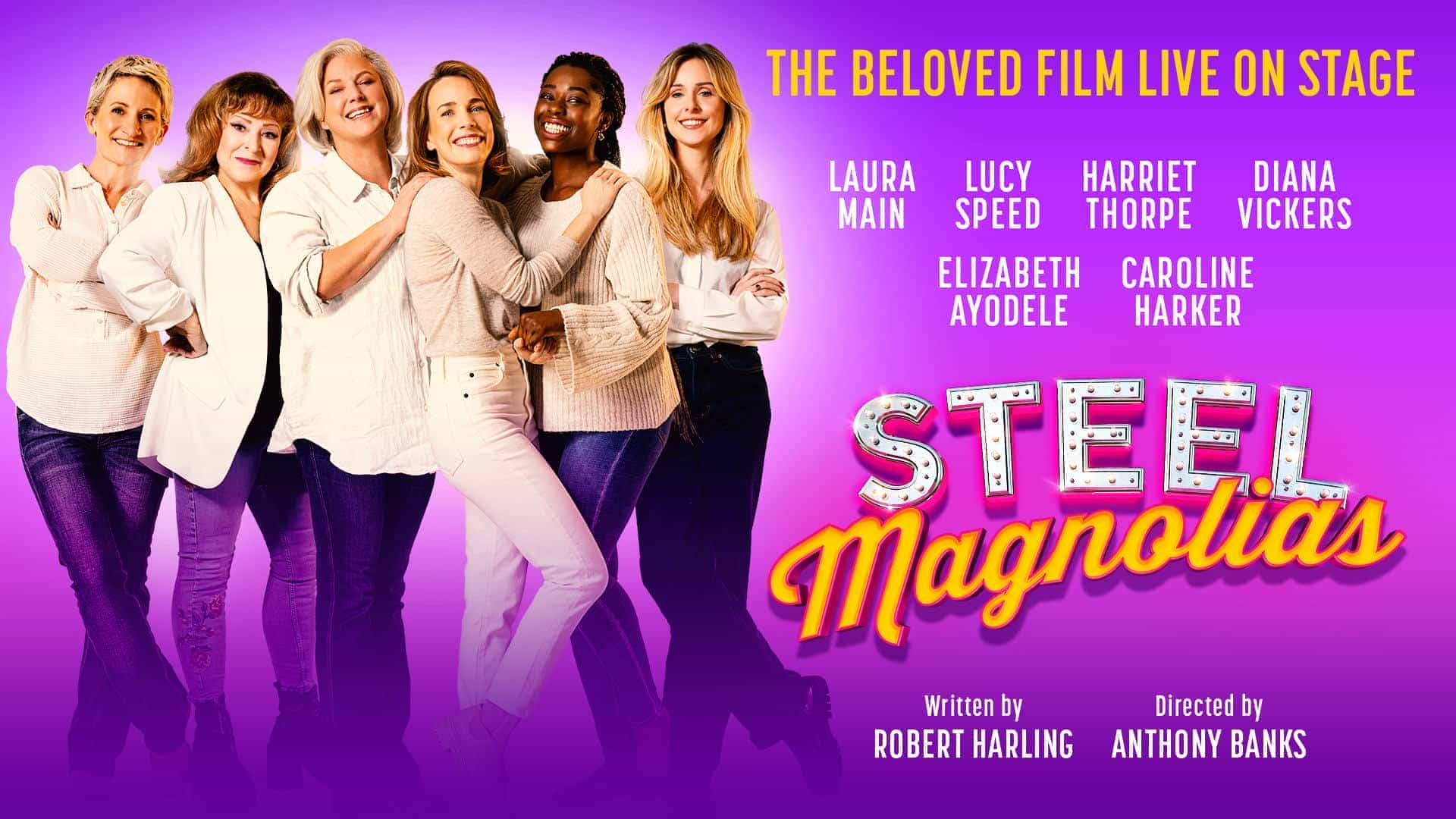 The hysterical, heart-warming and iconic play Steel Magnolias is coming to light up your local theatre in 2023.
Follow the trials and tribulations of six fierce and sassy women as they set the world to rights in their small-town bustling beauty salon. Unwind with a fabulous cast, including Laura Main (Call the Midwife), Lucy Speed (The Archers, The Bill), Harriet Thorpe (Absolutely Fabulous, The Brittas Empire), and Diana Vickers (The X-Factor, Dial M For Murder, The Rise and Fall of Little Voice) as they set up shop in this raucous classic, comedy masterpiece.
Schedule your appointment now to experience touching moments showing what friendship and laughter really means. It's guaranteed to be a side-splitting night out where all gossip is welcome, BOOK NOW for Steel Magnolias!

Watch what the celebs thought of this theatre production!
Watch our interview with Elizabeth Ayodele, who plays Annelle in the play
Steel Magnolias Tickets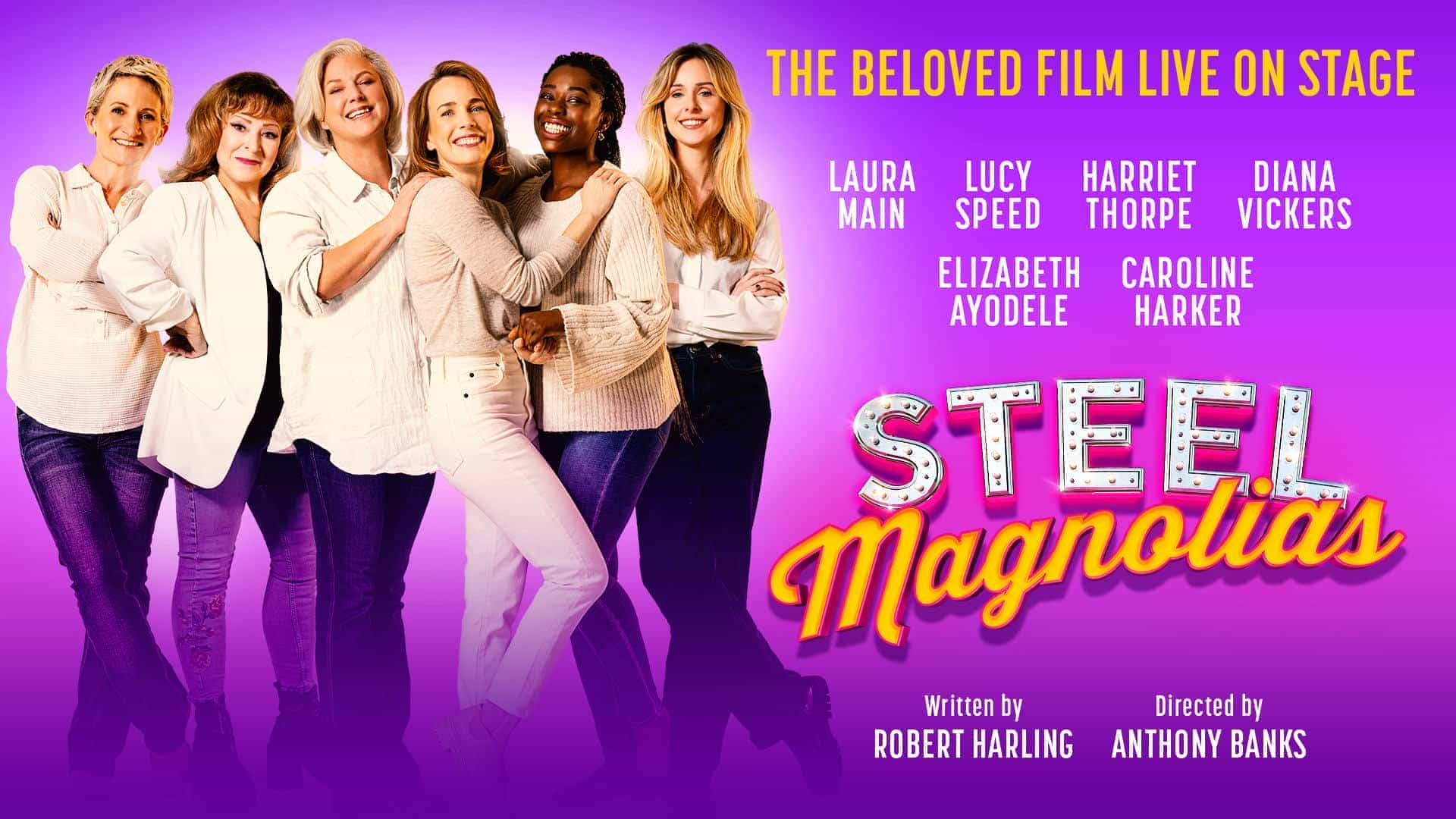 Sorry, there are no tickets for Steel Magnolias in Manchester available at the moment. This maybe due to one of the following reasons:
- Steel Magnolias in Manchester tickets are currently not on sale.
- The event has sold out.
- Details have not yet been announced for Steel Magnolias in Manchester.
- The event may have been cancelled.
- The event has been and gone.
Join our free mailing list for
updates about this event
Our review on Steel Magnolias
Steel Magnolias - The Lowry, Salford - Tuesday 21st February 2023 by Karen Ryder
Our Rating
STEEL MAGNOLIAS IS FULL OF SASS, SOLIDARITY AND SISTERHOOD OF THE HIGHEST ORDER!

Steel Magnolias. Two words that make a whole generation of women grab their closest gal pals and give them an extra tight squeeze. Was there ever a film to portray a more beautiful love letter to the value of sisterhood than Robert Harling's 1989 classic? Packed full of quotable script that marries cutting humour with the heart-warming rawness of life, Steel Magnolias permeates life in all its gut wrenching, euphoric glory. Famously written by Harling as a way to work through his grief following the passing of his sister who lived with type 1 diabetes, it has become an iconic movie that has touched the hearts of millions. Along with its stella cast of Shirley Maclaine, Sally Field, Dolly Parton, Daryl Hannah, and Olympia Dukakis, it was also the launching pad for Julia Roberts, who as we know, has never looked back.
Truvy Jones' beauty parlour is more than just a place to quiff your hair, it is a place where a group of friends can confront all life has to throw at them. Through gossip, humour and the sharing of stories, Truvy, Annelle, Shelby, M'Lynn, Ouiser, and Clairee look life straight in the eye and take it on with heart, humour, hope, and a headstrong attitude! As we discover that the new girl in town Annelle must make a life without her dubious husband, Shelby prepares for her wedding day. But as the women all get ready for the big day, Shelby takes ill with her type 1 diabetes. The strength, support, and help of the women enable her to recover in time to make it down the aisle. As life proceeds, Shelby falls pregnant, against doctors advice for her own health, but as she states, "I'd rather have 30 minutes of wonderful than a life of nothing." After her baby is born, Shelby falls ill again, through complications of her illness combined with childbirth leading to kidney failure. She undergoes a transplant following dialysis but contracts an infection. The family are left with the impossible decision of removing her from life support. Once again, the sisterhood rally to carry each other through the hardest moment in their life. Annelle reveals she is pregnant and wants to name the baby Shelby. M'Lynn replies, "Life goes on." Steel Magnolias faces some difficult truths, poses tricky questions, and presents impossible situations. But each one is dealt with through the reassuring human qualities of love, laughter, humour, and hope. Be prepared to cry every kind of tear possible and to fall in love with this classic story all over again.
The six women in Steel Magnolias are fierce, sassy, and hilarious – definitely women who you'd want on your team. It would take a mighty fine team of actresses to do them justice, and that is exactly what we got tonight. Directed by Anthony Banks, these beloved characters are affectionately and gently reassessed, allowing exploration of new character dynamics and therefore of their relationships with each other too. A genuine warmth exudes from the stage directly into the hearts of the audience as we are enveloped into a big hug of sassy acceptance. Lucy Speed (Eastender, Liar 2, Twelfth Night) is the irrepressible Truvy and is the kind of woman you feel you already know, and if you don't – you want to! She is sass on a stick, with a great big heart and I never knew it until tonight, but Lucy Speed was born to play this role. Truvy was a real person on that stage, a real hairdresser and beautician, with a real family. What an incredible performance. Laura Main (Call The Midwife, Father Brown, Shrek) as M'Lynn took us from a fussing mum, to comedy queen, to grief stricken, to having hope for the future. Her final scenes were not only impeccable but allowed her to speak some of the most poignant lines. Stunning.
Harriet Thorpe (Absolutely Fabulous, Brittas Empire, Wicked ) as Ouiser was hilariously cutting and sarcastic, and timed her delivery perfectly. It was a joy and an honour to watch this comedy legend at work. Even as the razor tongued Ouiser, she still radiated warmth, and allowed us a glimpse at her softer side. Diana Vickers (Dial M For Murder, Rise & Fall Of Little Voice, X Factor) was so natural as Shelby. She emitted a determined strength alongside a carefree enjoyment of life, determined to explore every inch it had to offer, despite the truth of her health situation. This is everything that writer Robert Harling said his sister Susan was. I think that this is the biggest compliment I can give to Diana Vickers performance. Elizabeth Ayodele (Small Island Revival, Hot In Here, Me you us them) is glorious as Annelle. We see such a character arc as Annelle starts out shy, divulges her past, grows in confidence, starts to enforce her beliefs, and has conviction in why she believes the things she does, even when they annoy or upset her friends. This is expertly handled and acted in such a fantastic way that we really feel we are getting to know Annelle in parallel with the other characters (WATCH OUR INTERVIEW WITH ELIZABETH AYODELE). Caroline Harker (The Railway Children, Blithe Spirit, Brideshead Revisited) completes the cast as Clairee and has a glowing presence whenever she is on stage. She brings an aura of confidence and wisdom to her character that is not only superb in its own right, but also supports and enhances everyone else on stage too. This entire cast show generosity of spirit and respect towards each other, and you can feel the strength of their sisterhood. It is beautiful.
There is so much to love in this production, from the story to the cast, the set design, the wigs and costumes, and the quotable nature of the script. But before I get to that, I simply cannot go on any further without addressing the glorious nods to Dolly Parton! Her pictures adorn the set, her music is trickled into the background and not only does this give your heart a fuzzy glow, but it somehow gives the whole experience a seal of approval and authenticity with a nod of respect to the one and only Dolly, who is still quoted from this film today with corkers such as "The bigger the hair, the closer to God!" Infact, this whole film is quotable – an Instagram of words if you will, and whilst many of the slam dunk lines come from Ouiser, there's enough brilliance to share amongst each character.
"The only things that separates us from the animals is our ability to accessorise."
"The nicest thing I can say about her is that her tattoos are spelt correctly."
"I don't trust anybody that does their own hair."
"I'm not crazy. I've just been in a very bad mood for 40 years!"
"Don't try and get on my good side. I no longer have one."
"If you can't say anything nice about somebody, come sit by me!"


But back to the set. It is remarkably clever (Laura Hopkins). Truvy's salon is front and centre in a contained unit that doesn't make full use of the size of the stage. But as I looked beyond the salon to the perimeters of the vast Lyric theatre stage, I realised why. Large free standing tripod spotlights adorned the space, immediately recasting this salon from a small unit on a vast stage to a studio set in a sound studio. A beautiful nod to the film. The second half sees the whole salon switched round, and to me, this was another nod to the film in which we were privy to a different shot or camera angle. The first half, the audience fourth wall are the salon mirrors, the second half, we form the back wall and can instead see the mirrors. Like I said, it's very clever and frames the play in a truly unique way.

There are moments where everyone is giggling along with the sass on stage, and moments when you can literally hear a pin drop. The final scenes felt like the entire audience were collectively holding their breath, whether to contain their own personal response to the scenes, to stop themselves from breaking down, or in recognition, who knows. The answer to this is a personal one, but one thing for certain is that everyone had a reaction and rightly so as this powerfully emotive material was delivered with such raw emotion that it was tangible. The injection of humour at just the right time broke the tension and again was so spot on with its delivery that it did its job respectfully without ever making light of these heart-breaking moments. So even though it's declared in the script "I don't see plays as I can nap at home for free" I promise this is one play you'll be staying wide awake for, because it is full of sass, solidarity and sisterhood of the highest order. So spread the gossip, share the news and fix your hair as you head on down to The Lowry Theatre for your appointment at Truvy's Beauty Salon! The gang's all waiting for you!
WE SCORE STEEL MAGNOLIAS...


Other events you may like...
Most Popular Shows and Events in Manchester