Manchester Theatre News & Reviews
REVIEW - Head Over Heels is everything to love about musical theatre - You must Go-Go and see it!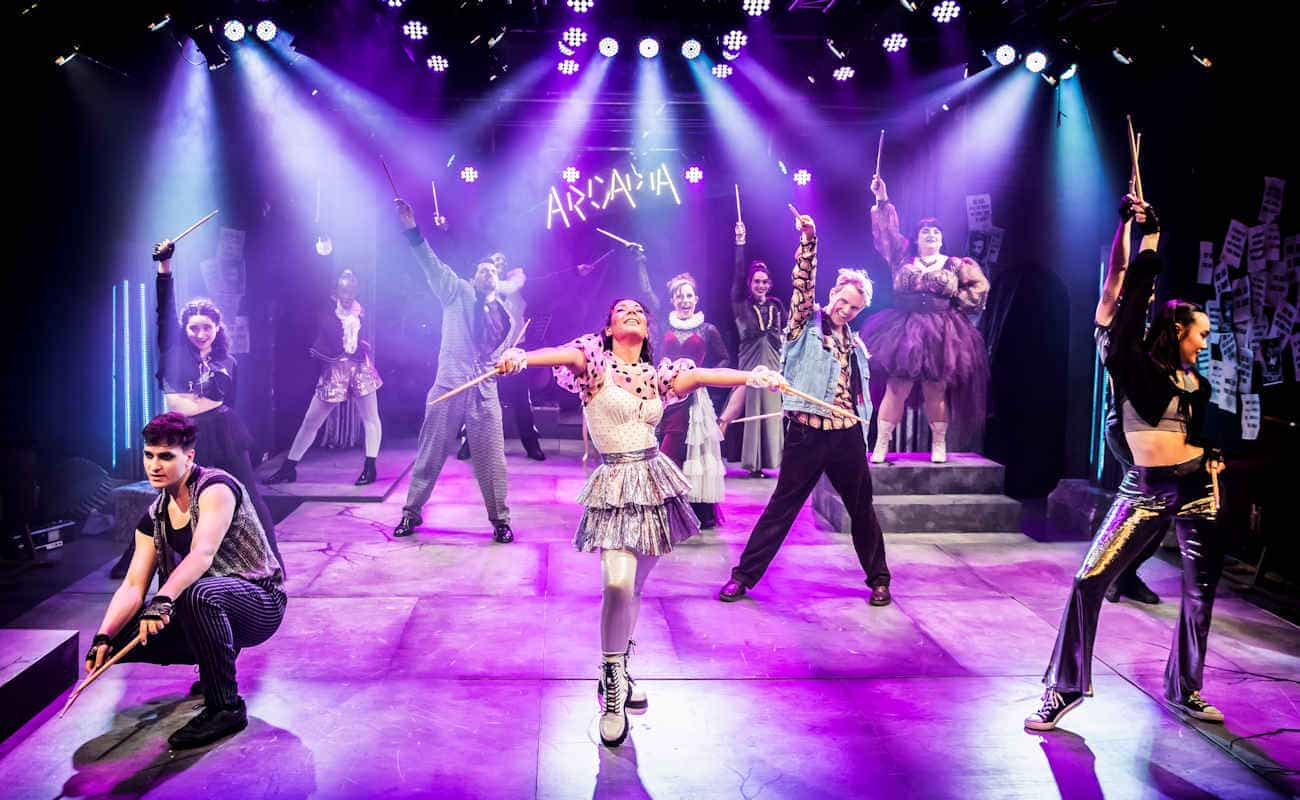 BOOK TICKETS FOR HEAD OVER HEELS
On Wednesday, we were invited to Hope Mill Theatre to see Head Over Heels. Read what our reviewer, Lizzie Johnston had to say about this amazing production...


Hope Mill Theatre, despite its smaller capacity, has never shied away from producing top class theatre shows and every time I've been, I've absolutely loved it. This time was no different. I was already excited and had good expectations before arriving and, from the first song, I knew we were in for a good time. This visit was to see the European Premiere of bold new musical Head Over Heels from the visionaries behind Avenue Q and Spring Awakening after it rocked Broadway back in 2018.


Head Over Heels is a jukebox of The Go-Go's, the most successful female rock band of all time, with songs including We Got The Beat and Our Lips Are Sealed. There's also a couple of songs from Belinda Carlisle's catalogue, as she's the band's lead singer, with her hit Heaven Is A Place On Earth going down a treat when paired with a shadowed love scene.


Three decades since the release of their first album, here we are tapping our feet to absolute bangers that are known by generations. Even songs that you may not know feel recognisable and the upbeat, rock style makes it even more enjoyable. The show uses the rock edge throughout the plot and acting to keep it feeling fresh. Despite a score featuring well known 80s tracks, it feels new and unique and embraces its daftness to produce a loveable production.



It's a mixture of upbeat music and a Shakespearan plot with the story itself is based on Sir Philip Sidney's The Arcadia. Overall it's a celebration of love but not without the trials of patriarchy, gender dysphoria and sexual awakenings. The show is sparky and silly as the King takes his whole family on a road trip to escape Arcadia after being threatened with extinction from a spirit-like/genie-like figure called Pythio. As you can imagine, a full royal family on an outrageous journey is prime material for laugh-out-loud comedy. Its morals are all about finding your true self and standing up for what you believe in and it's full of goodwill, slightly soppy but what's not to like?

On entering the auditorium, you are taken straight to the punk era with black and white posters stuck across the walls and an 'Arcadia' neon sign placed central at the back. It was simple and effective and any time we were taken to a different location in a story or a large prop was needed, they just put a placard over the throne or used a sheet labelled with the required prop. An example of this was when they needed a bush and they used a white sheet with 'BUSH' written on it. I've seen this before in shows that keep the set to a minimum and it always makes me chuckle. Loved the costumes. A mixture of velvet, mesh, tulle and the odd ra-ra skirt wouldn't go amiss at The Go-Go's concert or any punk rock event. Not forgetting the classic 80s lace glove.

The choreography by Director Tom Jackson Greaves (The Jungle Book, Run For Your Life, Neptunalia) is pure joy and there's no denying the talent of each cast member, you could easily comment on the preference of every single one. From the start of We Got The Beat you just wanted to be sticking your Dr Martens on and heading down to some dingy club to get on a beer-soaked dance floor.



The cast is led by BroadwayWorld winner Luke Bayer (Millennials, Rent, Hair) as Musidorus and Maiya Quansah Breed (Rent, Six: The Musical - Original London Cast, The Secret Garden) as Philoclea and as one of the loved up couples, they definitely deliver on the cuteness and sugary sweet young love we've seen time and time again from anything that slightly resembles Romeo and Juliet. They are both marvellous and utterly infectious.

With a supporting cast including scene steeler Jenny O'Leary (We Will Rock You, Heather The Musical, The Secret Garden) as Pamela. Every time O'Leary stepped on the stage you were in for a treat and without a doubt she'd have you in stitches with her comedic timing, no doubt her incredible voice and range which led several of the tracks. Khadija Sallet's (In the Heights, Legally Blonde, Ragtime) Mopsa was a great opposite, supported with the comedy and released the vulnerable side of both characters; she was calm, cool and collected.

I'm pretty much Head Over Heels for this show. It's everything I love most about theatre and musicals in particular - it's good fun and slaps a smile on your face. Forget popstar princesses, this is rockstar royalty. It's Bridgerton meets Rent, Mamma Mia! meets Rocky Horror and Shakespeare meets the 80s. If you want a laugh, a show you know will deliver on the fun and a toe-tapping score which will be going straight on the Spotify playlist, then this is for you.

Head Over Heels is running at the Hope Mill Theatre until March 4th so shove those winter blues to the side and get tickets whilst you can. Go-Go…
WE SCORE HEAD OVER HEELS...





Head Over Heels is on at Hope Mill Theatre until Saturday 4th March.



Photo credits - Pamela Raith