Manchester Theatre News & Reviews
REVIEW - Ladies' Day is a fun night out at the theatre so grab your best fascinator and head to the Octagon!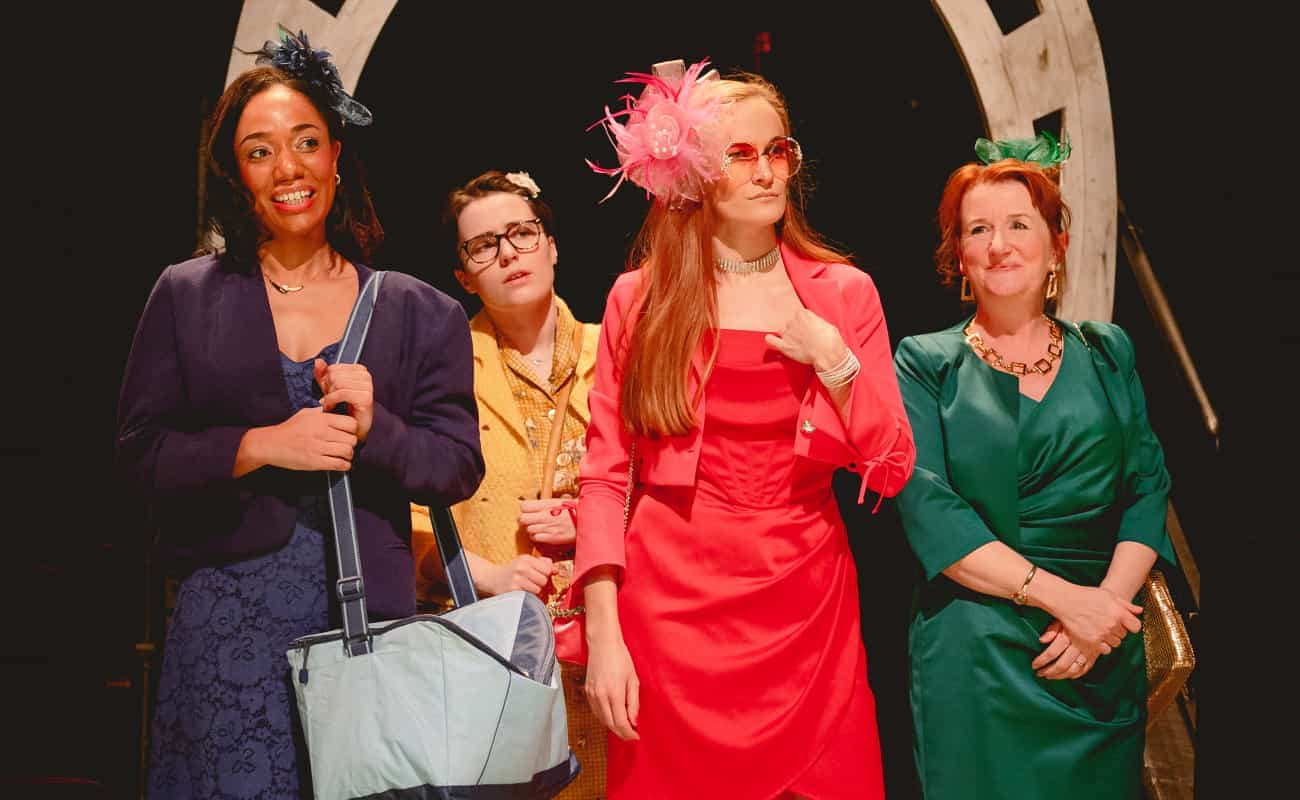 BOOK TICKETS FOR LADIES' DAY
On Thursday, we went to the Octagon Theatre in Bolton to see Ladies' Day. Read what our reviewer, Lizzie Johnston had to say about this fun production...


From the off, Ladies' Day sounds like the kind of play you'd go to for a girl's night out and immediately upon entering the theatre, you are transported back to 2005 with only hits from the early noughties playing all night. You can expect a bit of Robbie Williams, S Club 7 and Sugababes to get you in the mood for a ladies night. There were groups of women with their fascinators on, ready to embrace this unique trip to the races.



The play follows four women who swap their typical working day at a fish factory for front row at the races. The races being the Royal Ascot which relocated in 2005 to York for the season. Work mates, Pearl, Jan, Shelley and Linda seize the chance to swap their daily routine of tea breaks and cantine chats for a day of glitz and glamour. With their fancy hats on and fizz in hand, the girls get placing their bets ahead of a day full of high expectations.



The set itself is quite simplistic, beginning with fish factory counters and weighing scales then turning into the open outdoors at the racecourse with a couple of plastic chairs and green circuit painted on the ground. The costumes were bright and colourful, reflective of the uplifting and comedic mood of the play. Bright white factory coats with yellow marigolds transform into pink, yellow, blue and green dresses.



The life-affirming comedy written by Amanda Whittington is an uplifting co-production with Staffordshire's New Vic Theatre. Ladies' Day is exactly what you'd expect it to be just from the title alone. It's got all the fanciness of the races paired with the realities of normal working class life as it digs into female friendships. It's a great play to kick off the Spring season (despite the cold, snowy weather!) and will have you leaving with a spring in your step and a smile on your face.



When the theatre is set up in the round, the performers have to be aware that they are being watched from every angle. Each performer was fully embodied by their character with mannerisms to match their attitudes and style. The transition from factory to racecourse really showed this off as the girls threw off their coats to reveal fabulous frocks, all to the tune of 'Is This The Way To Amarillo'. It was a brilliant start to the story and really got you hyped up for their race day.



Each of the four ladies fits into a certain stereotype found within friendship groups, making it relatable and adding the comedy value. Jan is the sensible one, played by Tanya-Loretta Dee (Sirens, Mercury Theatre, Family Album, Stephen Joseph Theatre), whose life revolves around her teenage daughter and consequently has lost her self-identity. From turning up with a fully packed picnic to being wasted on champagne, Dee's Jan goes on a journey of self-discovery.



Dee's portrayal of the sensible Jan is the great opposite for Annie Kirkman's (The Hound of the Baskervilles, East Riding Theatre, Beryl, Arcola) Shelley who is loud, confident and pretty chaotic. Kirkman's physical comedy was excellent, not once did she dip in energy as she continued on her quest to find the celebrities and mingle with the elite. Pearl is the matriarch of the bunch, played by Kate Wood (Brassed Off, Derby Theatre, The Full Monty, David Pugh and Dafydd Rogers), and it's her retirement celebrations that have brought the ladies to Ascot. Wood plays Pearl as sensible and kind, yet there's a big secret she's hiding which brings out a whole new side to the character.



The quiet one is Linda, played by Jo Patmore (As You Like It, Northern Broadsides and New Vic, Frost Hollow Hall, East Riding Theatre), who is very reserved and secretive. Linda's main aim for the day is to find Tony Christie, whilst sporting a fan club badge of course! Patmore's portrayal of Linda digs deeper than her quiet persona, revealing how she's being taken advantage of because she cares, and throughout the play we see her build up the strength to stand her own ground.



Gareth Cassidy (Marvellous, New Vic, @sohoplace) is the only male in the show and plays six different characters throughout the play. His characterisation was fantastic with different accents and mannerisms to clearly identify the different roles, from a posh and obnoxious commentator to a shy and quiet fish factory boss.
Ladies' Day is a hilarious and heart-warming story of female friendship. It's the kind of show where you can go and relax, have a glass of wine and have a good laugh. It's an easy one to follow and just plain fun! So grab your best fascinator and head to the Octagon.
WE SCORE LADIES' DAY...





Ladies' Day is on at the Octagon Theatre until Saturday 1st April.



Photo credits - Andrew Billington